Day 1
Morning
A perfect start for Hanoi travel is breakfast, drinking coffee along Hoan Kiem Lake and the Old Quarter. You should wake up as early as possible to enjoy the fresh air before the streets become crowded.
One of the recommended pho shops is Thin Boi Ho, which is nearly 70 years old. Some other options are Happy Pho Trung Yen Alley, Tu Dwarf Pho (Au Trieu), Ly Quoc Su Pho, Lam Pho (Hang Vai). These are all familiar addresses of locals and tourists.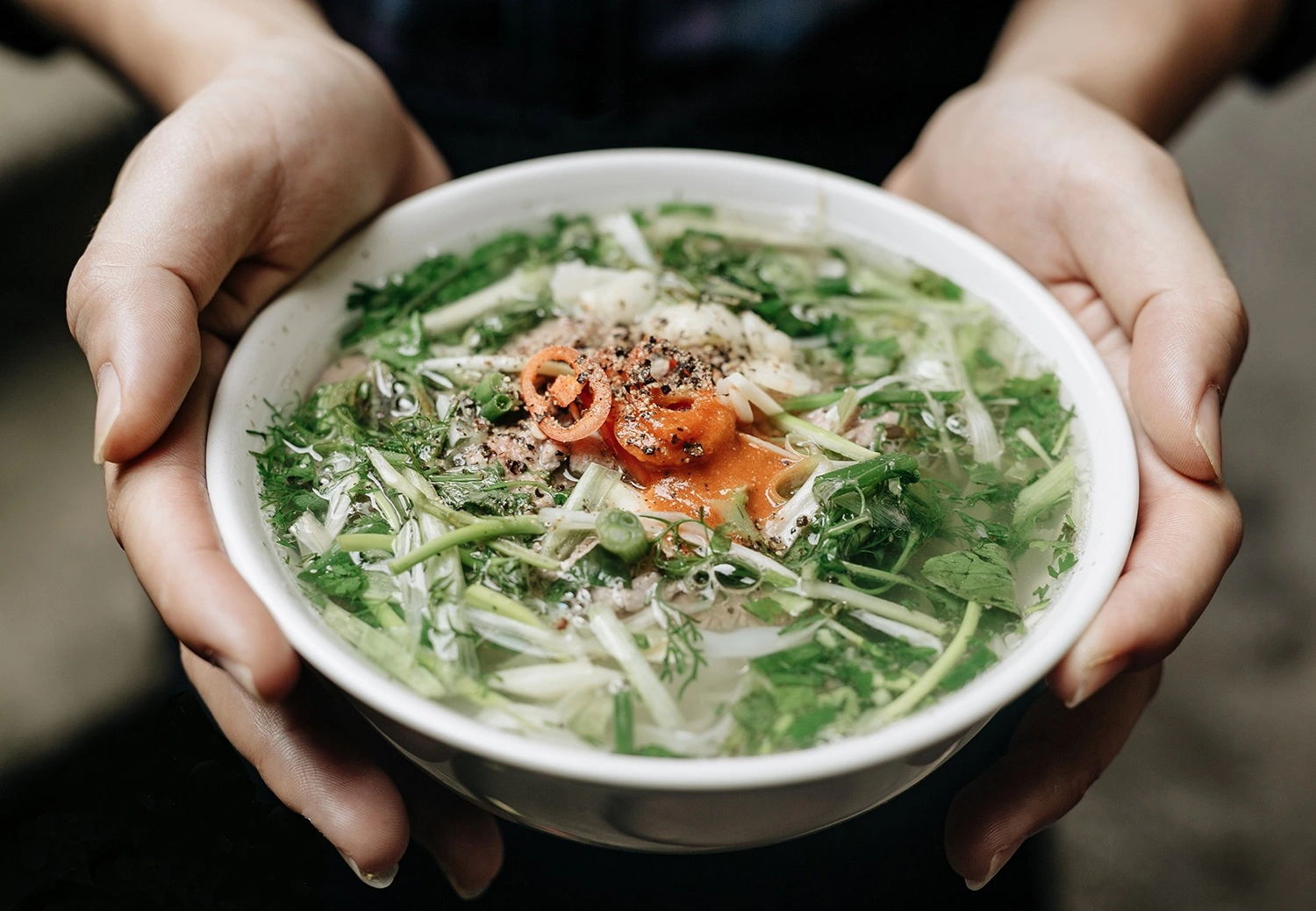 Read more: Pho Hanoi - The dish that makes the name of Vietnamese cuisine
A cup of coffee around the old town and Hoan Kiem Lake is the next experience. You can choose Dinh coffee in the small attic in Dinh Tien Hoang Street, Giang coffee or Lam coffee in Nguyen Huu Huan or newer shops such as Pho Cho coffee in Hang Be market, Loading T in Chan Cam or surrounding shops with panoramic lake views. The recommended drinks in these places are traditional black/brown coffee and egg coffee. If you have time, you should also visit Trang Tien Ice Cream to try one of the snacks.
If you wander Hoan Kiem Lake every weekend, go to the Water Puppet Theater on Dinh Tien Hoang Street to watch the show every Sunday at 9:30am. There are also performances in the evening, from 16h to 21h.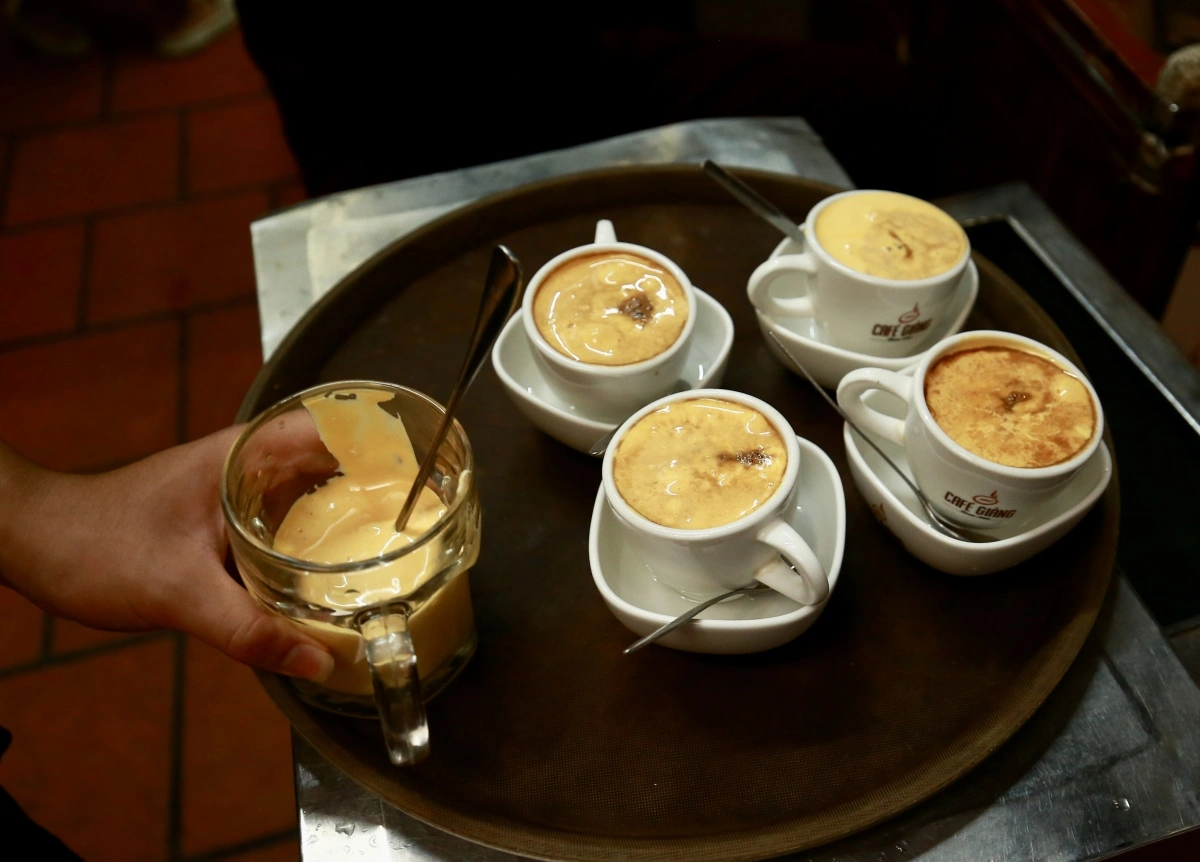 Read more: Cafes to try when coming to Hanoi
If you like history, visit places like Hoa Lo prison, the Museum of the Revolution, the Museum of History, the Museum of Military History. If you like architecture, stop at works such as O Quan Chan, Opera House, Cathedral, Thang Long Imperial Citadel, One Pillar Pagoda, Long Bien Bridge, Government Guest House, State Bank ...
These places are located within a radius of 1-2 km around Hoan Kiem Lake area, so it is convenient to travel. If you haven't reached all of these spots in the morning, save them for the afternoon. Guests can walk or use public transport such as buses, taxis or motorbike taxis.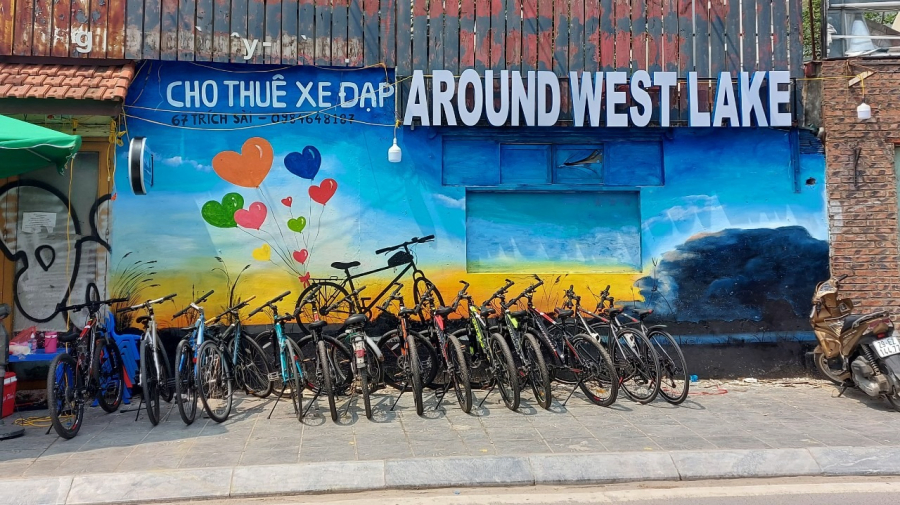 Midday
By the way in the Old Quarter, enjoy lunch with another typical dish of Hanoi is bun cha. Bun cha consists of vermicelli, pork patties (minced or whole) grilled over charcoal, served with sweet and spicy sour fish sauce and raw vegetables and melon. This is a typical northern dish, one of the special features of Ha Thanh cuisine. Some reference addresses around the central area: Bun cha Hang Fan, bun cha Dac Kim, bun cha Huong Lien (Obama).
A serving of Dac Kim noodle rolls is a lot, so you need to be careful not to overeat. Bun cha Hang Fan and Huong Lien Dong at noon.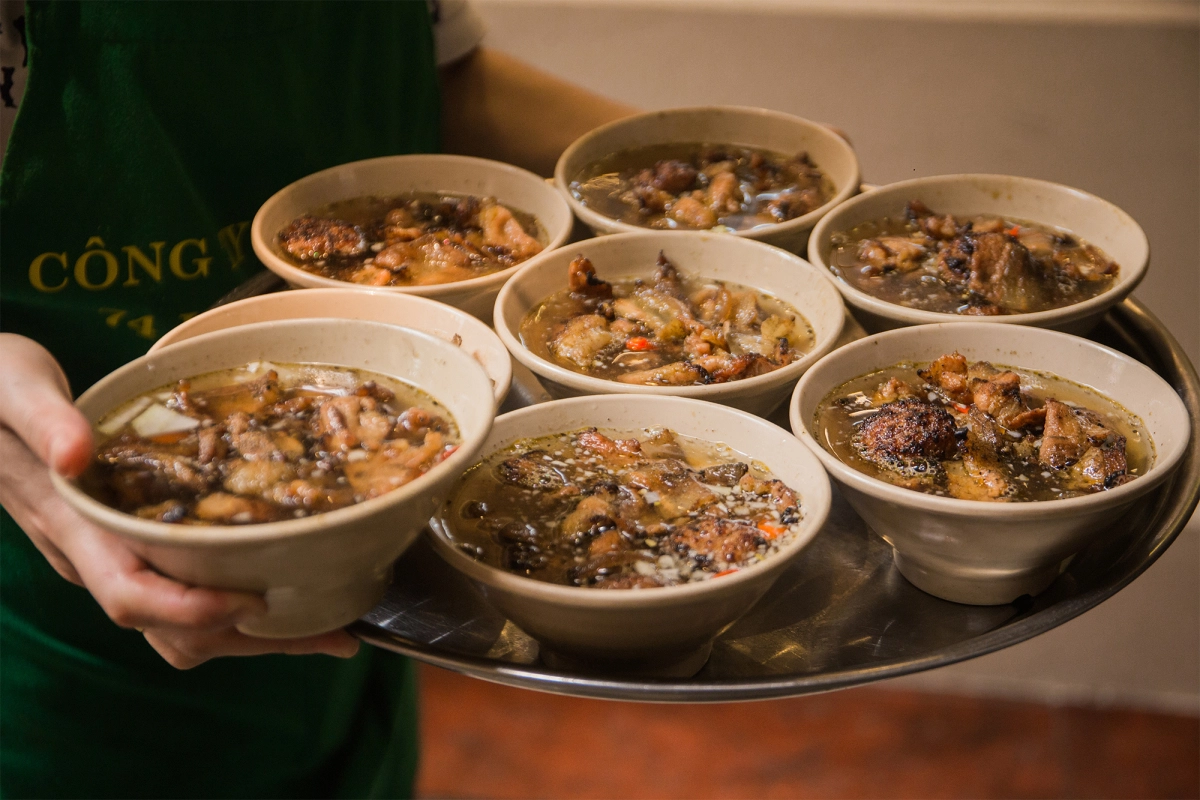 Read more: Enjoy lunch bun cha and iced tea in Hanoi
Evening
If you do not know the atmosphere of West Hanoi street, spend the evening "messing" in the Ta Hien - Luong Ngoc Quyen area, also known as the "international crossroads" or "sleepless streets".
Ta Hien is peaceful and deserted during the day but lively and bustling from evening until late at night. Drinks in Ta Hien are simply snacks such as fried spring rolls, cheese sticks, potatoes, sweet potatoes, roasted quail served with cups or bottles of cold beer. But what Ta Hien scores with visitors is that the fun atmosphere is always overwhelming. You can sit in small groups along the street or go to bars to listen to music, dance to music. Prices in Ta Hien are average.
If you come to Hanoi on weekends, you can walk around Hoan Kiem Lake and Dong Xuan night market before stopping in Ta Hien.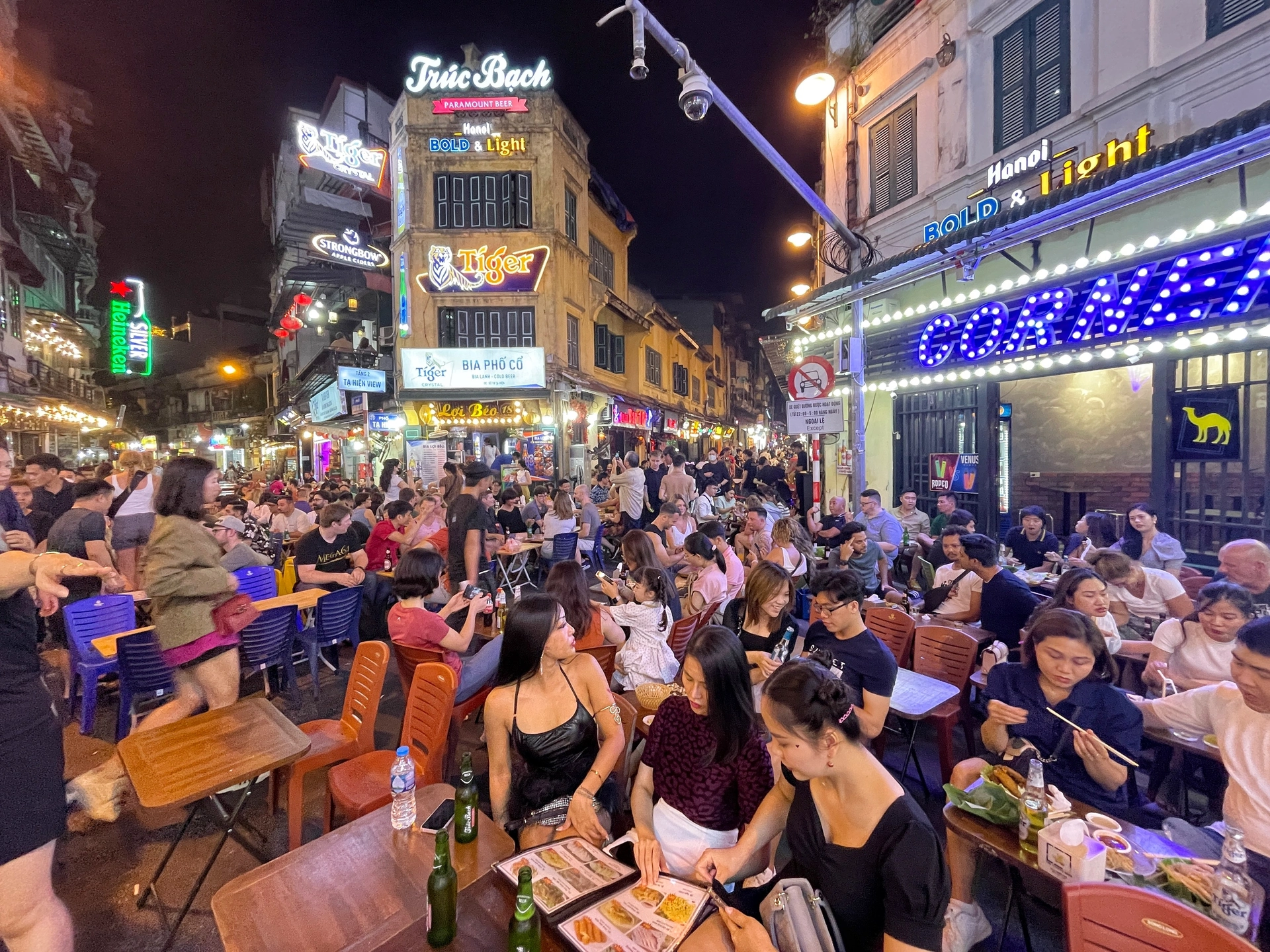 Day 2
Morning
You should spend time with West Lake, with an area of 5.2 km2, next to Thanh Nien Street and Truc Bach Lake. This is a famous relaxing space complex, with many delicious food and entertainment activities.
The space around the 15 km lake will be very suitable for sports lovers. You can jog or cycle. Along Nguyen Dinh Thi and Quote Sai streets, there are many shops that rent bicycles with prices from 40,000 VND to 50,000 VND in two hours. There is also SUP paddling or kayaking service for VND 200,000 to VND 250,000 for two hours.
Snail noodles are recommended for breakfast in the West Lake area. Snail noodles in Hanoi are a combination of simple ingredients, easy to eat. You will feel the rich, chewy taste of snail meat, the delicate sourness of the broth. Two rows of snail noodles should visit: Ba Grandma snail noodle soup (To Ngoc Van street), Co Hue snail noodle soup (Dang Dung street). At Grandma's Restaurant, you can try cold snail noodles.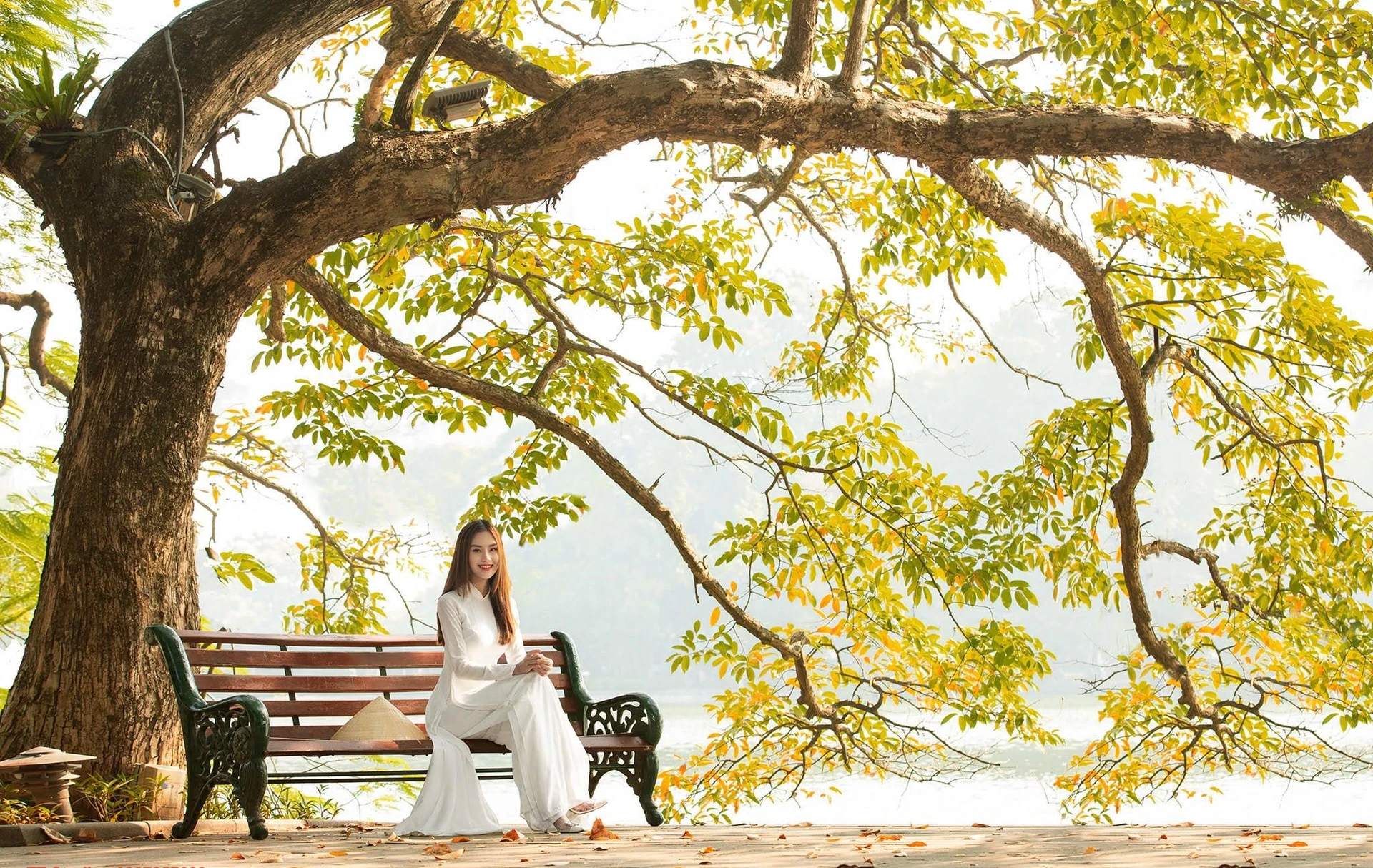 Read more: 3 Hanoi autumn experiences
Midday
Visiting Tay Ho Palace is the next suggestion. This is the place to worship Princess Lieu Hanh, built in the 17th century. Phu is located on a large peninsula in Nghi Tam village, jutting out into West Lake. The palace opens the festival on two main holidays, March 3rd and August 13th of the lunar calendar. On non-holiday occasions, Tay Ho Palace is a space for you to relax, enjoy the scenery and retreat. Here is a corner of Hanoi different from crowded and noisy Hanoi.
For lunch, enjoy shrimp cakes around the area covered with West Lake. There are many restaurants such as Nim Thin, Phuong Dung, Thanh Mai with the most popular dish is shrimp cake along with snails steamed with lemon leaves, snails steamed with Bac medicine. A full meal for one person is about 200,000 VND to 300,000 VND.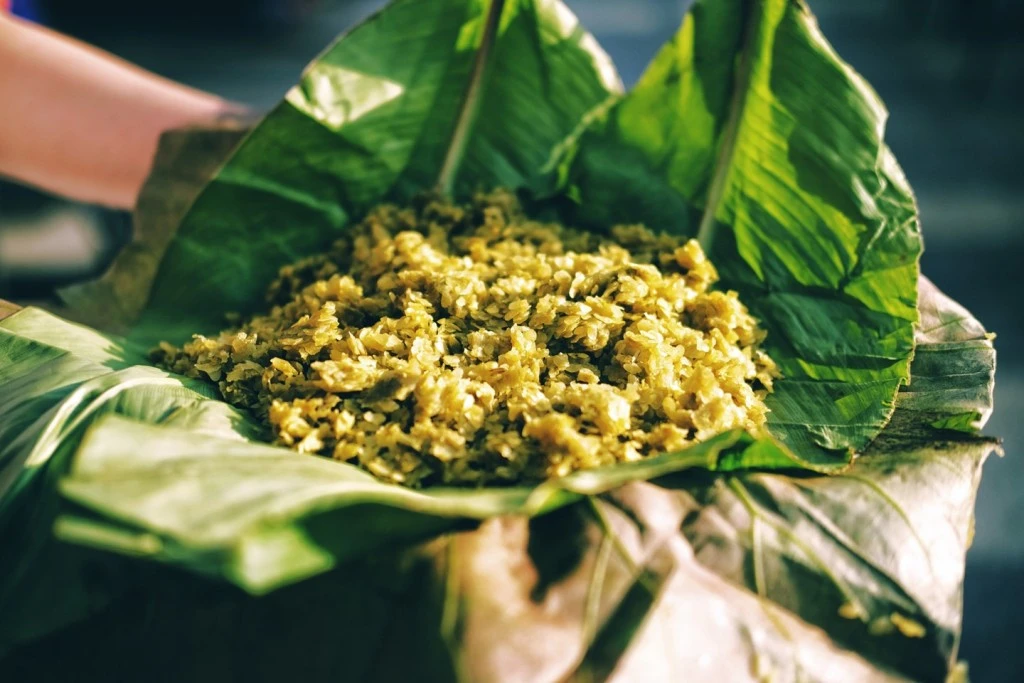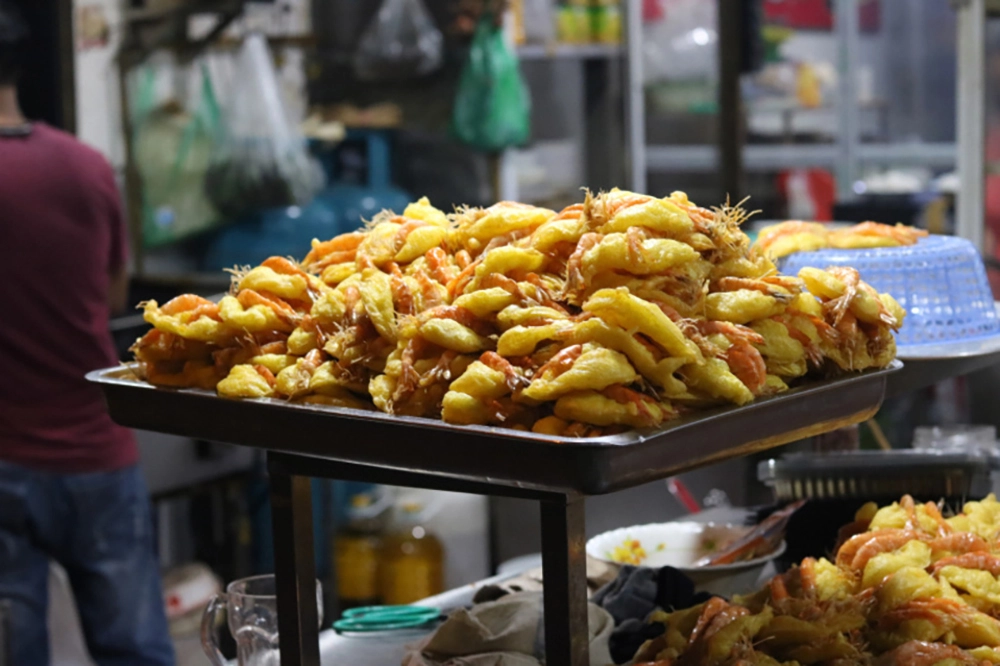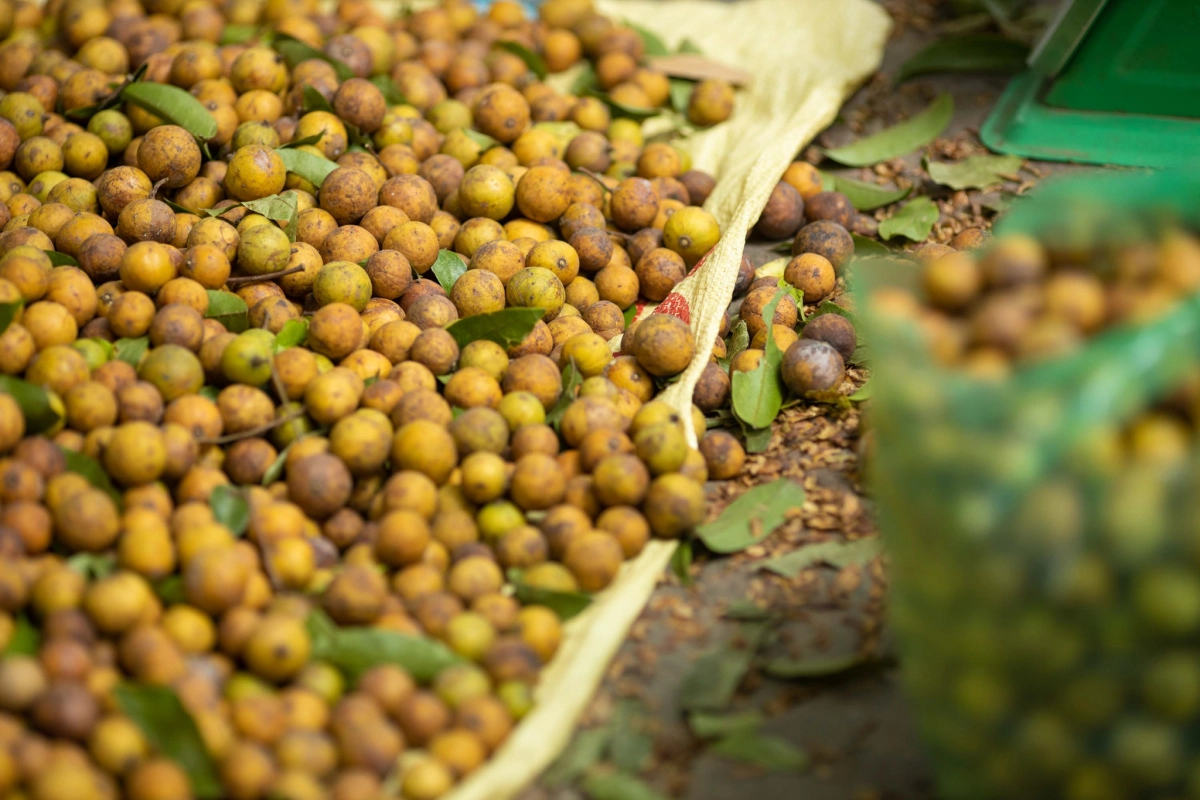 Read more: Hanoi in September, looking forward to welcoming autumn gifts
Evening
Taking photos and watching the sunset in West Lake will bring you an unforgettable experience. You can arrive around 4pm, "ride ducks" by Truc Bach lake, then walk through Thanh Nien street to watch the sunset of West Lake. There are two types of Truc Bach duck pedaling: large ducks for families cost 200,000 VND per hour, small ducks for two people cost 100,000 VND per hour. The starting point is in Lac Chinh Street. Note, it is recommended to wear a life jacket, follow the rules of safety and maintain general hygiene.
For dinner, if you still want to continue enjoying Hanoi specialties, you can visit Ngu Commune food street with the most typical dish is pho roll. This dish is made by a thin layer of coated noodle soup, wrapped inside with beef and raw vegetables, dipped in sweet and sour fish sauce. Some famous pho rolls: Hung Ben, Huong Mai, Huong Lien.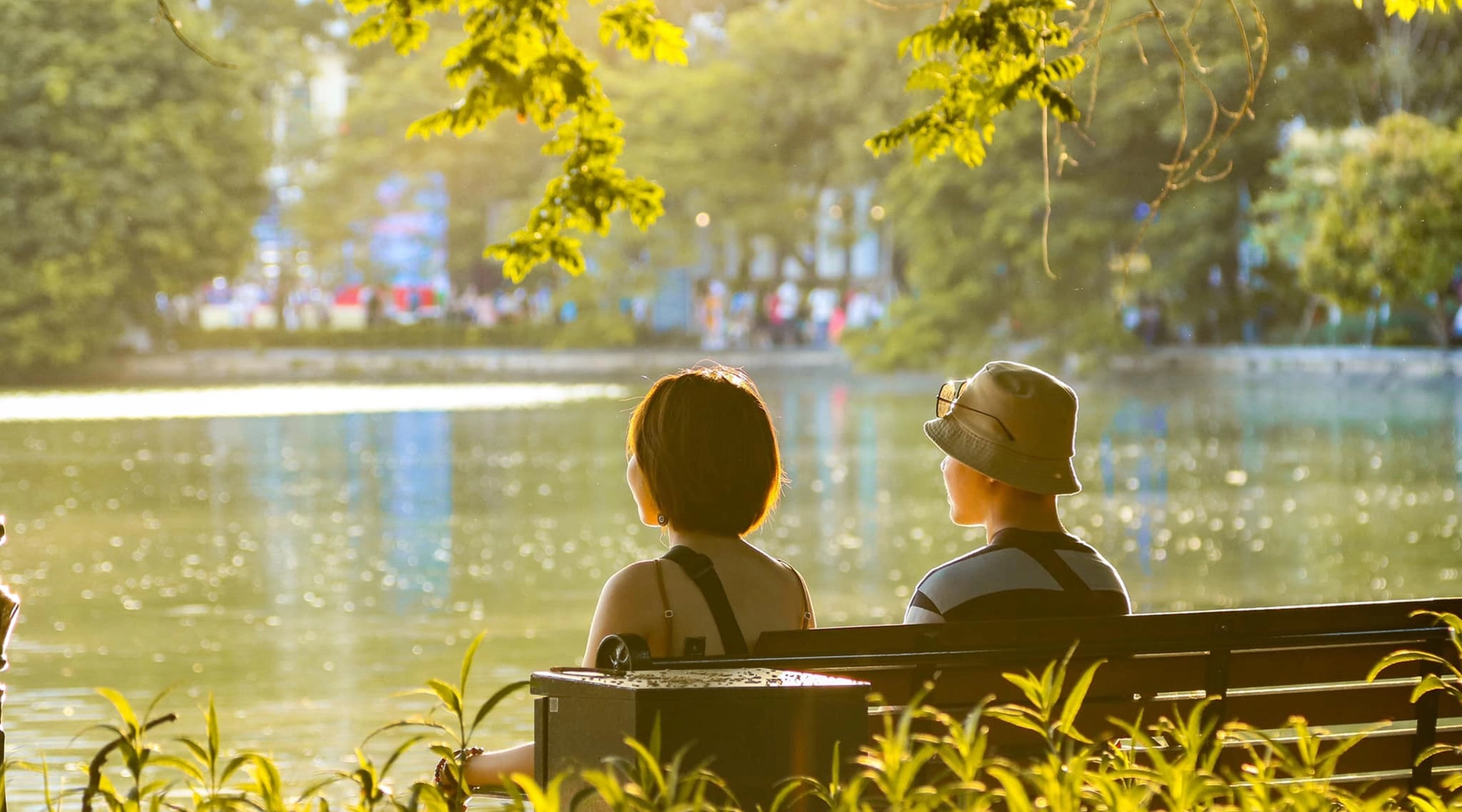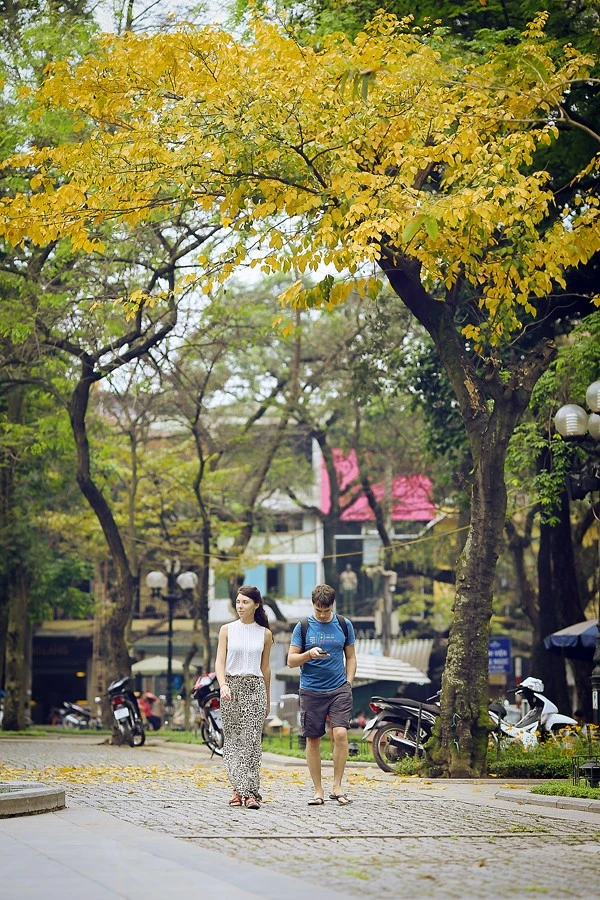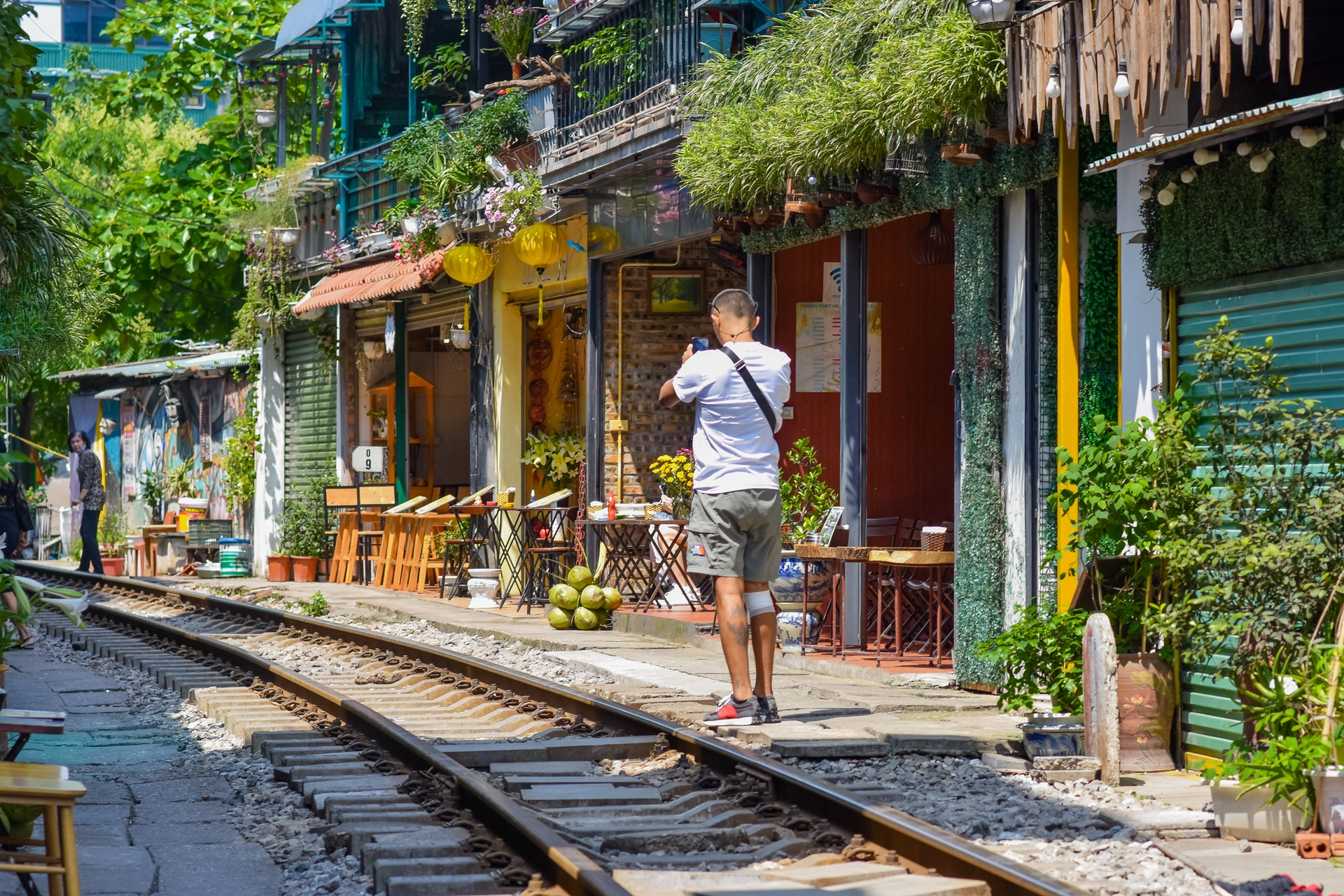 If you want to change your taste, try Western-style food. The area around West Lake with Xuan Dieu, To Ngoc Van, Dang Thai Mai streets are ideal places for you to find a cozy and quiet restaurant for European meals such as French, Italian or South American style such as Argentina, Brazil. Some recommended restaurants: Los Fuegos - Argentinian Steak and Grill, El Gaucho, Argentinian Steakhouse, Cugini, Paolo & Chi Italian Restaurant...
Some alternative suggestions: Shopping at shopping centers such as Trang Tien Plaza, Vincom Ba Trieu; Take a double-decker bus to see the streets and tourist attractions, listen to music at the tea rooms...
According to VnE