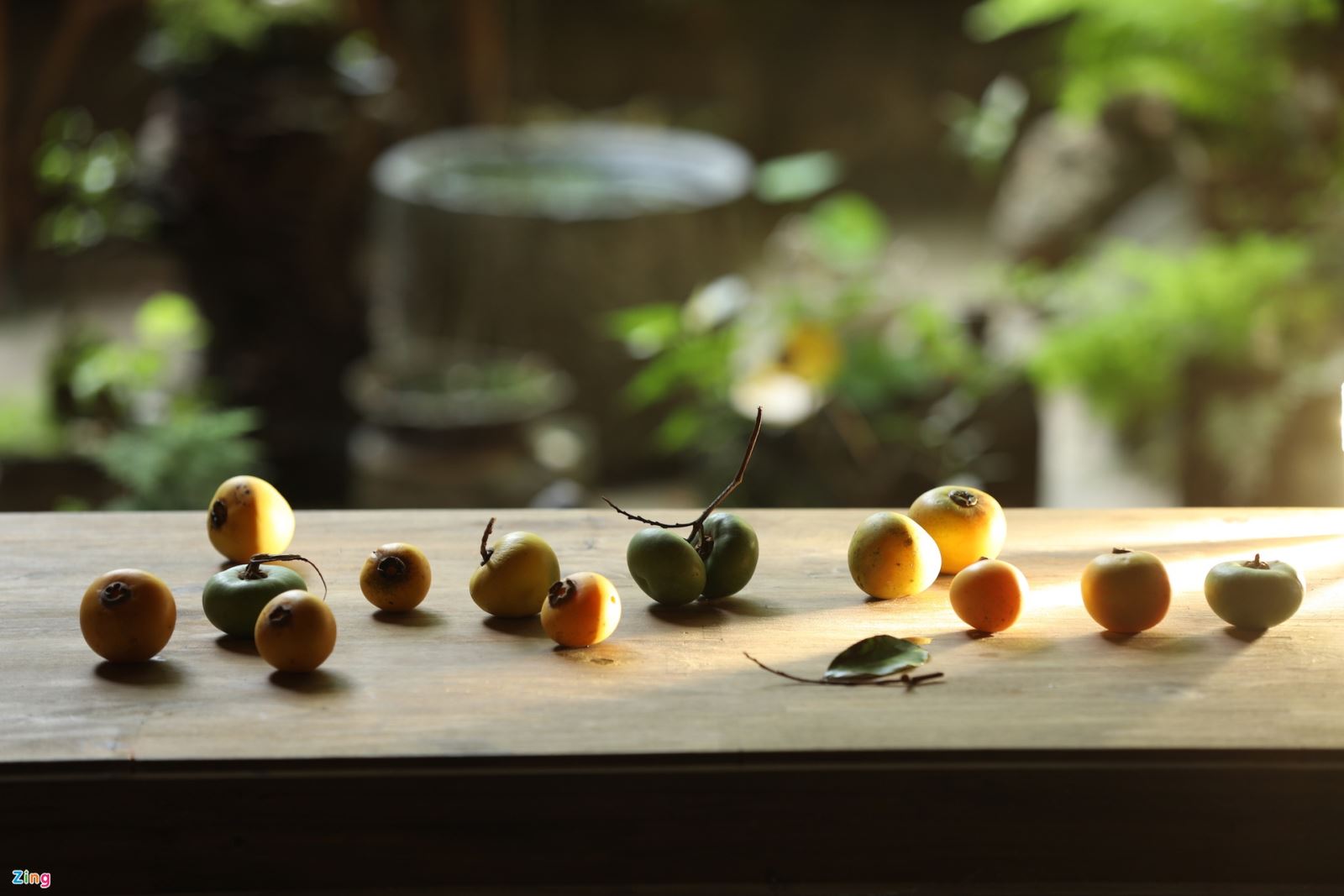 Autumn walks across the street
Young nuggets welcome early autumn
Moving to another city has lived for a long time, but every July and August, I remember the smell of freshly transplanted Bac Huong rice gently and pleasantly every time I open the lid of the rice my mother cooked. The smell of rice, which is only sweet when freshly harvested and given to it by acquaintances each year, is also a gentle reminder that a new crop is coming; Nuggets' season is about to begin again.
Each year there is only one long season of 01-02 months, without much thought, a Hanoian can also tell about the delicious herbal delicacies that have been pinned deep in all senses. With only crush nuggets, each house can enjoy banana nuggets, tea nuggets, cake nuggets .. snacks, or egg nuggets, nugget rolls, sticky rice nuggets .. Eat main at every meal. Many ways of processing and eating styles are like that, but for the long-time children of Hanoi, the first pinch of young nuggets to eat directly with the rustic aromatic sweetness is probably the most emotional.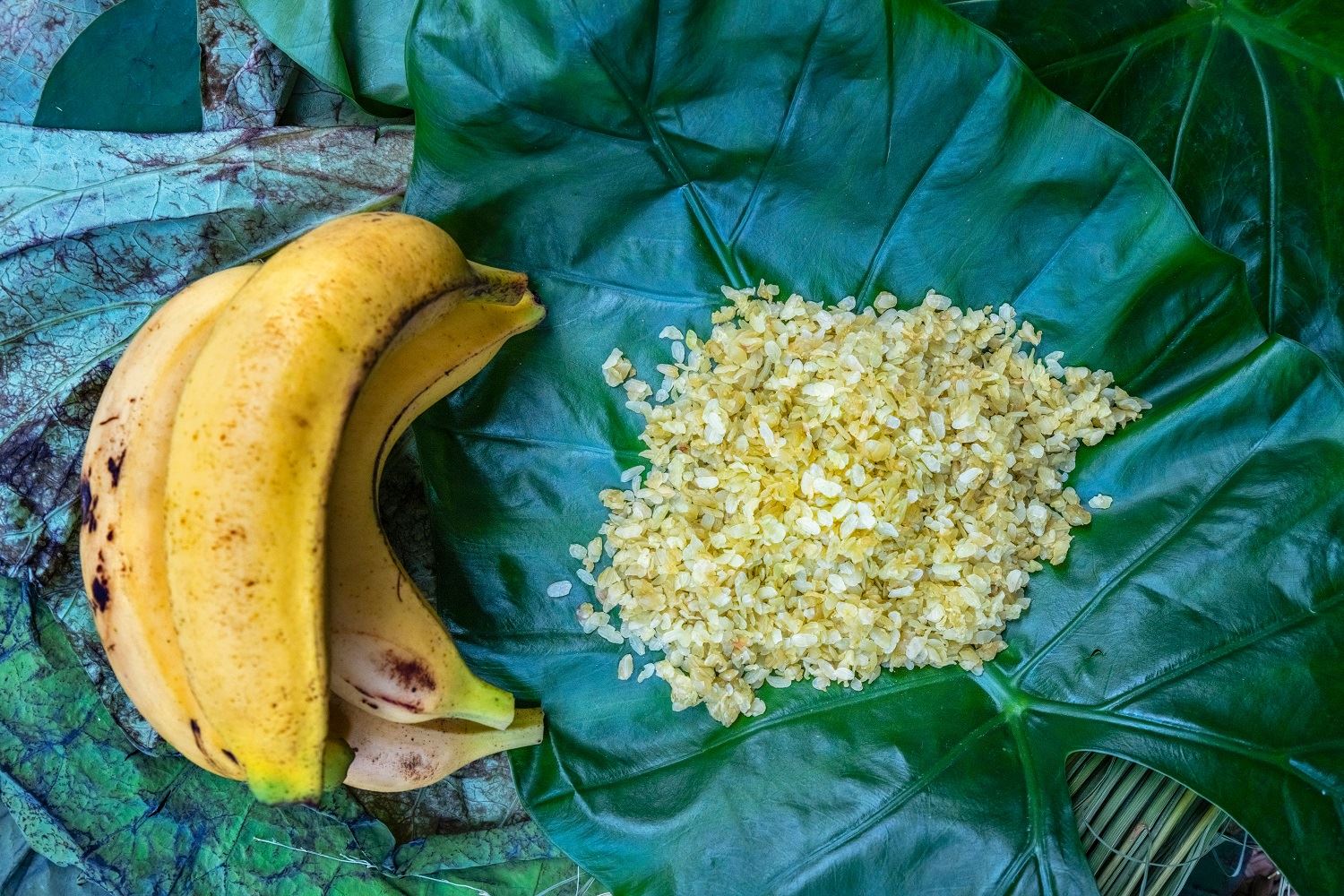 You can find nuggets in season at local markets or street vendors. (Photo: Shutterstock)
Made from the first batches of paddy in the full season, intact with the gentle aroma of blooming rice, the first batches of nuggets are most often welcomed because of their sweet, soft and flavorful taste. In the cool autumn weather and the sunshine creeping through the leaves, nothing is more pleasant than the feeling of a truck of young nuggets passing by or a load of rice with packages of lotus leaves being bought and sold by customers. Open the wrap of freshly picked lotus leaves that are still freshly green, the young nuggets are natural, lakeless, soft and indescribably smooth. Do not wait long because the nuggets come out of the wind very quickly, people often do not hold small pinch of nuggets but eat directly. Then chew carefully, the taste of rice milk in the nuggets secreted and the aroma of young rice and lotus leaves sometimes blend to create a pleasant cool feeling of a relaxed and relaxed early autumn.
Fall - have you ever tried?
Referring to the autumn of Hanoi, it is impossible not to mention the fall. A sensitive insect that lives only in coastal brackish fields, it can only be caught before the sun rises and shipped back to the city within hours of the morning market starting. At first glance, it is hard to imagine that these tiny animals born from mud can be a worthwhile ingredient for specialty delicacies of Hanoians.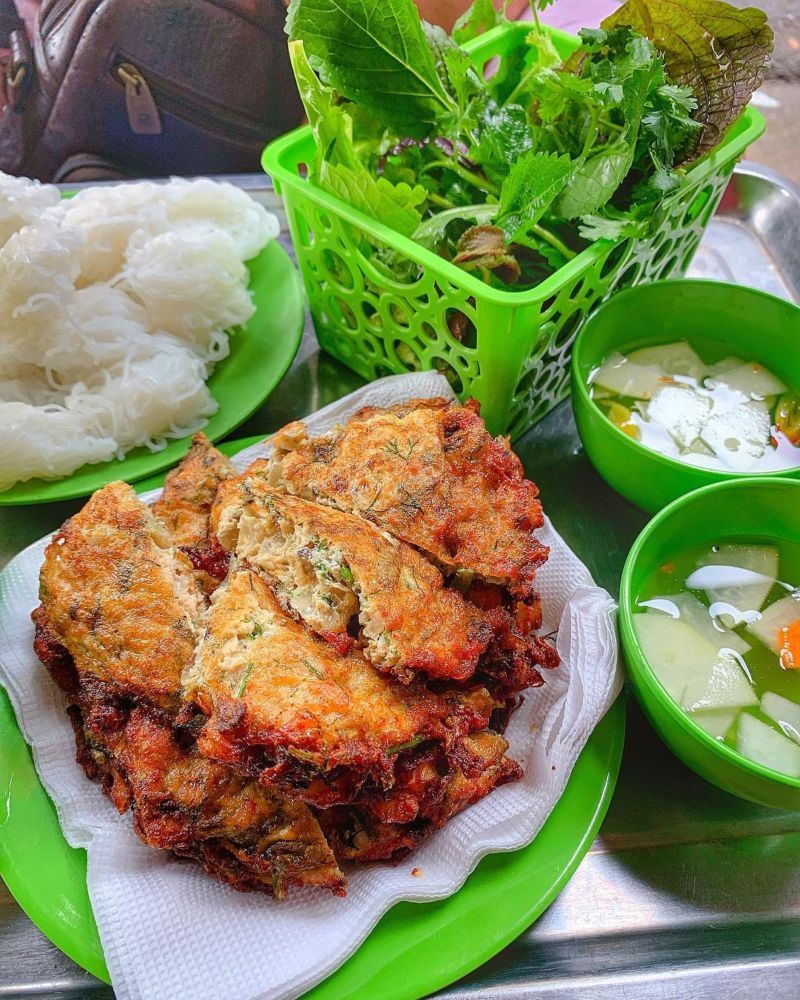 Dried and chopped tangerine peel is just a special "medicine" that balances this nutritious dish, and at the same time brings up the aroma in a very delicate way of the old Hanoians. Photo: Halotravel
These small flies, which are only about the size of two knuckles long, look quite like earthworms, are always sought after by mothers and mothers who go to the market very early to be able to keep their freshness. To make the drop also needs to be quite meticulous. The bring back needs to be stirred very gently, lightly shed with hot water aged 75-80 degrees three to four times to clean without crushing the fly. The delicious dish not only needs eggs, minced meat, onions, cumin, minced peppers but also needs a little dried tangerine peel to reduce pungentness but still retain the aroma from essential oils. All ingredients according to each housewife's own recipe are whipped medium and simmered or steamed according to the preferences of each house.
Familiar in the family kitchen, the fragrance of freshly fried spring rolls flies around every corner, so that on a windy afternoon, each family gathers around the tray of rice, picking up hot spring rolls, the fat taste is just right and the aroma is delicate and heartwarming.
This dish has been served all year round at some familiar addresses such as Hang Fat Spring Roll (Foundry Oven), Hung Thinh Spring Roll (Hang Mat)
Autumn fruits gather on the August Full Moon Tray
In the middle of the harvest, the August Full Moon marks a season of sweet fruit with many full flavor touches grafted onto the tray to look like the moon. Standing out against the background of tropical fruits that are always available all year round, bamboo skin pink, Xuan Dinh siamese pink and ripe crocodile bring an unforgettable "autumn" aftertaste, and mark as precious hometown gifts of Hanoians for friends from four directions.
On every occasion of strolling thirty-six gentle autumn streets, along Hang Ktray or turning through the ceremony hall, one cannot ignore the ripe crocodiles of the street vendors. Having reduced some of the sour taste of the green crocodile and replaced it with a gentle sweet aroma, ripe crocodiles are often spiral and salted with chili as a snack favored by both adults and children.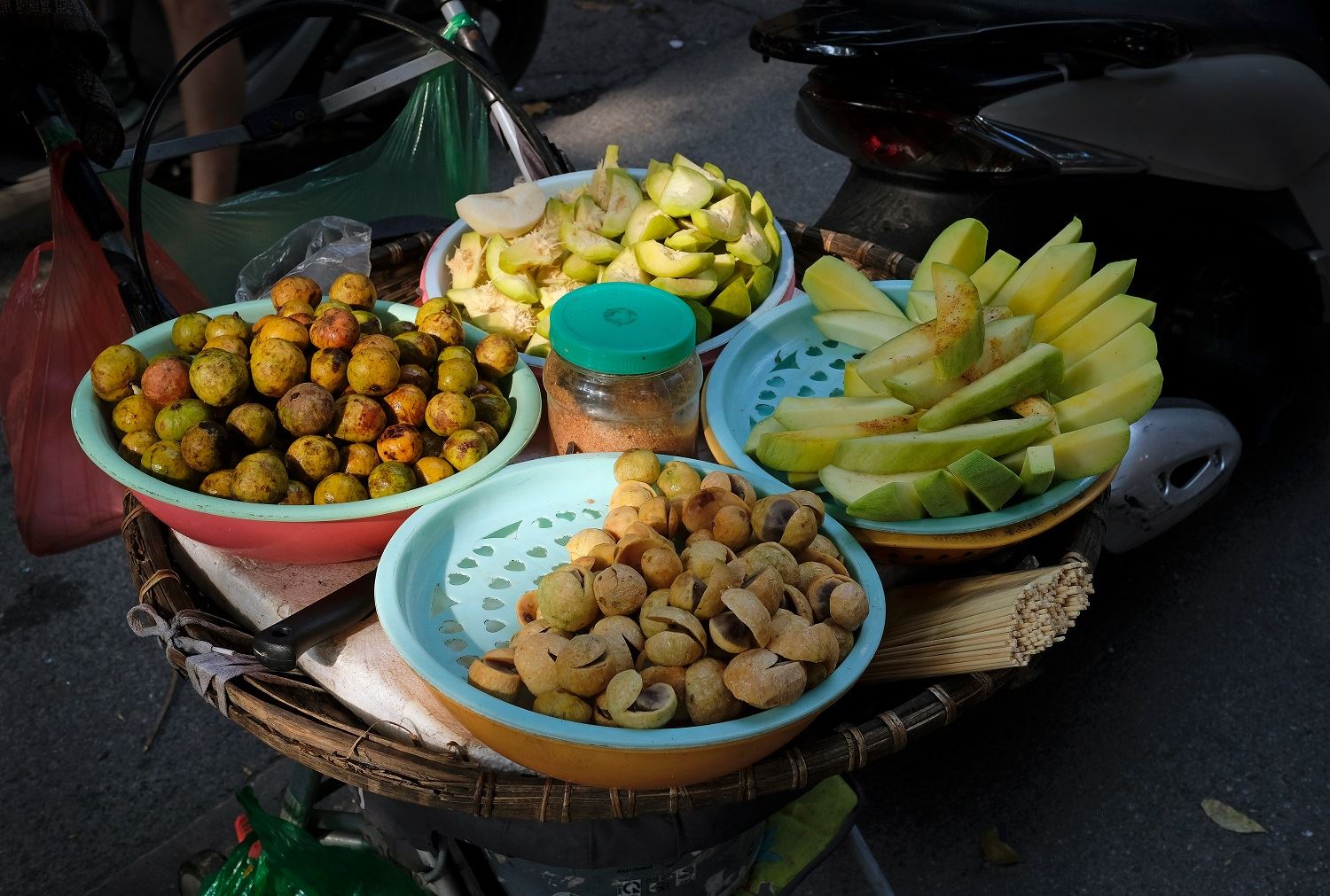 The ripe crocodile is crispy and dipped in salt and chili. Photo: Shutterstock
There is only a very short crop of about 01-02 weeks coinciding with the Mid-Autumn Festival, although bamboo skin persimmons are not as popular as pickled persimmons or red persimmons, but also belong to precious fruits every autumn.
Lying solemnly on the fruits offered to ancestors or cherished on the reception table - Mid-autumn gift boxes for acquaintances, bamboo skin pink always wins the hearts of the people of Trang An ancient town thanks to the eye-catching yellow-orange intestines like peach eggs and each fragrant soft flesh, crushed like a red rose.
Along with mooncakes and colorful lanterns, autumn has come quickly with delicious gifts, making those who go away always remember not to forget. Autumn comes, bringing the sweet aftertaste of sunshine and happy wind. For the most beautiful season of the year of Hanoi.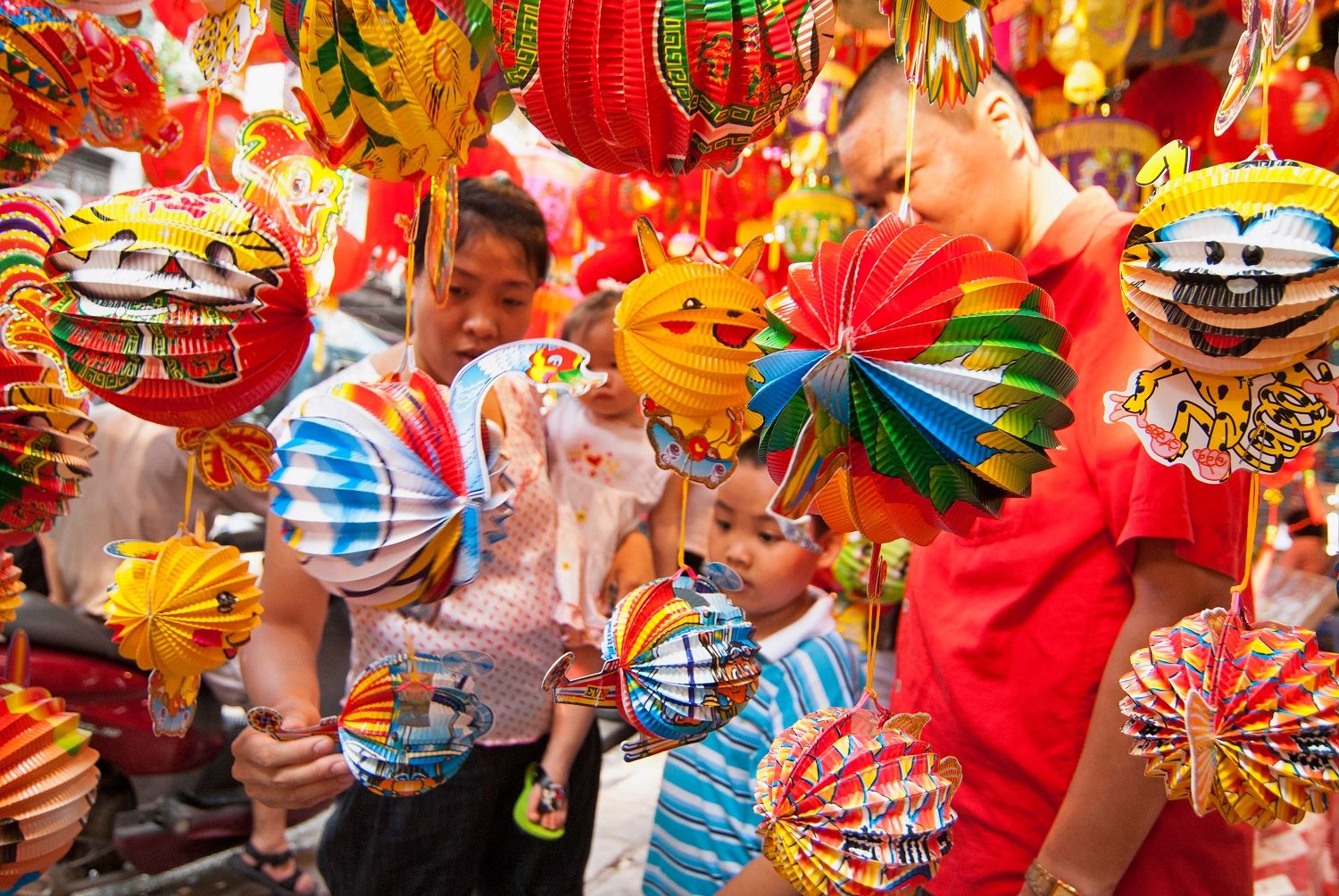 Mid-Autumn Festival on the 8th full moon (Image: Shutterstock)
Written by : Khanh Huyen