The Cat Ba archipelago consists of 367 islands located south of Ha Long Bay. In particular, Cat Ba Island is a tourist attraction. This place has the typical scenery of Ha Long Bay with limestone mountains and calm blue sea.
What season is Cat Ba beautiful
Summer is the most ideal time to travel to Cat Ba. From 4 to 10 months, it is cool, suitable for relaxation, bathing. The peak season is from May 5 to May 7.
If you plan to visit the island between July and August, visitors should pay attention to check the weather forecast three to five days in advance to ensure there are no rainstorms. From November to March the island is quite deserted. But this time is ideal for exploring nature and relaxing.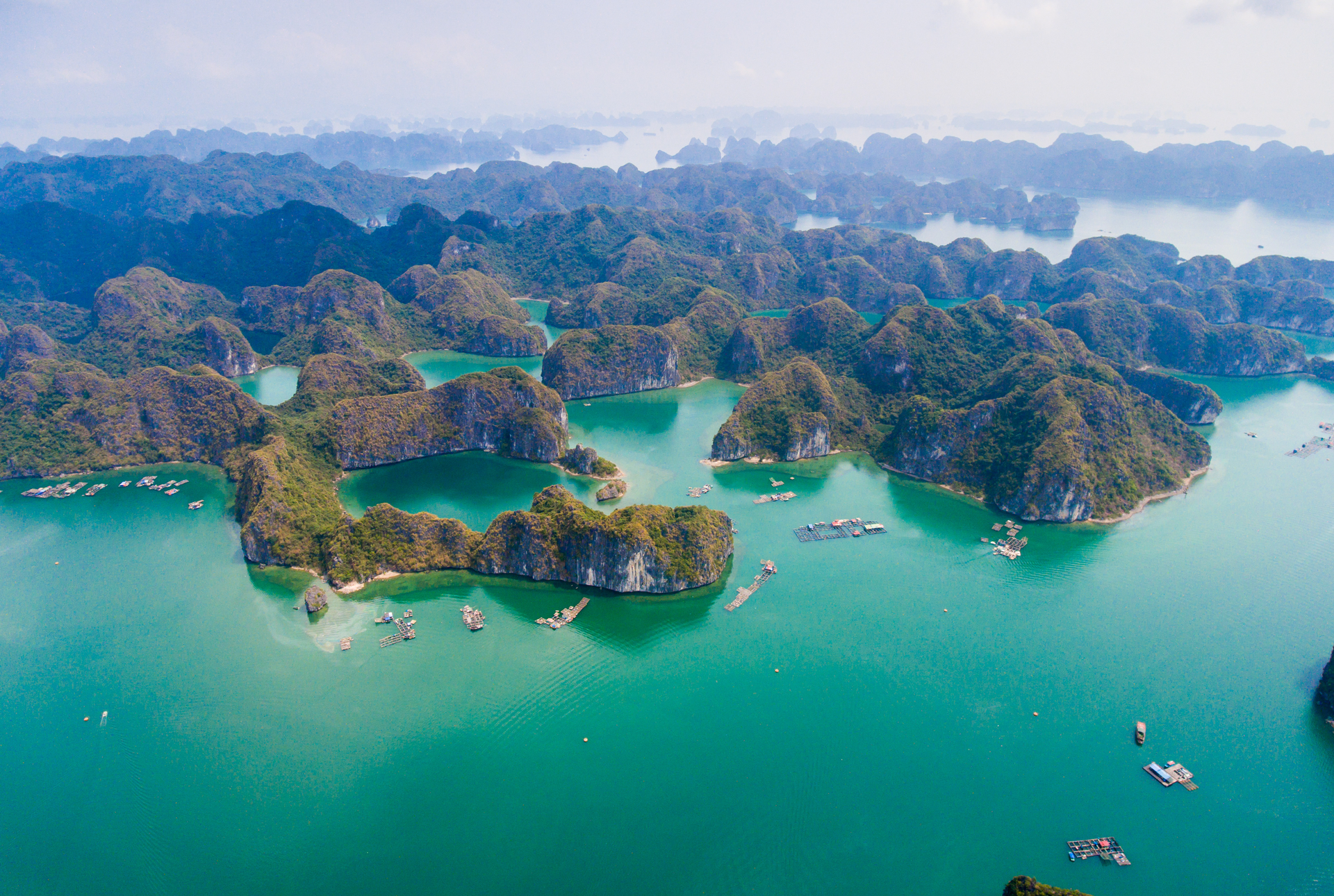 Move
From Hanoi, visitors can take a private car to Hai Phong, via the Tan Vu sea crossing bridge to Got Ferry. The ferry stops at Cai Vieng pier in Cat Hai district, driving about 20 km to the center of the island – Cat Ba town. In particular, the cost applies to cars under 9 seats including bridges and roads 210,000 VND, ferries 190,000 VND. The ferry fee for motorbikes is VND 45,000 per vehicle.
If taking a bus, a ticket from Hanoi to Got Ferry port is about 150,000 VND, then to the island by ferry for 12,000 VND per person. In addition, visitors can choose car companies to go directly to the center of the island, for VND 250,000 per person.
Cat Hai – Phu Long cable car saves time to the island, only 10 minutes, instead of 20-30 minutes by ferry. Crossing Tan Vu Bridge towards Got Ferry, visitors enter Cat Hai cable car station according to roadside signs.
The round-trip cable car ticket price is 200,000 VND per person, Hai Phong household registration holders are 150,000 VND. Parking is available at the station. The cable car operates 9h – 16h on weekdays, 9h – 17h on weekends.
There is a motorbike rental service on the island, about 40,000 VND an hour and 200,000 VND a day. Taxis from the center of Cat Ba have a service running along the sightseeing route, priced at 200,000 – 500,000 VND both going and returning.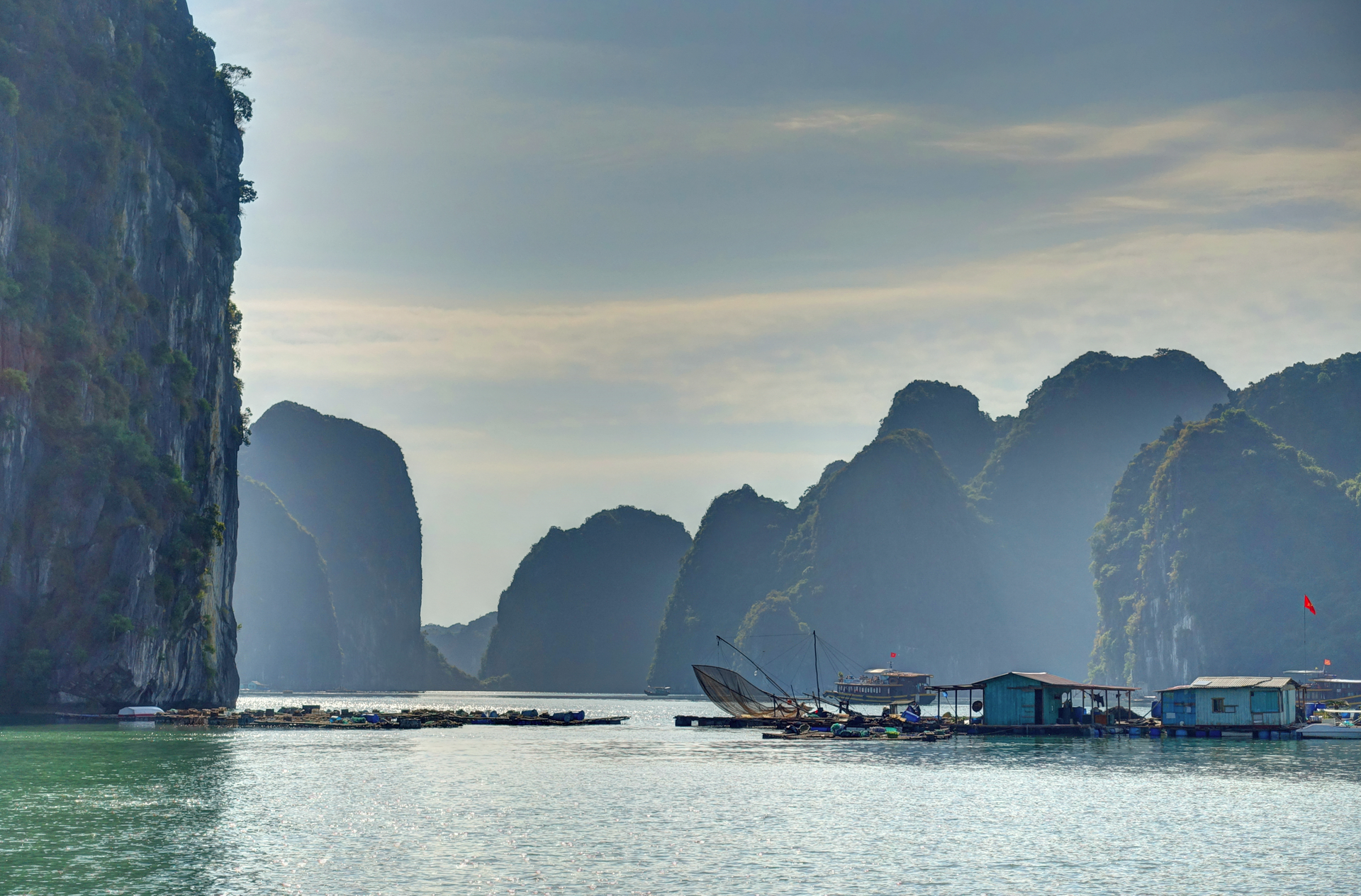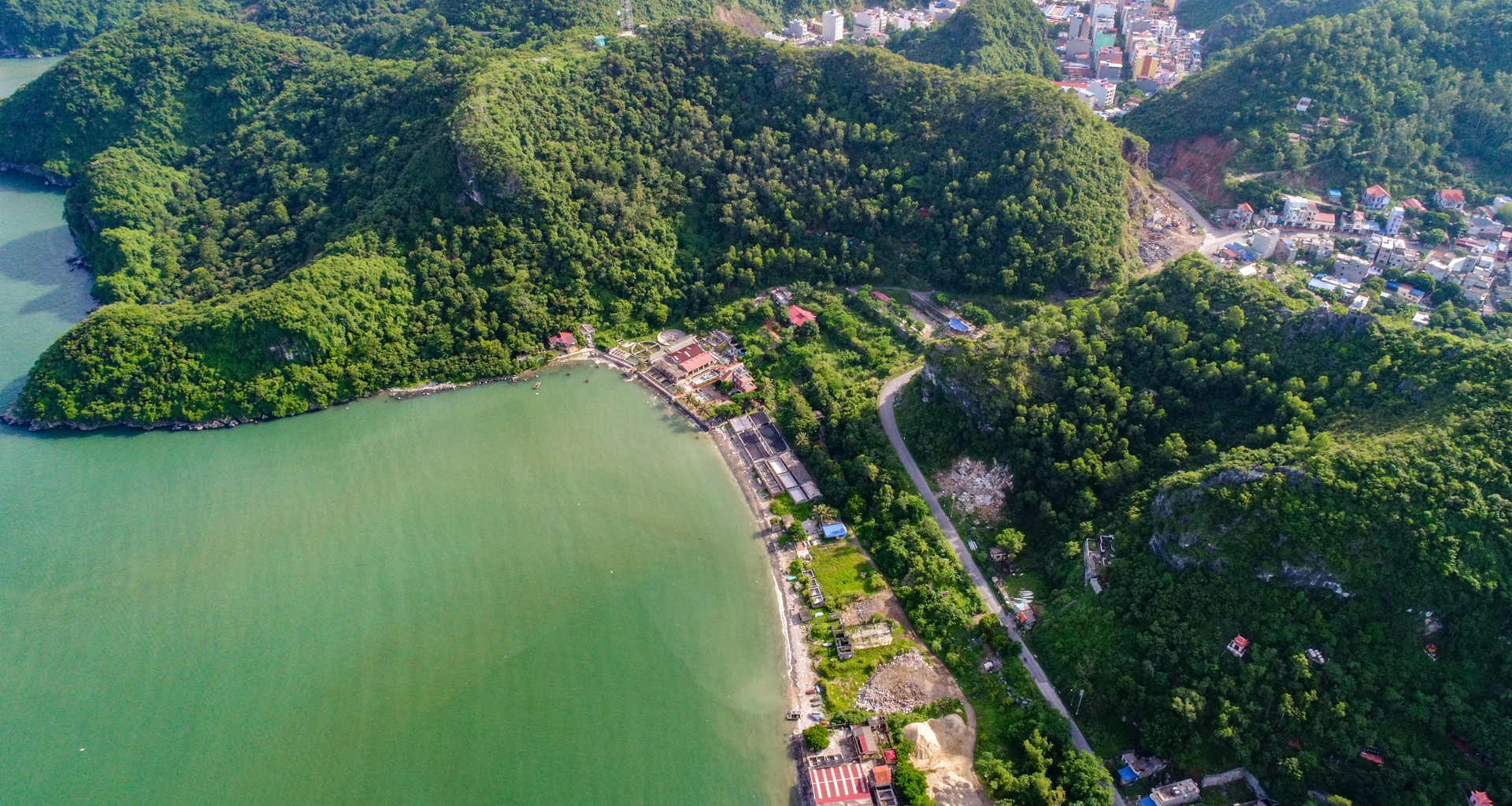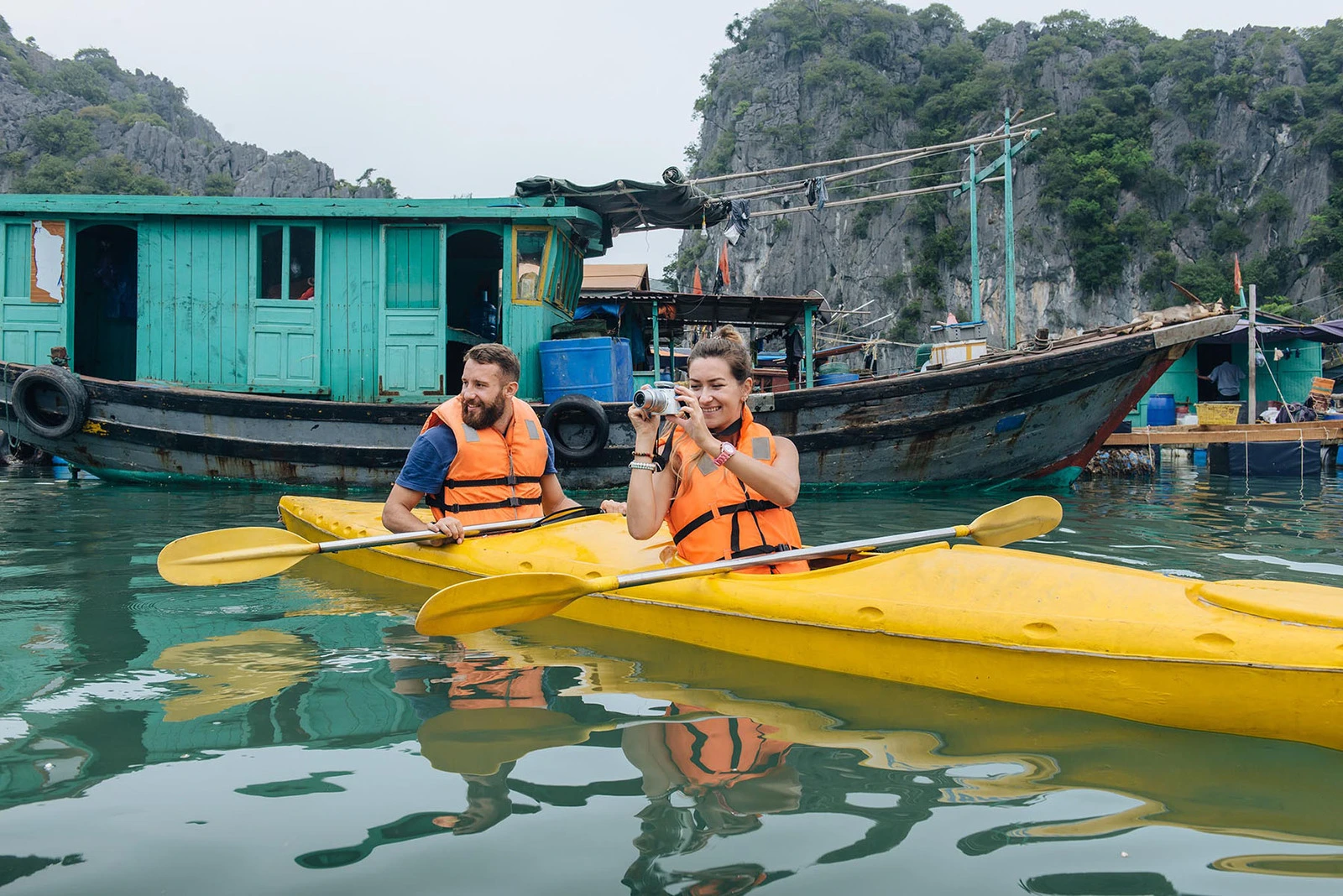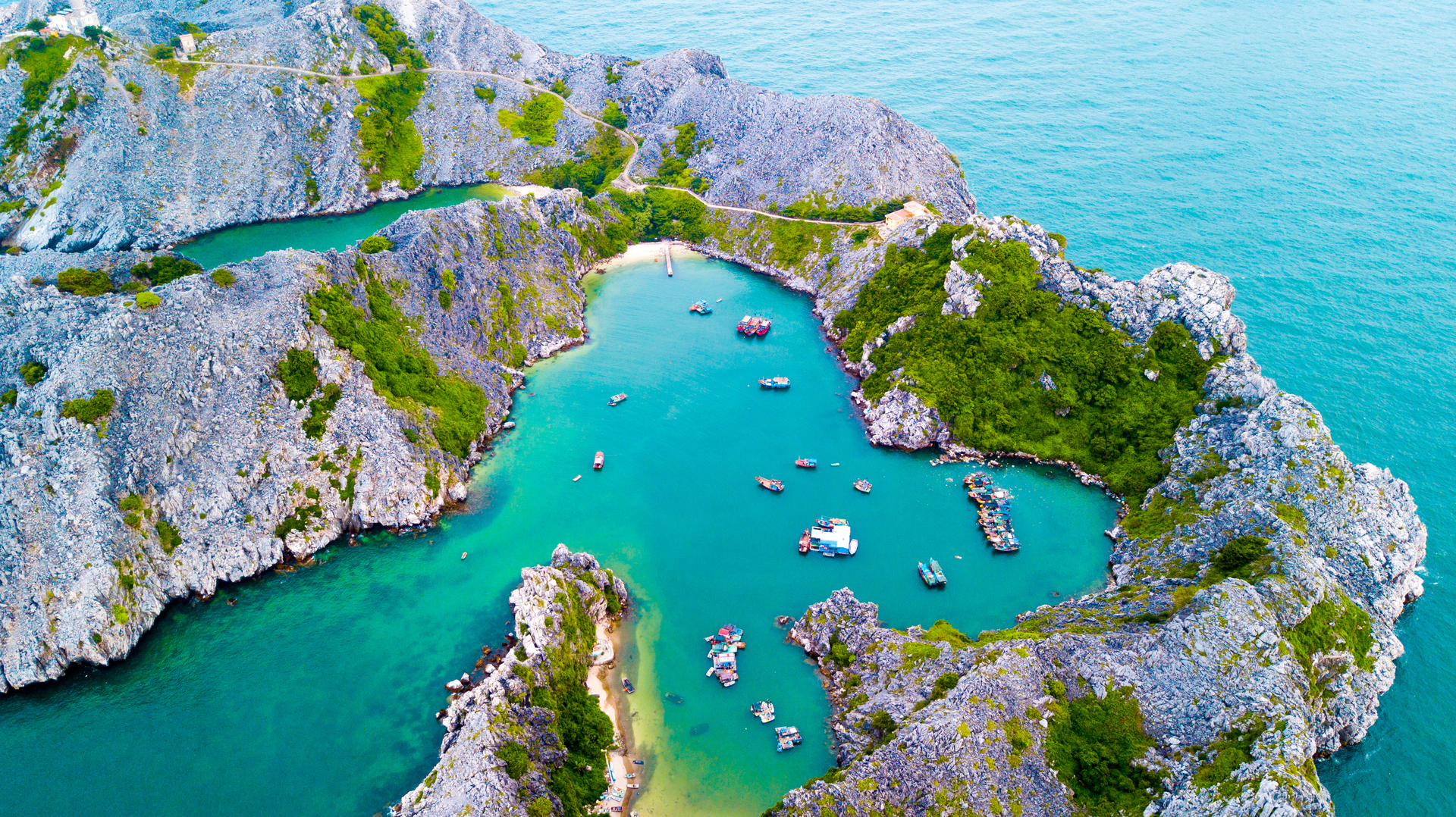 Where to play
Lan Ha Bay
The bay, located to the east, is a member of the Association of the World's Most Beautiful Bays Club (MBBW). It has calm and blue waters.
At Cai Beo wharf, visitors buy sightseeing tickets for VND 30,000 per person, then take a boat or canoe to Lan Ha. The charter price of a private boat is 2.2 - 3.8 and 5.7 million VND respectively for 2.5 - 4 and 6 hours, the boat can carry 25 people. Motorboats cost 500,000 - 1 million VND, corresponding to the type that can carry 5-10 people.
Visitors should buy a tour to save, about 200,000 – 350,000 VND per person with lunch. Popular itineraries include visiting bays and ancient fishing villages, bathing and scuba diving at some pristine beaches, and free kayaking.
Cai Beo ancient fishing village
The village, also known as Ung O, is considered the oldest fishing village in Vietnam. Coming here, visitors can learn firsthand the activities of people from thousands of years. Step up to the raft house, paddle a boat between the floating rafts, buy seafood... are experiences that should not be missed. This is a popular one-day discovery tour destination from Cat Ba Island.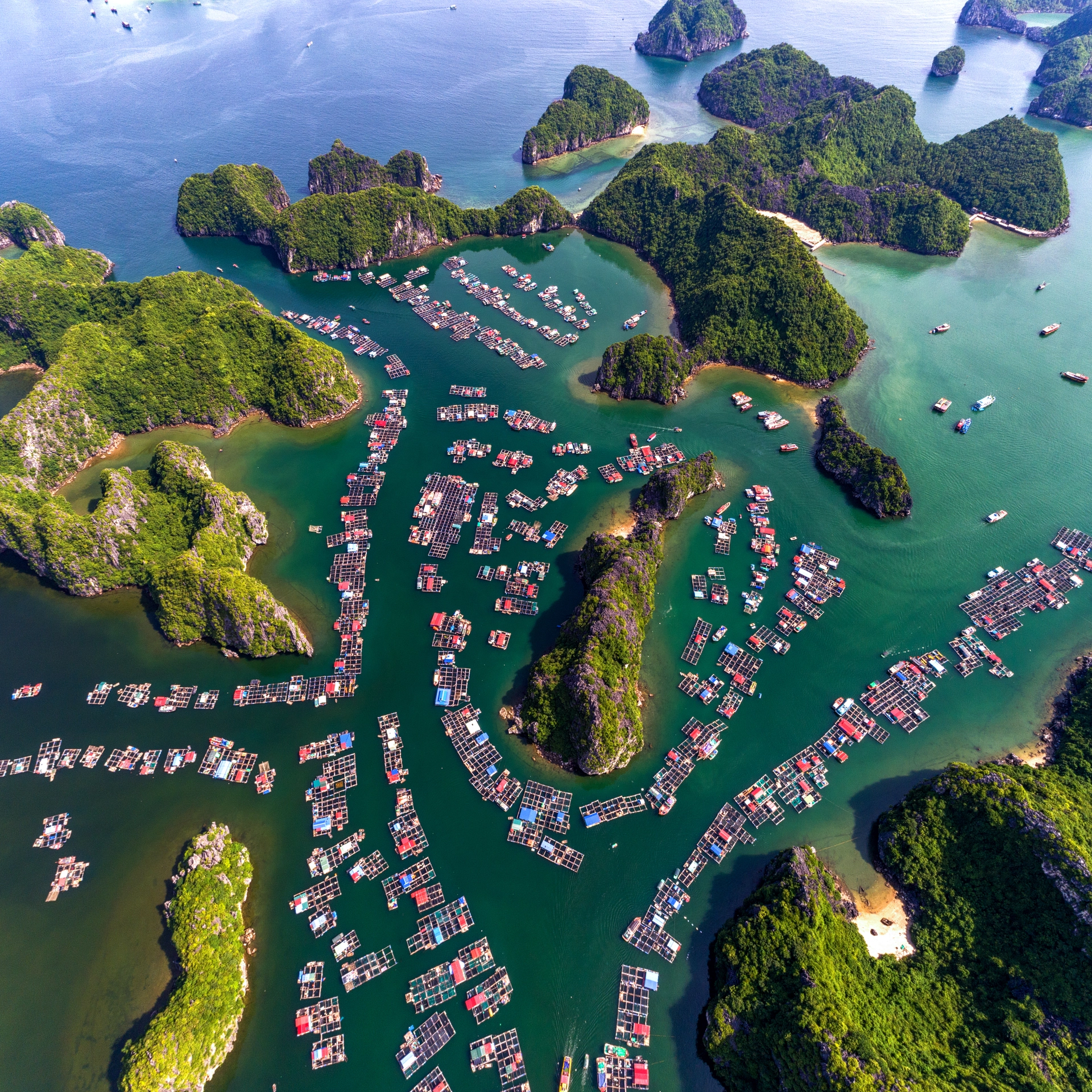 Monkey Island
It was formerly known as Cat Pineapple because it grows many wild pineapple trees. On the island there are more than 20 monkeys. When visitors come more, they are more bold, go down to the beach to play and beg for food.
There are two arched beaches, Cat Pineapple 1 and Cat Pineapple 2, where visitors can avoid crowded scenes. The beaches have food service, holiday bungalows, bathing suit rental, life jackets, kayaks.
A one-day tour to explore Lan Ha Bay includes a visit here.
Cat Ba National Park
It is also a world biosphere reserve. Guests can choose to climb the mountain in 4-8 hours, or a shorter route of more than 2 hours. Walking, cycling, motorbike or car for 2-3 hours is also the choice of many people. Visitors can go through the green Kim Giao forest, go to the top of Musketeer to see the panoramic view of the national park, watch wild animals at night, explore the caves ...
Entrance fee is 40,000 VND per adult, children 20,000 VND.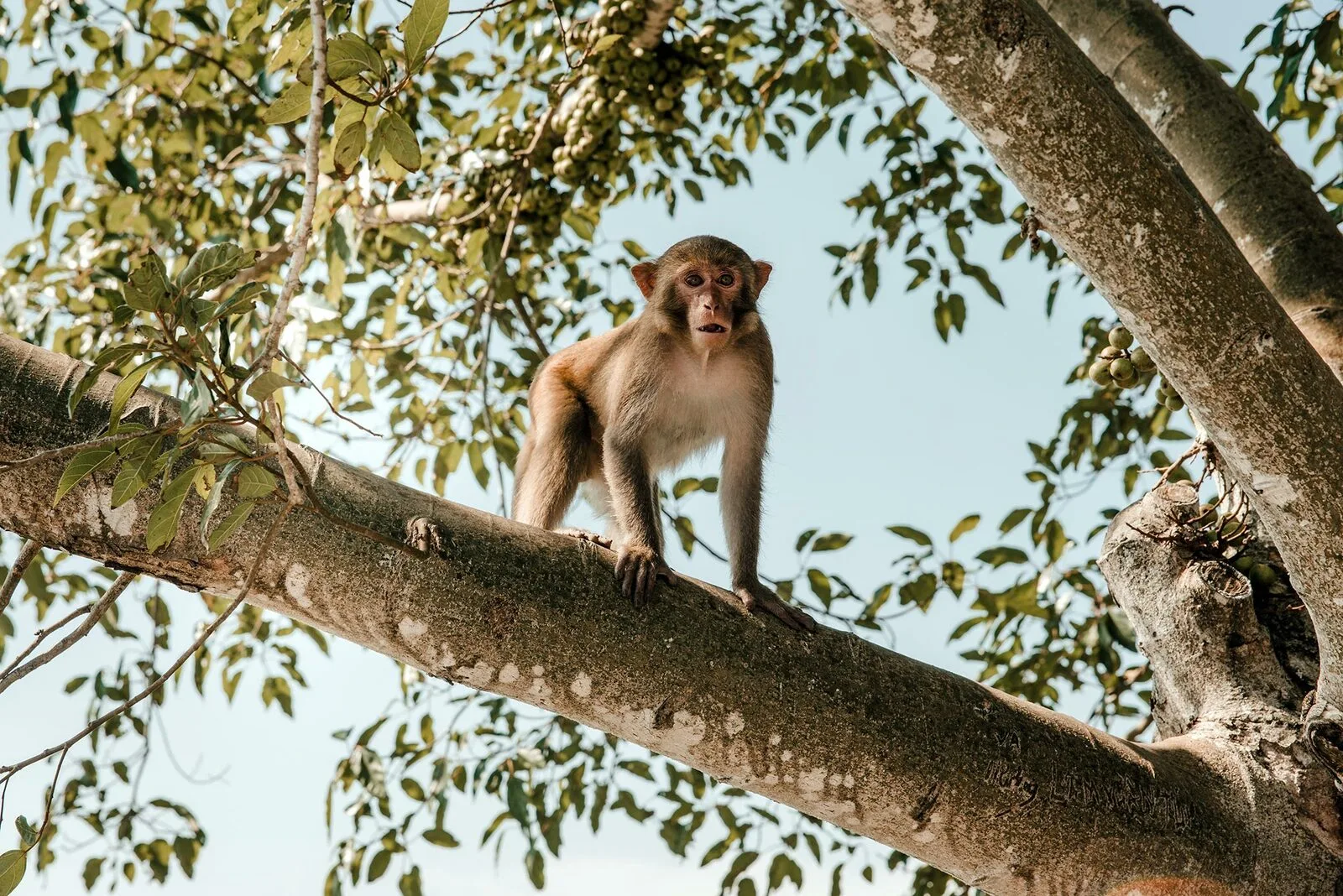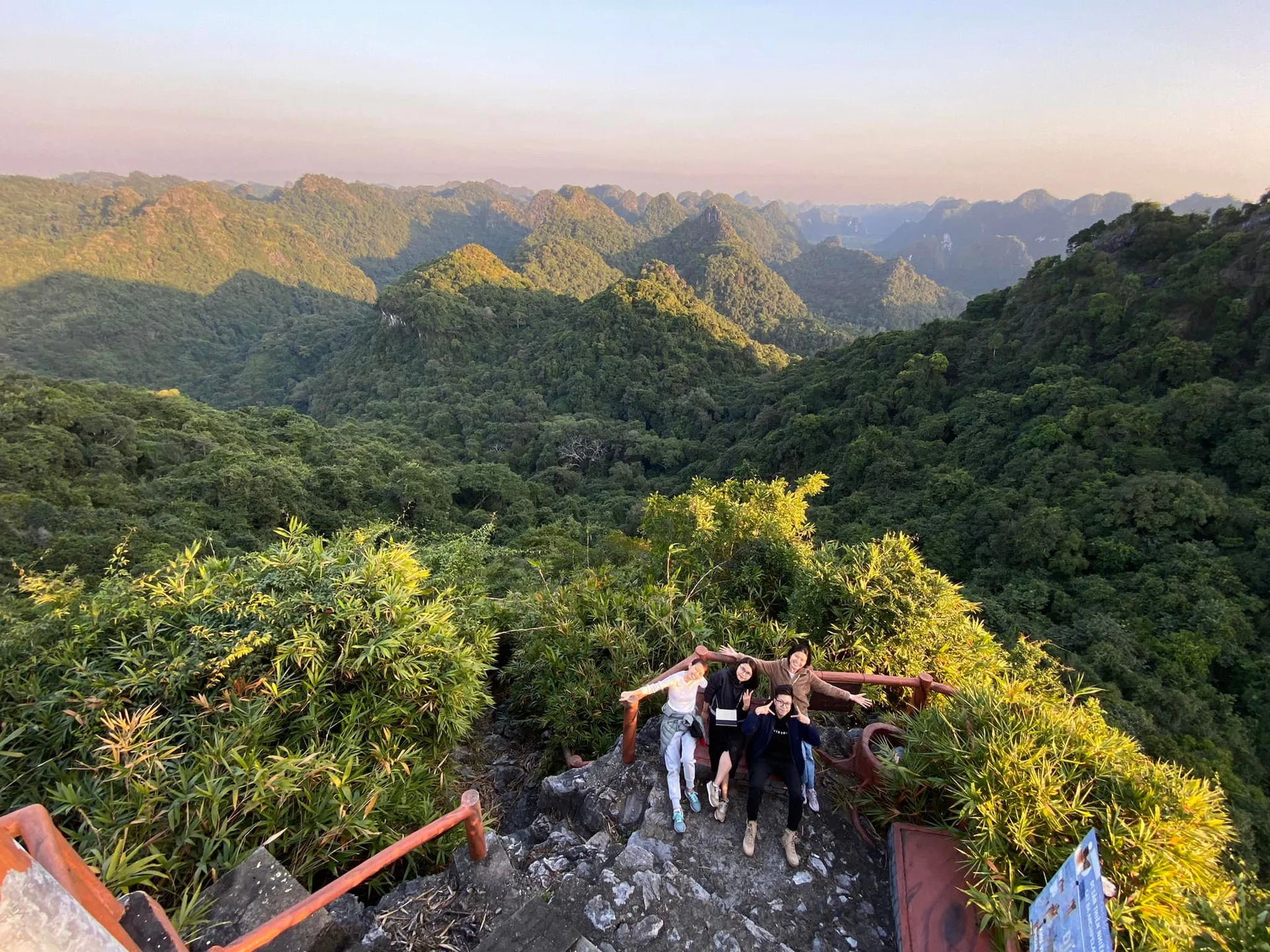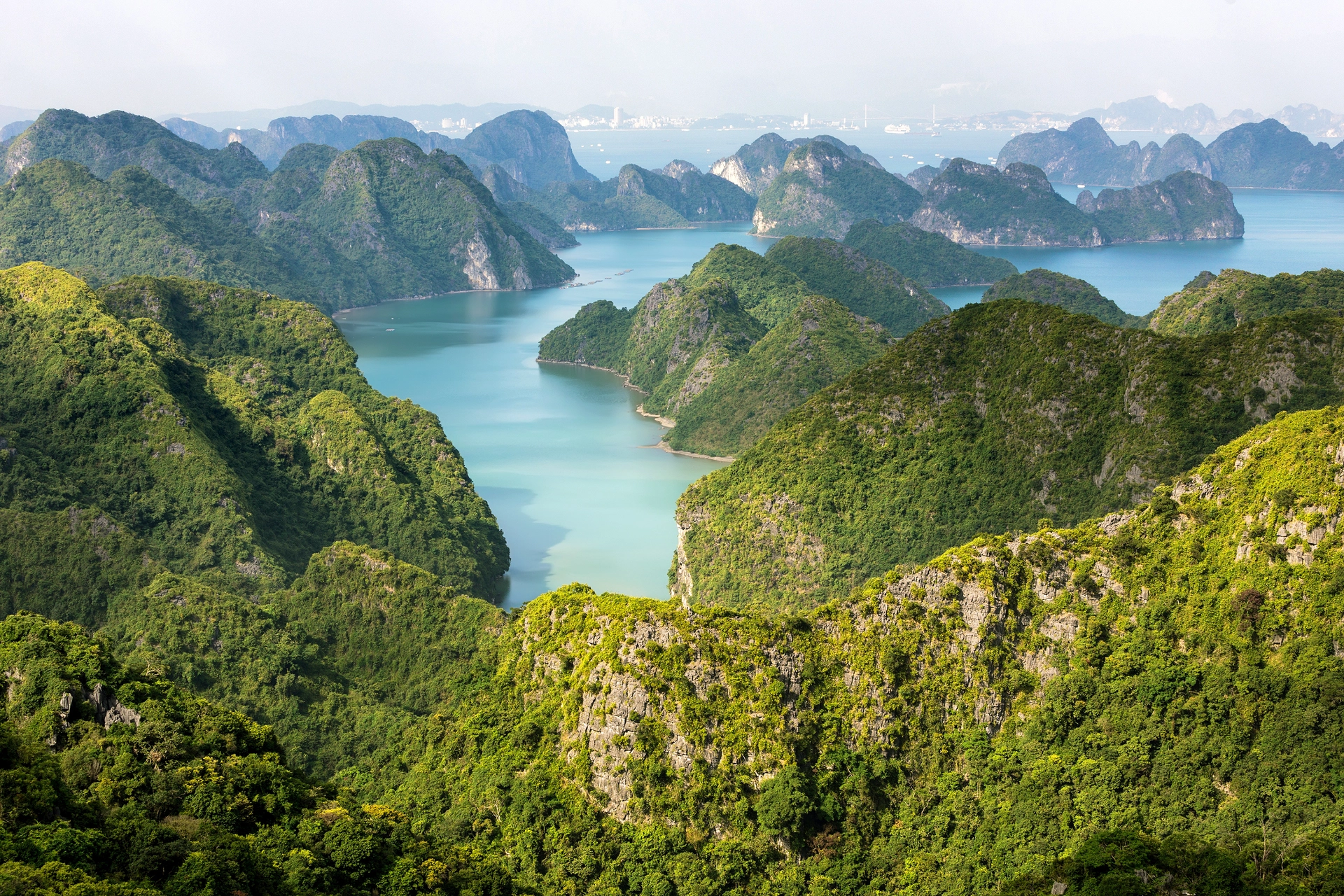 Military Medical Corps
This is a unique destination, about 8.5 km from the town center, on the way into the national park. The cave bed is a field hospital building, built between 1963 and 1965.
Entering the cave, many visitors are surprised to see the 17-room system located on three floors; There are healing rooms, rehabilitation training areas, cinema rooms ..;. There is a bombproof door design, born during the war.
Tickets to visit the cave are VND 80,000 per person.
Trung Trang Cave
Located in the same direction of Quan Y cave, visitors should visit the cave about 300 meters long through the mountain, accommodating hundreds of people. The system of stalactites and stalagmites here is large, shaped, sparkling, about 6 million years old, still formed by dripping water crevices. It also contains archaeological remains of ancient Vietnamese.
Entrance tickets are VND 80,000 per person.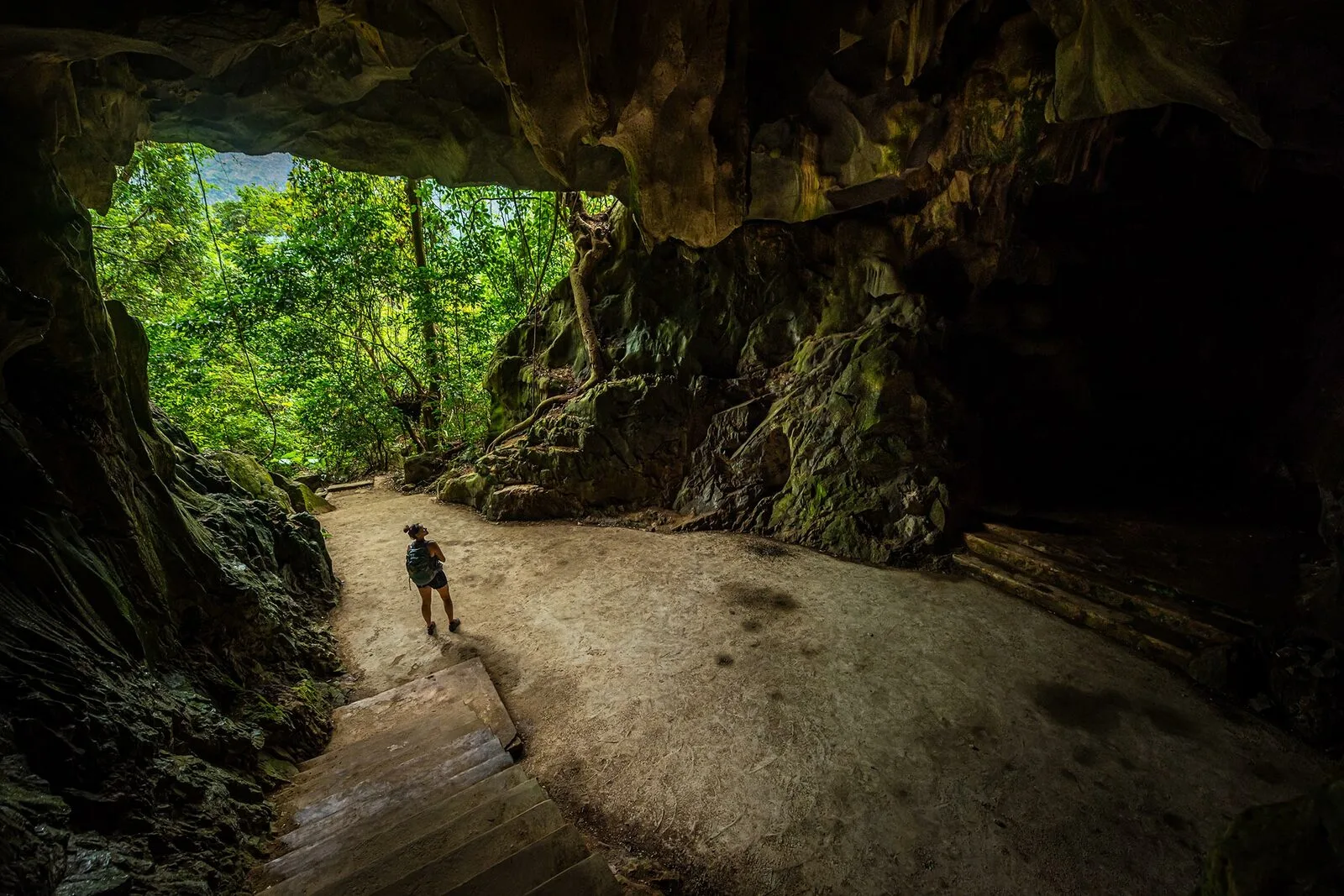 Cannon Fortress
To both visit and rest, visitors can go to the relics of Shen Gong fortress, also known as Peak 177. Two large cannons and a trench system on the top of the mountain, built in the 1940s, are quite intact.
What attracts many visitors is the elevated location, from here can overlook the panoramic view of the bay. This place is suitable for watching sunrises and sunsets on the island.
Entrance ticket is 80,000 VND per person. Guests wishing to ride the tram will pay an additional VND 50,000 per person. In addition, the viewing fee with binoculars is 5,000 VND.
Beautiful beaches on Cat Ba Island
If you don't have time to explore the islands off the bay, head to the central beaches. In particular, Cat Co beach cluster and Tung Thu beach are visited by many people. These beaches are spacious, calm, blue water and easy to navigate.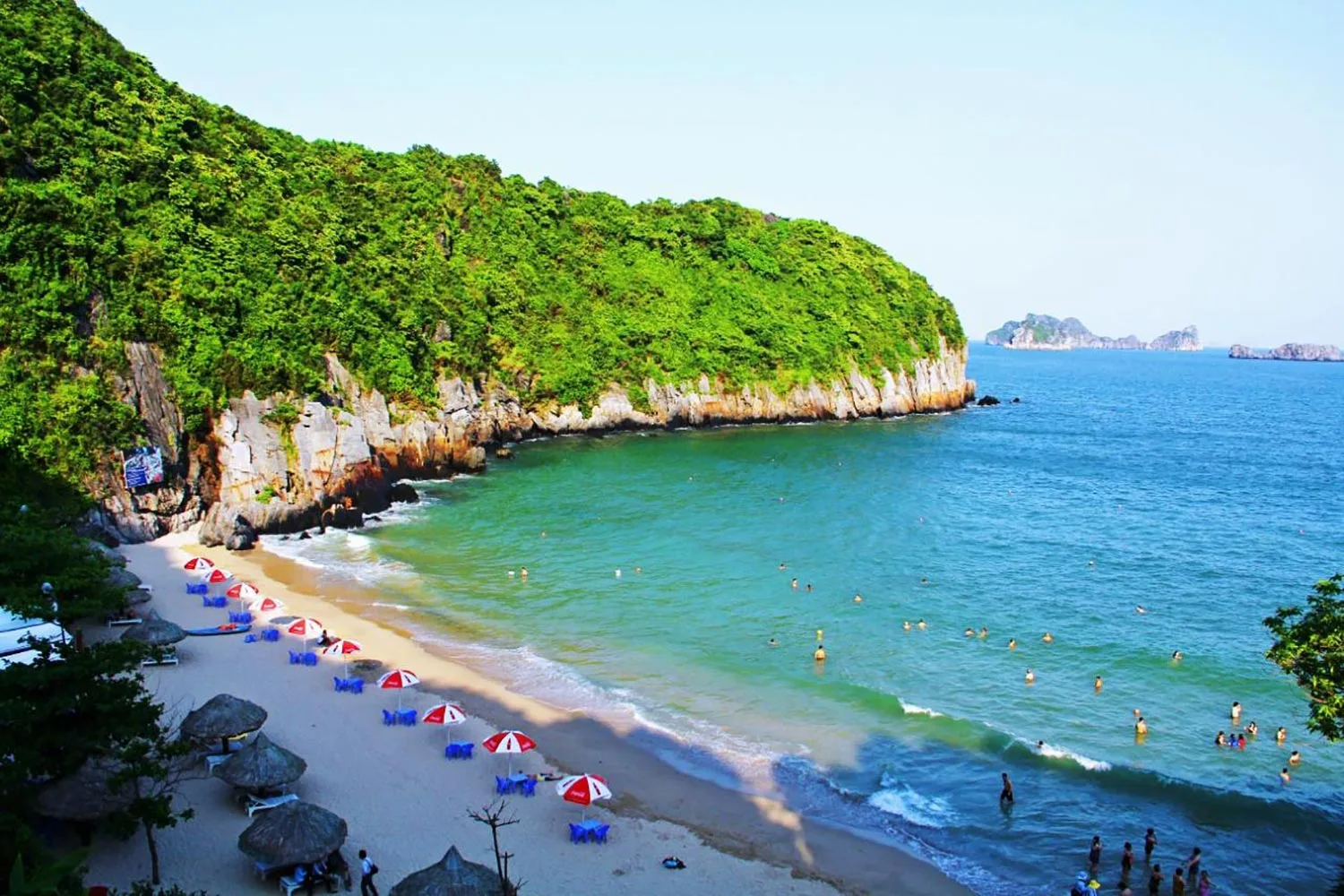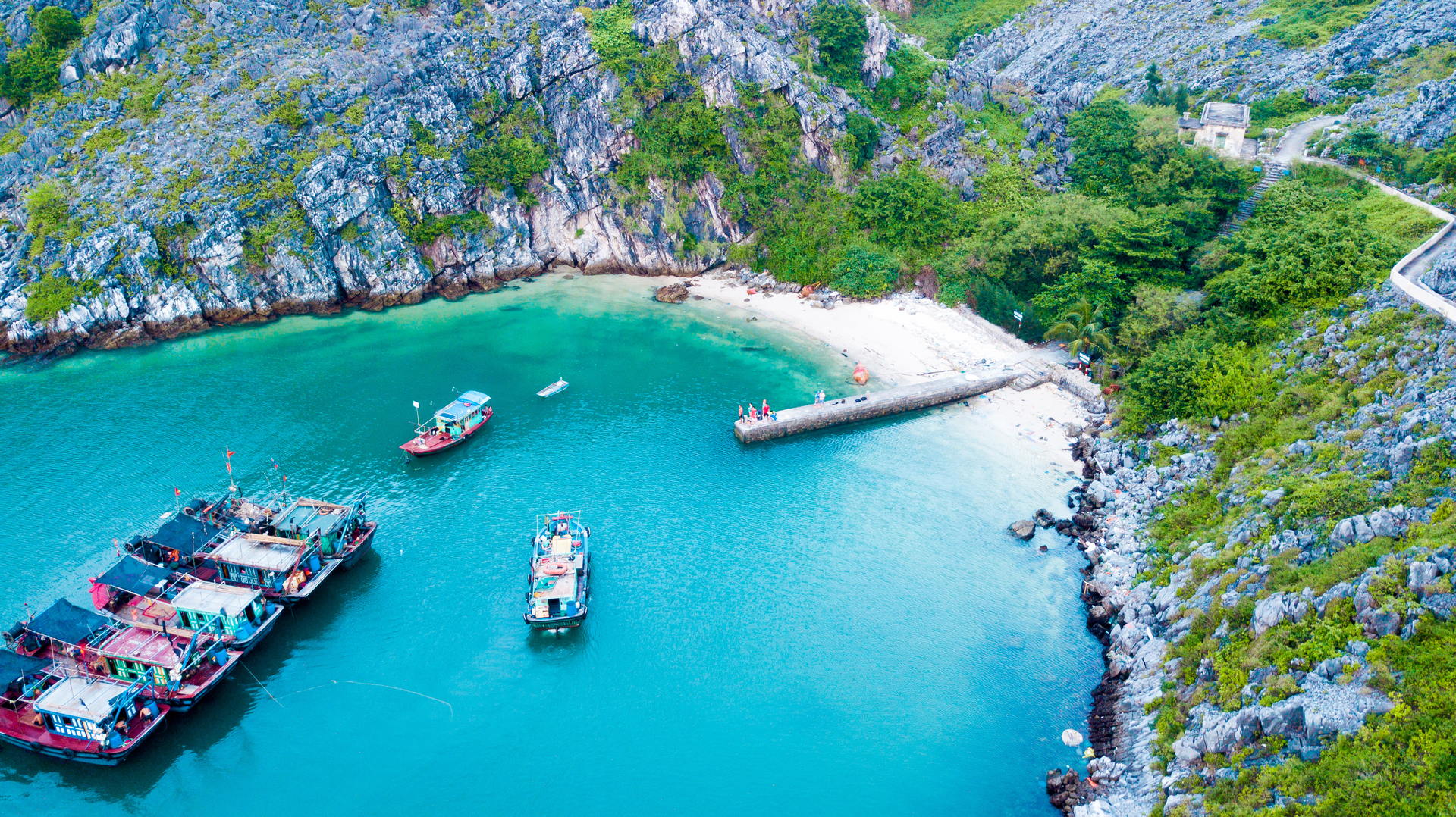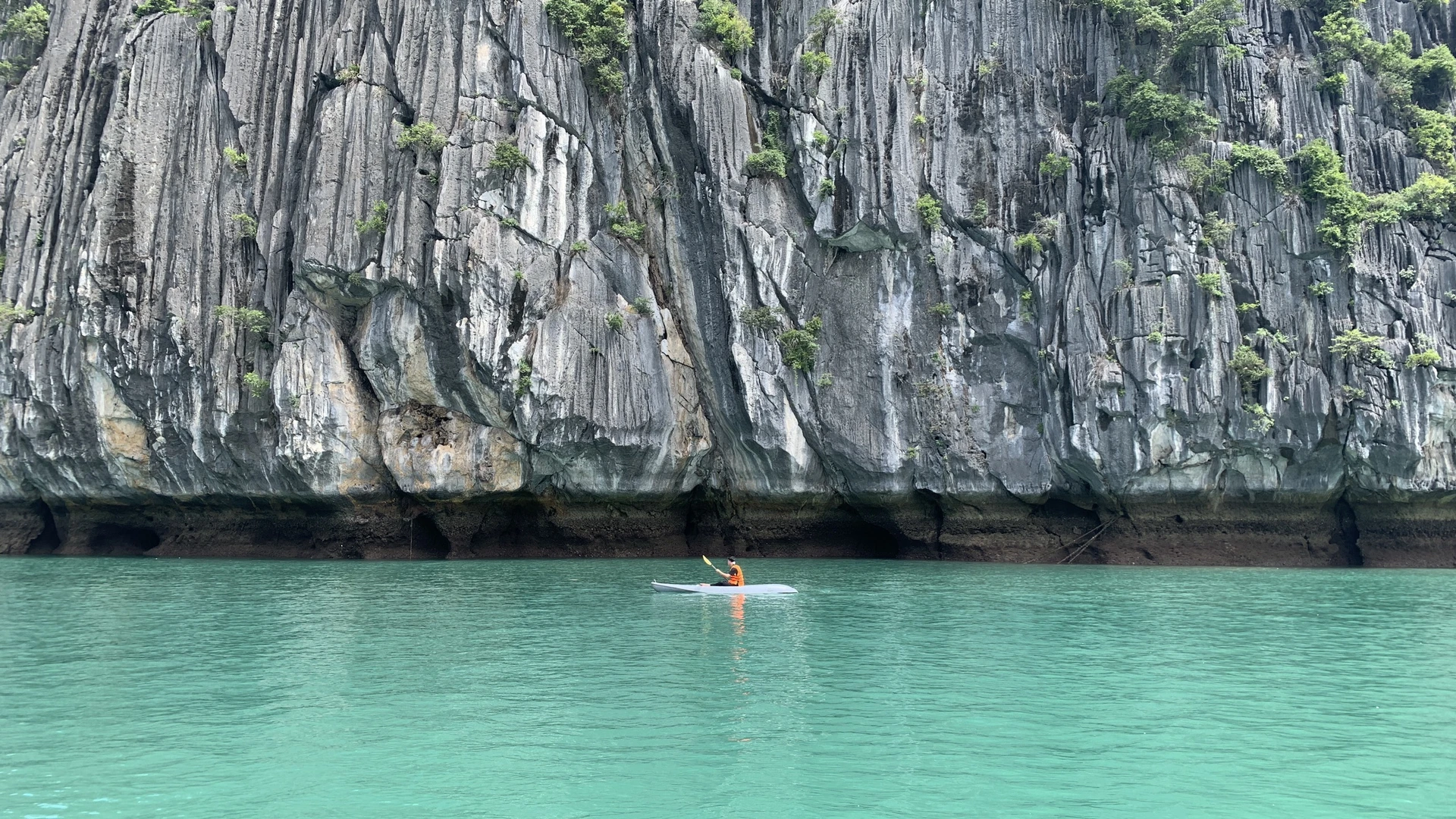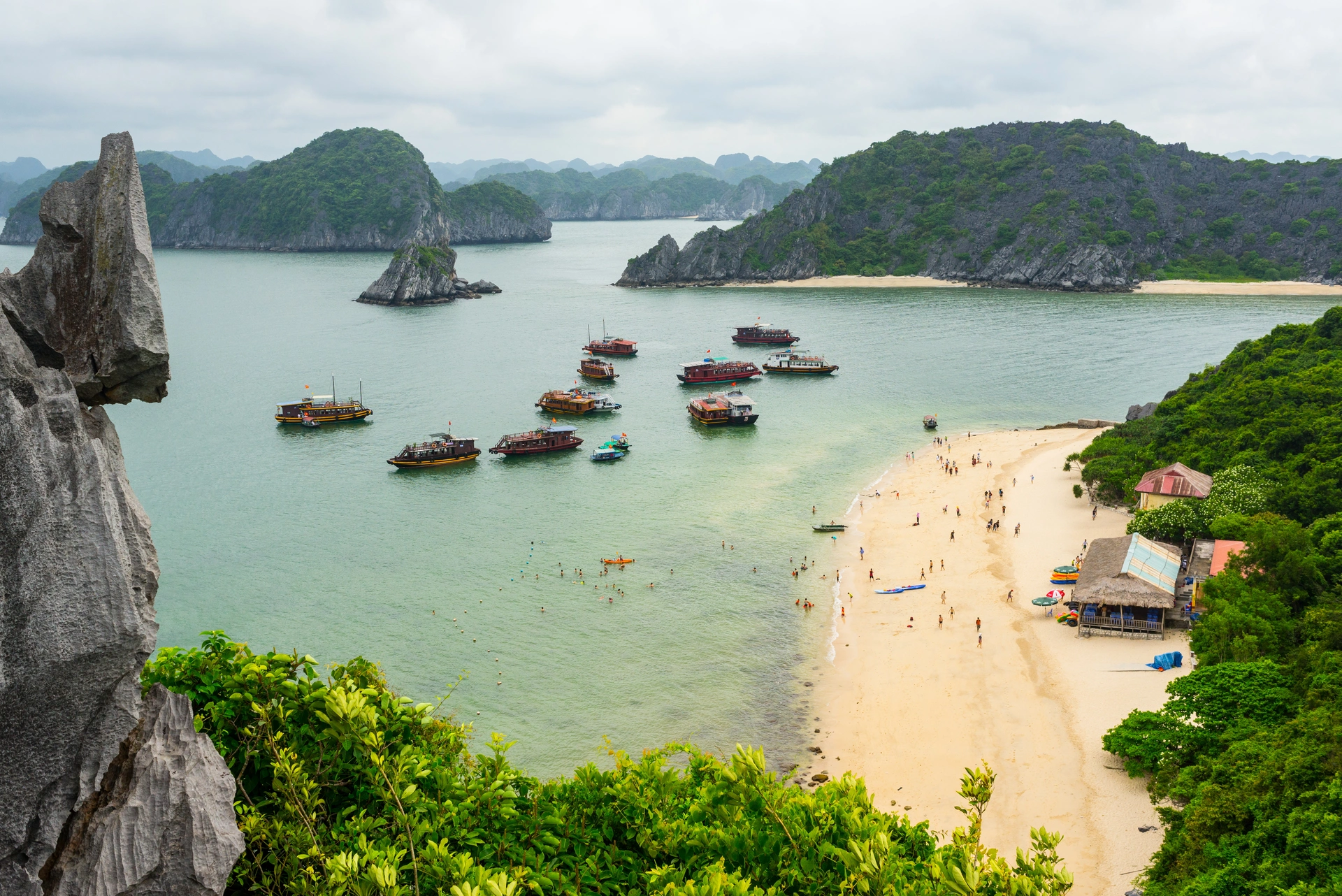 Hotels and resorts
In Cat Ba, there are many hotels and motels from budget to high-class for visitors to choose from. The hotels have sea views, located along 1/4 street, Tung Dinh street... The average price is from 500,000 VND to 1,000,000 VND per night.
Some resorts such as Flamingo Cat Ba Beach Resort, Nam Cat Island Resort CatbaBay, Monkey Island Resort ... The average price is from 1,500,000 to 2,000,000 VND per night.
With more economical costs, visitors can refer to homestays such as Santorini Homestay, Lepont Bungalow ... The price is about 300,000 VND per night.
Spending the night on a cruise in the middle of Lan Ha Bay is also a different option, with a price of about 3,000,000 to 6,000,000 VND per person per night.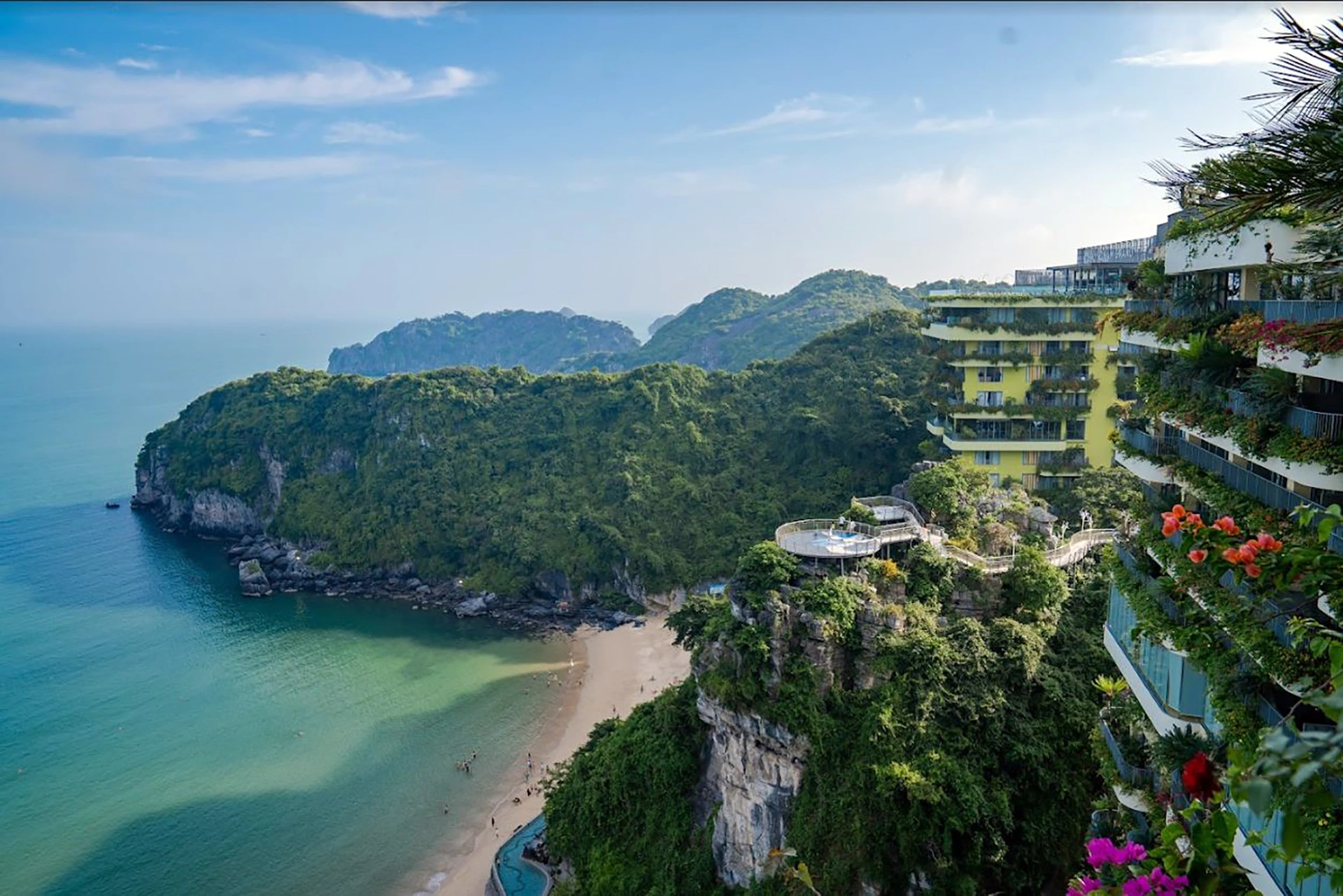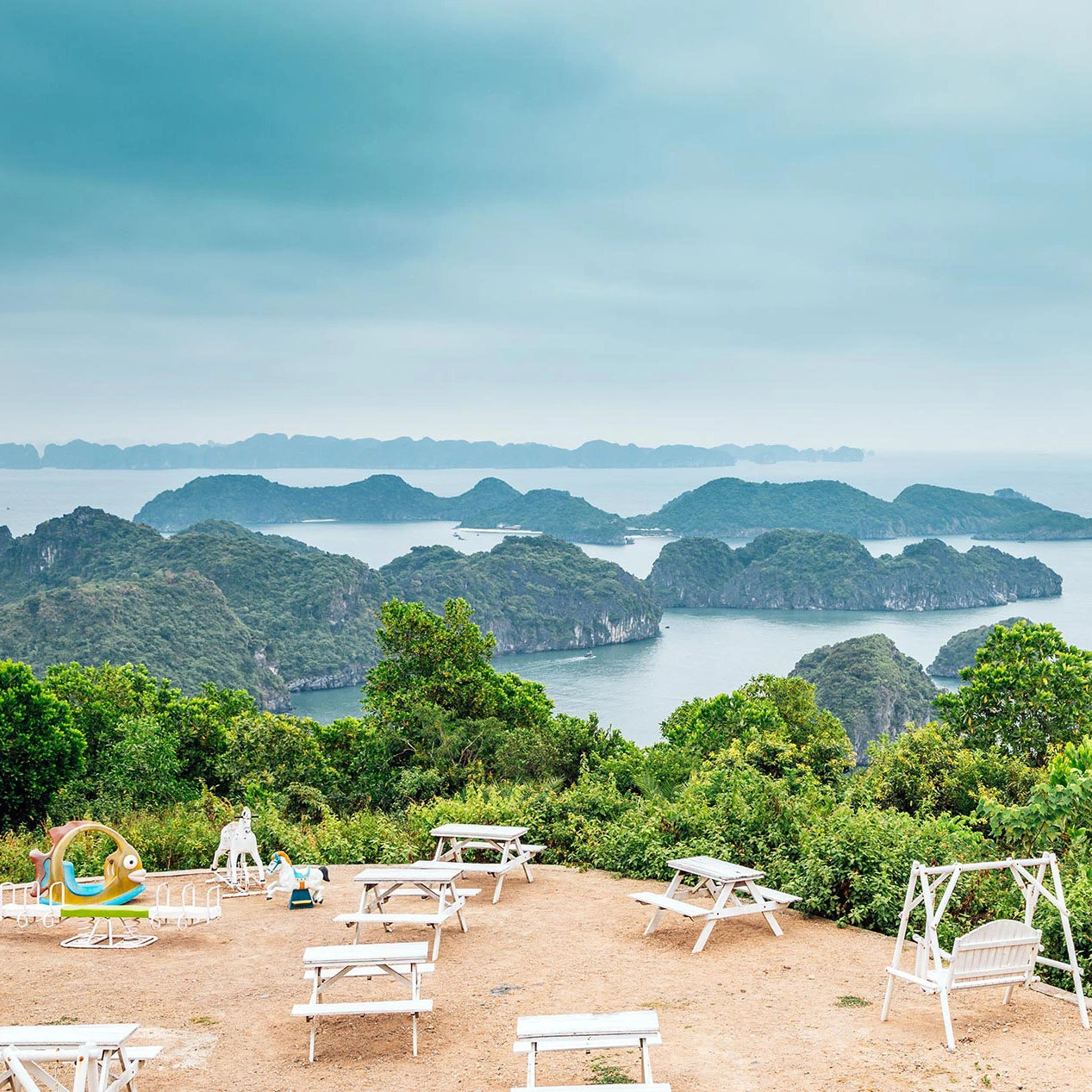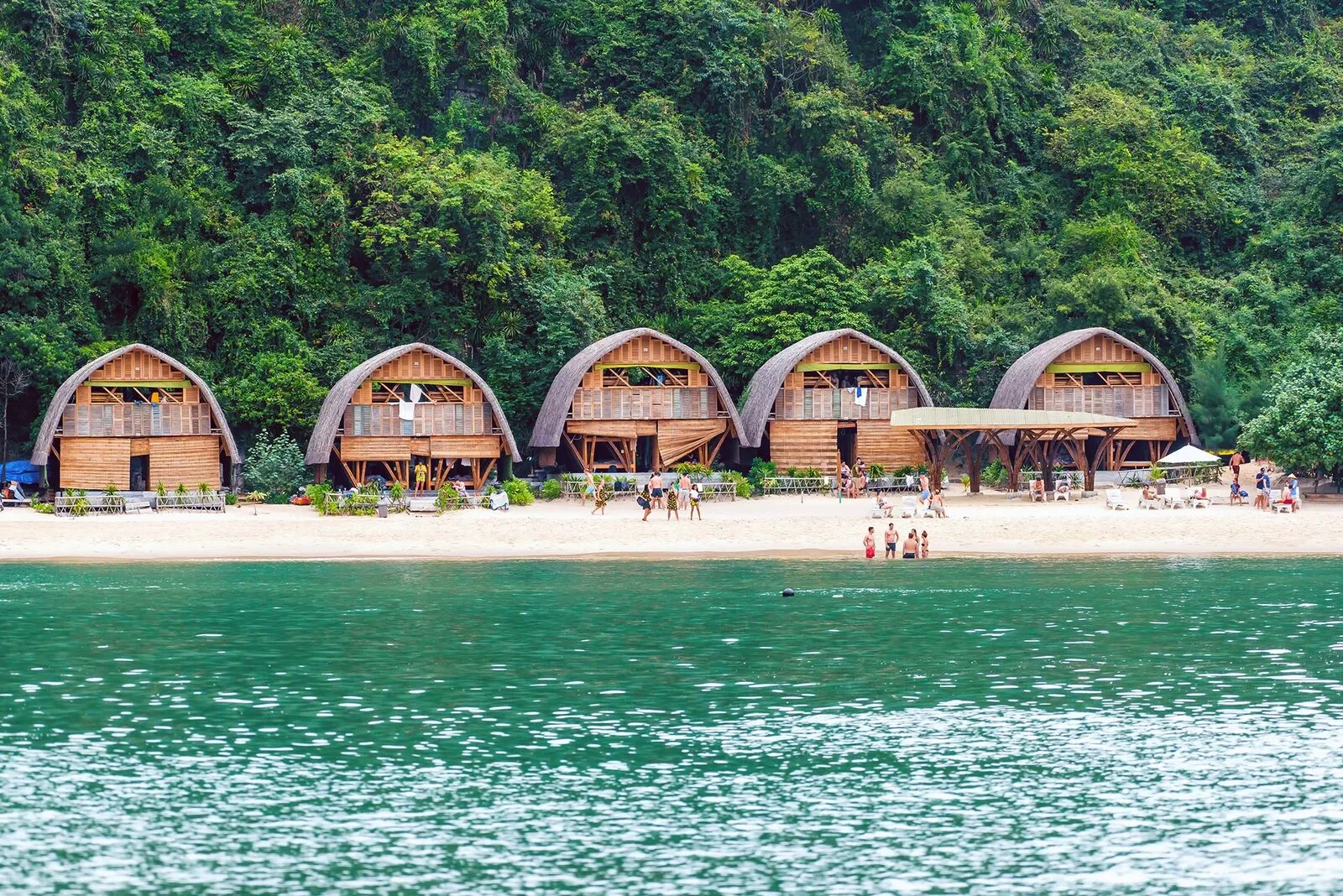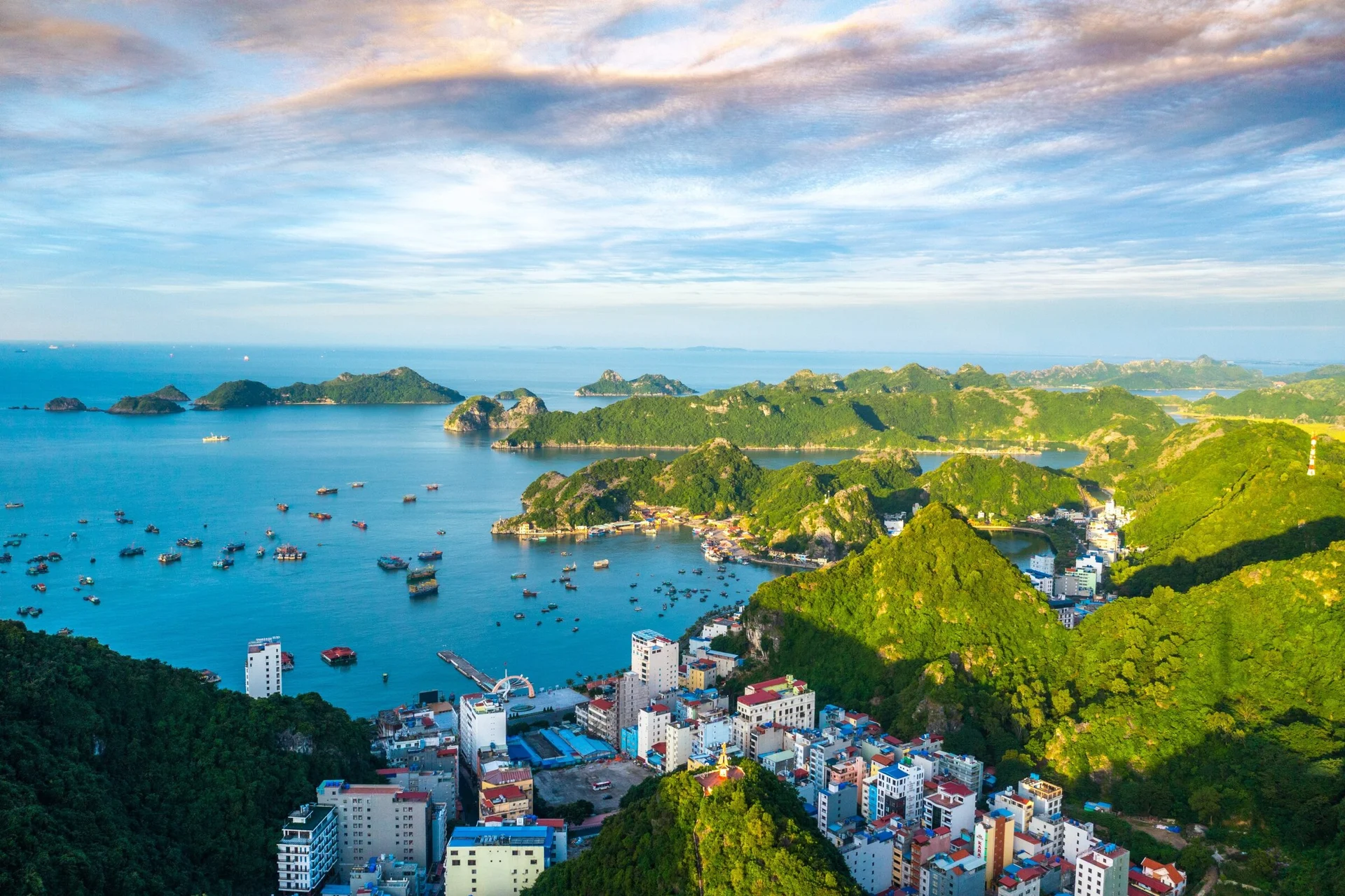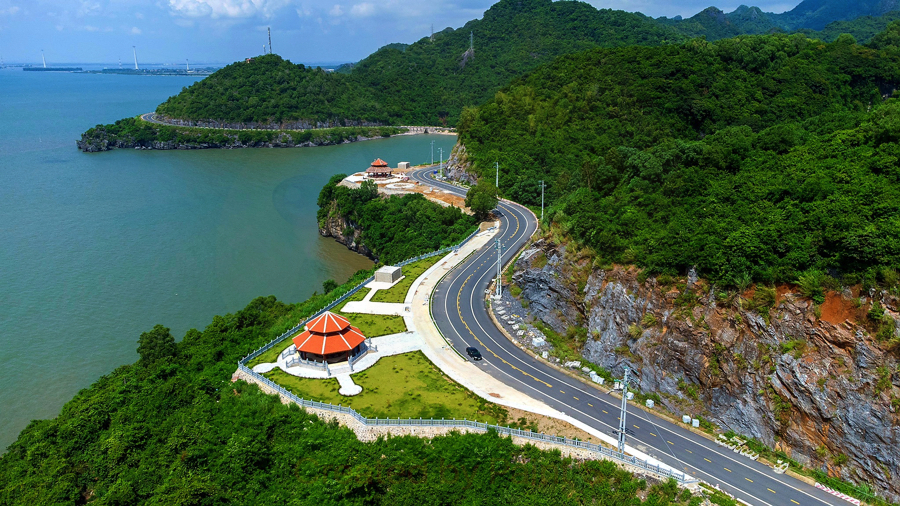 What eats
The cuisine in the bay area is mainly seafood. Visitors whisper about specialties such as sea ginseng, oyster, song fish, lobster, surface, sea snakes, snails, shrimp noodles ... In addition, seafood can be bought as gifts, with reference prices of about 500,000 – 700,000 VND per pair of sam, 200,000 – 250,000 VND per kg of oysters, lobsters from 600,000 VND to 1.8 million VND per kg ...
Enjoying cuisine, visitors can go to Cat Ba market, there are many meal eateries or buffets. In addition, Thuy Anh grilled hot pot shop, Cai Beo street is one of the restaurants chosen by many tourists. The average price is 200,000 VND per person.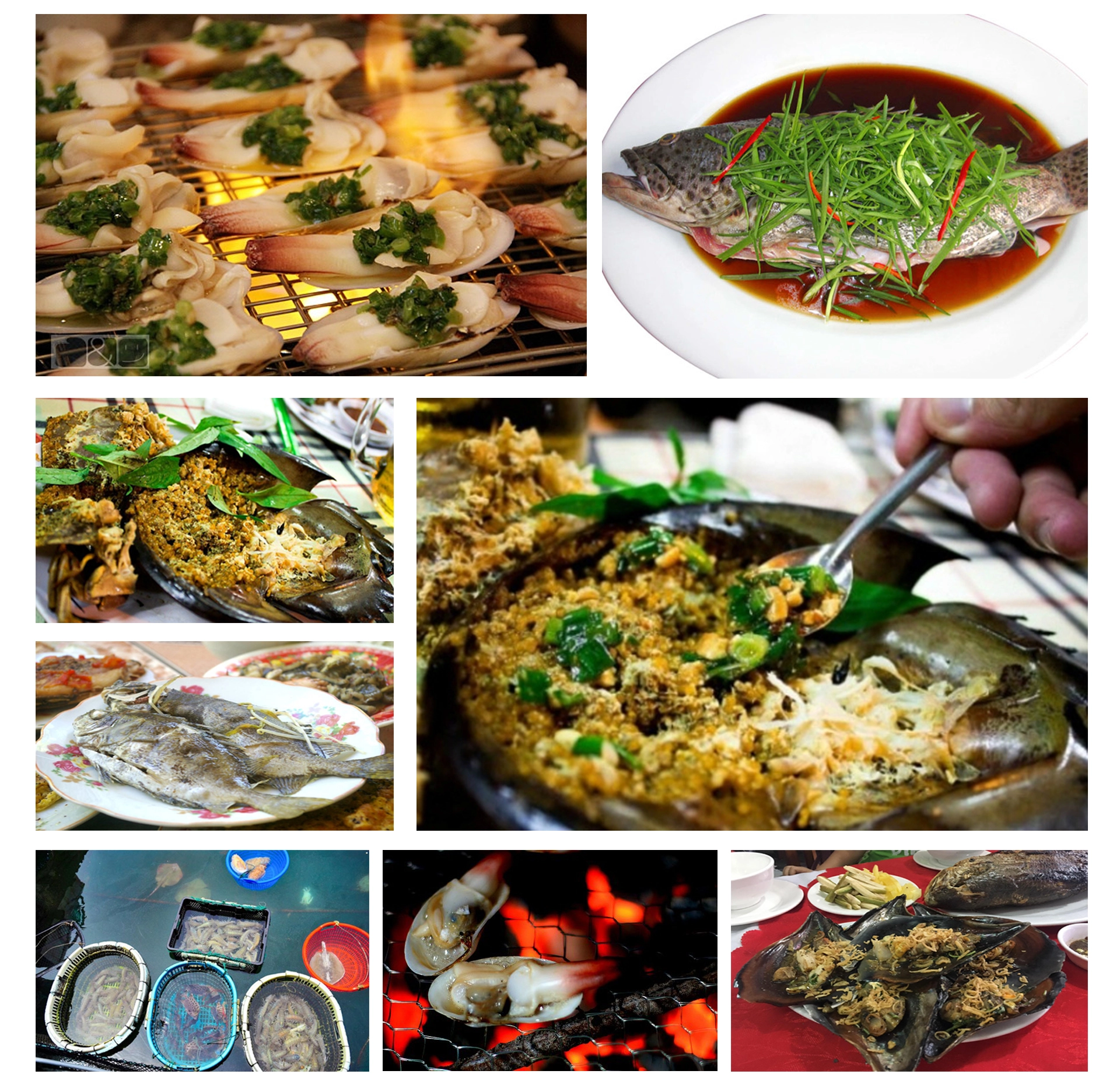 Note
It is not recommended to swim in the sea after 18h because of high tide.
It is recommended to travel by cable car on weekends because the Got ferry terminal is often overcrowded.
Tours to explore the bay may reduce some spots such as beaches, islets due to high water.
Before shopping, eating, visitors should ask the price.
According to VnE