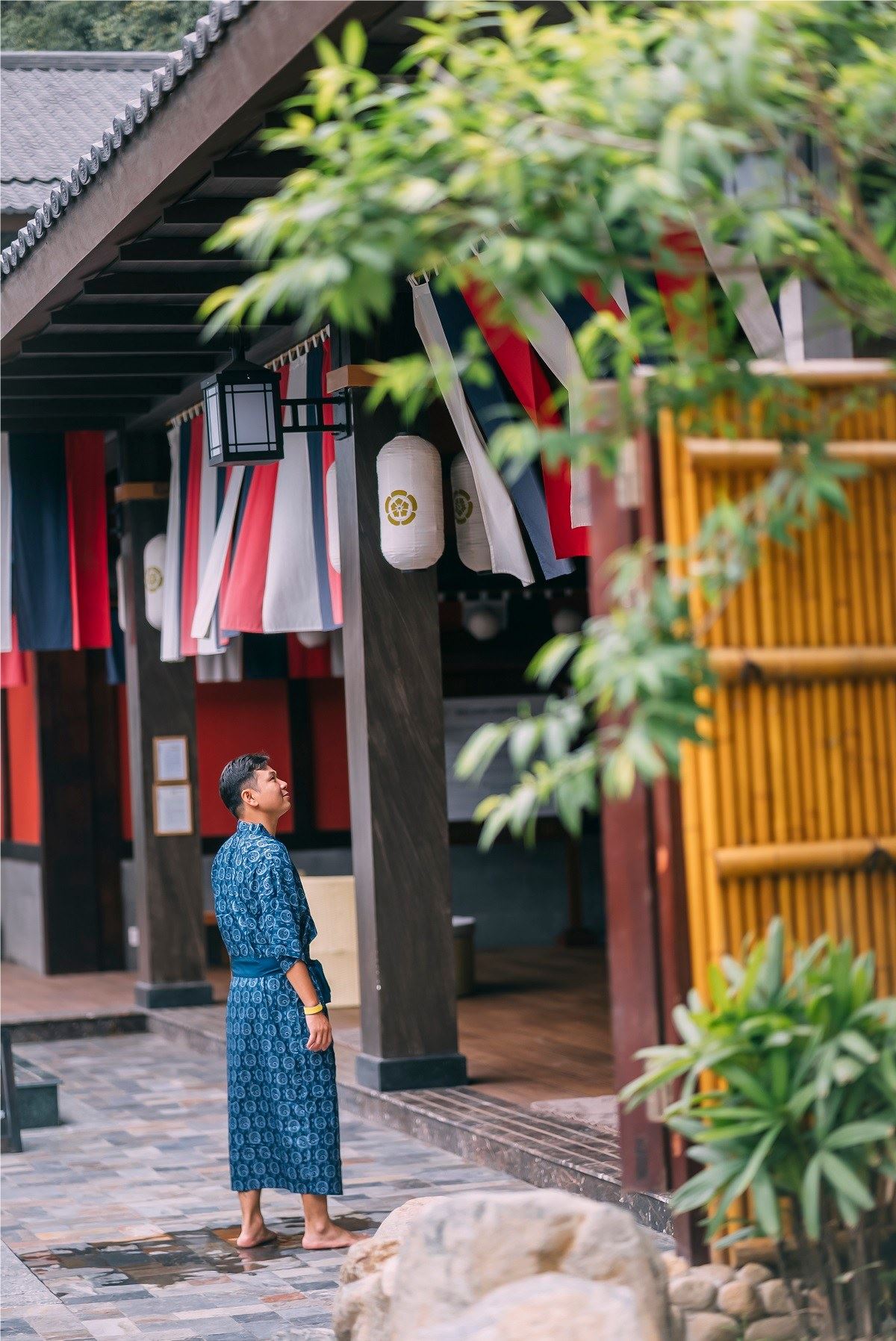 Yoko (陽光) in Japanese means Sunshine. Inspired by the abundant energy and symbol of the goodness of the sun, Yoko Onsen Quang Hanh is the first japanese-style hot mineral bath resort in Vietnam.
Nestled in the majestic cliffs, located right next to the sea and surrounded by poetic nature, Yoko Onsen Quang Hanh brings together all the elements to make a perfect hot spring resort.
In fact, Yoko Onsen Quang Hanh is more than just a mineral spring. This is a combination of many resort services with hot spring therapy is an important highlight.
Yoko Onsen Quang Hanh offers visitors 27 mineral baths in the public bath area, including carbonate tanks, cave baths, jet pools, ice baths, children's baths, dug baths, chum baths, jacuzzis, cold water baths, hot water, foot plunge pools... A variety of health care uses.
The resort uses hot water from nature, with a water temperature of about 60-70 degrees Celsius, so it is extremely good for health. In addition to the strong hot spring properties, this will be an effective relaxation therapy that anyone wants to be immersed in.
The baths at Yoko Onsen Quang Hanh are equipped with a continuous circulatory filtration system that eliminates harmful impurities to the skin and ensures water quality. Besides, there is also a sauna frame providing hot, cold sauna services, Himalayan salt ice bath ... You can come to admire and immerse yourself in the pure natural mineral stream at the resort at any time, the four spring, summer, autumn, winter each season have their own interesting.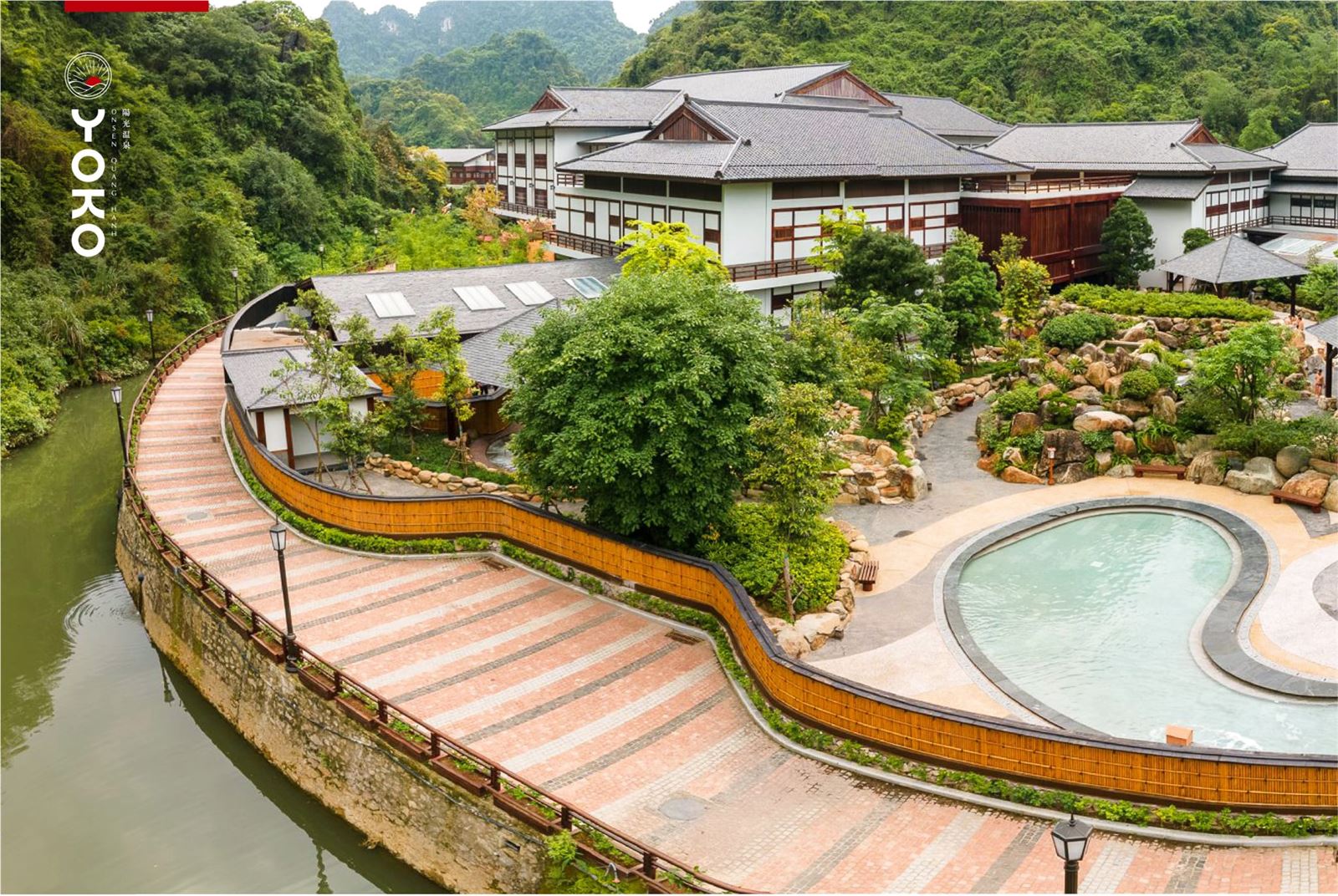 Before going down to the mineral bath, you will be asked to bathe thoroughly to make sure the bathtub is pure for everyone, the staff will give you a robe, 2 towels and a waterproof wristwatch (like a smart bracelet) for you to use as an electronic key. With a common mineral bath, there are about 7-8 baths, depending on the hot tank, cold tank, the water source is continuously circulated so it is very clean. In addition, there are also sitting baths , private baths for men and women or fairy baths, you can experience.
After a relaxing dip in the hot tub, do not rush to skip the Food Court area with countless dishes waiting. There are up to 11 booths with a lot of typical Japanese dishes such as sushi, Udon noodles, Yakitori grilled dishes,.... Besides, there is also a Vietnamese food stall with traditional Vietnamese dishes that are exquisitely prepared and delicious.
The 2nd floor space of the food court also has Ryu-an restaurant specializing in serving an à la carte menu with traditional Japanese Teishoku meals. These meals not only ensure nutrition with 1 main course, 1 soup, rice and pickles served with but also impress with the elaborate presentation.
A weekend retreat at Yoko Onsen Quang Hanh will be great if you know how to enjoy every moment here so that your soul is always peaceful and healthy.
Get up early, feel the cool wind carrying fresh air with the smell of the night dew of the mountains and forests, then wait for the gentle sunshine through the leaves at the Japanese Garden, then soak in the natural hot mineral source to start the day with the radiant spirit with Yoko Onsen Quang Hanh!