Hanoi - the land of thousands of years of culture has witnessed many ups and downs in history and is also constantly transforming and integrating with the world. Associated with this development are high-class services and facilities clearly shown in the most luxurious hotels in the Capital.
1.Sofitel Legend Metropole Hanoi
Surely this is a name that cannot be ignored, the reputation of Sofitel Legend Metropole Hanoi goes beyond the borders of an ordinary 5 * hotel. Founded in 1901, Metropole has been a frequent meeting point for domestic and foreign politicians and celebrities for more than a century. In 2009, Metropole became the first hotel in the world to kick off the Sofitel Legend series, which houses heritage collections donated by VIPs who have kept their footprints.
Metropole is imbued with French architectural style of the twentieth century. The hotel complex is divided into 2 zones: Historical Wing - which still preserves the old, charming and hidden French style, and Opera Wing - with a classic and sophisticated direction. The food and drink here is a highlight not to be missed when Metropole has always been associated with professionally trained chefs and bartenders according to international standards. Wellness services at Metropole are also always praised for the quality of service and beauty products at the spa. This is the most suitable destination for couples or for customers who go on long business trips in Hanoi.
Price: $$$$
Address: 15 Ngo Quyen, Hoan Kiem District, Hanoi
Website: https://www.sofitel-legend-metropole-hanoi.com/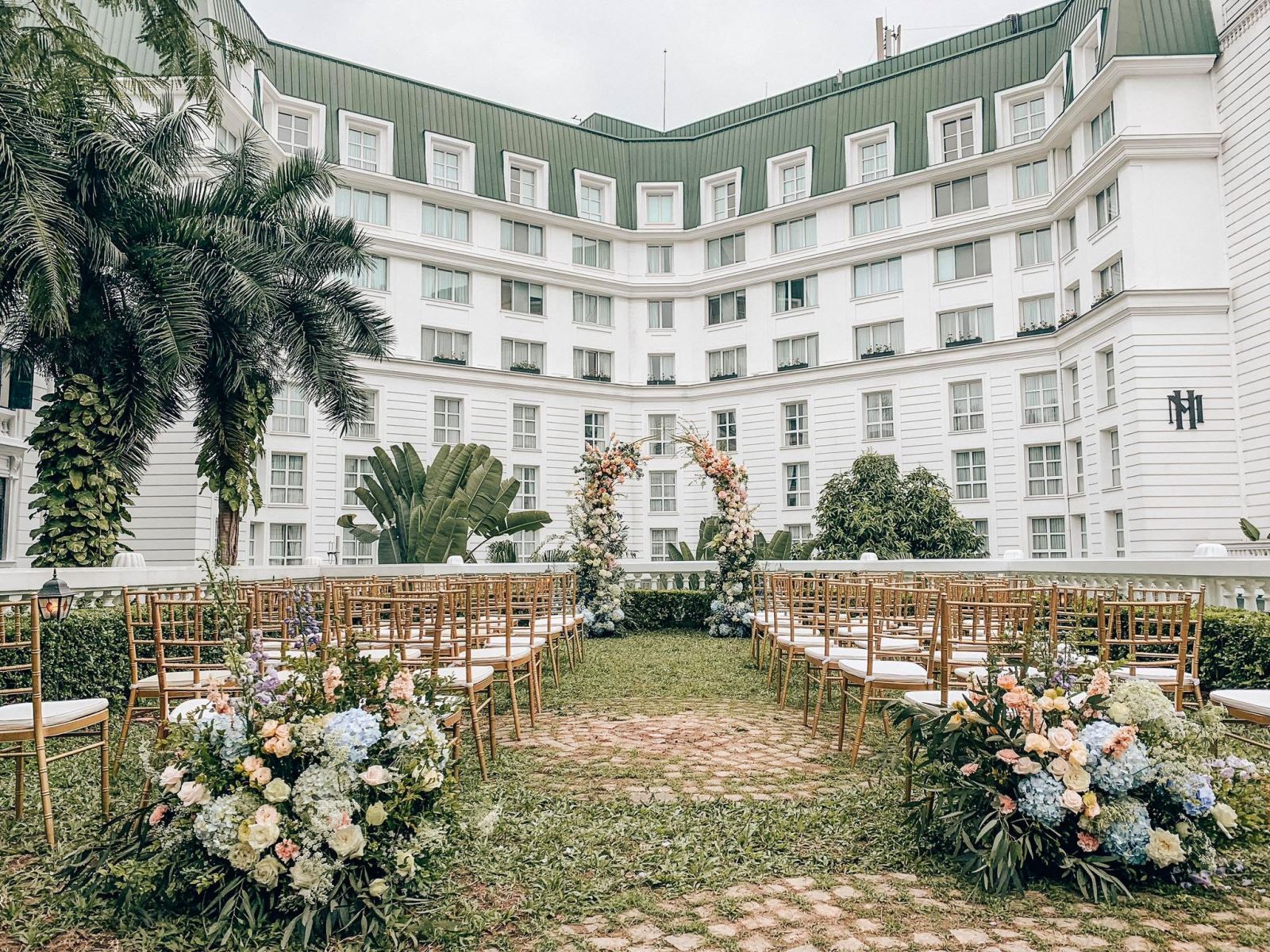 2.Apricot Hotel
Located right in the heart of the Capital, Apricot easily attracts the attention of tourists from all directions. No need to be flashy, the hotel has classic, elegant architecture, and impresses with its interior design and artistic galleries. 123 luxurious rooms, u-Asian cuisine, splendid spa room accompanied by professional demeanor will surely satisfy even the most discerning guest.
The terrace area of Apricot is a special feature, where guests can sip cocktails and admire the romantic lake view, or relax in the cool water of the pool. Apricot takes care of every detail to make the customer experience the most complete.
Price: $$$$
Address: 136 Hang Drum, Hoan Kiem District, Hanoi
Website: https://apricothotels.com/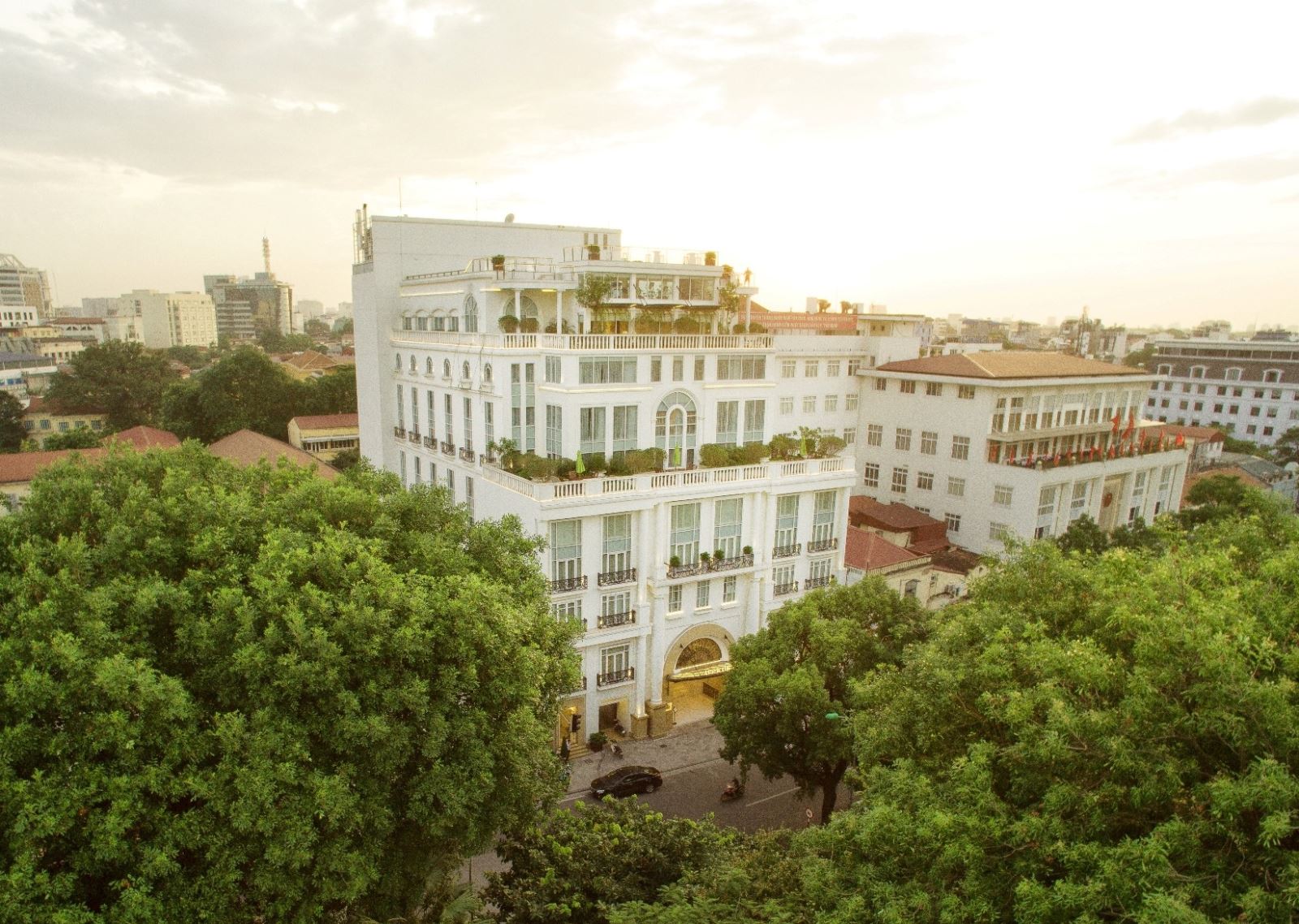 3.Intercontinental Hanoi Westlake
Youthful - Modern - Luxury is the first impression of the Intercontinental. Located in the West of Hanoi, the hotel "owns" beautiful lake views. This is a stop in a peaceful corner in Hanoi, ideal for the couple's honeymoon or for solo travelers who want to enjoy a weekend retreat right in the city.
InterContinental Hanoi Westlake is built entirely on water. The hotel is the perfect combination of the relaxing scenery of West Lake with elegant architectural design. Diverse and professional services, clearly conveying traditional Vietnamese values.
Price: $$$$
Address: 5 Tu Hoa, Tay Ho District, Hanoi
Website: http://hanoi.intercontinental.com/vn
4.Lotte Hanoi
As a connection and harmony between the traditional Hanoi Old Quarter and the growing new urban area, Lotte Hanoi Hotel represents the new international 5-star standard in the Capital. With 318 rooms, 6 restaurants & bars, 3 banquet halls, and the most lavish wellness area in Hanoi, Lotte promises to bring a diverse luxury resort experience right in the heart of the city.
Coming to Lotte, you will feel a clear contemporary Asian resonance, specifically the spirit of the "Land of Kimchi" expressed from the service style to the design of the hotel. Lotte is a great address for customer receptions, even for families with young children with many entertainment and dining facilities. Lotte's spa and sauna area also makes mamas excited not only by space but also by the quality of service and especially luxurious products.
Price: $$$
Address: 54 Lieu Giai, Ba Dinh District, Hanoi
Website: https://www.lottehotel.com/hanoi-hotel/vi.html
5.JW Marriott Hanoi
Not according to traditional standards, JW Marriott aims at Hanoi's new commercial center in Nam Tu Liem area with an open campus close to nature and massive architecture, suitable for organizing large-scale conferences. Outstanding accompanying services such as dining, many large and small meeting/banquet rooms for MICE events, swimming pool and gym are equipped with modern equipment.
You do not have to choose to stay overnight here but can still experience the high-end facilities from JW Marriott, especially try authentically cooked French and Limbnese dishes at the 2 restaurants inside the hotel. Business trip in Hanoi promises perfect quality when choosing to stay overnight at JW Marriott Hanoi.
Price: $$$$
Address: 8 Do Duc Duc Street, Nam Tu Liem District, Hanoi
Website: https://www.marriott.com/hotels/travel/hanjw-jw-marriott-hotel-hanoi/
Writer: Limb