Margaret Cruises - The Jewel in the Middle of the Bay
Margaret Cruises is designed with 4 floors with 25 luxury rooms, equipped with the most modern amenities to bring guests comfort and relaxation. Not only can you fully see the majestic scenery of Ha Long, visitors also experience the high-class services on the boat such as luxury restaurants, professional massage services, deck with open space, an outdoor bar and many activities participating in the trip such as kayaking, Visit caves, swim, fish, especially cooking classes, try making traditional Vietnamese dishes.
Source: Magaret Cruises
Number of rooms: 25 rooms
Accompanying facilities: restaurant, spa, bar, kayaking, cooking class
Price: about 3,500,000 / room
Website: https://margaretcruises.com/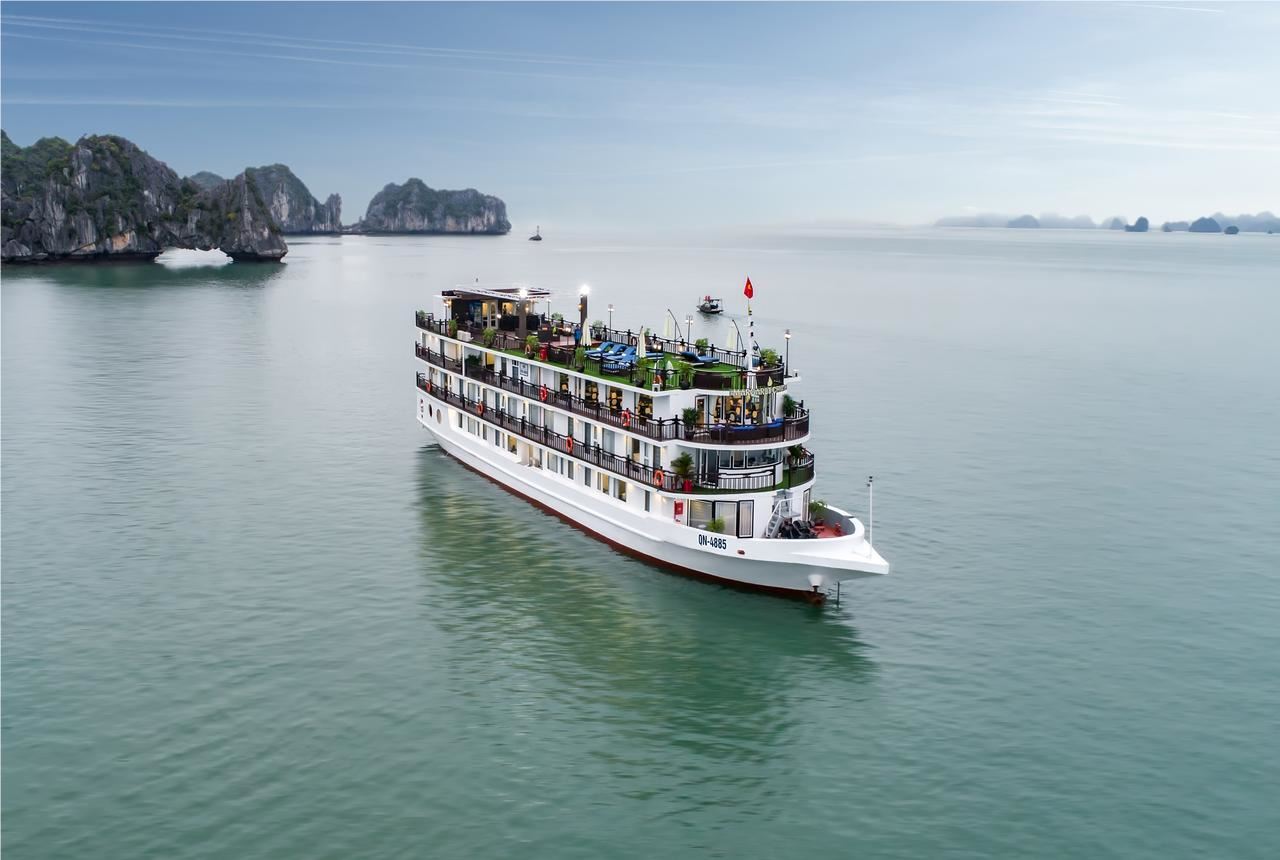 Source: Magaret Cruises, Jacky Travel
Ambassador Cruises - Luxury penthouse in the middle of the sea
Covered in trendy white paint, dotted with noble European-style decorations such as chandeliers on railings, shiny brown wood floors, Ambassador Cruises brings luxurious beauty, affirming the class of a 5-star ship the largest on the bay. Owning 2 separate sun decks with a total area of more than 700 m2, the largest capacity up to 120 guests, not only provides a wonderful experience when watching the sunrise and sunset on the bay but also a perfect space for outdoor activities, is the venue for organizing events, art shows, lavish parties or luxurious weddings.
Number of rooms: 46 rooms
Accompanying facilities: restaurant,bar, outdoor Jacuzzi jacuzzi, swimming pool, spa, tai chi practice, kayaking
Price: about 3,800,000/person
Website: https://ambassadorcruise.com/
Source: Ambassador Cruise
Scarlet Pearl - The Jewel in the Middle of the Bay
Scarlet Pearl cruise is one of the newest and largest yachts on Lan Ha Bay, combining traditional Vietnamese breath with classic Norwegian charm. All rooms have private balconies with wide views, bringing new experiences to your Halong Bay tour.
Especially, when enjoying a vacation on Scarlet Pearl Cruise, you also have the opportunity to experience the catamaran small yacht (2-hulled, modern, luxurious yacht) to explore the small corners on Ha Long Bay.
Number of rooms: 23 rooms
Accompanying facilities: yoga in the morning, cooking classes, standard spa services, gym, Jacuzzi, bar or pearl gallery.
Price: about 2,700,000/ person
Website: https://www.scarletpearlcruises.com/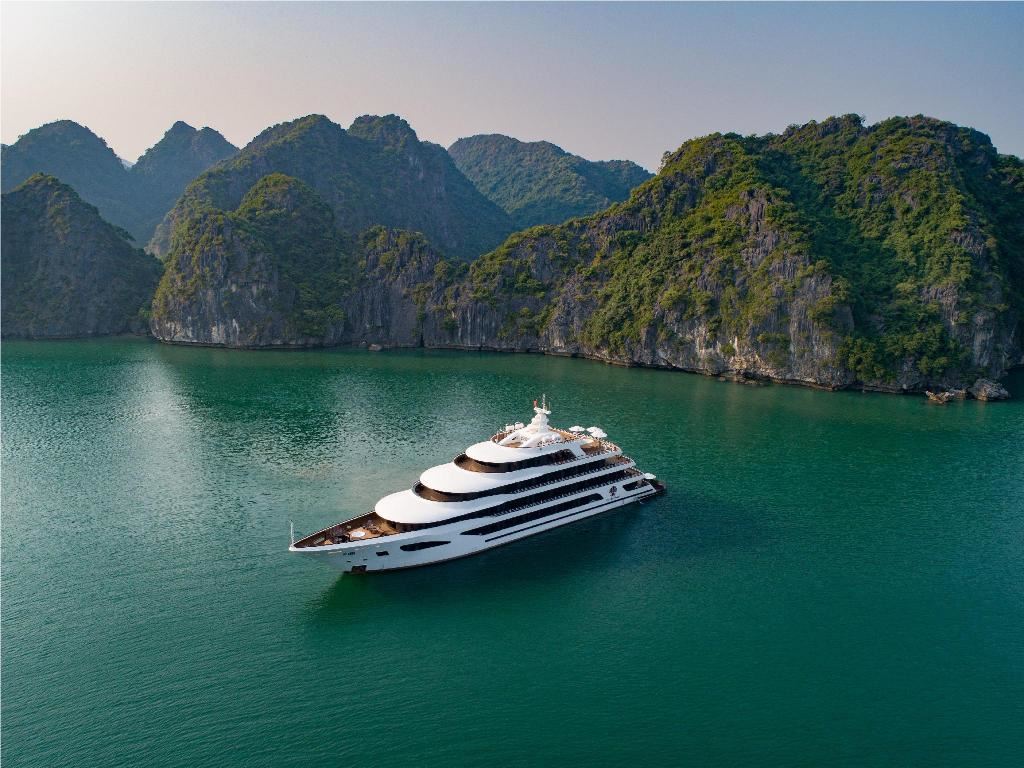 Source: Scarlet Pearl Cruises
La Regina Cruises - Queen of the Blue Sea
As one of the most luxurious yachts on the Bay, the 5-star yacht La Regina Legend is expected as a royal palace with exquisite architecture combining traditional European and Vietnamese colonial styles. In addition to the upscale rooms, La Regina Legend also has its own space for two restaurants, of which La Corona restaurant has a capacity of up to 100 guests; gym area equipped with modern machinery; spa area and beauty care according to international standards; outdoor Jacuzzi area; and sundeck is suitable for relaxing bay views and mid-bay barbecue experiences.
Number of rooms: 27 rooms
Accompanying facilities: spa, gym, kayaking, bar, Jacuzzi ...
Price: about 6,291,000 VND / guest
Website: https://www.lareginacruises.com/
Source: La Regina Cruise
Paradise Elegance - Paradise In the midst of wonder
Paradise Elegance – a yacht with a steel hull structure combining contemporary style with pure Vietnamese style, is a masterpiece of luxury yachts on Ha Long Bay. Featuring a piano bar, spa, butler service and countless food options, Paradise Elegance will bring visitors impressive experiences and the most interesting and unique excursions.
Number of rooms: 31 rooms
Amenities included: spa, gym, kayaking, bar, cooking class
Price: about 3,500,000/ person
Website: https://www.paradisecruise.com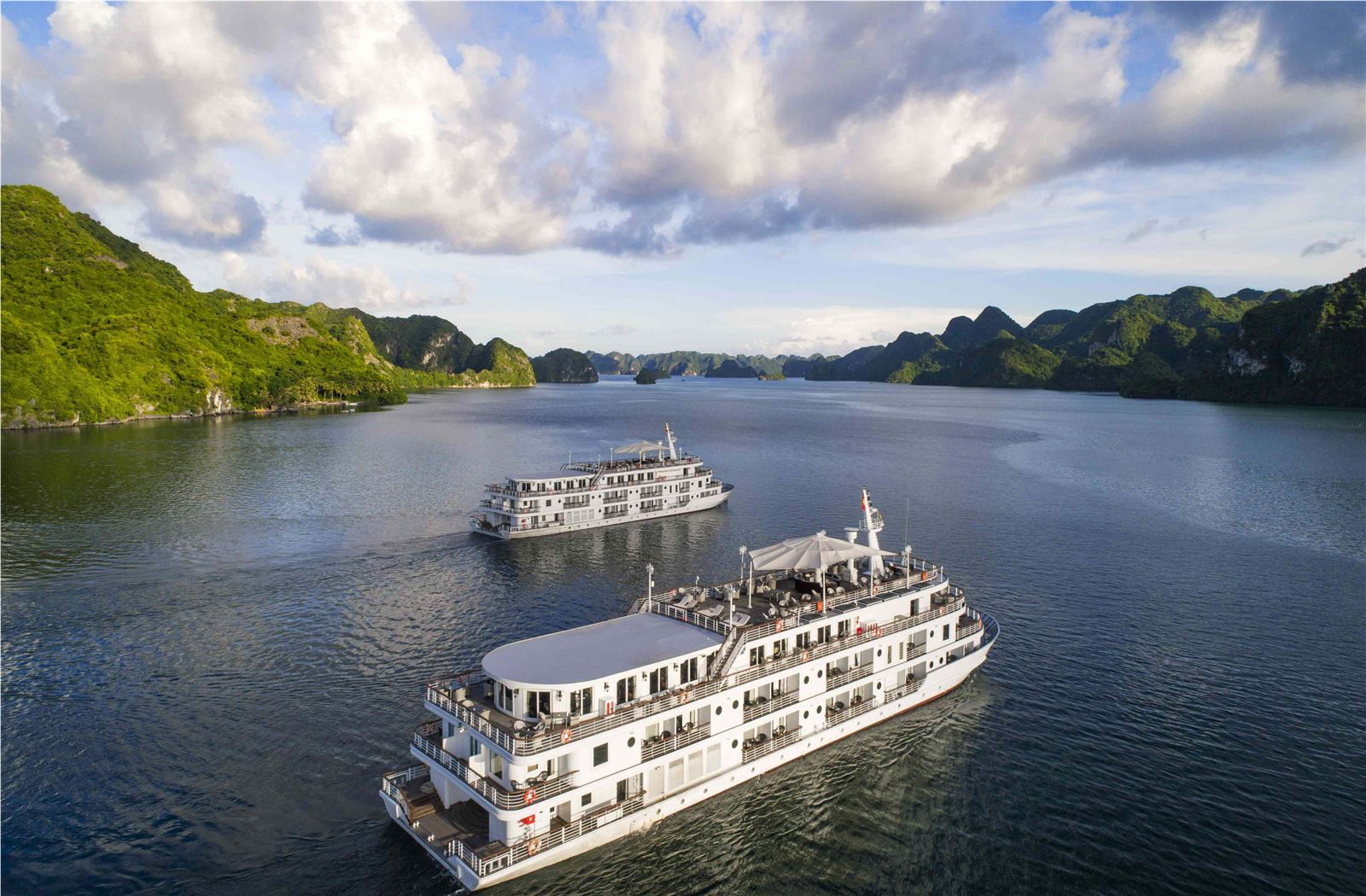 Source: Paradise Cruise