Brunch - a portmanteau of "breakfast" and "lunch" refers to meals that combine breakfast and lunch and are eaten between 11 p.m. and before 2 p.m. The brunch culture introduced to Vietnam has received a lot of attention from young people.

Gather Vietnam - 1 restaurant for the perfect brunch
Gather is a complex of restaurants, cafes, spas, yoga studios founded by Dao Chi Anh, founder of Kitchen Art and The Kafe. Founded in late 2020, Gather has quickly become a destination attracting the attention of young people.
The menu of food and drink is diverse, rich, meticulously cared for with fresh ingredients and beautiful decoration. Focus on healthy dishes such as salads, smoothie bowls, main dishes such as pasta, steak.
The 1st floor of Gather is a restaurant and café, with ample outdoor space. The 2nd floor is a spa with services including spa, body massage, nail care, herbal bath immersion. The 3rd floor is a studio, yoga, meditation, pilates or dance classes.
Modern décor, in Nordic style, with 2 main tones: white and mint green.
Address: Gather Vietnam - 28A Ha Hoi, Hai Ba Trung, Hoan Kiem, Hanoi
Opening hours: 8 AM – 10 PM
Recommended delicacies: Juicy Pesto Pasta, Italian Job, The Black Sea - spaghetti in black squid sauce served with fresh squid.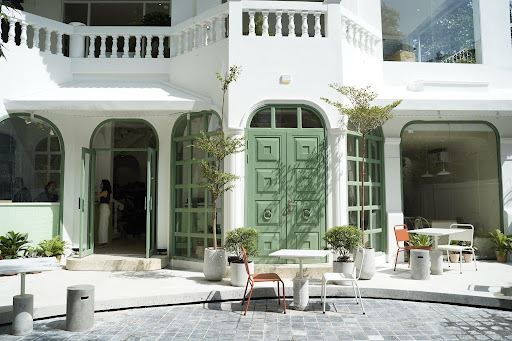 KOTO Training Villa Restaurant West Lake – verdant brunch
KOTO is an organization founded by 1 Vietnamese-Australian, with the purpose of educating disadvantaged children, highland children who do not have access to education. KOTO has 1 school in Gia Lam. Every day, in addition to classroom hours, students will directly work at KOTO restaurant, where they practice their skills in serving and bartending.
KOTO's menu is authentic Australian, with burgers, sandwiches, egg benedict, and an Australian breakfast. Every dish, from bread to eggs to sauce, can feel the flavor very clearly.
KOTO Training Restaurant Tay Ho is located in 1 very large villa with a garden in front of the villa filled with greenery. The indoor space is very quiet, suitable even for those who want to find 1 chill café to study and work.
Address: KOTO Training Villa Restaurant, 22G 31/46 Xuan Dieu, Tay Ho, Hanoi
Opening hours: 7 AM – 10 PM
Best to try: Australian breakfast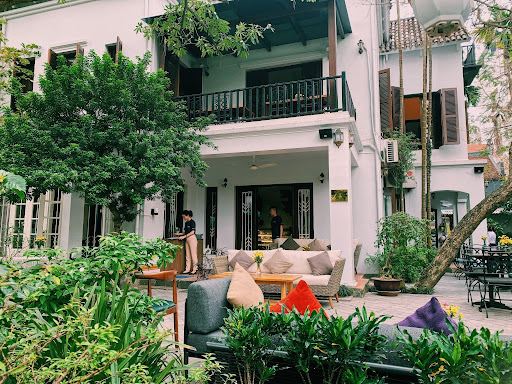 Maison de Tet décor
Coming to Maison de Tet Decor, you will feel the peace and tranquility in every corner of the villa, very suitable for those who are looking for 1 quiet shop to work or meet friends.
Maison de Tet Decor has a fairly standard and healthy menu, including many typical brunch dishes such as pancakes and fruits, avocados and toasts (avocado and toast), English breakfast.
The decoration and layout at Maison de Tet Decor is like in an old house in Vietnam The outdoor space is spacious, airy, is the venue for many events such as art market, night market, is the gathering place of many local brands in Hanoi.
Address: Maison de Tet Decor, 26 Quang Ba, Tay Ho, Hanoi
Opening hours: 8 AM – 5 PM
Recommended delicacies: Salads are plentiful, and most are changed from season to season.