Thang Long Water Puppet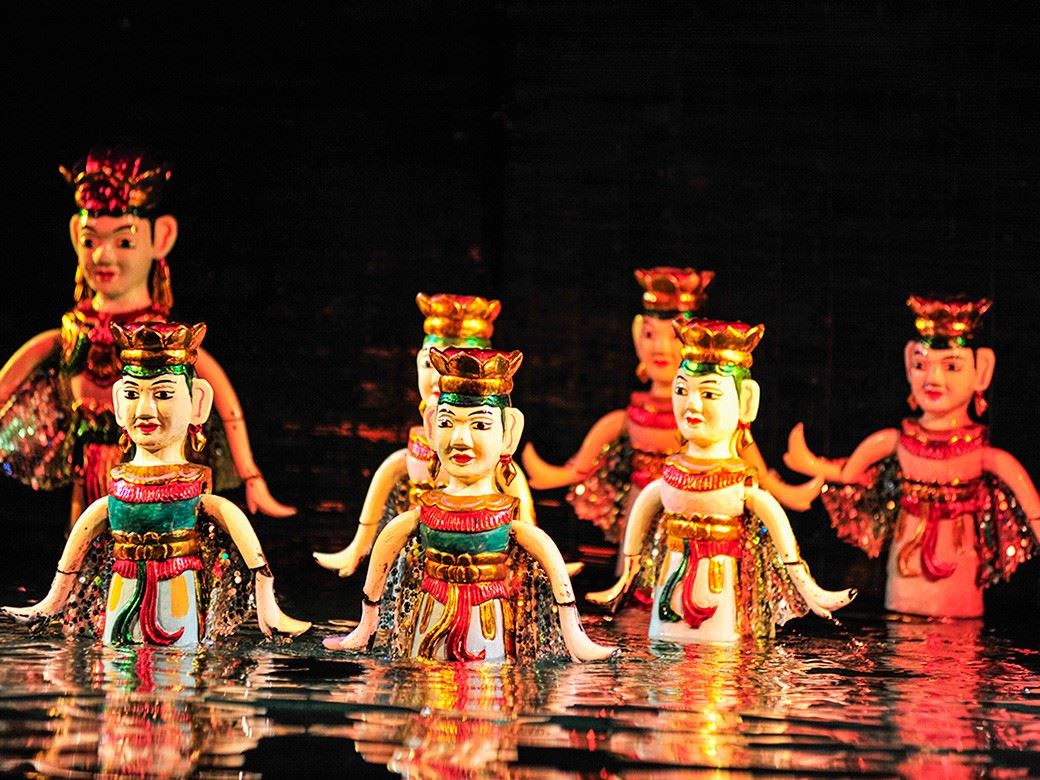 The performances are performed on the water with vivid puppets. Source: Internet
Water puppetry in the form of using puppets to perform and perform plays on the water surface is considered a unique intangible culture of the Vietnamese nation. Water shows are recounts of the cultural life of ancient Vietnamese such as dragon dance, procession, buffalo fighting, wrestling, or excerpts of fairy tales Thach Sanh, Tam Bram,..
Watching the water puppet show, visitors not only come closer to the life of Vietnamese people but also have the opportunity to admire the skillful puppet control techniques of artists who are immersed in the water. The combination of traditional musical instruments and delicate techniques in each movement of the puppet on the water has created a vivid picture of Vietnamese culture extremely impressive.
Address: Thang Long Puppet Theater, 57B Dinh Tien Hoang, Hoan Kiem, Hanoi
Ticket price: 100,000 - 200,000 vnd/ person
Duration: 7 - 8 performances all days according to different time frames
My village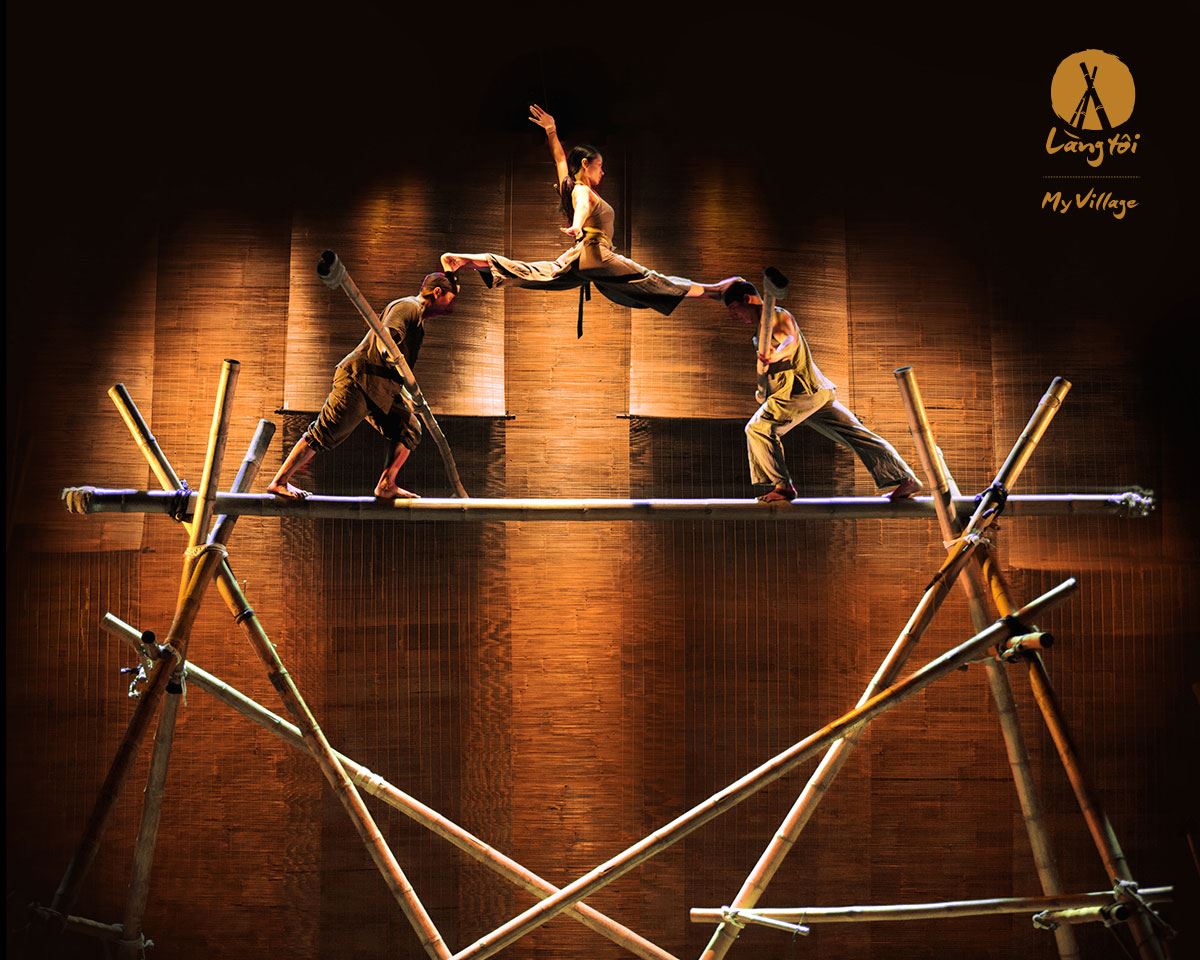 Performing arts combine music, circus and dance on the bamboo stage of My Village. Source: Internet
The performance My Village will bring you a new perspective on a circus performance in the ethnic music space. The program narrates the poetic story of village life in Northern Vietnam by creatively using bamboo plants and sounds from 20 different ethnic musical instruments. Spectacular acrobatics and flexing, juggling movements are sure to satisfy your eyes.
Address: Vietnam Tuong Theatre, 51A Thanh Street, Hoan Kiem, Hanoi
Ticket price: 700.000 - 1.600.000 vnd
Time: from 18h on weekdays, except 5th and Sunday
Northern Elite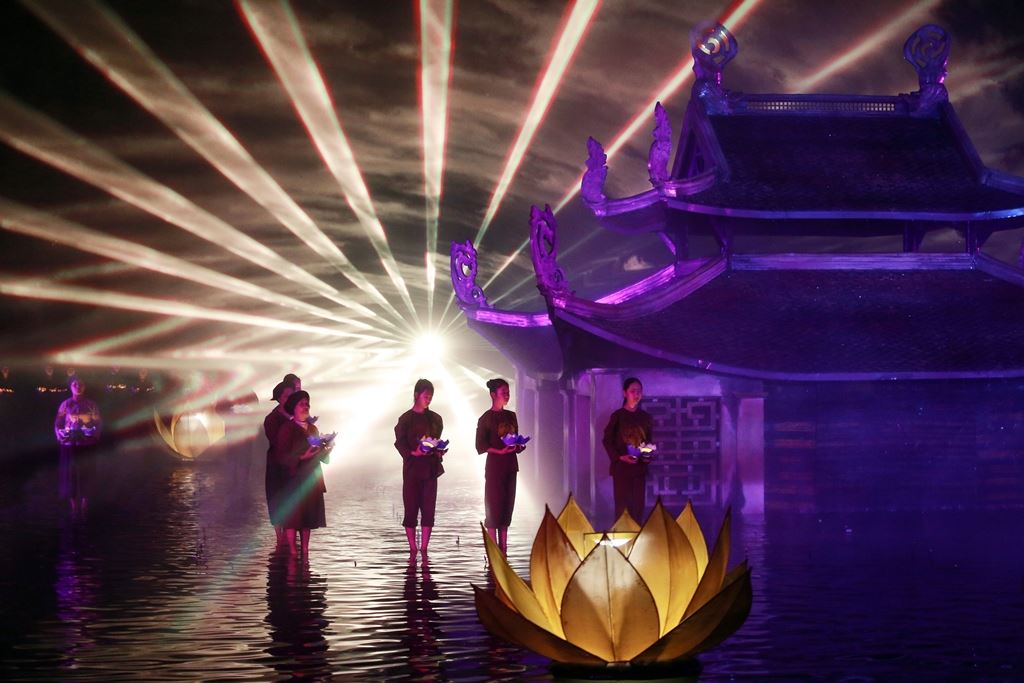 Northern quintessence - eye-catching show for art lovers. Source: Internet
Quintessence of Tonkin is the first stage performance in Vietnam, with a duration of 55 minutes including 6 parts: Poetry, Buddha Realm, Nostalgia, Music, An fun and Festival. Not only opening up the cultural space in the Northern plains with scenes of ancient people's activities, the program also takes viewers back to the peak of water puppet art.
The show shows a harmonious combination of a local cast, a large-scale props sound system and a stage on water with its back to the Master mountain. This promises to be an art destination for tourists and Vietnamese people themselves to learn about culture, nature and spiritual life in the past of their ancestors.
Address: Da Phuc Village Communal House, Baraa Land, Quoc Oai, Hanoi
Ticket price: 800.000 - 1.200.000 vnd/ person
Time: 19h - 20h on 3rd, 5th, 7th days
Ca tru Hanoi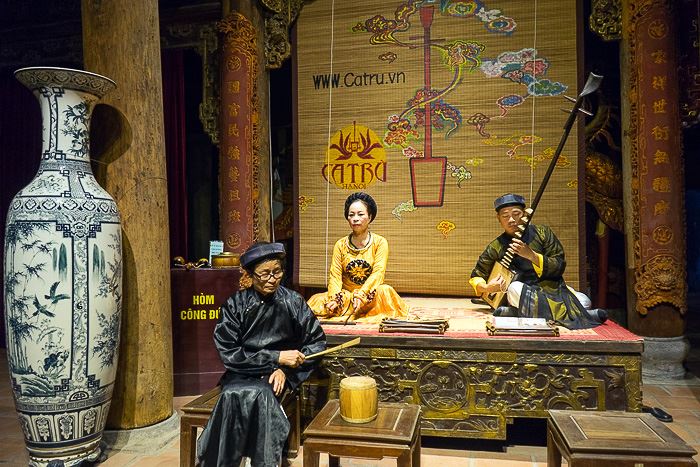 Participating in the ca tru performance were at least 3 people: a female singer called "singer nuong" sang in the way of speaking and tapping to the beat; a male musician called the "dual" bottom accompaniment for the singer; An adoration pointer called "Bureaucrat."
Unlike other folk art forms such as cai luong, tuong, paddle, Ca tru singing is considered "Opera of Vietnam". Currently, Hanoi Ca Tru Club at Kim Ngan Palace is a gathering place for Ca tru art lovers. Despite many difficulties, the members of Ca Tru Club still silently contribute the beauty of time to sentient people and tourists at home and abroad. In addition to enjoying the music, the guests were also guided by artisans to play traditional instruments and practice singing some verses of this unique song.
Address: Kim Ngan Dinh 42 Hang Bac, Hoan Kiem, Hanoi
Ticket price: 320,000 vnd/person
Time: From 20h - 22h on 4th, 6th and Sunday
Vietnam Paddle Theatre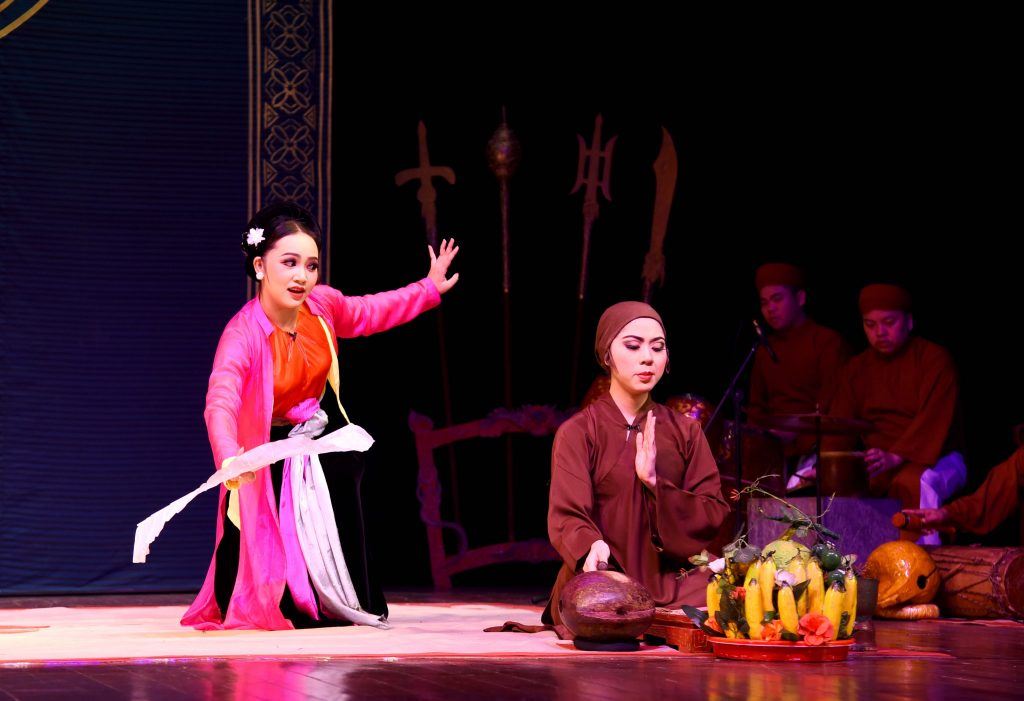 Thanks to the analogy language and direct and diverse expressions, Paddle is considered a unique stage form of festival.
Paddling is a theatrical storytelling art form that uses theatre and actors as a means of communicating with the public, and can be performed improvised. Artistic characteristics of rowing include dramatic elements, narrative techniques in the method of expression of conventional and stylized character personalities. To learn more about this singing style when visiting Hanoi, you can attend performances at the Vietnam Rowing Theater.
Address: Vietnam Paddle Theatre, 71 Kim Ma, Ba Dinh, Hanoi
Ticket price: From 100,000 vnd/person
Time: 20h every 6th