Hanoi is
"Hanoi is" gathers 29 excellent works to win the illustration contest of the same name launched in August 2021. The exhibition portrayed the capital city through the lens and emotions of young artists. It is a Hanoi that is both familiar and new through very ordinary stories.
Hanoi is a land of legend, a journey, plastic chairs, a flood, a votive capital, the gas of beer cans,... The unique personal experiences of the authors, including those who have never set foot in the Capital expressed through the exhibition works, will surely bring pleasant surprises to visitors.
Location: French Institute in Hanoi L'Espace 24 Trang Tien, Hoan Kiem, Hanoi
Time: Date 10/1/2022
Free
Photo: Exhibition: Hanoi is
Loong Koong
"Loong Koong" - the sound of ceramic fragments colliding with each other, is a chance meeting between two disruptive artists Trinh Vu Hieu and Bui Quoc Khanh. "Loong Koong" is a reflection on the contemporary cultural and social context of Vietnam where the impulses between past, present, future between old values and new values are creeping in and coexisting.
The exhibition displays and introduces nearly 50 impressive works with peculiar and unique shapes, expressing their own personality, life and context but still bold Vietnamese identity.
Location: Vincom Center for Contemporary Art (VCCA),
B1, R3, Vincom Mega Mall Royal City, 72A Nguyen Trai, Thanh Xuan, Hanoi
Time: February 15, 2022
Free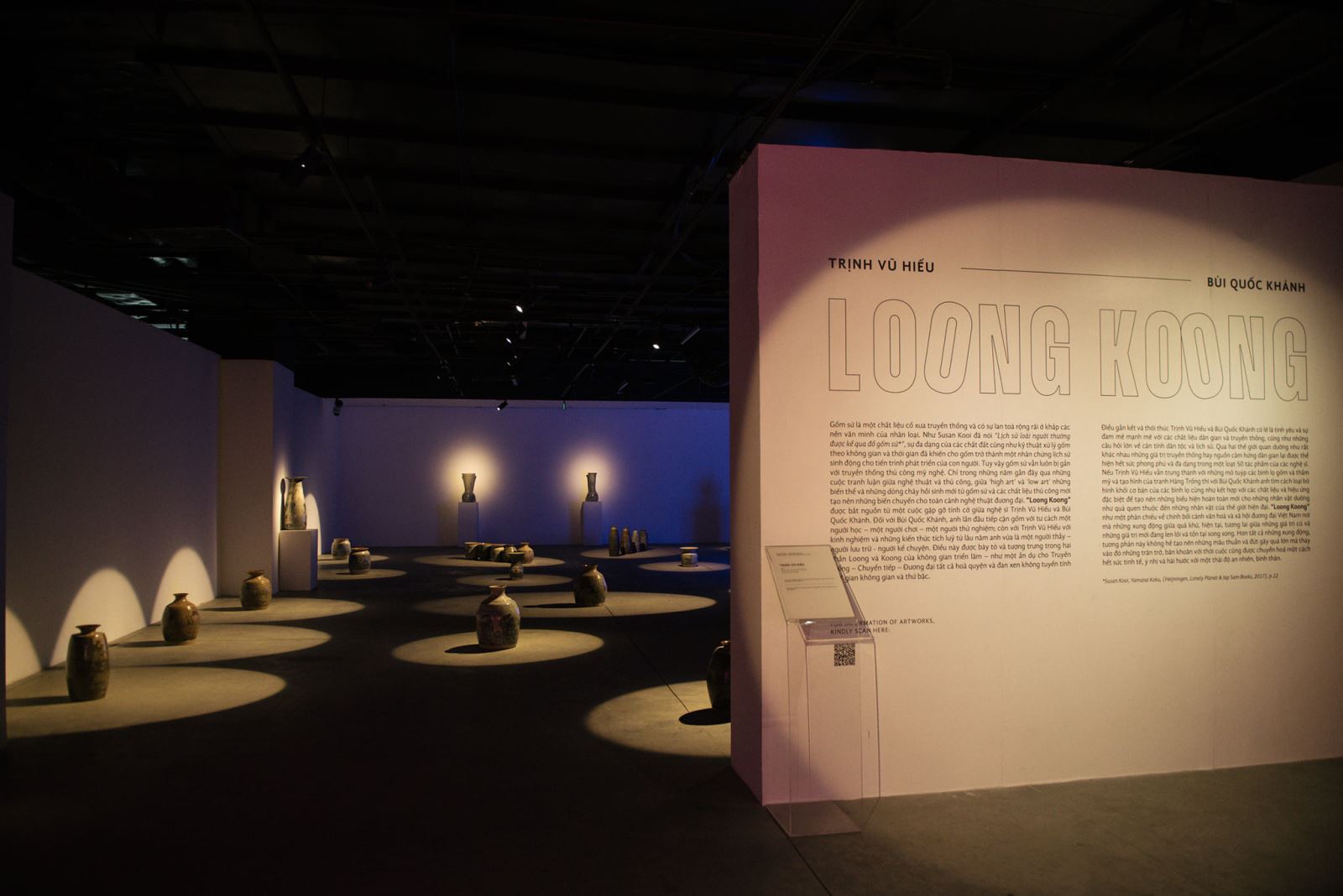 Photo: Tired City
Dreaming of a strange land
The exhibition "Dreaming of a strange land" is the brainchild of 4 artists from 3 regions of North - Central - South: Nguyen Xuan Luc (Hanoi), Ton That Minh Nhat (Hue), Frederic Dialynas Sanchez and Jo Ngo (Ho Chi Minh City). HCM). Although they come from different art backgrounds and regions, they meet together at one important point: using a variety of art methods and materials to deepen the concepts of Space - Local - Material.
The exhibition has a combination of technology and pop culture symbols, along with a combination of tradition and modernity, depicting the urban landscape through ancient religious symbols, attracting many young art lovers to visit in the first days of the new year.
Location: Mo Art Space - B3, 136 Hang Drum, Hoan Kiem, Hanoi
Time: Date 23/1/2022
Free
Photo: Mo Art Space