Quy Nhon (Binh Dinh) is suitable for year-round travel although there are 2 distinct seasons: dry season (from 3 to 9 months) and rainy season (from 10 to 2 months next year).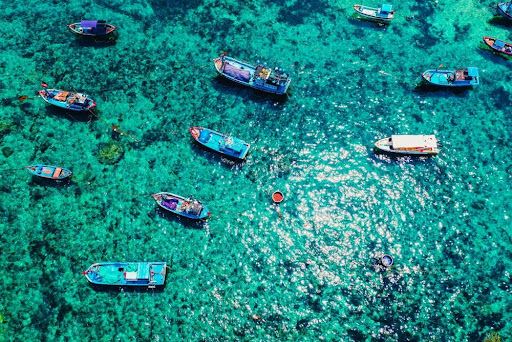 Source: phamphotographyvn/Shutterstock
May 1: Chilly, with a chance of light rain
At this time, the weather in Quy Nhon is pleasant, chilly and still sunny, with an average temperature of 23-28 degrees Celsius. The sea is still a bit cold, not suitable for swimming, diving to see corals. However, you can still visit everywhere to see Quy Nhon in spring when wearing a new shirt of heaven and earth.
Note: You should additionally prepare a small umbrella, thin coat.
March 2: Less rain, light sunshine
On January 5th of the calendar every year, the Dong Da – Tay Son Festival is also solemnly held in Phu Phong town, Tay Son district. When coming here, you will be able to participate in folklore activities such as: Tay Son martial arts performance, Tay Son drum battle, boat race, folk games, singing...
Note: Phu Phong town is about 40km from the center of Quy Nhon, this place will help you better understand the culture of the land of martial arts.
March 3: Rain stops, strong sunshine at noon
The rain suddenly stopped, the average temperature was 25-32 degrees Celsius. The sun is only intense at midday, so you can take advantage of visiting outdoor attractions at this time. If you want to get away from crowds, March 3 is the ideal time for you. On the 11th-15th day of the 2nd lunar calendar every year, in Nhon Hai commune, Quy Nhon city, there is also a huge Fishing Bridge ceremony, which is an opportunity for you to explore the culture of local fishermen.
Note: Hon Dry is also located in Nhon Hai commune, so you can combine nature and culture experiences in the same destination.
March 4: Hot sun
Starting to appear the bright sun of summer, Quy Nhon really enters the sunny season. The average temperature is 27-33 degrees Celsius. It is this new sunshine that has contributed to the crystal clear sea color, making many tourists compare Quy Nhon as "Maldives of Vietnam".
Note: When experiencing the blue sea, white sand, golden sunshine here, do not forget to bring an umbrella, hat, shirt and sunscreen.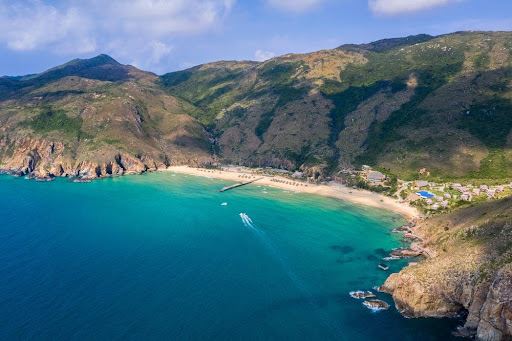 Source: Hien Phung Thu/Shutterstock
March 5: Hot sun, dry onions
Quy Nhon now enters the tourist season with delegations of visitors from everywhere, although the temperature rises a little higher, ranging from 27-34 degrees Celsius. The sunshine and heat will dissipate when you immerse yourself in the cool sea water of Quy Nhon, participate in water games or snorkel to see corals.
Note: Take care not to stay outdoors for too long to avoid dehydration or heat stroke.
March 6: Sunniest of the year
This is considered the hottest month of the year in Quy Nhon. The average temperature is 28-36 degrees Celsius. The heat is like that, but you should not miss the opportunity to experience Doan Ngo New Year in Quy Nhon, when people flock to the beach at 12 noon to relieve bad luck, hope for good luck.
Note: Hot weather can cause you to catch a cold or affect your skin, to protect your health, you should carefully prepare your belongings.
March 7: Sunny but with a chance of rain
This time will appear scattered rains but do not affect too much your Quy Nhon trip. Enjoy exploring the Wind Strait with roads winding around the mountainside, Ky Co crescent sandy beach or Hon Dry, the magnificent Green Island.
Note: Drink and carry enough water to ensure health on the sunny journey.
March 8: End of dry season, less sweltering
This is the month near the end of the dry season in Quy Nhon, so the sun has been less sweltering, the rain has not appeared much. You can take advantage of planning to explore Quy Nhon island before the rainy season comes.
On the full moon of the 7th lunar month every year, An Thai village, An Nhien town is a place that attracts many tourists to attend Vu Lan ceremony, watch bumper singing and talent competitions of martial artists in the truss collapse festival.
Note: An Thai village, An Nhon town is about 30 km from Quy Nhon.
May 9: Rains begin to appear
This is the transition time between the sunny season and the rainy season in Quy Nhon. At the end of September, Quy Nhon may receive cold winds, accompanied by small rainstorms. Do not miss the opportunity to enjoy Quy Nhon cuisine such as jumping shrimp pancakes, pork heart cakes, fish cakes ...
Note: At this time, Quy Nhon is no longer crowded, service prices are also better, suitable for visitors who want to save costs and prefer a calm space.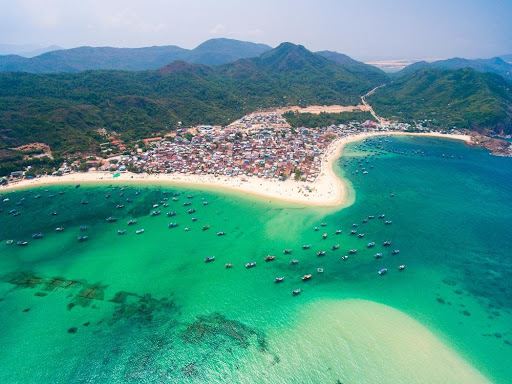 Source: Jimmy Tran/Shutterstock
May 10: Possible storms
The weather of Quy Nhon in October appeared big storms. Sports and entertainment activities at sea may have to be postponed. On dry days, the temperature drops low but not as cold as the North, you can visit spots around the city such as Twin Towers, Ghenh Rang - Tien Sa ...
Note: The rough sea season usually lasts from the end of September to the beginning of December of the lunar calendar, so ships may stop operating due to unfavorable weather.
March 11: It is cold, sunny and rainy suddenly
This time, Quy Nhon weather is quite volatile when it is sunny, when it rains suddenly, it is cold. Instead of scuba diving to watch corals, walk around the famous Quy Nhon cafes such as S-Blue Coffee, Marina Coffee, Green Café, 1990 Café, Silent-Kitchen & Coffee...
Note: Traveling Quy Nhon by motorbike in November will not make you lose strength like the summer months, but you still pay attention to prepare carefully to avoid cold rain.
March 12: Chilly weather
The weather is cold, it is impossible to swim in the sea due to large waves, but in return, you can save costs when rooms and air tickets are all at good prices, the quality of service is also guaranteed because it is not overloaded like the peak season.
Note: There are rainy days and dry days alternating during the month so if you keep up to date with the weather forecast, you can still enjoy a memorable trip in 12 months.
Conclude:
3 to 9 months is the ideal time to enjoy the beauty of famous Quy Nhon destinations such as Eo Gio, Ky Co beach, Cu Lao Xanh island, Dry islet ... Because it is the peak season, around this time, the price of services is usually higher.
October to February is the time when fun activities and exploring the sea will be affected by rain. However, this is the low season, the price is soft, bringing more options to visitors.