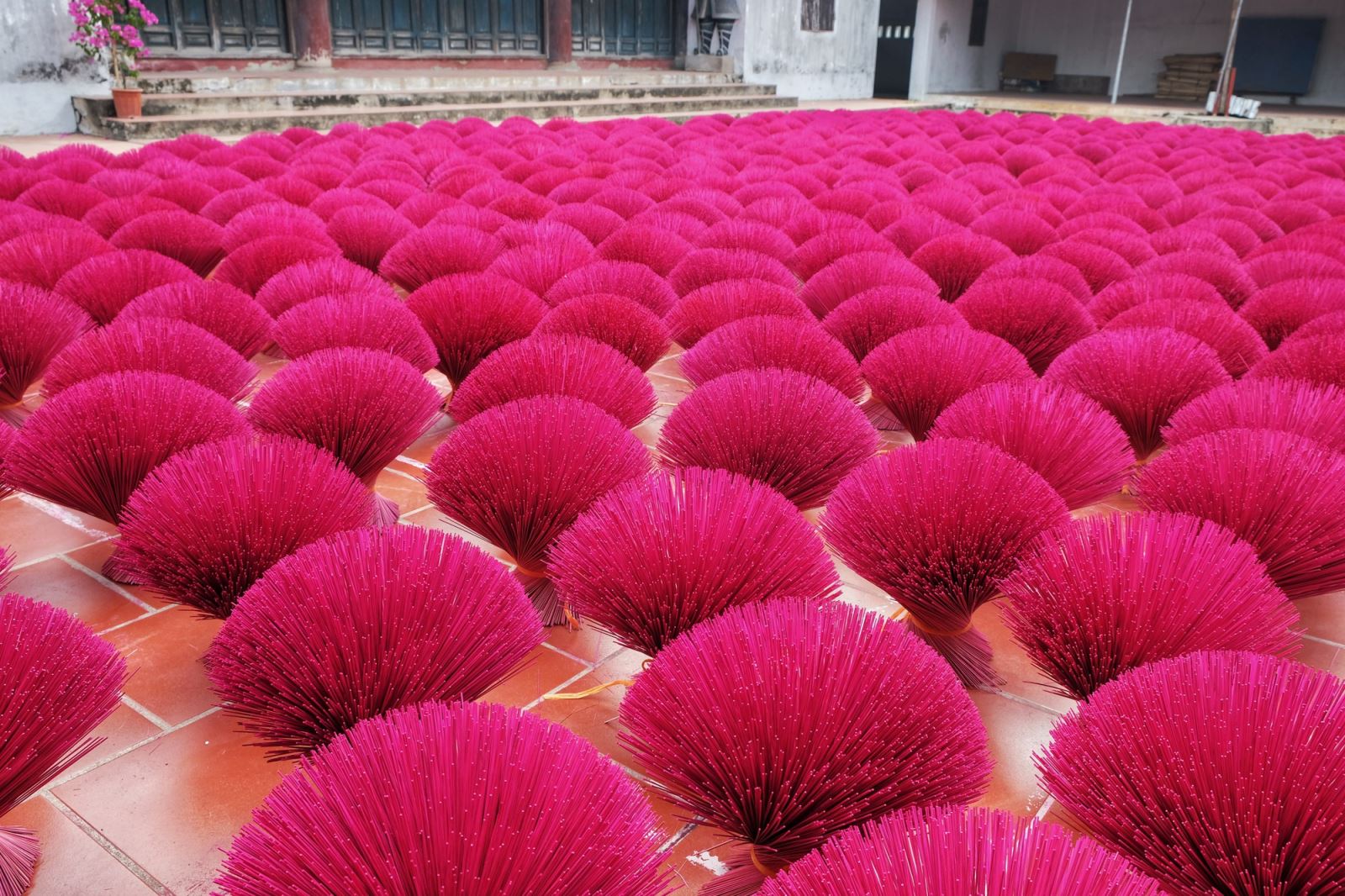 Incense making in Quang Phu Cau has existed for a long time and has been passed down for more than 100 years. Initially, mainly only the people of Phu Luong Thuong village made incense, but now the scale has been expanded to more than 2000 households in Cau Bau, Dao Tu villages ...
Making incense toothpicks is a profession related to spirituality, so the people who make incense toothpicks in Quang Phu Cau always put their minds first, meticulously, and feats right from the stage of choosing ingredients. The flake used to make incense swabs must be old enough and carefully screened.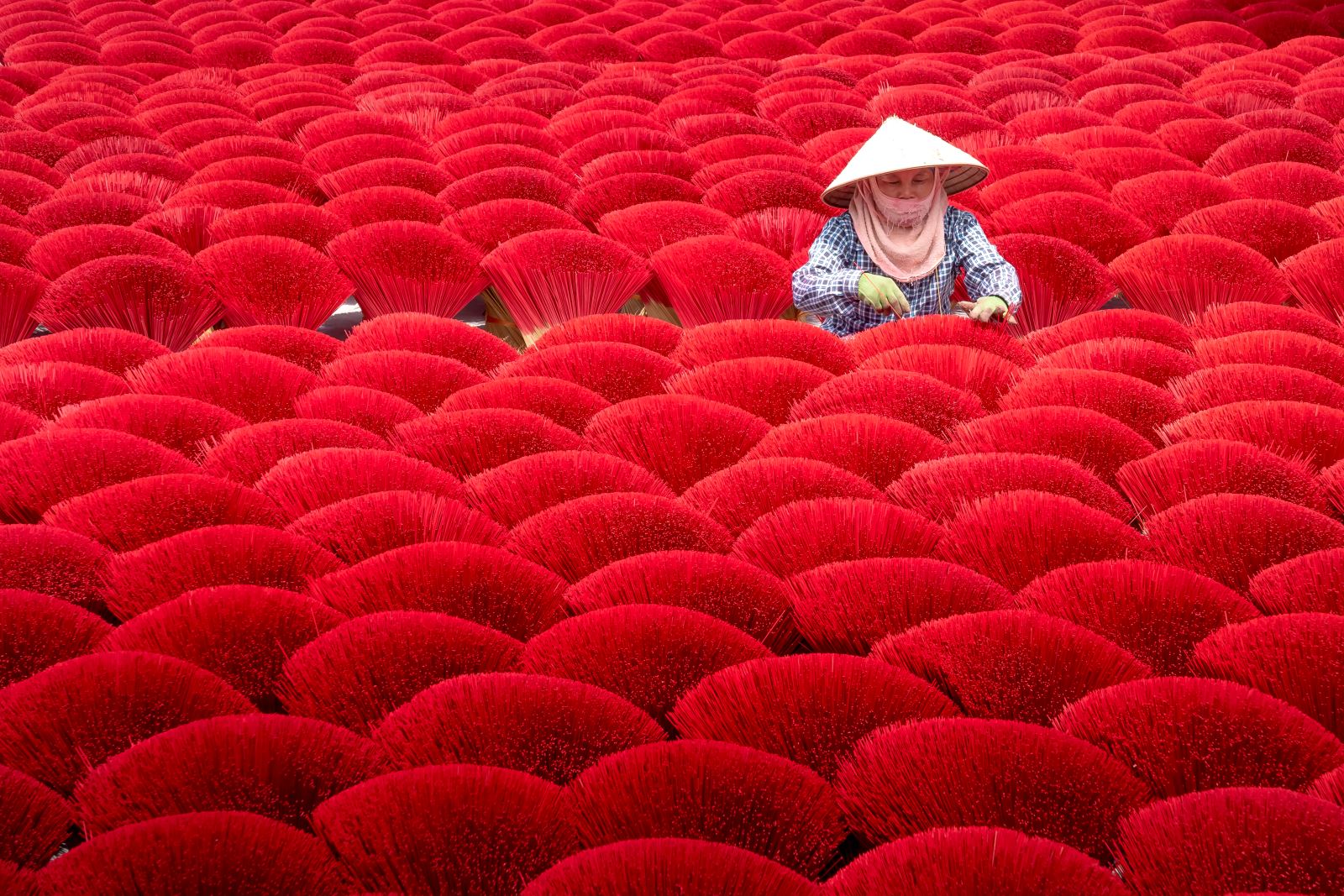 The process of making incense toothpicks is divided into 3 stages: making incense powder, foot incense and astringent. The main raw materials for making incense powder in Quang Phu Cau are a mixture of cinnamon powder, rice husk and sawdust. Incense feet are usually made from gourds, bamboo, cork, soaked in ponds for 1-2 months, then picked up and washed and split into toothpicks. In the past, workers split, stripped, and peeled incense toothpicks completely by hand, but now this stage has replacement machines to save time and increase production efficiency.
The finished split will be layered by the worker and remove the substandard sticks. Quality sticks will be dyed and then dried in the sun. Incense feet are often dyed bright red because according to the concept of Oriental people, red is the color that symbolizes wall sand, blessings.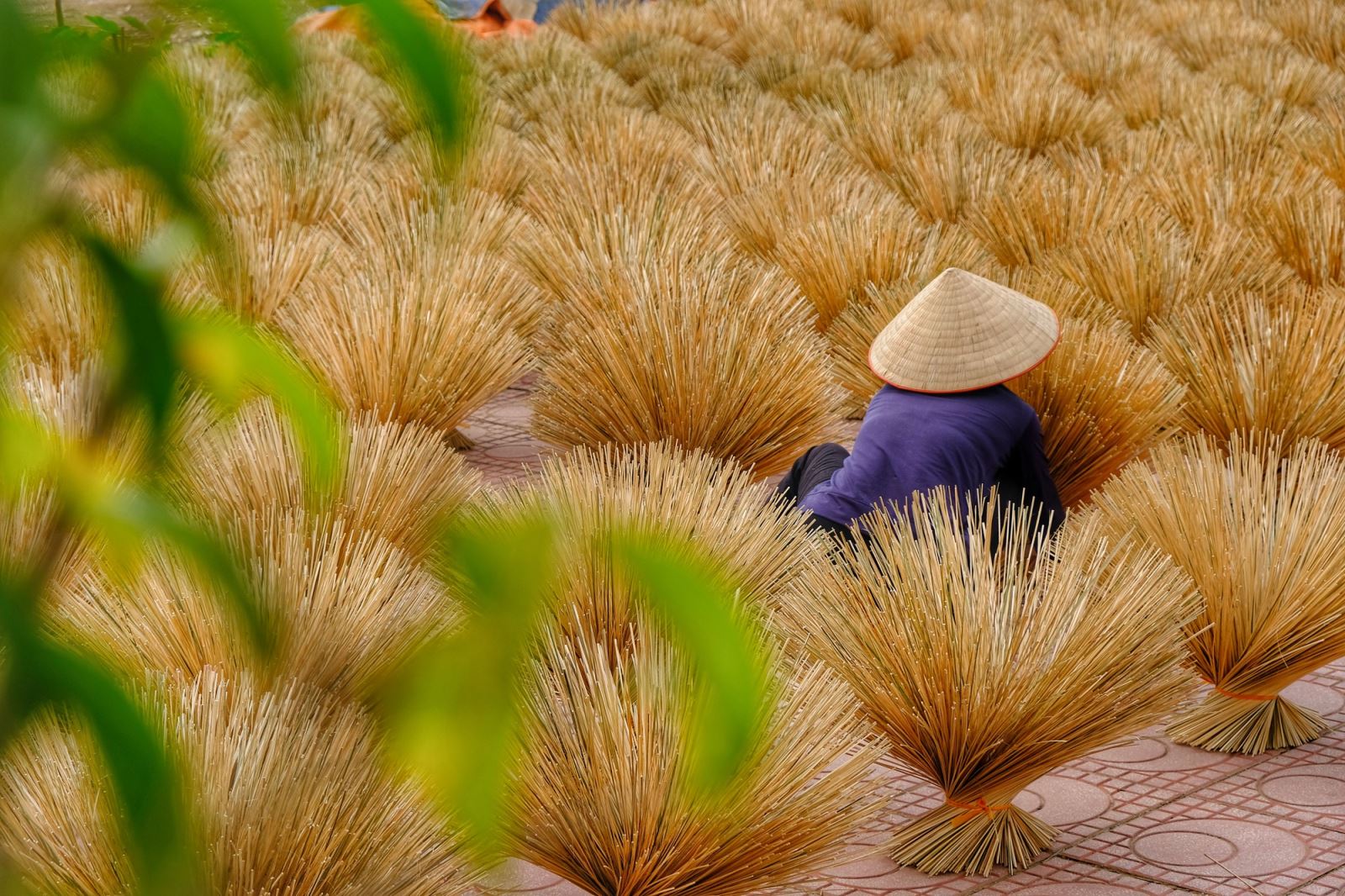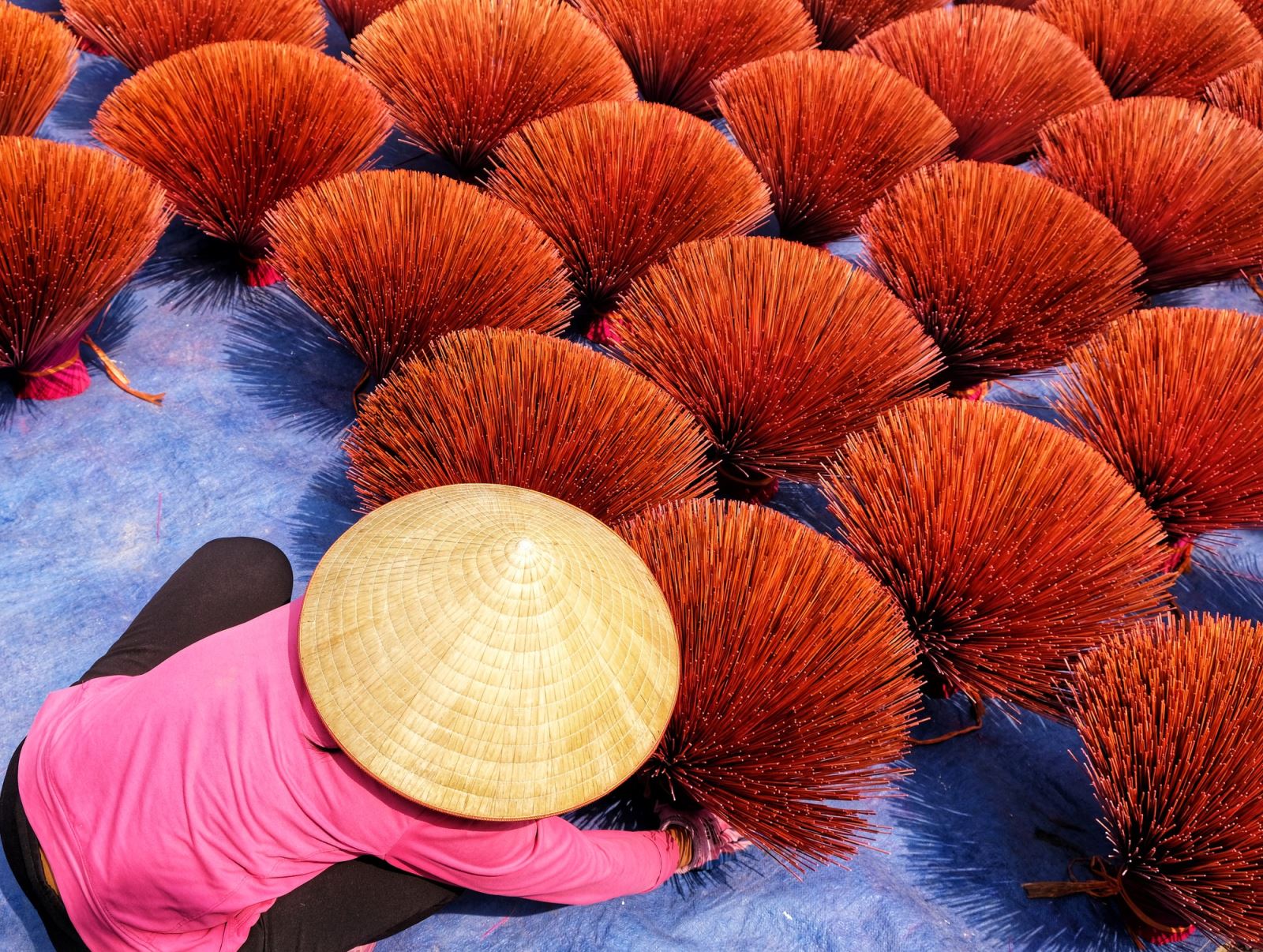 After being dried, the toothpick will be bundled into large bundles and then transferred everywhere to astringent into finished incense. The powder for astringency is also different from each house, depending on its own secret. People will dry the incense in the sun to retain the natural scent instead of drying. Because the workers here share, if using the drying method, it will lose the characteristic scent. Thanks to that, the incense in Quang Phu Cau is always fragrant with wood, not dying because of the use of chemicals.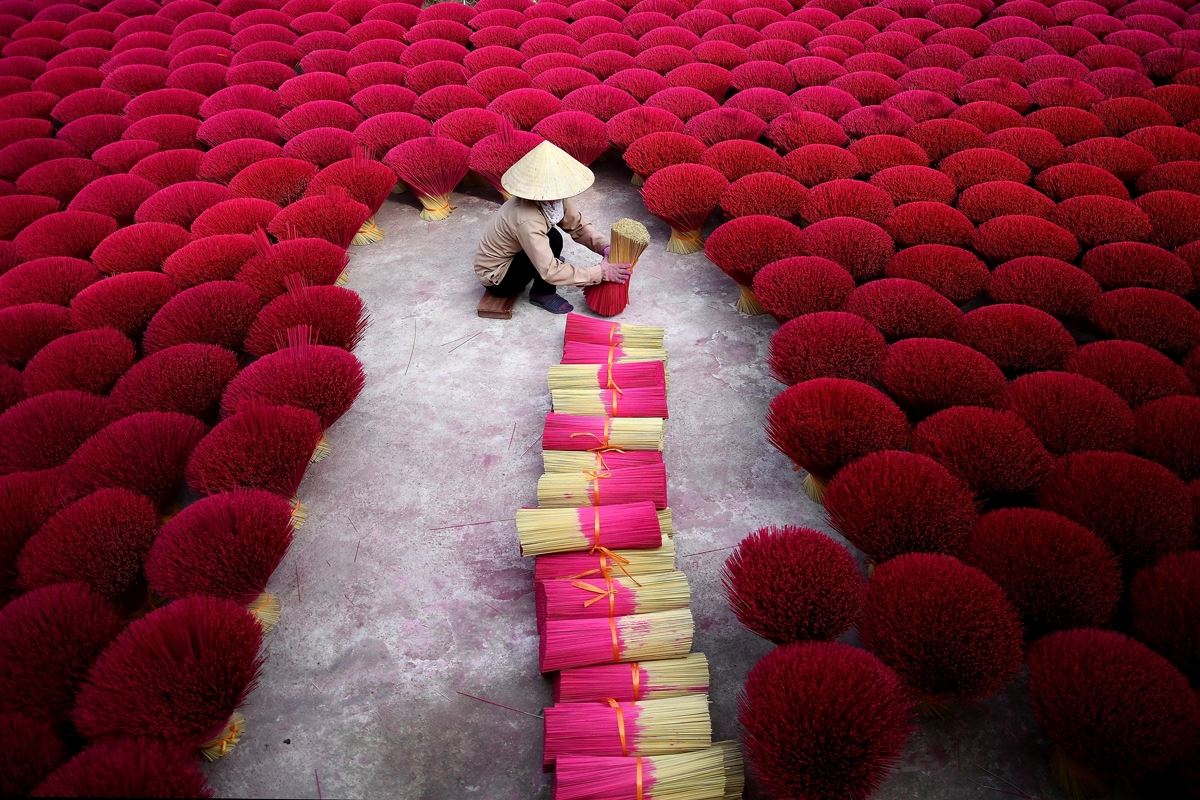 Incense toothpick making in Quang Phu Cau is bustling all year round, but the busiest is still in the months surrounding Tet. At this time, the establishments in Quang Phu Cau are busier than usual.
I heard from the village elders that this profession was originally just a job while farming. But up to now, toothpick making has developed strongly, becoming the main occupation, bringing the main source of income to thousands of households in Quang Phu Cau. Huong Quang Phu Cau has been present all over the country, contributing to helping the houses and pagodas always warm with fragrance, dignified and respectful colors.
Quang Phu Cau village still retains many ancient features typical of a rural village in the Northern Delta with banyan trees, water wells, courtyards. In recent years, Quang Phu Cau has attracted many domestic and foreign tourists to explore traditional incense making as well as to record beautiful images in this place.
Photo: shuttestock, vtv