Ba Vi National Park
Ba Vi National Park is an interesting destination. This beautiful forest has cool weather all year round and many unique attractions, including Ba Vi pouring church, 400m pine forest, cactus garden and Thien Son waterfall. Camping in Ba Vi National Park this season, you also have the opportunity to admire the wild anemone flower route that is blooming brightly. When the sun goes out, the fog spreads everywhere, the lights emanating from the surrounding tents will create an extremely romantic scene.
Venue rental fee: VND 60,000/adult; 10.000 VND/child
Address: Tan Linh Commune, Ba Vi District, Hanoi
Phone number: (+84) 966 173 119
Website: https://vuonquocgiabavi.com.vn/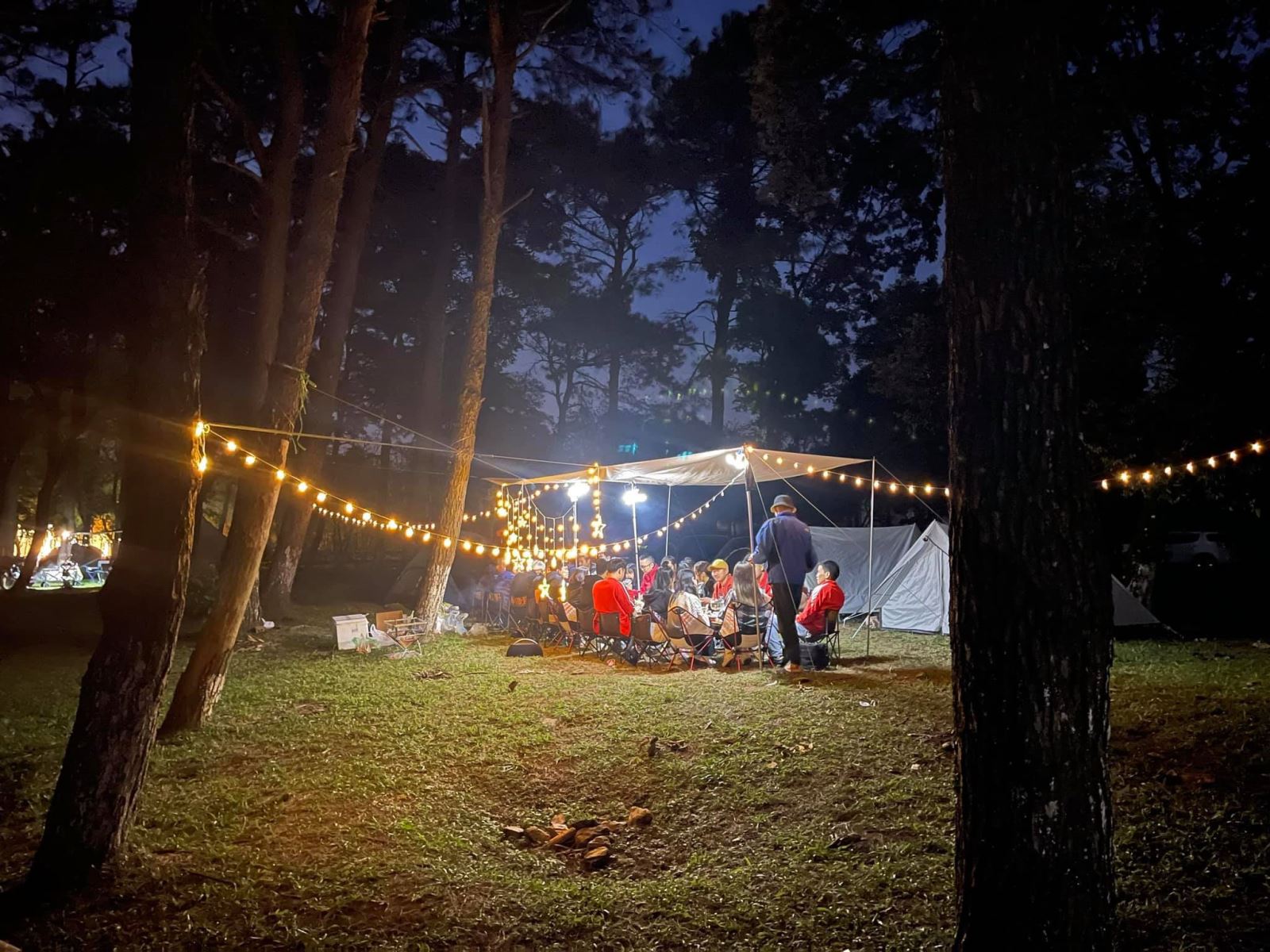 Photo: Internet
Son Tinh Camp
Son Tinh Camp is the first campsite in Hanoi, located on the peninsula next to Dong Mo Lake with pristine forest trees, charming scenery, fresh and pleasant climate. Here, you will be able to admire the majestic mountain view, gentle lake and enjoy relaxing moments. This is not only an attractive picnic destination for families but also an ideal place for young people who love outdoor activities such as campfires, rock climbing, cycling, Zipline, pontoon boats, rock painting,...
Venue rental fee: 110.000 - 210.000 VND/adult; 30.000 - 60.000 VND/child
Address: Muong Chau Village, Van Hoa Commune, Ba Vi District, Hanoi
Phone number: (+84) 2462 816 115
Website: https://sontinhcamp.com/
Ham Pig Mountain
Ham Bo Mountain is the highest mountain in the Monoton Mountains, in Soc Son district with an altitude of 462m. At the foot of Ham Bo Mountain is the vast Nui Bau lake, the water of four seasons is blue. This place has a cool climate, very suitable for picnic activities, fun such as kayaking. In the evening, people sit around the fire, singing, chatting and grilling delicious meat skewers.
Venue rental fee: 100.000 - 320.000 VND
Address: Nam Son Commune, Soc Son District, Hanoi
Phone number: (+84)987 514 759
Website: https://www.facebook.com/dulichhamlon/
Photo: Tuan Camp
Sixdoong Cafe & Camping
With the advantage of being located right on the bank of the Red River, Sixdoong's camping model combined with café owns an extremely impressive space. Although it opened not long ago, this place has become a camping spot attracting a large number of young people in the capital. You should come here in the afternoon to catch the moment when the sunset fades on the river. Just enjoying a cup of coffee, while feeling the slow pace of life on the sidelines of the city will be a great experience.
Venue rental fee: 300.000 - 1.000.000 VND/tent
Address: Red River Rock Flower Garden, Au Co, Tay Ho, Hanoi
Website: https://www.facebook.com/Sixdoong.Cafe.Camping
Writer: Jennie