What is glamping?
Glamping - a combination of two English words glamour and camping, understood as camping, picnic in a luxurious and modern style. Compared to conventional camping, glamping is a more advanced and comfortable form of picnic.
Instead of having to do the tasks yourself from setting up tents, starting fires to preparing food,... Then the glamping areas will provide you with spacious luxury tents and beautiful, delicious prepared dishes with many attractive drinks included.
However, glamping still retains the identity of camping when setting up camp in natural areas with fresh air, fresh greenery or near the beach area murmuring waves. This trend has only appeared in the past few years and is enthusiastically supported by travel lovers, especially luxury experience travel. And more specifically, located in the heart of Hanoi capital, there is such a glamping place for you and your family to enjoy the services to the fullest: Picnic café & bbq Hanoi.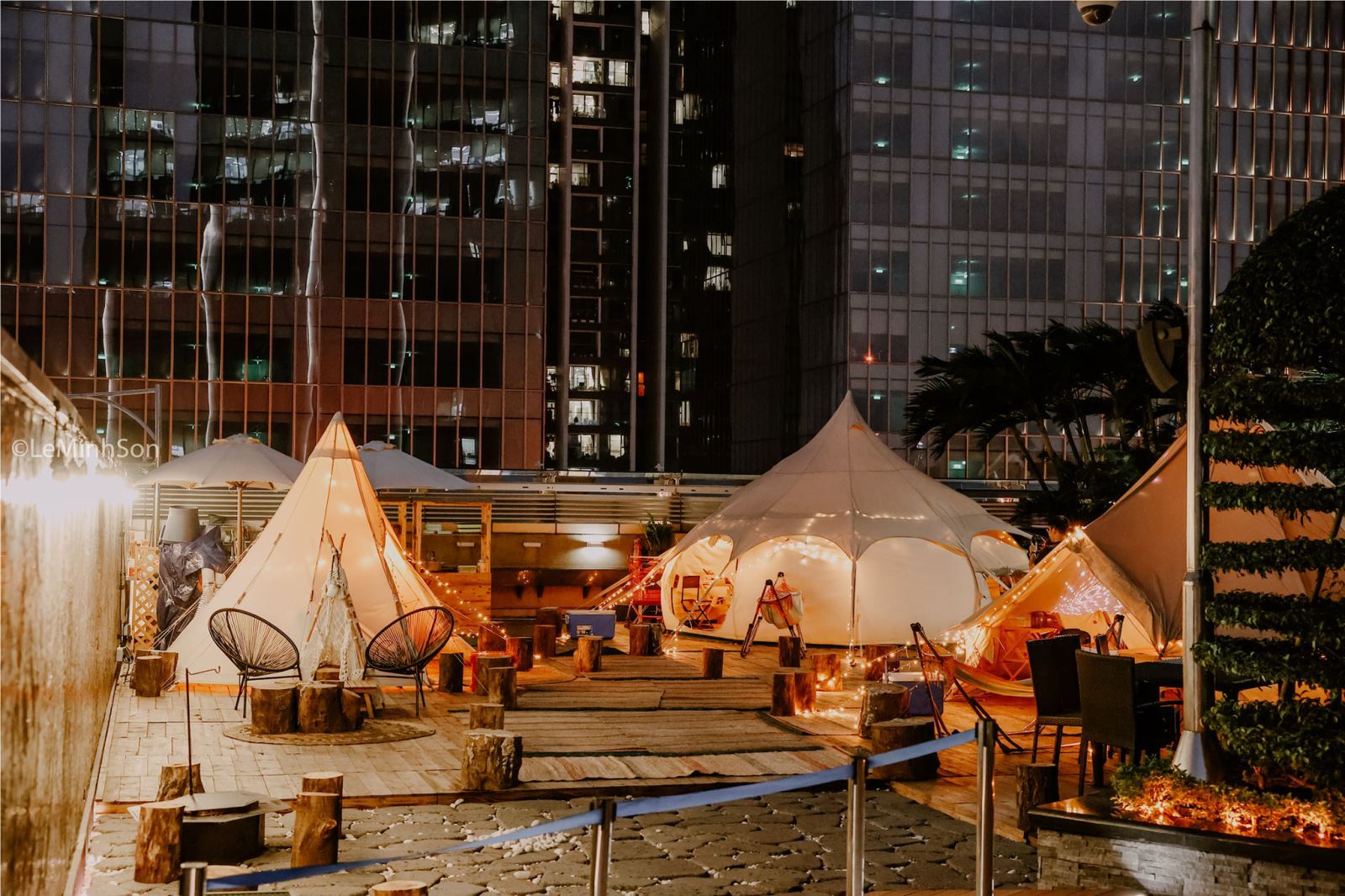 Experience glamping right in Hanoi

Initially, this campus of more than 100m2 was just a sightseeing and smoking area of Lotte Building. But after a few renovations, this place has become a super beautiful glamping area with 3 tents accommodating each tent from 4 adults to larger groups. In the coming time, Picnic café & bbq Hanoi will expand more tents to serve more customers who want to camp in this style.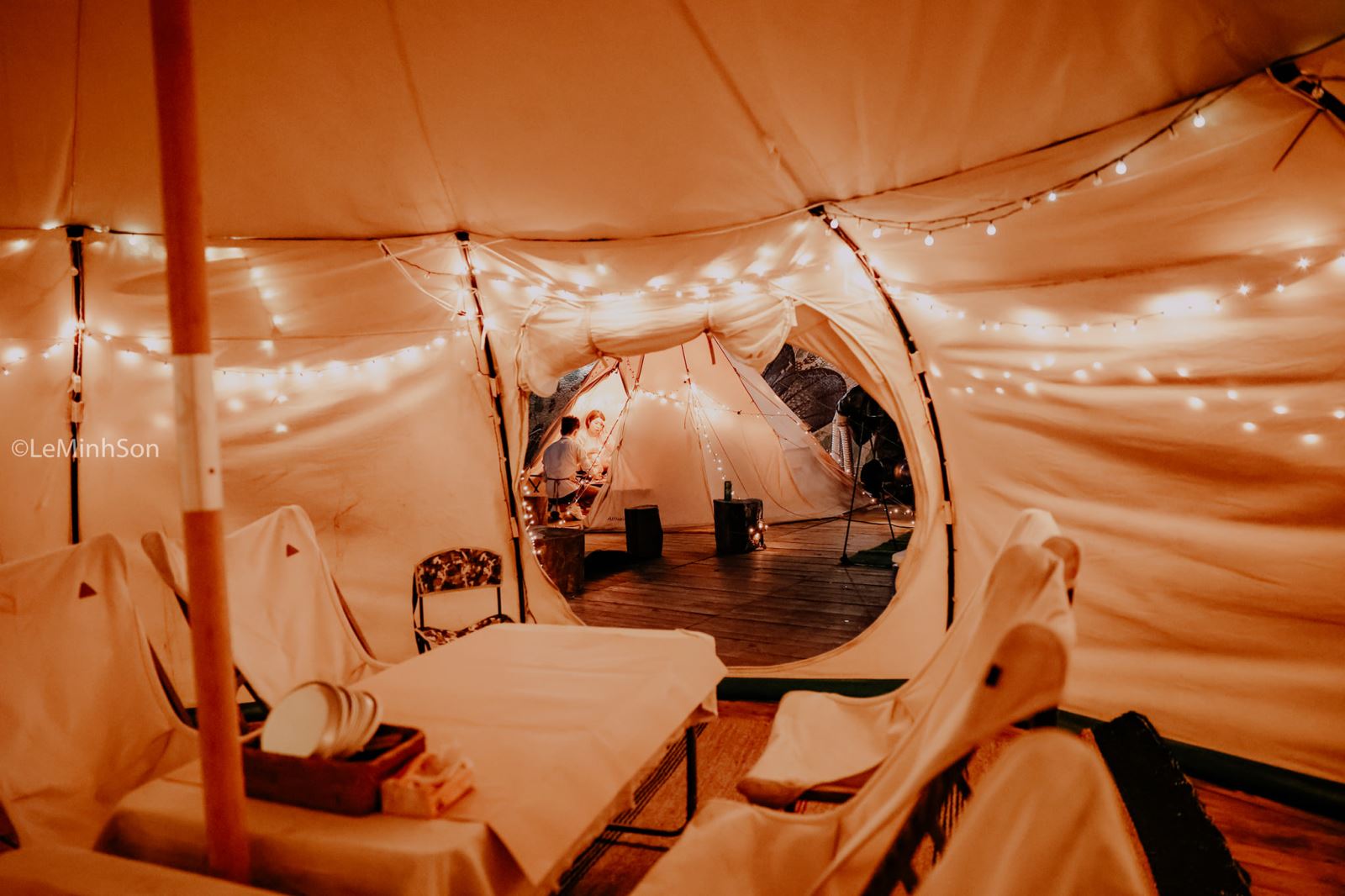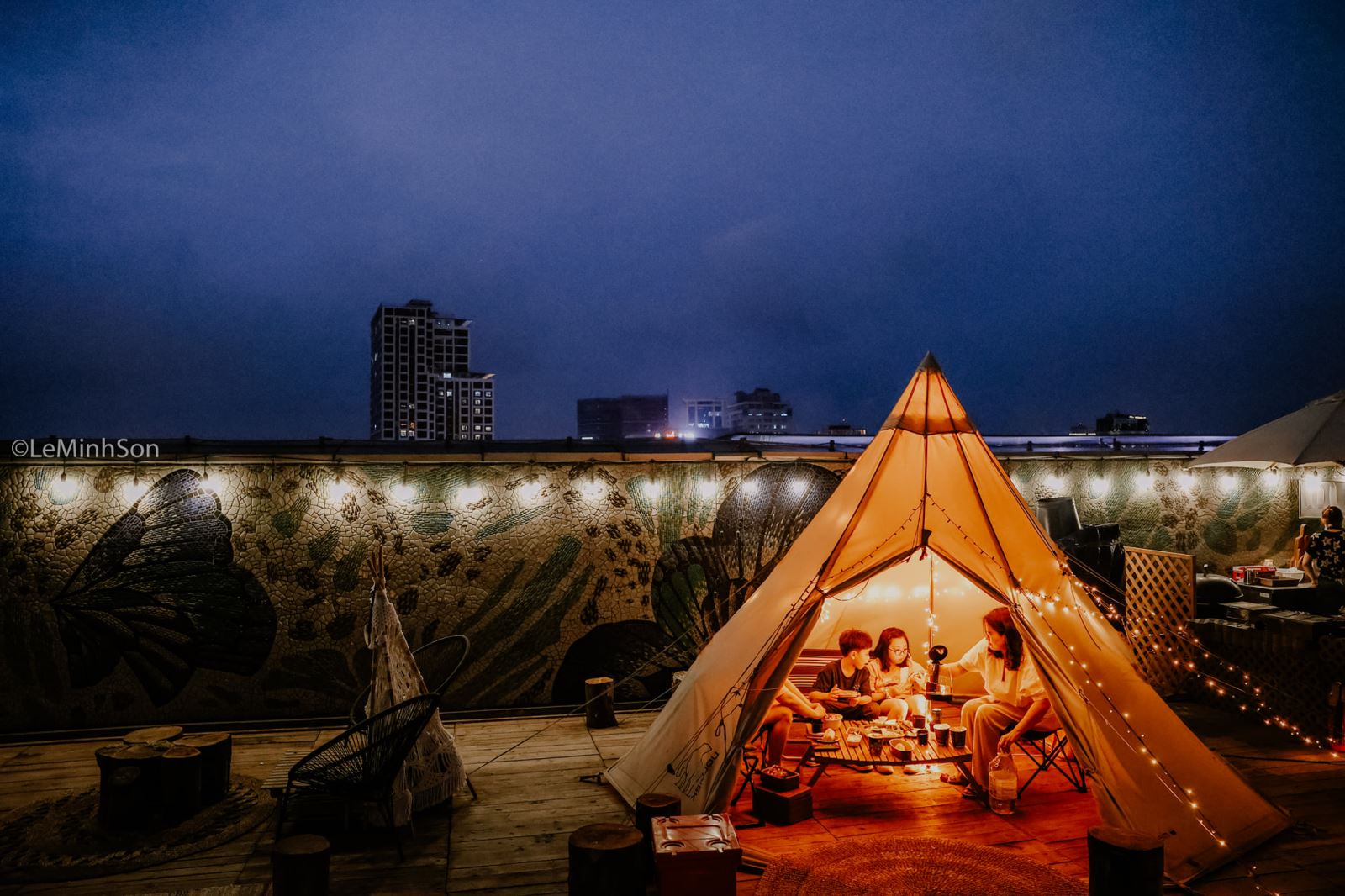 The glamping area is divided into 3 parts, the main space is the tent area, followed by an outdoor barbecue area for the group who like to cook for themselves. Finally, there is the kitchen, where you will directly see the service team preparing dishes on a blazing ember stove.
Dishes served include grilled chicken, beef and grilled fruit skewers. There are also salads, bread, white rice, and soups typical of Korean cuisine. Food is prepared directly, so you can use it immediately without waiting too long.
In the middle of an open space with a starry and windswept sky, tearing a piece of grilled chicken and sipping your favorite drink with friends and relatives is nothing better. Come to Picnic café & bbq for glamping once and tell us about your memorable experience!
Address: Picnic café & bbq, 7th floor, Lotte Center, 54 Lieu Giai, Ba Dinh, Hanoi
Opening hours: 18:00 - 23:00 (2nd off)
Price: 792.000VND/ adult
Free for children under 8 years old, 50% discount for children from 8-13 years old
Facebook page: https://www.facebook.com/picnichanoi
Some notes:
Due to the limited number of tents, it is necessary to call to book a table in advance via the hotline / Zalo / Kakaotalk of the restaurant.
Please bring a thin jacket to keep out the wind at night as the glamping area is located on a high-rise building.
The restaurant does not have wifi, so groups of friends or families will have the opportunity to spend time together having fun and chatting.