Sao Beach
Address: Bai Sao Hamlet, An Thoi town, Phu Quoc district, Kien Giang
Sao Beach is located in the south of Phu Quoc pearl island. Sao Beach is so named because every time night falls, thousands of starfish move to the shore, creating a characteristic image of the beach that we can not help but visit when coming to Phu Quoc. Sao Beach has white sand and a curved coastline in the shape of a bow. The weather is cool, fresh, very suitable for organizing many different outdoor activities so this beach is always a great destination for beach lovers.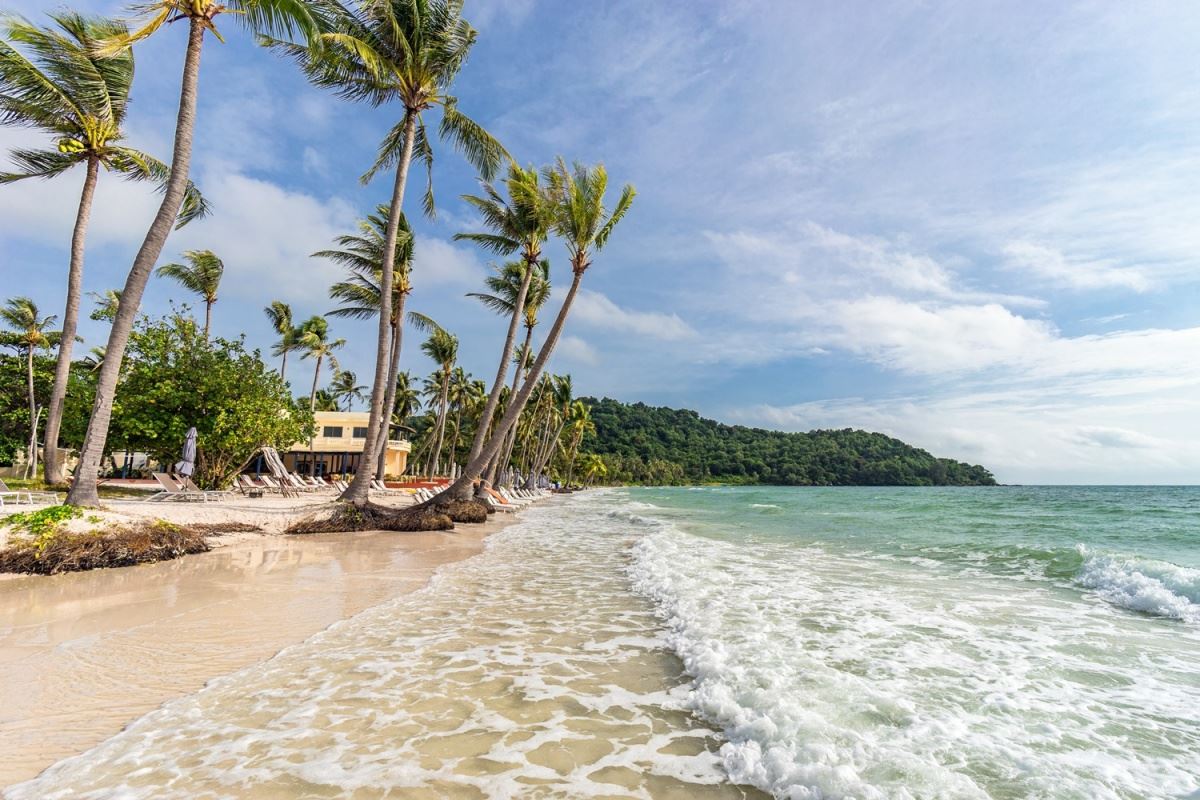 Schoolyard
Address: Duong Silk Commune, Phu Quoc District, Kien Giang District
Truong Beach is the longest beach in Phu Quoc with a length of more than 20km stretching from dinh Anh cape to the corner of Tau Co. Possessing rare natural strengths, Truong Beach has been planned and become a tourist area attracting a large number of visitors from all over the country when visiting the pearl island. Besides the natural beauty as pictured, the school also has eye-catching settings such as fish, elephants in the air, stone statues of people's faces separated in half,... and interesting types of games at sea so that you can enjoy the whole day with many different emotions.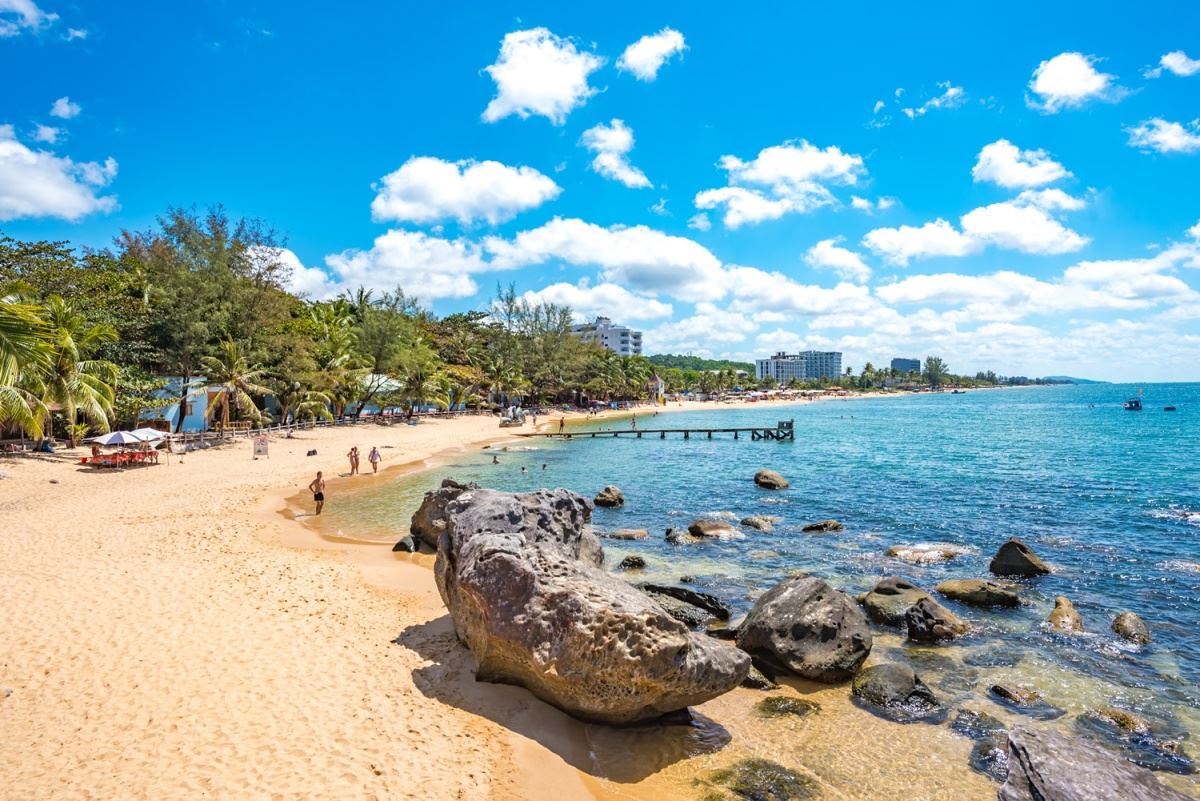 Khem Beach
Address: south of Phu Quoc, An Thoi town, Phu Quoc district, Kien Giang
Not a destination right in the center but want to go to Khem Phu Quoc beach, visitors travel 25 km from Duong Dong town to the south of Ngoc Island. Khem Beach impresses and attracts tourists by the stillness. The beach is bow-shaped surrounded by green forests, the air is always fresh and cool.
Near Khem Beach, there is a fishing village where gentle, true people live. Life attached to the sea makes the skin dark because of the wind but they always have a bright smile. When you come here you remember to enjoy fresh seafood dishes, especially herring salad.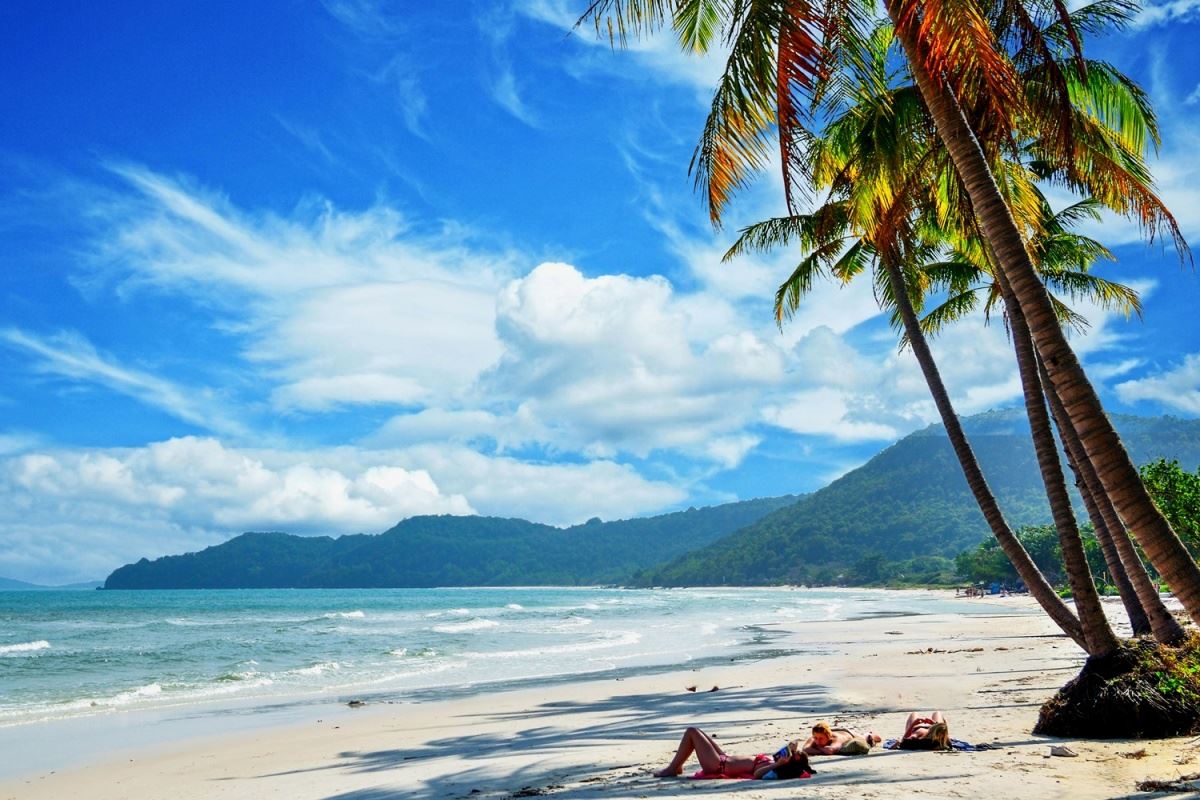 Mr Lang Beach
Address: West Coast Phu Quoc, Phu Quoc District, Kien Giang
As a unique note in the "symphony" of the sea of heaven, Mr. Lang Beach contributes to bringing Phu Quoc pearl island to a new level. Lang Beach is not as crowded as the famous beaches in Phu Quoc but instead the unspoiled beauty, peace inherent. The beach does not stretch throughout but is punctuated by nostalgic mossy rocks, with calm blue sea water and lush trees. Mr. Lang Beach will be very suitable for picnics, outdoor BBQ parties so that you can live slowly, enjoy relaxing moments with relatives.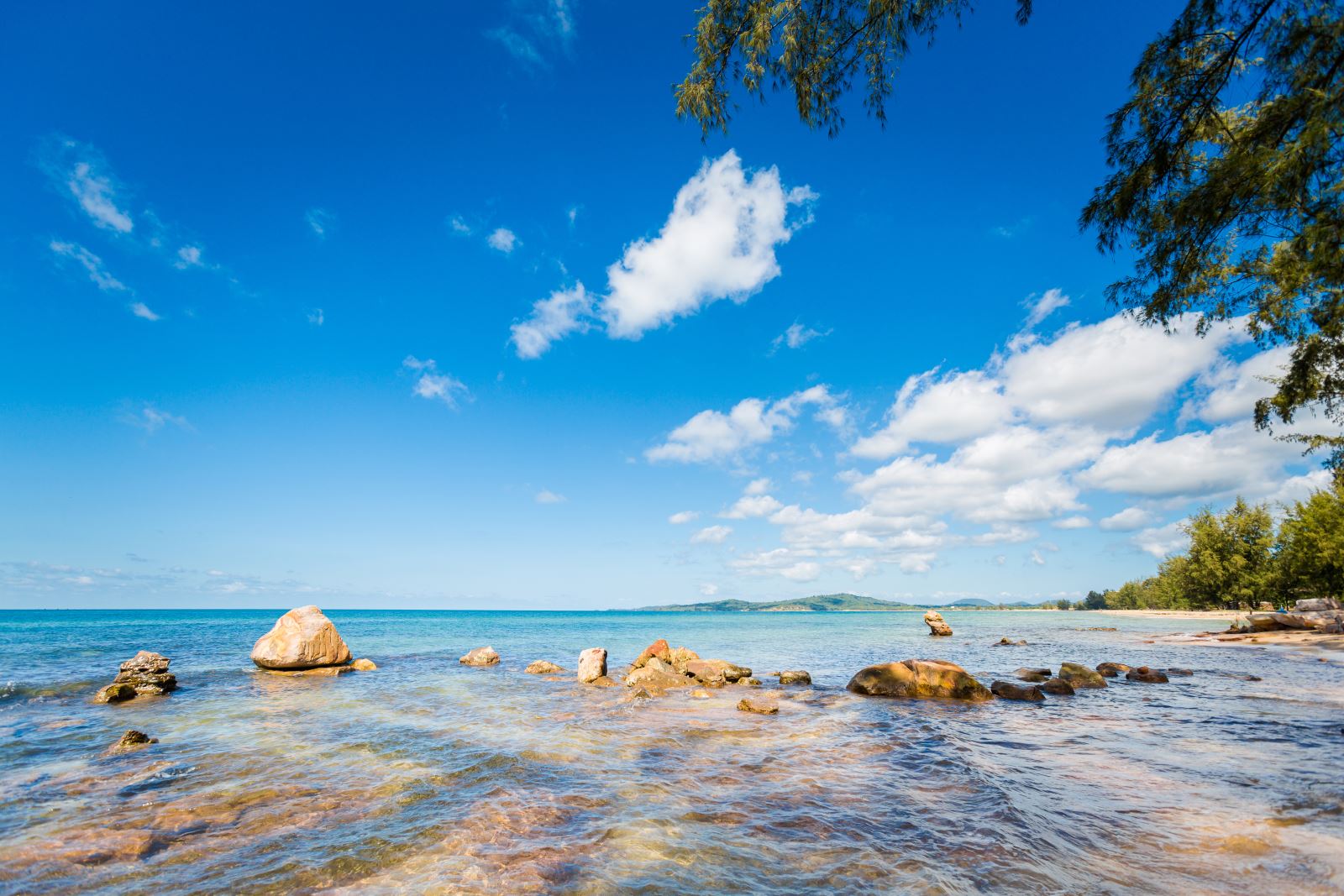 Cua Cạn Beach
Address: Cua Cạn Commune, Phu Quoc District, Kien Giang District
Located in the west of Ngoc Island, Cua Cạn Beach is a harmonious intersection between the sea water and the flow of the Estuary River. The unspoiled beauty and undulating sand that emerges separating the two areas has made the scenery of this place picturesque. Around Cua Cạn beach, there are also houses with the style of the Western river shining behind the green coconuts.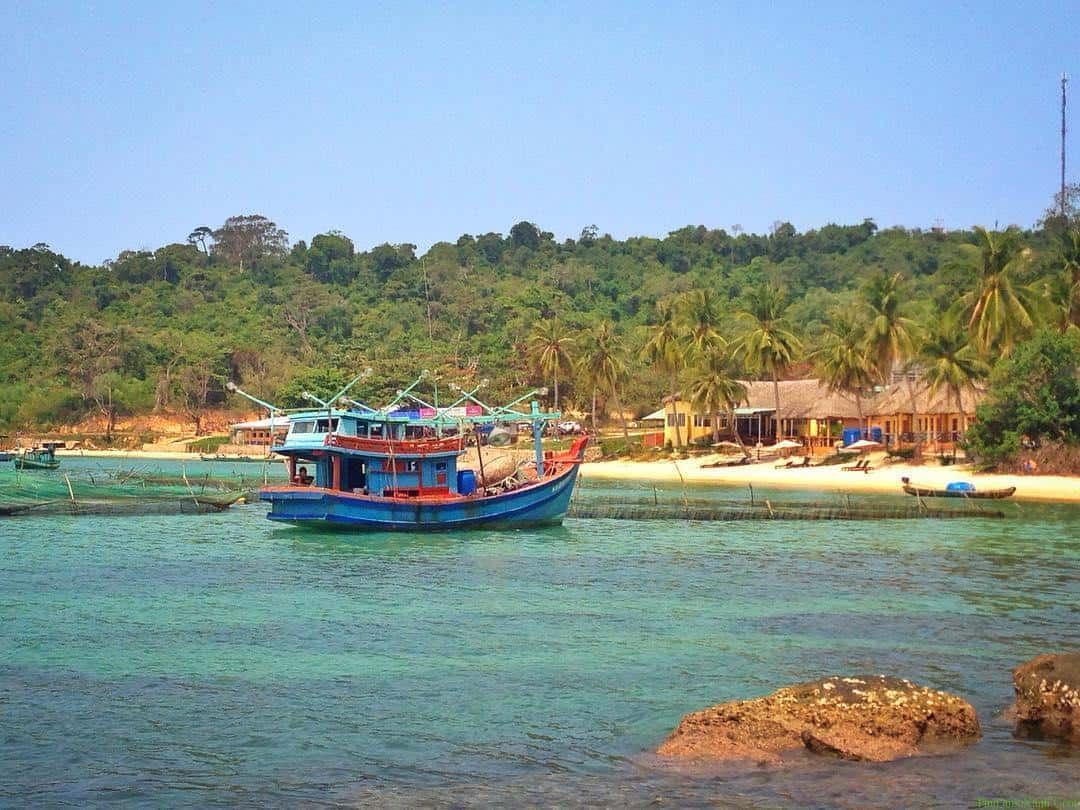 Photo by offertetourvietnam
Dau Dau Beach
Address: Northwest phu Quoc island, Vinh Dau commune, Phu Quoc district, Kien Giang
Vinh Dau Beach is a familiar check-in place for young people by the rocky outcrops, undulating around the sea. Fresh air, fine white sand and unspoiled natural space of Muong Dau cape will quickly dispel all feelings of fatigue and sorrow. In addition, The Dau Oil is bordered by Cambodia so you can see your country's island when standing here.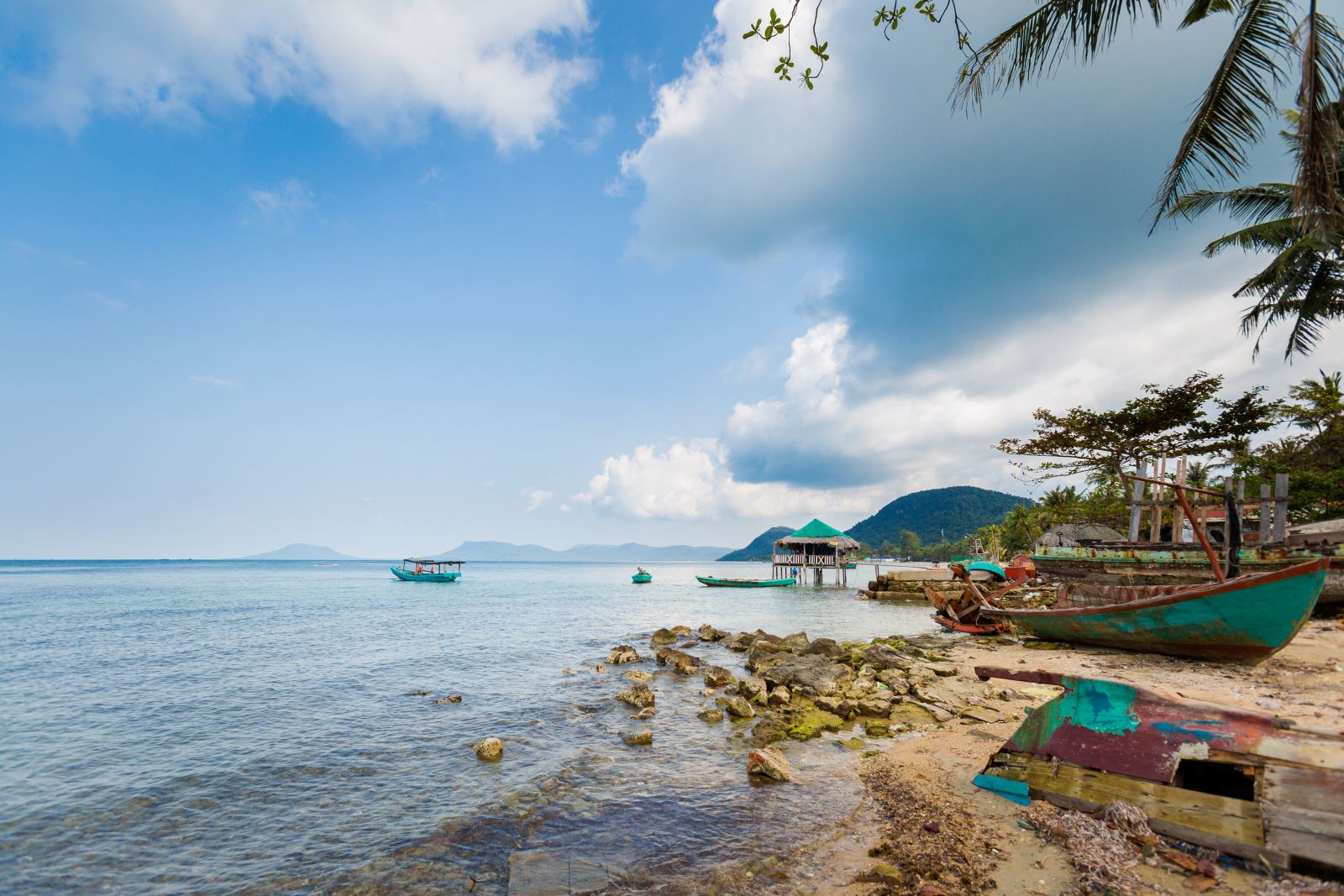 Writer: Jennie
Photo by shutterstock