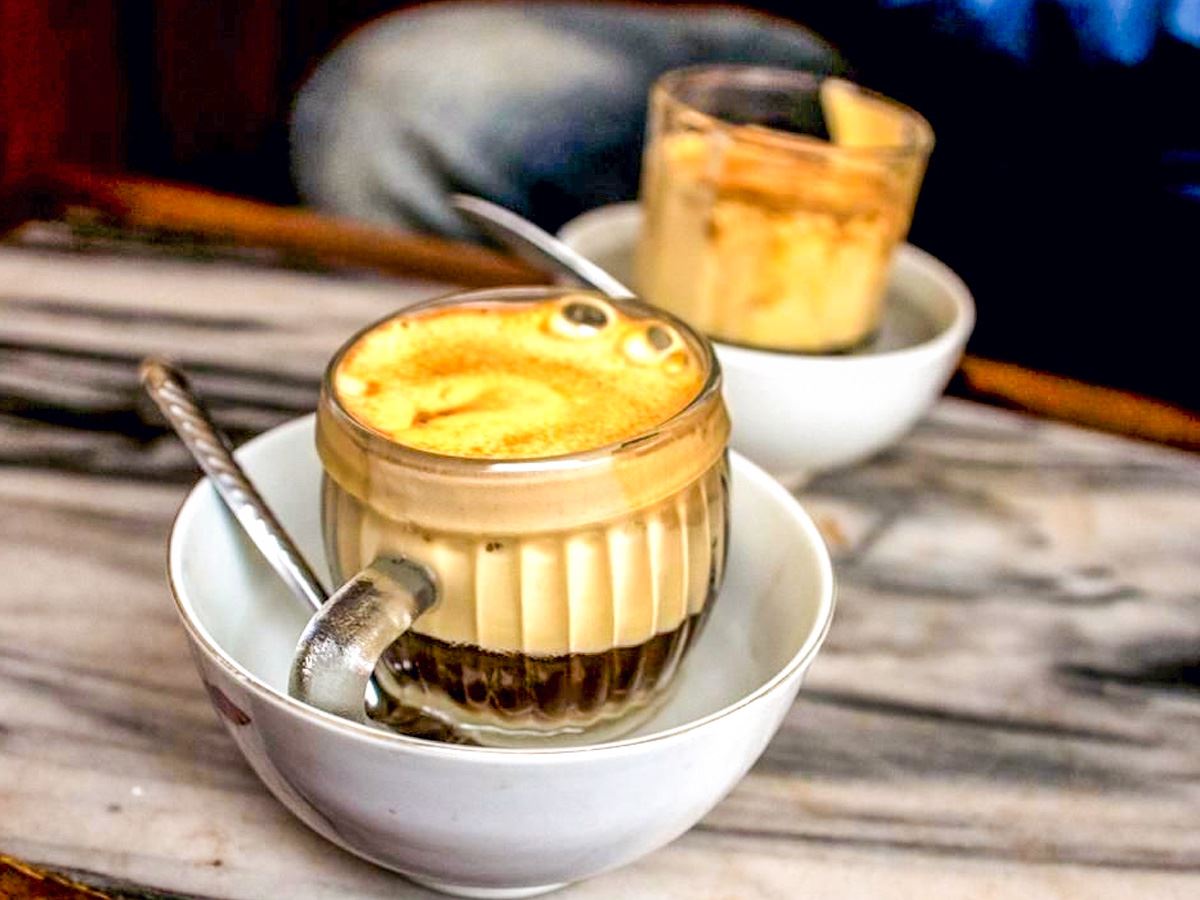 Vietnam is a country with many unique ways to enjoy coffee. Prominent among them is egg coffee – a famous unique drink that you have to come to Hanoi to feel its appeal.
Ingredients for making egg coffee are quite simple and familiar with milk, coffee, sugar, honey, chicken eggs are whipped separately yolk and white before being combined together, creating a characteristic delicious flavor. When enjoying, you can add a little ice cubes, but to prepare the taste of Hanoians, the egg coffee needs to be hot and rich. The process of processing egg coffee requires ingenuity and experience to bring out the egg flavor but no longer smell fishy, and most importantly, ensure the coffee flavor is preserved.
On the list of drinks that make up Hanoi's culinary culture, to enjoy the taste, the most standard are the places below.
1. Lecture Café
Giang Café is the first and most famous destination to enjoy egg coffee in Hanoi. Coming to Giang Café is also to the original origin of this drink when its creator was the owner – Mr. Giang, who made egg coffee from capuchino drink, based on the recipe when he was working as a bartender at the Metropole Hotel.
The egg coffee at Giang café is really special with the rich flavor of coffee, the distinct aroma of chicken egg yolk plus a little rich whipped whipped cream. Taking a sip of Giang coffee is like waking up a series of senses at the same time, from the sense of smell, taste to the whole soul. It is really no exaggeration to say that it is the egg coffee at Giang Café that has contributed to elevating Hanoi cuisine.
A plus point of Giang Café is that the menu is also quite diverse with variations from egg coffee, teas, juices and yogurt mixed flavors. What's more interesting than sipping a cup of egg coffee, next to a plate of sunflower seeds and our chatter will be endless.
Address: 39 Nguyen Huu Huan, Ly Thai To and 106 Yen Phu, Hanoi.
Price: 15.000 – 60.000vnd
Telephone: 091 555 43 55
Opening hours: 7:00 -22:00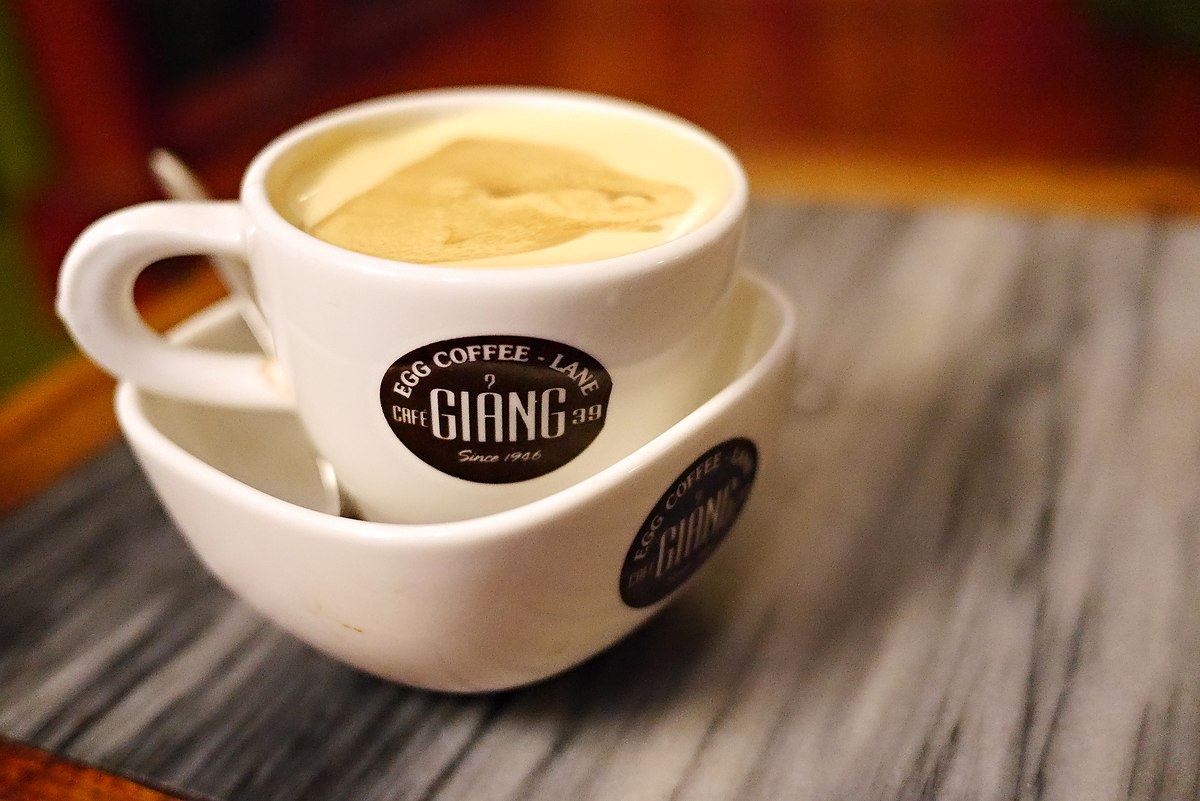 Photo: Internet

2. Café Dinh Hanoi
Born much later than Giang coffee, egg coffee at Café Dinh is equally famous. The owner of Dinh café is Ba Bich, daughter of Mrs. Giang, but it would be remiss to say that the coffee in Giang and Dinh are the same, but on the contrary, there are many differences between the two shops.
If Giang coffee is for the masses, Dinh coffee aims for a slightly different market share. A cup of Giang coffee is about 30-40 thousand VND, but in Dinh café it will be 50-70 thousand VND. The cup of coffee in Dinh is not placed in a bowl of hot water but just a tiny porcelain cup in the palm of your hand. Dinh café space is not as fussy and splendid as other cafes but only on the 2nd floor of an old house but has a view like embracing the whole Hanoi Old Quarter.
There is an opinion that the atmosphere of Hanoi is hidden somewhere in Dinh café. This is not wrong. Cafe Dinh exudes the love of Hanoians and the full enthusiasm of the bartender. In particular, because the owner loves Trinh music, this type of music is often played, the sound is deep, skinny, mixed with the strong scent of coffee, will bring you many unforgettable emotions.
Address: 2nd floor, 13 Dinh Tien Hoang Street, Hoan Kiem District, Hanoi.
Pricing: 40.000 – 100.000VND
Opening hours: 9:00 - 23:00
Photo: Internet
3. Hanoi Tho Cafe
Inside Tho café is always crowded, bustling with hundreds of customers every day. If you arrive here at 7 am (or 8 pm) then it is difficult to find a place to sit. So what is it that attracts customers to visit the shop so much? The answer is egg coffee.
Like Giang café and Dinh coffee, Tho café does not focus on interior design but focuses on coffee quality and service style. The shop is a house located in an old villa, at first glance it seems small, but inside it is very large. Coming to the shop, you can sit on the sidewalk, in the house, balcony or in the loft ... In particular, there are many trees, creating the feeling of sitting in the garden café, extremely comfortable and relaxing.
Egg coffee in Tho has the bold taste of coffee, while eggs are moderately creamy, the sweetness is not too sharp, so it is easy to drink, especially for those who enjoy this drink for the first time but are still afraid of the fishy taste of eggs. It is also an ideal destination for weekend dates with groups of friends and family, a space that can satisfy all types of customers.
Address: 117 Trieu Viet Vuong, Hai Ba Trung District, Hanoi
Hotline: 024 6292 9597
Fanpage: https://www.facebook.com/cafetho/
Opening hours: 9:00 - 23:00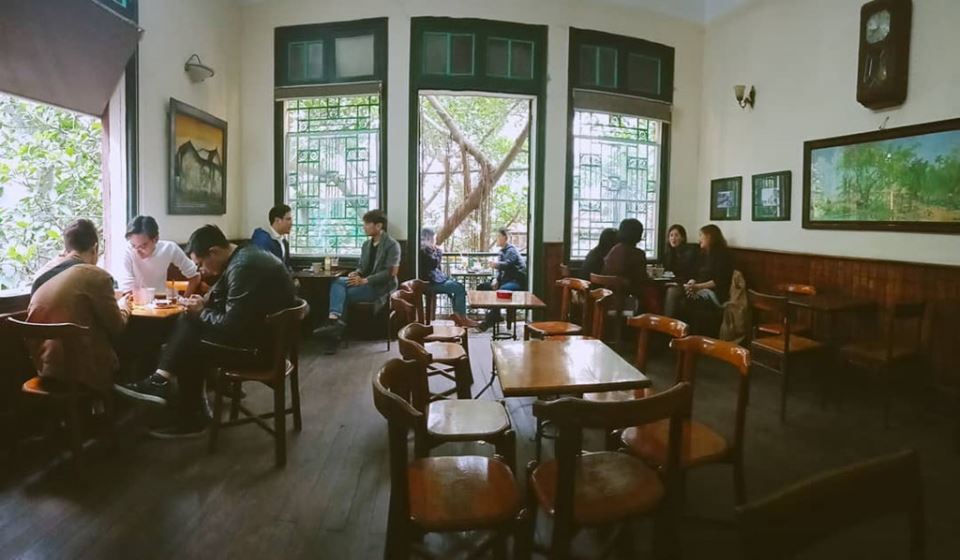 Photo: Wearblackanddance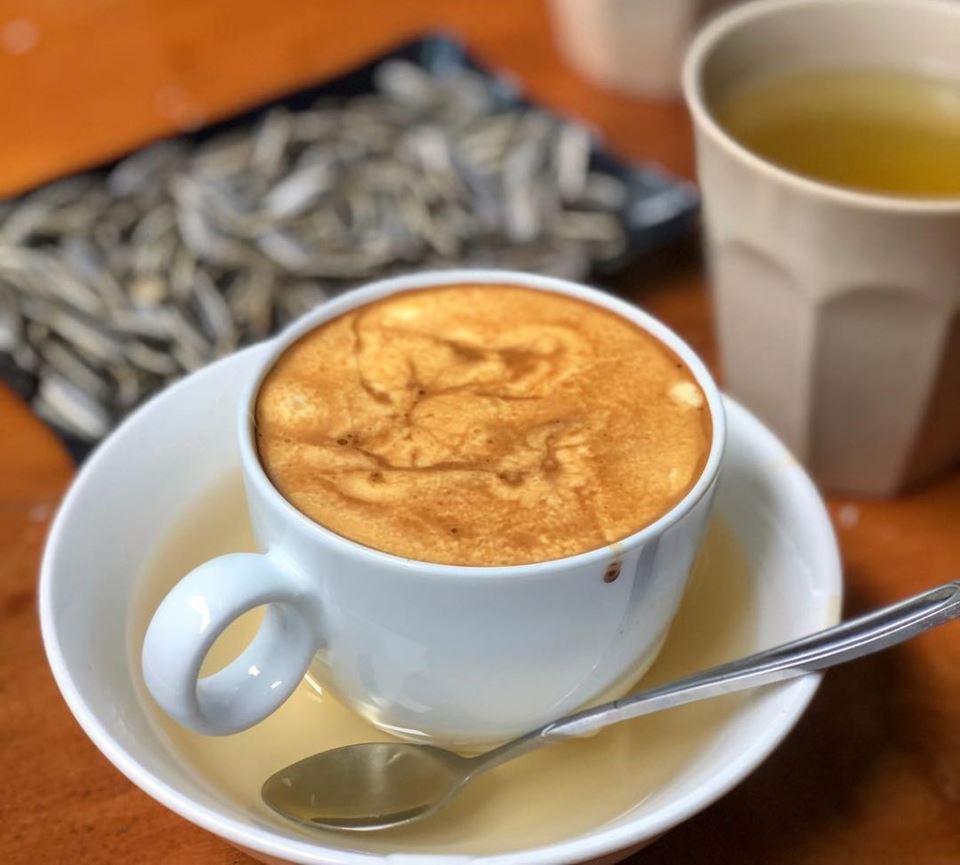 Photo: Levinhhihi
Above is our introduction to egg coffee and the 3 most famous places serving this drink with standard taste and taste in Hanoi. Some people say egg coffee represents the soul of Hanoi, reflective, quiet, bitter but also a little sweet and romantic. If visiting the capital, this is a drink that you cannot ignore.
Writer: Ngan Hang