It can be said that snail noodles are a pure Vietnamese dish, originating from a certain countryside, then following in the footsteps of people evacuated to Thang Long imperial city that has become a specialty for generations.
Although not a traditional dish in the first days of the New Year, snail noodles are still "hunted" by Hanoians, especially from the 2nd of Tet onwards. No one knows when this habit in Hanoi has existed, only that every year, customers come to noodle shops more and more. On the way to wish Tet and spring, many people take advantage of a load of snail noodles or a small roadside restaurant, eat a bowl of snail noodles to feel complete.
In fact, snail noodles are a frugal dish, which has the effect of relieving after a series of Tet days "immersed" in banh chong, chicken, spring rolls, fried spring rolls ,... protein-rich, fatty dishes.
A good bowl of snail noodles depends a lot on the broth. With the same amount of ingredients, but each person reduces differently to suit the taste of guests.
The snail noodle broth has a delicate sour taste of vinegar and tomato, which is very rolly. The vermicelli had to be bought from Phu Do village in Nam Tu Liem, the vermicelli noodles were very small and hunting, when the broth was still supple without being crushed. Snails must choose fresh and fatty ones, which must not be immersed in water for too long.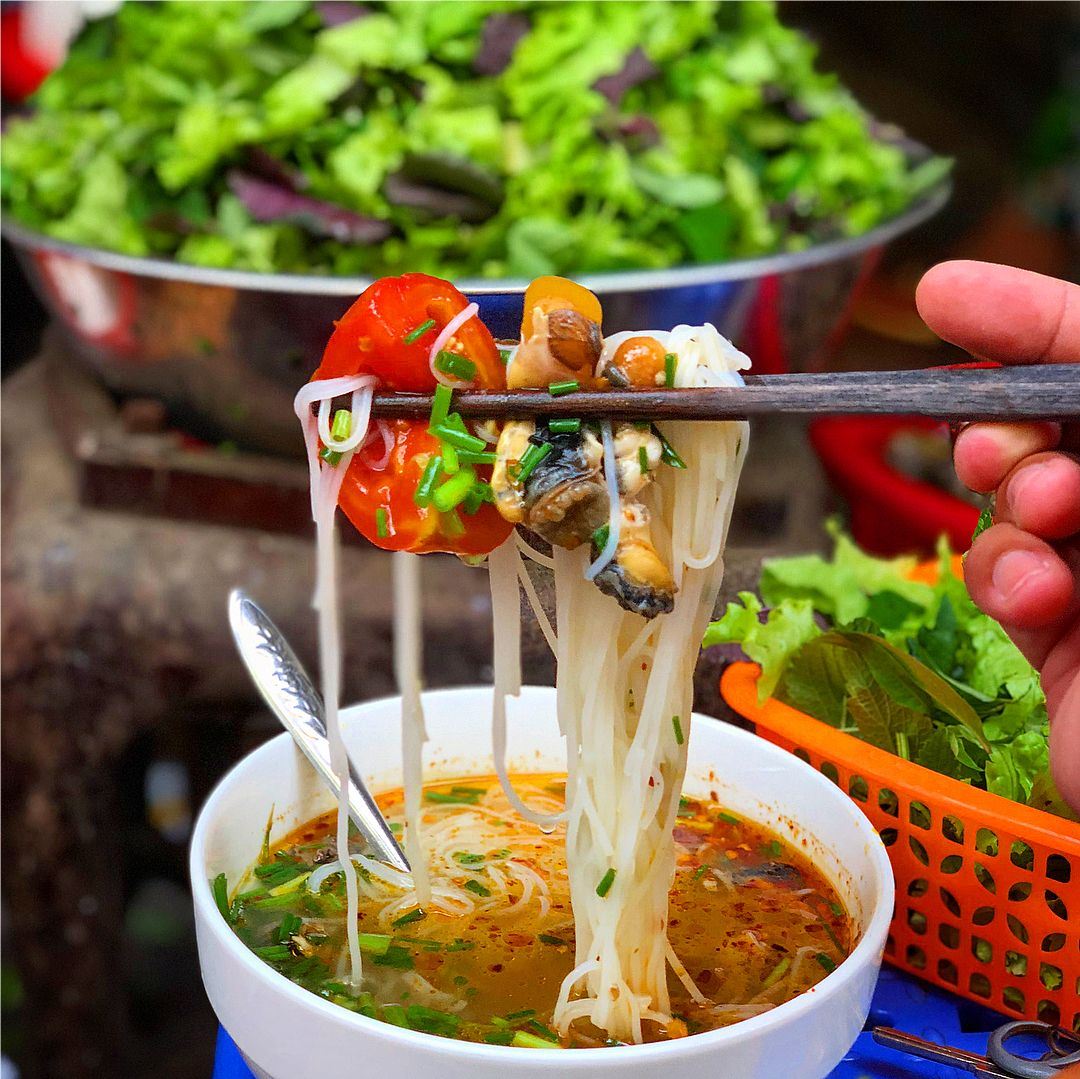 In addition, when eating snail noodles, people often eat many raw vegetables such as perilla, marjoram, banana flowers, lettuce, basil, coriander ,... These vegetables are not only delicious and easy to digest, but also have a beneficial effect on your health. The best is to eat fresh vegetables, but many diners also like to eat blanched vegetables with a sour broth, still ensuring deliciousness.
Shrimp paste and chili peppers are two optional seasonings, which you can add or not depending on your taste. However, for genuine noodle soup connoisseurs, adding a little shrimp paste and chili will make the noodle bowl rich and round.
The bowl of snail noodles enjoyed in the first days of the year in the cold winter-spring weather seems to be better than usual. Looking at the bowl of red chili noodles, purple perilla with rich yellow stuffed snails and white noodles, a few ladles of hot broth is very satisfying and happy. Hanoi snail noodles are simple and popular, but they are strangely attractive.