Chay River Zipline - Dark Cave
✩ Quang Binh
Chay River - Dark Cave of the World Natural Heritage Site Phong Nha - Ke Bang National Park is a top destination for those who love this type of tourism to explore the amazing nature. If you love thrills, instead of sailing down the river, ziplining will help you enjoy the beautiful scenery from a very different, majestic and magnificent perspective.
The swing line starts from the west branch of Ho Chi Minh Street and enters the Dark Cave located across the Chay River with a total length of 400m. You will have 2 choices when participating in this extreme sports activity. It is swinging from the Chay River observation station to the mouth of the Dark cave or swinging from the Dark cave marina to the middle of the river and jumping into the green Chay River. The zipline system here is modernly invested, ensuring absolute safety for your fascinating experiences.
Alba Thanh Tan Hot Spring
✩ Hue
If you want to enjoy the feeling of embracing "Hue Love" from above, try zipline at Alba Thanh Tan hot mineral spring.
The cable system from Ma Yen Mountain will take you through the green forest and descend next to the romantic lakeshore of the hot mineral spring. All body protection equipment including seat belts, safety hooks, pulleys and ropes are 100% imported from France to ensure the safety of participants.
Overcoming the fear of heights, your emotions will sublimate every beat when conquering the "longest continuous free zipline in Vietnam" with a total length of 560m. Bringing your eyes wide open in the green nature, you will find yourself as if you are winged through the mountain wind.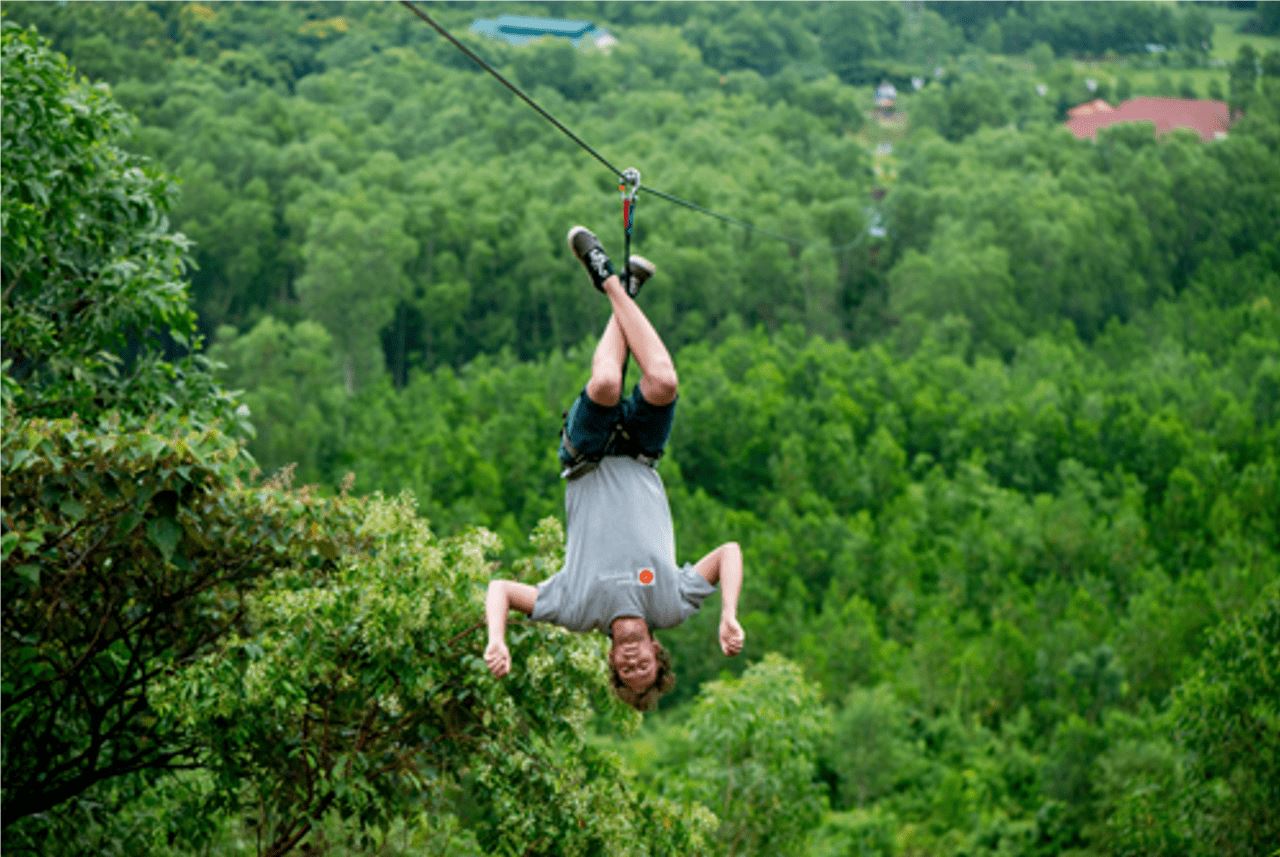 Hoa Phu Thanh tourist area
✩ Da Nang
Hoa Phu Thanh is the first zipline resort in Da Nang. From the city center to here about 30km, you can move along National Highway 14G to reach this famous tourist area.
Hoa Phu Thanh tourist area owns a beautiful terrain with rivers, streams, forests and green hilltops. This place develops the model of ecotourism, exploring nature and especially sports activities with movement and adventure. If you are not afraid of heights, once join the zipline swing in Hoa Phu Thanh tourist area to experience many interesting emotions: from nervous to bursting because of enjoying the beautiful scenery from above, can go through the treetops at speeds of up to 20 m/s. The total length of this slide is about 350m bidirectional.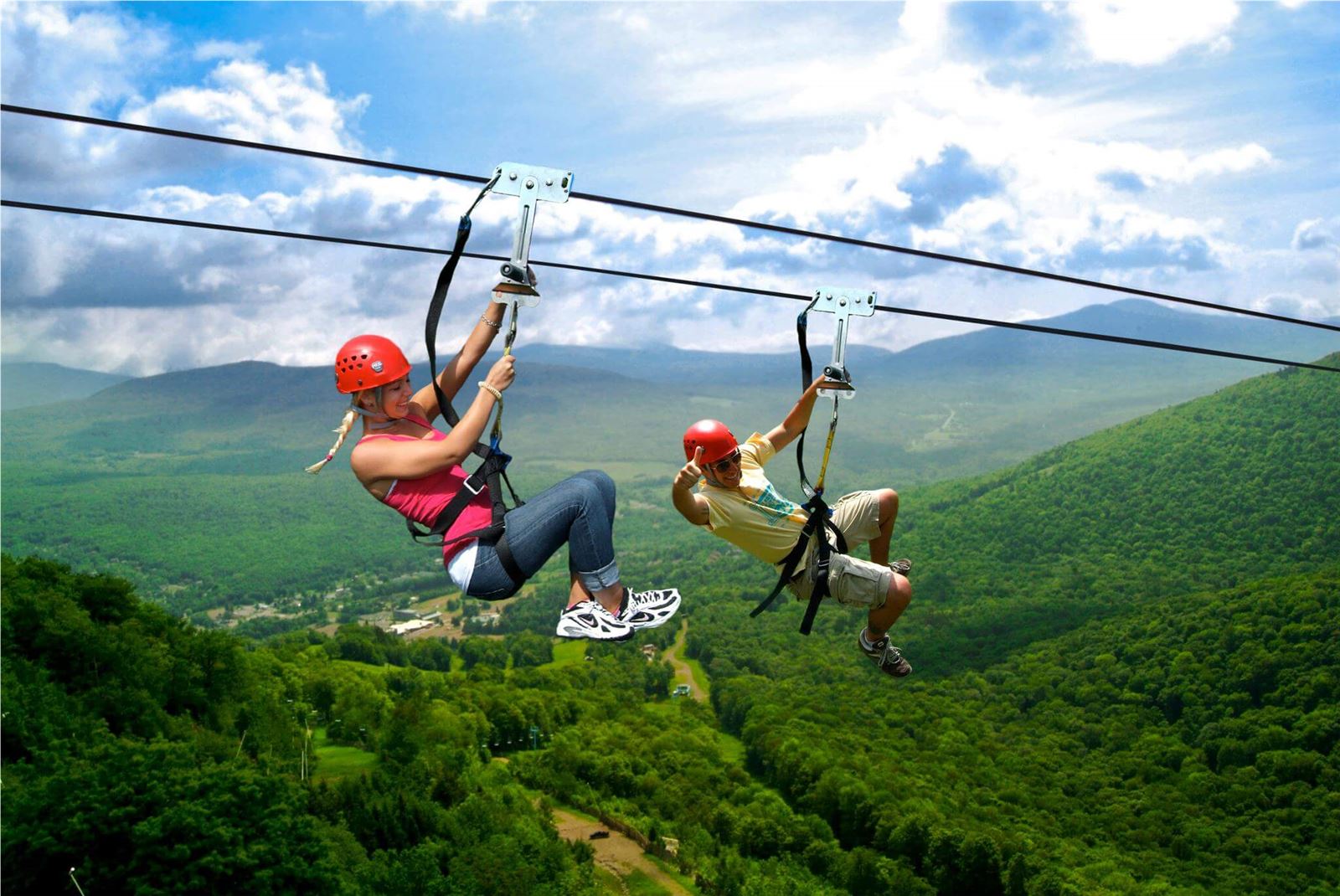 Kong Forest
✩ Nha Trang
Kong Forest is located more than 30 km from Nha Trang city center, located in Hon Ba, Suoi Cat commune, Cam Lam district, known as the unique "rainforest" in Nha Trang. With the model of a tropical park, this place is really the perfect destination for visitors who like to immerse themselves in nature, like experiential activities, strong exercise. In particular, the feeling of stopping at the treehouses is also great for all visitors. This place not only attracts domestic tourists but also is an entertainment spot for international tourists to visit when coming to Nha Trang.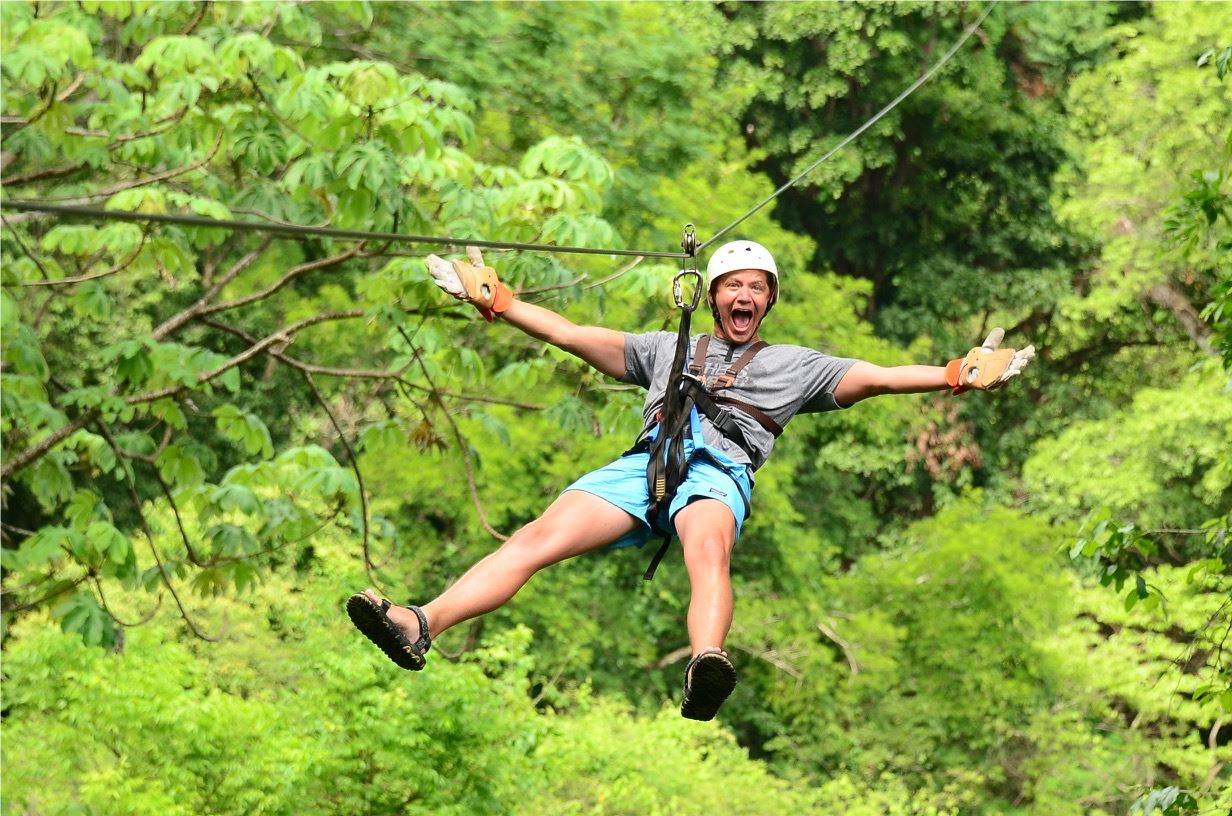 Datanla
✩ Lam Dong
Dalat not only has romantic pine hills or dream cafes, Dalat also has an adventurous zipline slide located right in Datanla waterfall tourist area. From the city center to here is only about 5km, you go in the direction of Prenn Pass to arrive.
In Datanla tourist area, besides experiencing the majestic beauty of the falls, visitors can also try themselves with active games. Before ziplining in the middle of the green pine forest, you will in turn experience many challenges with increasing difficulty levels of obstacles.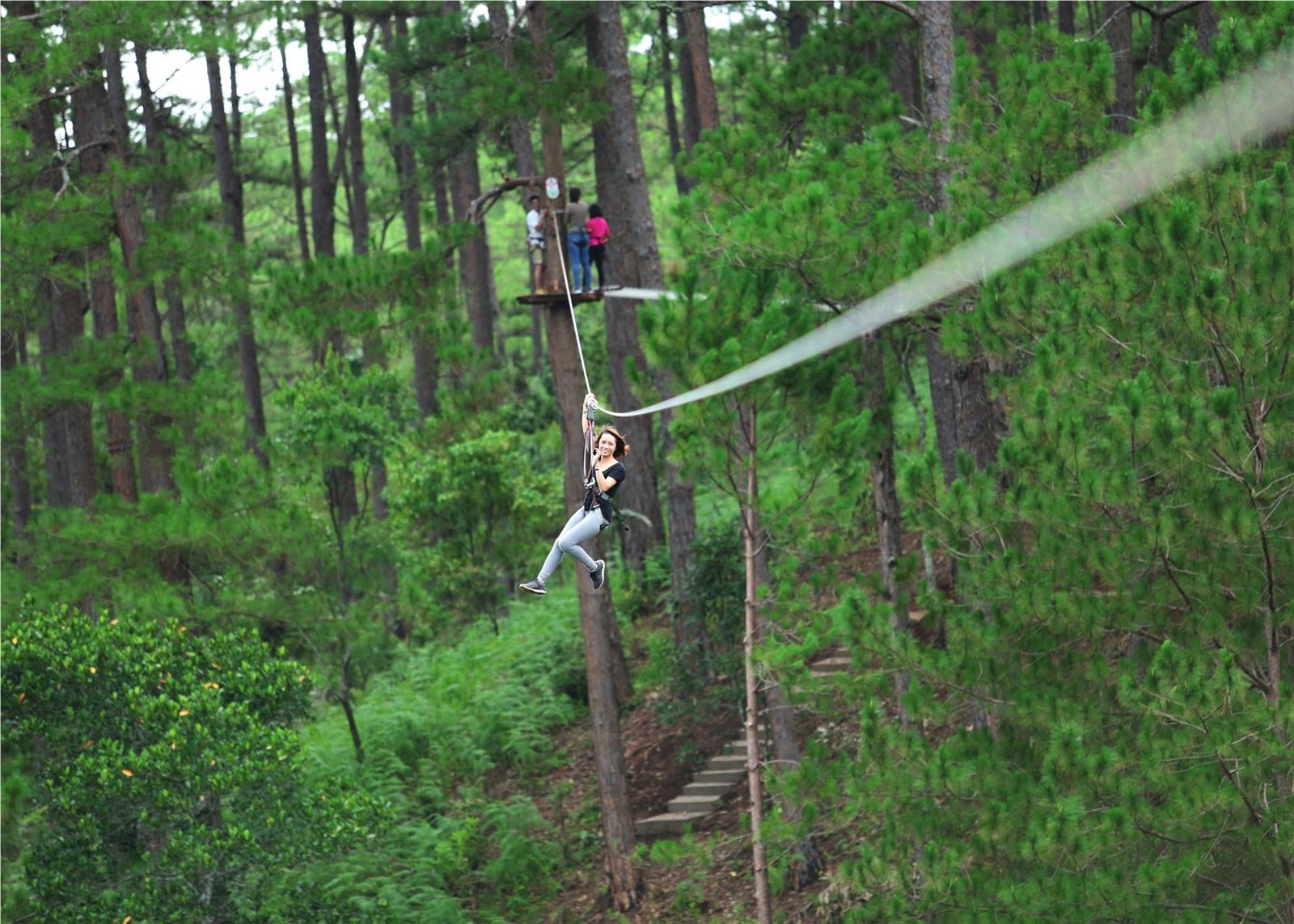 Madagui National Forest
✩ Lam Dong
Coming to Lam Dong, you can test the zipline located in the Madagui forest tourist area in part of the South Cat Tien National Forest, about 30 km from Bao Loc city center. With wild and pristine nature, the zipline experience here will take you across rivers, streams, lakes and trees of Nam Cat Tien forest from above. Here, you have 3 choices, including: short route, long route and full line with a total length of 1,008 m, the highest point is up to 40 m from the ground.
In particular, the slide schedule here also takes visitors through the crocodile lake full of adventure and tests the courage of players. With a length of 1,111 meters, this slide will satisfy many adventurous hearts with intense emotions and happiness when overcoming their fears.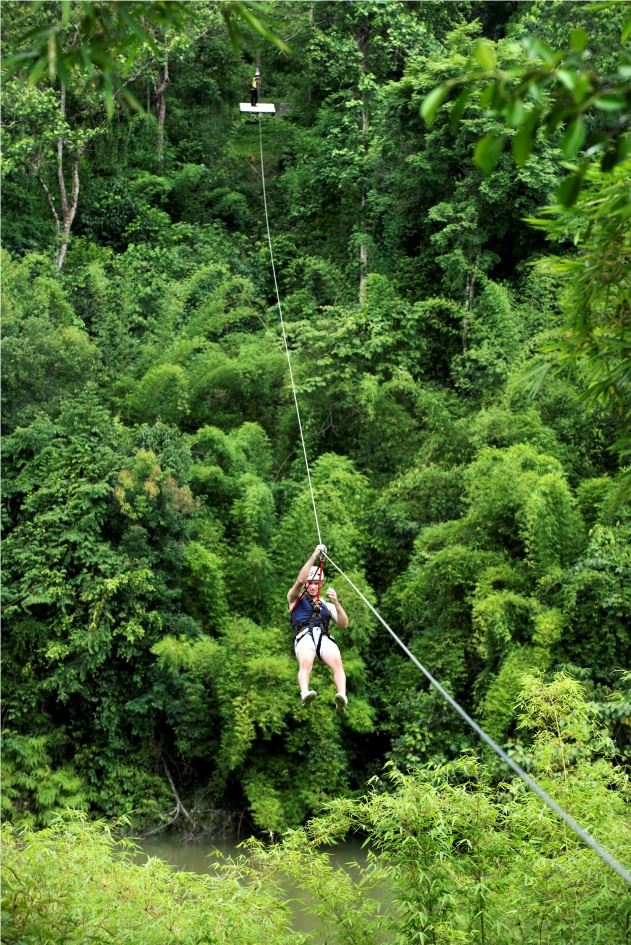 Vinpearl Nha Trang
✩ Nha Trang
With a length of 880m, the Zipline at Vinpearl Nha Trang officially recorded a Vietnamese record when owning the record of the longest seamless slide, the steepest slope and the highest landing jump.
You will have an extreme journey, starting from the top of the Pearl Island, sliding through mountains and forests, parks and landing right next to the stands of Dolphin Bay. This is also an opportunity for you to challenge both psychologically and physically with a "flight" not for the faint of heart.
Looking down from above, the sea surface in your line of sight will change color continuously in segments of turquoise, green, mixed with sparkling sunflowers ... Create a charming picture of nature.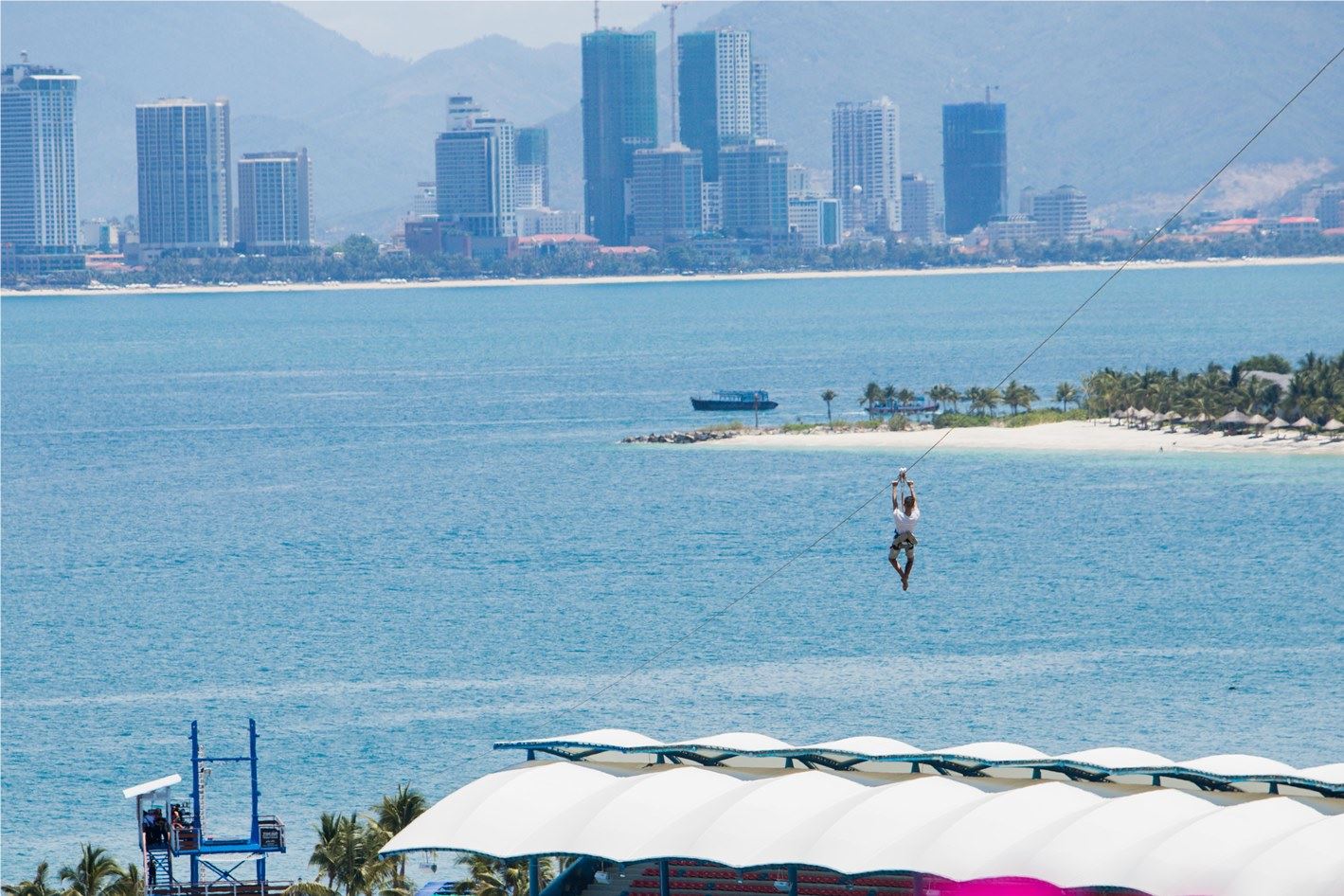 Image source: Internet