1. Ky Co Beach
Ky Co Beach is the most beautiful and impressive beach for visitors every time they come to Quy Nhon land. This is a beach that still retains its pristine appearance and has not interfered much in the urbanization wheel of humans. Ky Co beach is still intact with the pristine and peaceful natural beauty as in the beginning.
Ky Co Beach offers a rustic space and a strange attraction of nature. Ky Co is considered by many tourists as a beautiful beach in Quy Nhon when coming to this place. Thereby, this place is the ideal choice for those who want to leave the bustling, bustling, pressured streets in life and work to find some peace among the nature of the sea.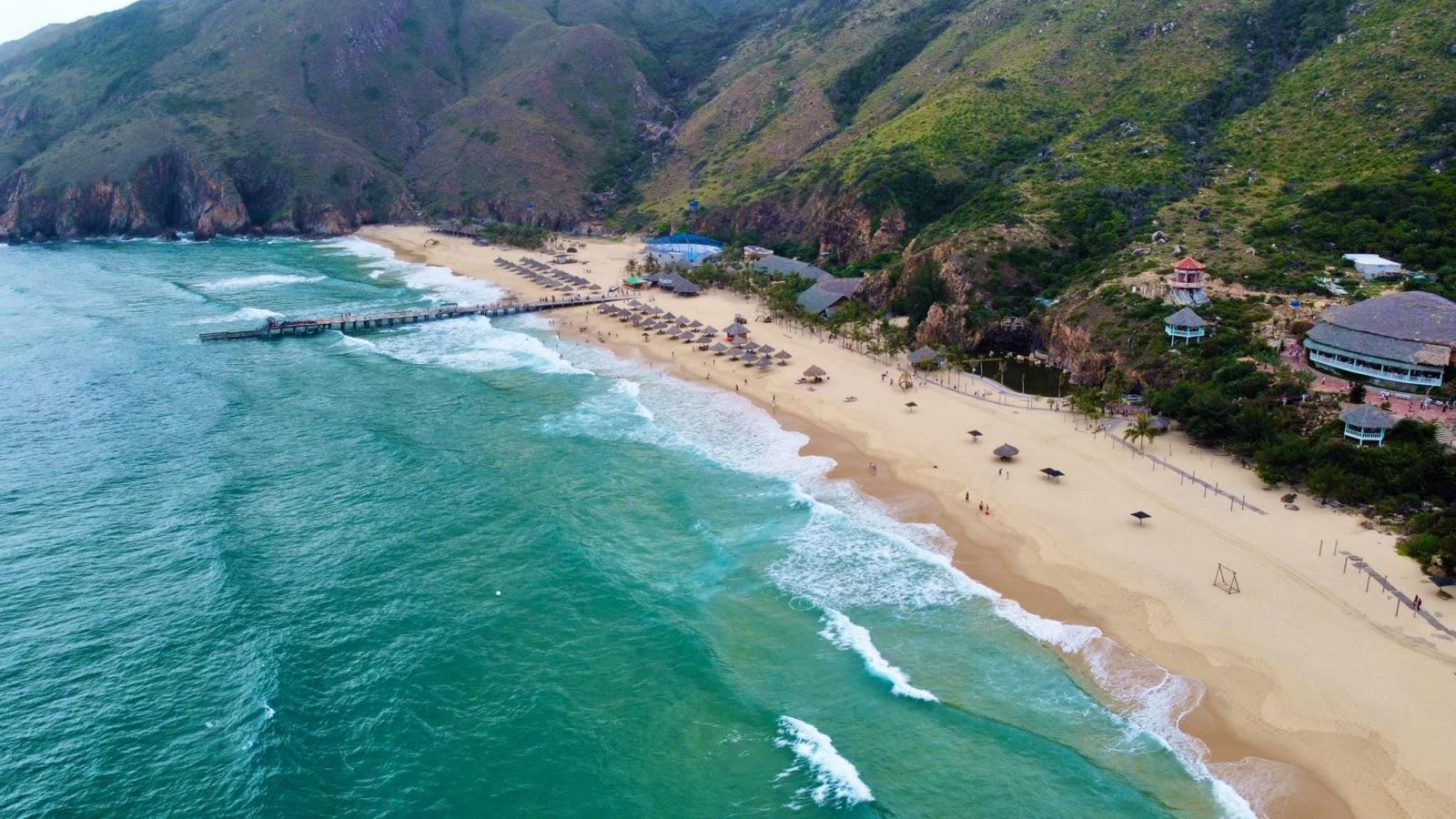 2. Strait Wind Beach
Arriving in Quy Nhon city, it is impossible not to visit Eo Gio beach. This is one of the most beautiful beaches in Quy Nhon, which many tourists call with the beautiful name "Jeju Island in Vietnam".
This place attracts and impresses visitors with its silence, tranquility and peace. You just need to watch nature, walk and listen to the wind, the sound of waves to feel the sound of nature, the ocean and mountains, feel the peace.
Coming to Strait Wind, do not forget to take beautiful photos here to save the best moments. The Strait of Wind will be most beautiful at sunset, the sun gradually falls through the ravine, making the scenery also become quiet and strangely peaceful. You just need to watch the Strait of Wind at sunset, carve all your worries and fatigue will gradually fall along with the scenery here.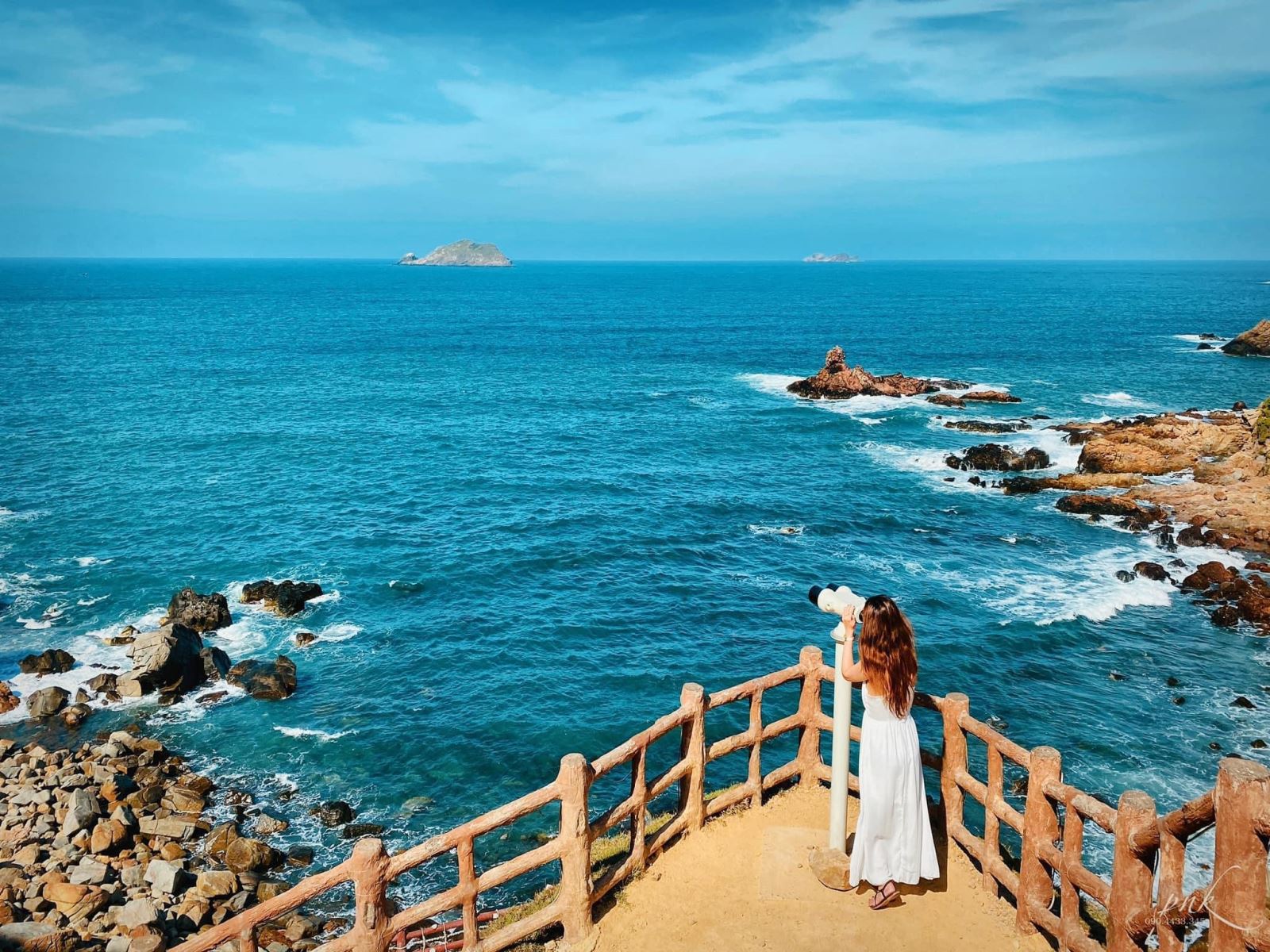 Eo Gio - one of the famous places in Quy Nhon
3. Empress Egg Dump
The reason is called Empress Beach because in the past, this place was visited and vacationed by the Empress Phuong.
Empress Beach has a charming beauty with round stones honed by the ocean lying close to each other. You can imagine being lost in another country with giant eggs on a vast beach. On both sides of the bank are tall rapids that stand towering and solid like "tall" guys shielding you and from the foamy waves rushing to the shore.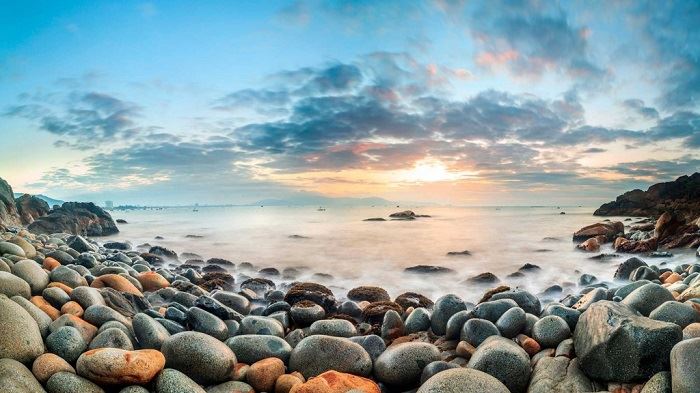 4. Hon Dry Beach
Hon Dry Beach is located not far from Quy Nhon city center. There is a traditional fishing village named Nhon Hai. Most people here have been fishing nets since childhood with a long tradition. When the sea has large white waves rushing to the shore, the small island seems to be adorned with many colors and unique.
Hon Dry Beach is most beautiful in the calm water season (from 3 to 9 months). When the waves ripple and the breeze is gentle, Nhon Hai fishing village wears an inherent peaceful space. The clear blue sea with white sponges, green grass fields and solid rapids create a beautiful picture of nature.
5. Lop Beach
Bai Xep is one of the most beautiful beaches in Quy Nhon. This place is a very good combination of natural scenes such as floating white clouds, clear blue sea, golden sand beach nursed in the sun and green coconut trees. Create a picture of the beautiful sea that is difficult to match.
Visitors to Bai Xep beach will be immersed in the idyllic and idyllic life of the fishing villagers working as net boats here. Around Xep beach, there are many very wild and interesting places. Suitable for those who love adventurous nature exploration.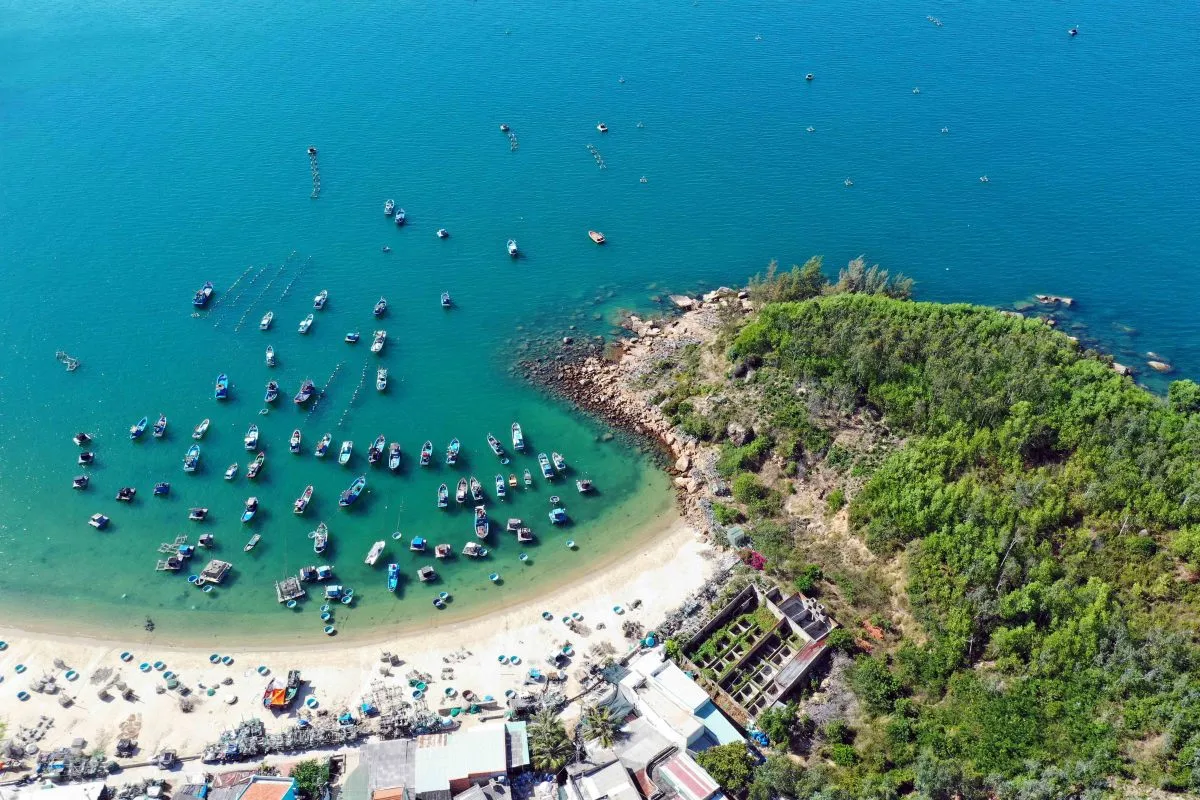 Bai Xep has a youthful style, is a place to witness the youth of many young people when coming to this place
6. Wild Beach
Bai Dai is also a beach that many domestic and foreign tourists seek. Around Wild Beach are rapids honed from offshore waves, undulating in various shapes. It offers a poetic natural scenery that can please any guest.
In addition to swimming, you can lie in a hammock to enjoy the cool breeze, listen to the sound of ocean waves and a fresh coconut standard fishing village, it is wonderful.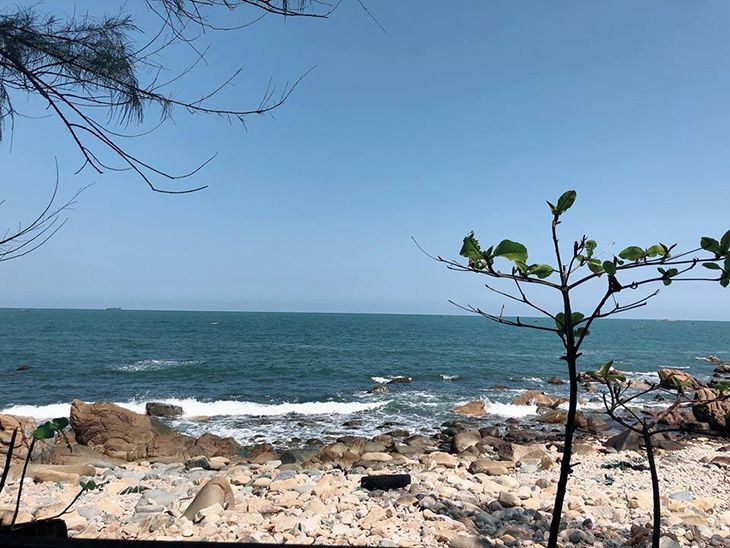 Wild Beach - wild features from the name to the scenery here
7. Quy Nhon Beach
Quy Nhon Beach is located right in the center of Quy Nhon city. The famous beach has a "half-moon" shape with a coastline length of 5km. The beach is a combination of clear blue sea water and golden sand in the sun, stretching a sea that impresses tourists. Different from the beaches in Da Nang or Nha Trang. Quy Nhon Beach gives you a truly peaceful and peaceful feeling.
Here, visitors will be immersed in the cool water, listen to the sound of the waves crashing and enjoy the cool breeze from the sea. In addition, enjoying fresh seafood dishes brought from the sea is also indispensable when traveling to Quy Nhon.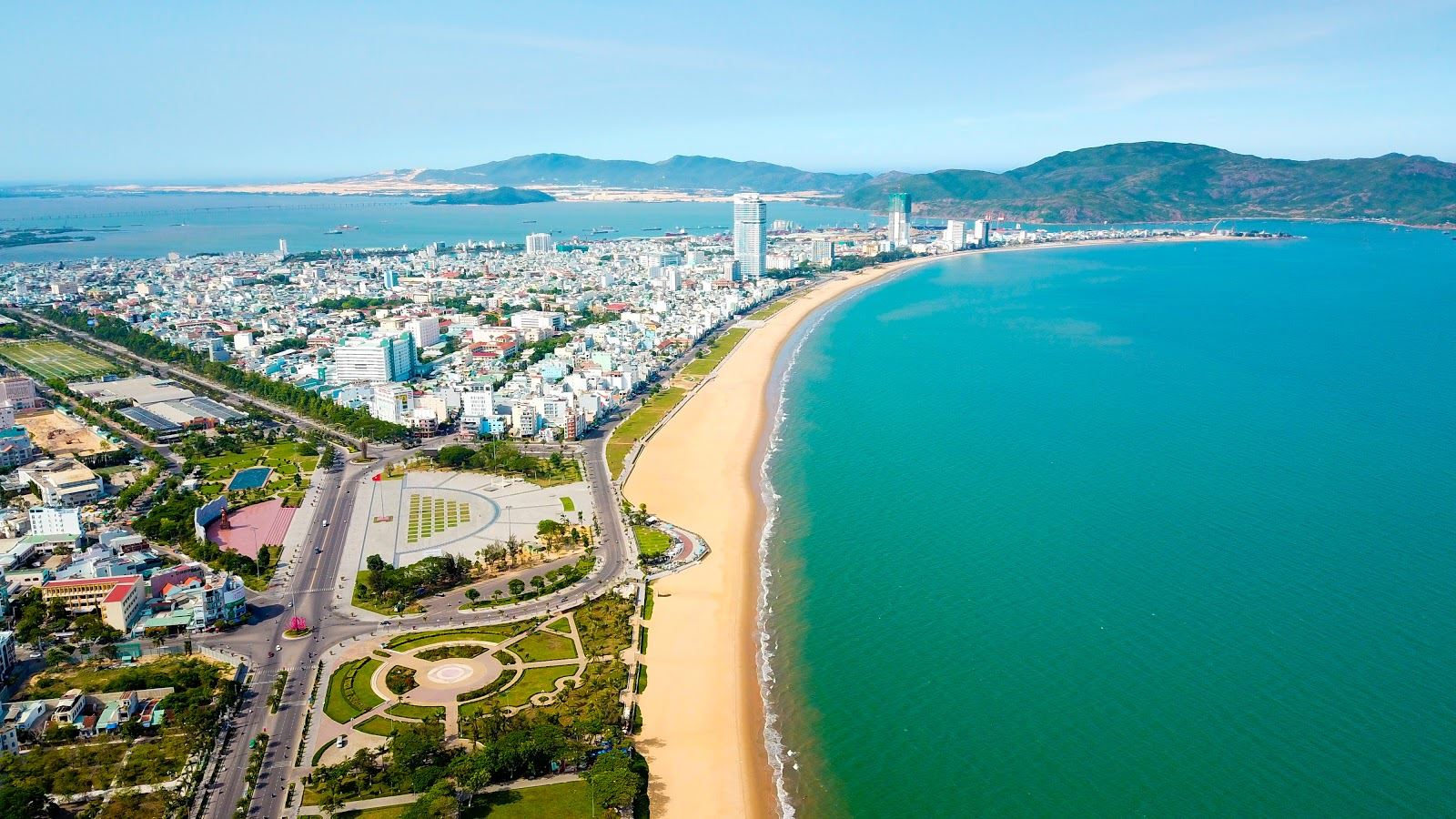 The semicircular beach is the most popular place in Quy Nhon
The beaches in Quy Nhon still retain their pristine features and harmony with nature, earth and sky. If you are planning to go on a beach trip, do not miss the beautiful beaches in Quy Nhon.