1988 Coffee & Bar
Ideally located, overlooking Ha Long Bay, this is one of the familiar hangouts of young people in Ha Long. The complex provides coffee services, restaurants, bars. Especially with expensive views, this place also accepts set up tables for dates, birthdays, anniversaries, marriage proposals ... The restaurant has an airy space, large glass doors for diners to fully enjoy the sea view. The restaurant serves a variety of Asian and European dishes.
Address: 1988 building, BT 01 Hon Pair Be KDC, Bach Dang, Ha Long City.
Page: https://www.facebook.com/1988coffeeandbar/
Phone: 090 455 98 89
Rooftop, café & bar
It has long been a notorious rendezvous spot in the coastal city. With a 'couldn't be more central' location, overlooking the Clock Pole - a famous check-in point in Ha Long, Rooftop café & bar is ideal for a romantic date or gathering with friends. In the evening, diners can watch Ha Long sparkling with lights, while sipping a cup of coffee.
Address: 25/4 Street, Bach Dang Ward, Ha Long City.
Page: https://www.facebook.com/Rooftophalong/
Phone: 0203 3625 789
Wind Coffee
Quan Gio is located on the spiral pass on Dang Ba Sung street. From here, diners can see the square and giant wheel of Sunworld Park, Ha Long Bay and the majestic Bai Chay Bridge. As the name suggests, the shop has a windy, spacious, airy space, 360-degree view, making it a great place to explore the coastal city.
Address: Dang Ba Sung Street, Hong Gai Ward, Ha Long City.
Page: https://www.facebook.com/gio.coffee.hl/
Phone: 098 709 67 66
Sky Bar
Located on the roof of Royal Lotus Ha Long Hotel, the bar is a luxurious rendezvous for Quang Ninh youth and visitors from far away. The shop has an airy outdoor sitting area, 'super chill' hanging chairs and a menu of many unique drinks, cocktails ...
Address: 16th floor, Royal Lotus Ha Long Hotel, A13 Lot 1, Dong Hung Thang 2 tourist residential area, Ha Long City.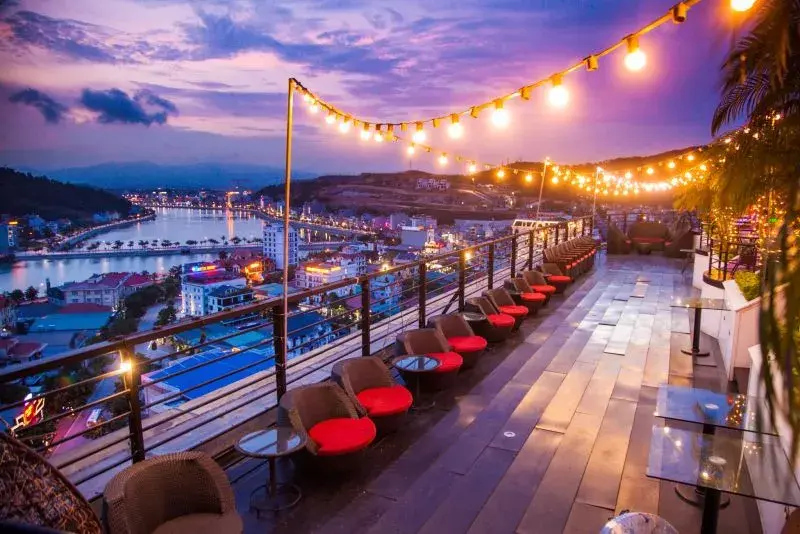 Freshie food & drinks Ha Long
Once known as miniature Santorini, Freshie food & drinks Ha Long simulates beautiful houses in the Greek island with white painted walls, blue doors, stone floors and brilliant pink confetti trellises. The shop is located on Tran Quoc Nghien Street, opposite Dolphin Palace. The menu is very diverse with drinks, healthy food, eye-catching colors, suitable for 'virtual living' photography. It features a spacious outdoor area with views of the bay.
Address: Tran Quoc Nghien Street, Hong Hai, Ha Long City.
Page: https://vi-vn.facebook.com/healthyfoodhl/
Phone: 083 898 3388
CAM COFFEE
With a youthful and modern style no less than cafes in Hanoi, Ho Chi Minh City or Dalat, CAM COFFEE is the choice of many tourists when coming to Ha Long. The shop is painted white with many delicate and outstanding interior details. The restaurant has a fairly rich menu, affordable price. However, recently, the restaurant changed its service hours, only opening in the afternoon, from 14h to 23h.
Address: Column 3, Hai Phuc Street, Hong Hai, Ha Long.
Page: https://www.facebook.com/tiemCAMcafe/
Phone: 093 662 91 22
Synthesise