Ivegan
iVegan is a famous vegetarian restaurant for both Vietnamese and Western customers. They are decorated rustic, natural in Balinese style. The first floor has a garden, the second floor has a balcony, so diners can easily choose their seats according to their preferences. 100% of dishes at iVegan are derived from natural, sugar-free and nutritious foods.
The signature dish at iVegan is the Smoothie bowl, with smoothie bowls available such as Wake up (with coffee, cocoa, homemade peanut butter, banana, granola, sesame, grated coconut, coconut milk) or Rise & Shine (with mango, turmeric, ginger, banana, passion fruit, chia seeds, granola, sesame, grated coconut). Or mix yourself a bowl of smoothie to your liking.
Falafel Salad bowl, a "best seller" salad with chickpea balls, quinoa and kale salad, hummus, cheese, olives, cherry tomatoes, grapes, walnuts, lettuce, sesame bean sauce, lemon. Above iVegan, there is also a café and yoga place for you to experience a healthy and balanced day.
Address: 37 To Ngoc Van Street, Quang An, Tay Ho, Hanoi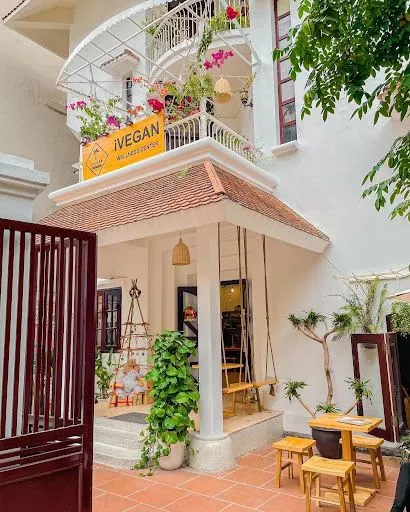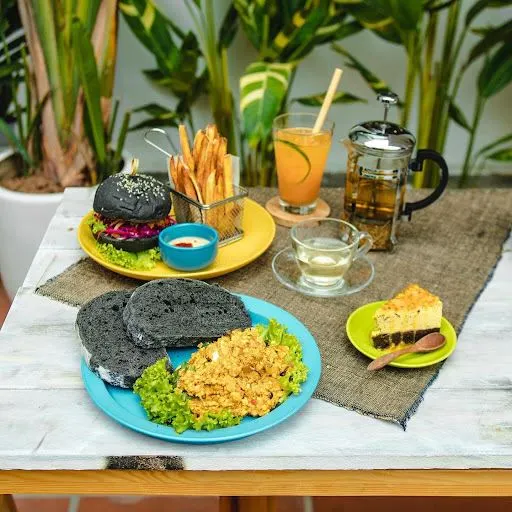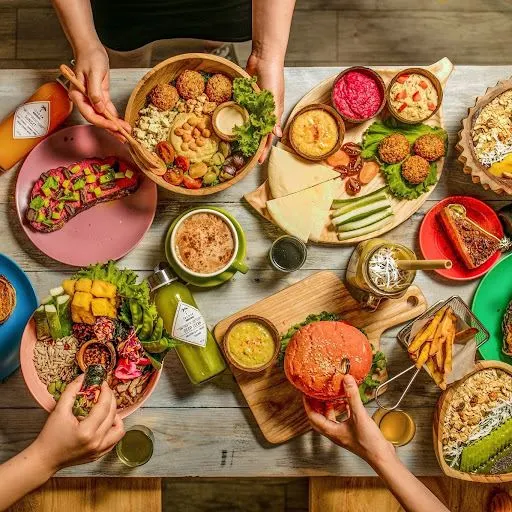 Touch Vegan
At Touch Vegan, the space is quiet, pure, Vietnamese, cared for each vase, painting to tables and chairs and bowls of chopsticks. Touch has a bell meditation space. If you want, after your meal, experience this form of sound therapy. With the burden on Earth in mind, Touch does not provide paper and straws with drinks. Phone signal and wifi are weak so diners can return to themselves, live more slowly and peacefully. The menu is authentic Vietnamese with dishes such as spring rolls, vermicelli, elderberry, hot pot.
The "nail" dishes in Touch are vegetarian vermicelli noodles priced at VND 69,000 per serving and vegetarian spring rolls priced at VND 89,000. The dishes are rated by diners as plump. Touch also offers ready-made dishes for diners to take home to prepare.
Address: 94 Bui Thi Xuan, Hoan Kiem, Hanoi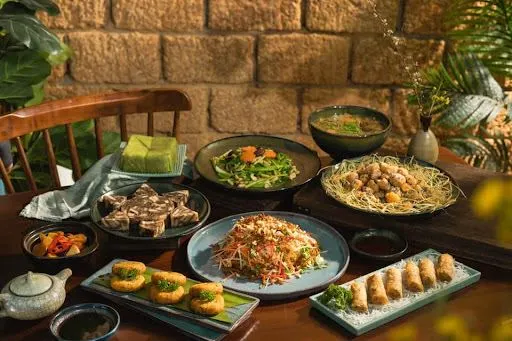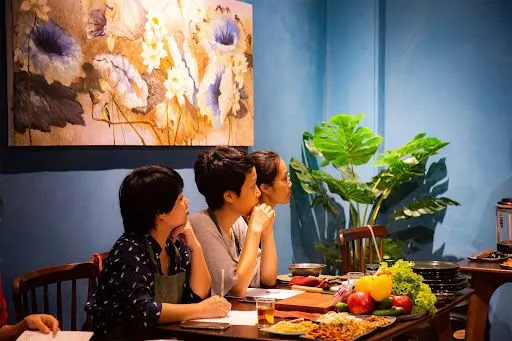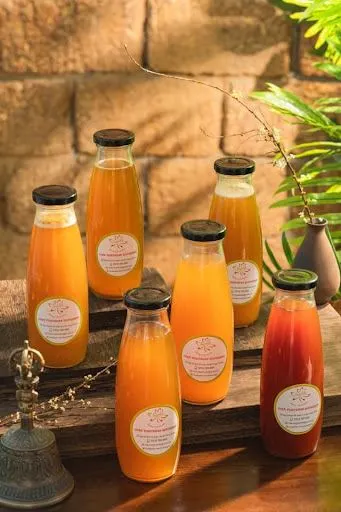 THE VEG - Organic vego & tea
Located right next to Trang Tien street, The Veg is not too big, but the space is still enough for groups of chill friends. The interior arrangement in the shop is also quite interesting when placing wooden shelves with bonsai between tables so that visitors to the shop can both feel private and watch the trees while eating. Thanks to its location on the second floor, The Veg has the plus point of an "expensive" balcony area. From here, you can see Trang Tien street.
The dishes are also known as vegetarian vermicelli noodles priced at VND 60,000 per bowl and Spaghetti with Bolognese sauce priced at VND 110,000 per serving. Items, including breakfast, are sold all day.
Address: 48 Trang Tien, Hoan Kiem, Hanoi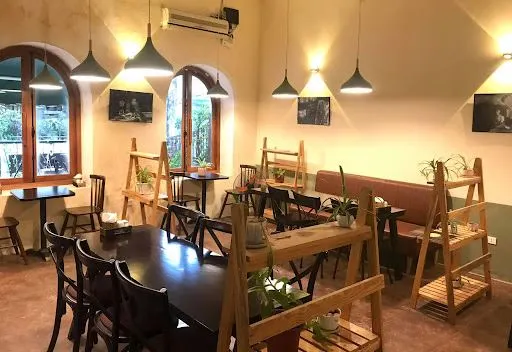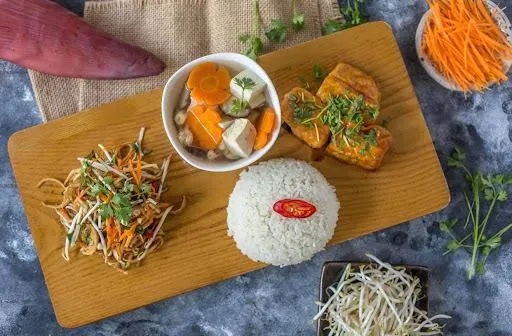 Hug Vegan Garden
Hug Vegan Garden is located in the middle of a green garden, helping to dispel the noise of city life. Dining among trees and flowers, you will feel like you are in an oasis in the middle of Hanoi.
There is a small caveat, because of the many greenery, the garden may have mosquitoes. So, if you want to sit outside and enjoy nature, get an insect spray. Inside, the shop is designed in a u-style, airy and polite, suitable for receiving guests.
The strength of Om Garden is fusion cuisine. Do not forget to try the rolls and mannequins, mango butter noodles served with pesto sauce, tamarind sauce.
Address: 9 Yen Phu Street, Tay Ho, Hanoi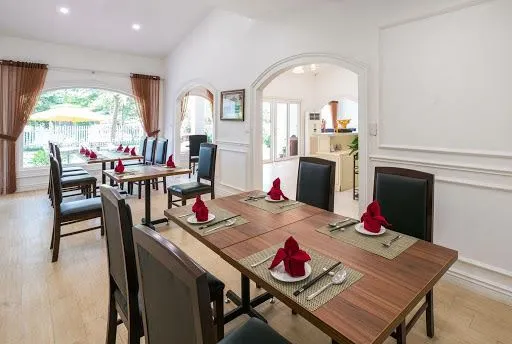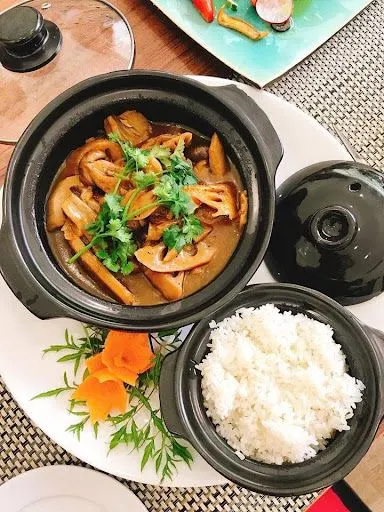 Vege-ro
Up to now, Vege-ro is the first and only vegetarian ramen shop in Hanoi. Vege-ro's space is relatively small, with only one bar enough room for seven people. Sitting at the counter, diners easily watch the chef prepare the dish. This seating arrangement is also intended to encourage diners to talk to each other and become new friends. Vege-ro's ramen uses only natural, healthy foods.
Their "best seller" is Spicy Dan Dan, a spicy noodle. A safe option is Miso Ramen or Milky Corn Ramen with toppings depending on taste. Wait patiently for 6-8 minutes for your meal. The criteria for selecting employees are the ability to communicate in English and laugh.
Address: 105A2 Lac Chinh, Truc Bach, Ba Dinh, Hanoi