Mu Cang Chai Ecolodge
Ecolodge Mucangchai is about 20km from Mu Cang Chai town center and is located on a hill of Hua Khet village. This place is built according to the ecotourism model with 5 houses designed to blend the cultural beauty of Hmong and Thai people, preserving the pristine beauty of a mountain and forest village.
Rooms here are designed entirely of wood, compact, lovely and cozy. Rooms have full toilet, bathtub, shower, hairdryer, wifi ferry ferry ... Some rooms in this premium Mu Cang Chai Homestay also have a balcony for you to watch the stars or admire the sunrise in the mountains.
Address: Nam Khet village, Mu Cang Chai, Yen Bai
Hotline: (+84) 98 909 09 08
Website: https://mucangchaiecolodge.com/
Mu Cang Chai big view homestay
Mu Cang Chai Big view homestay is located in the heart of Che Cu Nha commune and has a unique design in the middle of a spacious campus overlooking beautiful terraced fields.
This homestay has large rooms, closed space, privacy, very suitable for couples who like romance or small families can relax, experience alpine life. There is also a bar system to serve customers attentively.
Address: De Thang, Che Cu Nha, Mu Cang Chai, Yen Bai
Hotline: (+84) 865 847 890
Open 24 hours
Website: https://mu-cang-chai-big-view-homestay.business.site/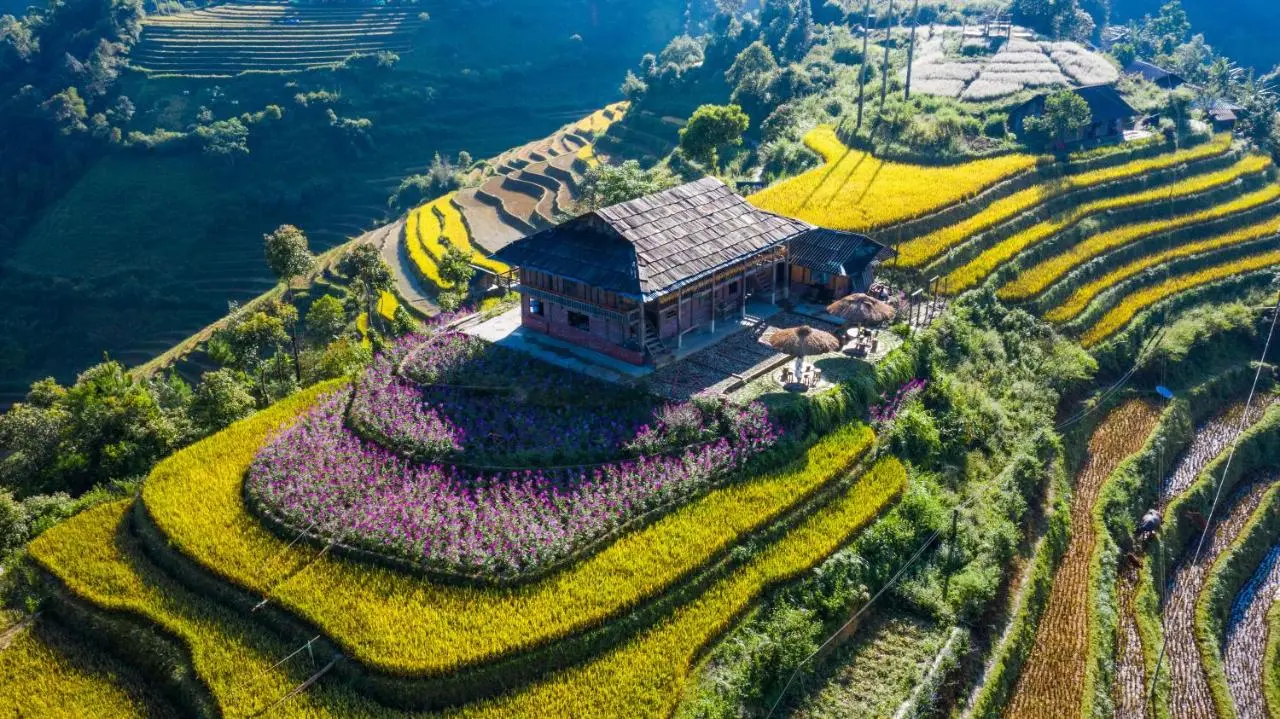 Hello Mu Cang Chai homestay
This Hello Mu Cang Chai Homestay is a beautiful small house located on a hill, surrounded on all sides by beautiful golden terraces.
This homestay has 3 types of rooms: double room, triple room and dorm room for many guests. Except for the dorm room, all other rooms have self-contained restrooms and are equipped with many amenities. The rooms are mainly designed with natural materials such as plank wood, corrugated roofs and have balconies facing terraced fields and rolling hills in the Northwest.
The way to the homestay is quite difficult, but in return, you will be able to see all the beautiful scenery here. The entrances here have beautiful buckwheat flowers for you to comfortably take photos.
Address: La Pan Tan, Mu Cang Chai, Yen Bai
Hotline: (+84) 379 292 222
Website: https://www.facebook.com/hellomucangchai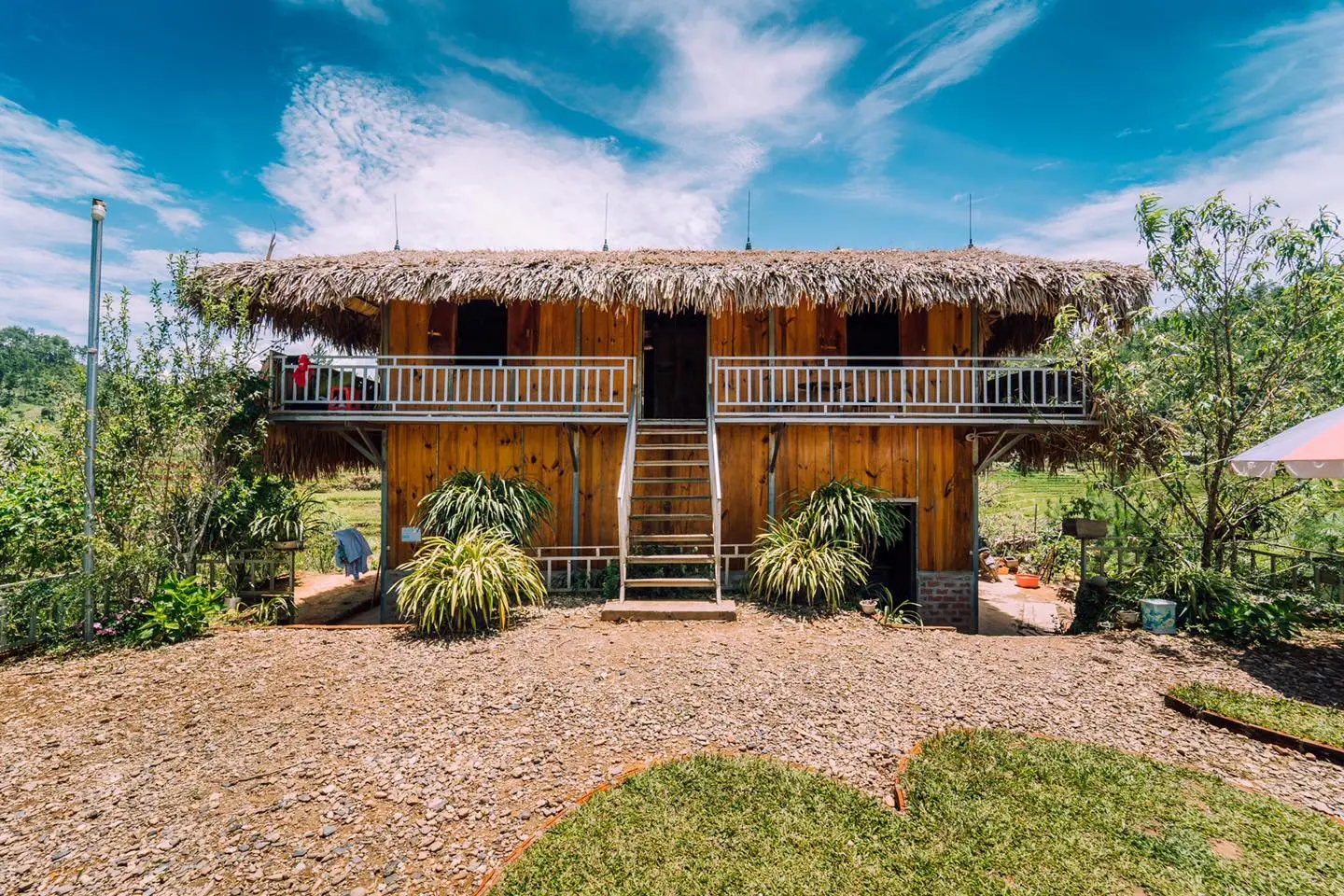 Lapantan Paradise
If you are a nature lover, immersed in the majestic scenery of the mountains, Lapantan Paradise is the ideal place to stay for you. Located in a small Hmong village in La Pan Tan, the homestay has 5 self-contained rooms with bungalows and self-contained rooms for groups of friends and families.
The rooms are well-equipped with quiet privacy. The lovely bungalows are made of bright brown wood and have wide glass doors so that every morning you can wake up to admire the sunshine pouring gold on the terraced fields. Lapantan Paradise is located near the famous raspberry hills, so you can easily travel by motorbike or on foot.
Address: La Pan Tan, Mu Cang Chai, Yen Bai
Hotline: (+84)98 836 6000
Open all day
Website: https://www.facebook.com/lapantanparadise/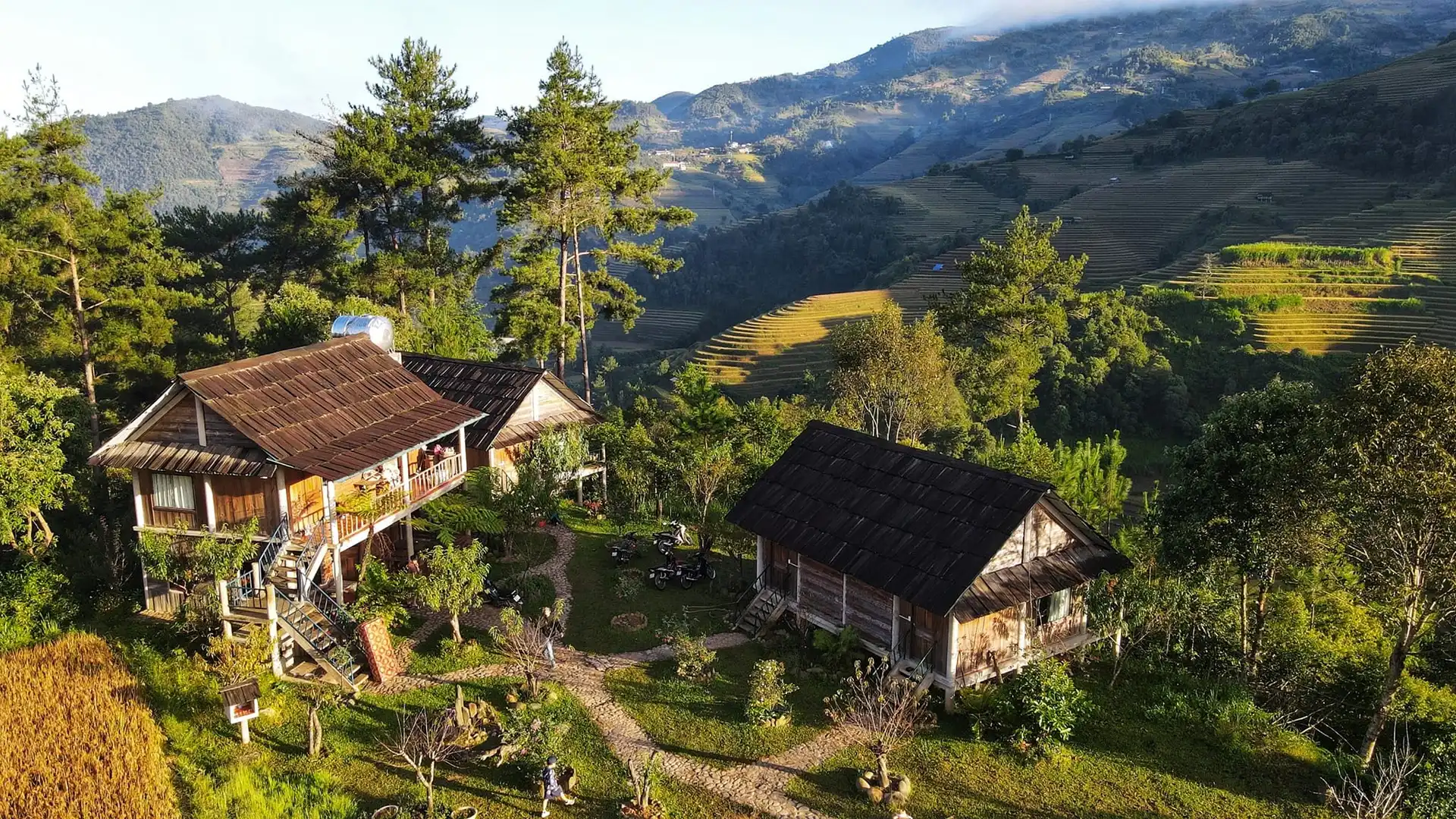 Pú Nhu homestay
With a prime location among the famous Mu Cang Chai terraced fields, Pu Nhu attracts many tourists to stay. In high season, homestays are often full, so you should book about 2-3 weeks before the trip.
Pu Nhu is only about 100m from the road up Raspberry Hill. Right behind the homestay is the poetic and pristine Mui Shoe valley. From the 2nd floor of the homestay, just open the window and you can watch the valley of terraced fields gently in the golden autumn sun, shining after deep valleys, crevices to the top of the sky.
Address: National Highway 32, Cau 3 house, La Pan Tan, Mu Cang Chai, Yen Bai
Hotline: (+84)94 158 41 53
Website: https://www.facebook.com/profile.php?id=100063647555174