Xuyan Sea - a waning moon hugging the bay of blue seas
Not Bai Xep, Bai Mon... but the name that should be on your next list when coming to Phu Yen is Xu Yan. About 7 kilometers east of Highway 1A, this pristine beach is about 8 kilometers long, bow-shaped. It is divided into 2 front and rear yards. In particular, the front beach is shallow, the back beach is greener, next to the white sand hill, rolling with quite a lot of pristine shrubs.
The high sand dunes are also the ideal viewing spot for Xu Yan Beach when you will take in the view of a "half-moon" hugging the blue sea bay. Xu Yan coast is considered to be flat, fine white sand and very clean with clear blue sea water, light waves forming an ideal beach.
Address: Xuan Thinh commune, Song Cau district, Phu Yen province
How to get here: From Tuy Hoa City, follow Highway 1A to the north and then follow Xuan Dai Bay to Xu Yan, a total distance of more than 60 km.
Accommodation: Near Tu Yan, Vinh Hoa beach is home to a few resorts, hotels, motels and eateries you can visit to stay and rest.
Entertainment: Bathe in the sea, watch the sunrise, camp, sandboard, ride an ATV off-road vehicle or walk along the ocean hill to visit the fishing village close to the foot of the mountain.
Food: In addition to seafood, duck is a dish that many people should eat when coming here due to its tender, sweet, fat-free meat, served with sweet and sour papaya salad and spicy fish sauce.
Van Village Beach - a forgotten beach by Hai Van Pass
The name of the beach is the name of the old maple village that is now abandoned, located in the Nam Chon Bay. Surrounded by green forests, long curved sandy beaches, along with the ruins of old houses, this place becomes a destination for those who love to explore. However, because of its completely separate location from Da Nang city, Lang Van beach has absolutely no service. When spending the night here, you must register with the border guard station near the beach.
Van Village Beach has 3 main beaches: Coconut Beach, Main Beach and Xoan Beach. In particular, Coconut Beach is not large, but there are rocks and trees shading it. Main Beach stretches the longest. Xoan Beach has the most beautiful view, quite isolated. Here, you can unleash in the crystal clear water and enjoy the peaceful space on a pristine, tranquil beach.
Address: Foot of Hai Van Pass, Hiep Hoa Bac, Lien Chieu District, Da Nang
How to get here: From the city center go all the way to Nguyen Tat Thanh sea, from here you can rent a boat to Van Village (it takes 30 minutes), or get on the back of Hai Van pass and walk down (quite tired but worth it)
Accommodation: It is recommended to bring a tent to sleep through the night.
Entertainment: Bathing, camping, BBQ, climbing, watching the sunrise are the most suitable experiences here.
Food: You need to prepare enough food and drinks to bring yourself throughout the journey.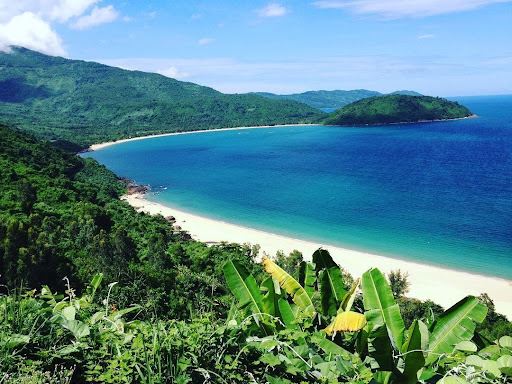 Bai Trang - Crystal Bay by the sandy desert
Like a small bay in Mui Dinh beach, Bai Trang impresses visitors with its semicircular coastline, fine white sand, clear blue sea water and calm waves, very suitable for swimming. On sunny days, the clear sea water looks to the bottom, shining beautiful crystal colors.
Here, you can also admire the large rocky mountains, winding sand dunes, all creating a majestic and poetic picture of nature. Currently, services in Bai Trang are still not developed, only a few households open shops selling soft drinks and seafood at affordable prices.
Address: Son Hai village, Phuoc Dinh commune, Thuan Nam district, Ninh Thuan province.
How to get here: From Phan Rang City - Thap Cham, follow the coastal road to the south for about 30 km, you will reach Mui Dinh.
Accommodation: Tanyoli Mongolian nomadic style accommodation is the right suggestion for you, priced at 1,500,000 - 1,800,000 VND / night.
Entertainment: In addition to stargazing camping, organizing barbecues at Bai Trang, you can combine conquering Mui Dinh lighthouse, riding a jeep over Mui Dinh sand dunes, visiting "Mongolian village" Tanyoli, wind power field ...
Food: Fresh seafood dishes such as fish, shrimp, crab, squid, crabs, oysters, oysters are caught and processed on site by fishermen here.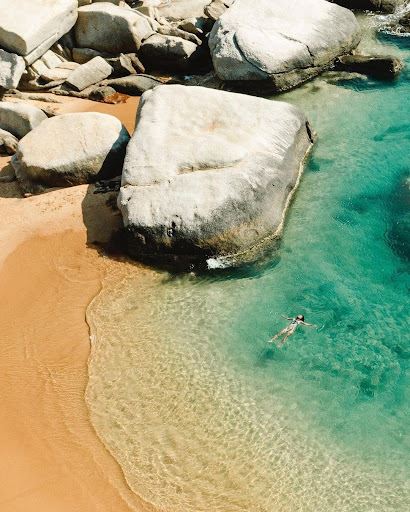 Ganh Son - Colorful colors on the blue beach
Ganh Son is about 80 km north of Phan Thiet City, Binh Thuan. The sea here has a narrow, flat, quite deep sandy beach, many rocky beaches. However, its special feature lies in the hills, fancy shaped cliffs and unique vermilion color. The red color of the stone mixed with the blue of the sky and the sea has created an impressive scene for visitors who like pristine beauty.
Ganh is about 20 m above sea level. From here, you can enjoy a panoramic view of the beach with colorful basket boats basking in the sun. Next to Ganh Son is Giuong village - a fishing hamlet, where you feel the most authentic about the life of fishermen.
Address: Chi Cong commune, Tuy Phong district, Binh Thuan province.
How to get here: From Binh Thuan you go in the direction of Co Thach sea, you turn right through Binh Thanh fishing village along the sea for about 5 km, then ask for the way to Ganh Son.
Accommodation: Services in Ganh Son are not developed, you should return to Lien Huong town, Tuy Phong to spend the night with a variety of options from homestays, hotels, motels.
Entertainment: Watching the sunset, camping, playing on the sea, exploring fishing village life in the early morning is an experience worth trying here.
Food: Among seafood in Ganh Son, the most famous are snails of all kinds and bigleaf squid.