6h: Breakfast and coffee
You should go to Dalat market early in the morning, have breakfast at the rows of cakes, shumai bread, sticky rice cake pepper ... then visit Tung café to watch the street through a large glass window, immersed in the old mountain town space with ancient music. Although in the city center, Hoa Binh area and Dalat market in the early morning still retain the dreamy and deserted beauty.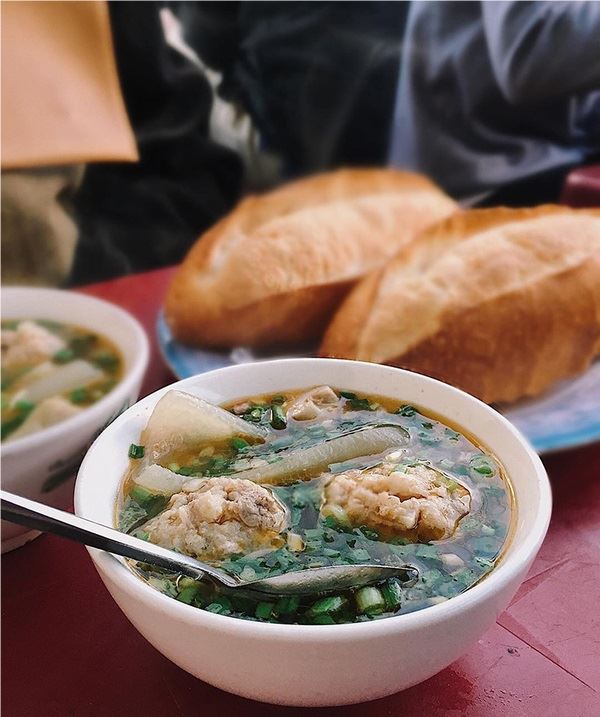 Dalat shumai bread. Photo: Phong Vinh
8am: Cherry plum hunting
If before the Lunar New Year, cherry apricots , in time for Tet, the roads near the center began to be dyed pink. When it is not too sunny, make a tour to explore the cherry apricot planting spots in the city such as Hung Vuong, Tran Hung Dao, Co Giang, Nam Ho, around Xuan Huong Lake ...
On Hung Vuong Street, be sure to visit Phan Chu Trinh Secondary School, where large cherry apricot trees bloom right from outside the entrance. If you stop in Tran Hung Dao, do not forget to check-in the poetic "love slope" with a view of the city, or the area of Co Giang street while watching flowers and taking pictures, you can enter green cafes such as Home, Co Bong...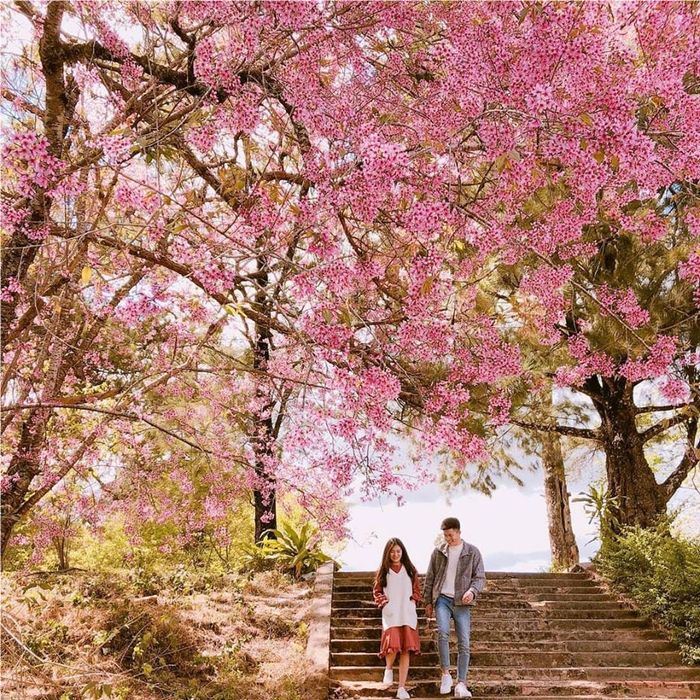 Apricot cherries will bloom gradually in the inner city of Da Lat during the Lunar New Year.
12h: Lunch
Currently, Da Lat has many restaurants with the model of "home-cooked rice" each full set from rice, soup, meat, fish, fruit dessert with vintage space to attract young people. Some suggested addresses for you are Day 3 Rice Shop, Nha La Rice, 19 Back then, Back in the House...
14h: Check-in Light Garden
After eating lunch and resting a bit, you continue to move to the Lumiere Light Garden located on Mai Cherry Street. This is a tourist attraction that is likened to a "virtual living paradise" of young people, possessing spaces that combine light, music and vibrant colors with many different themes. Truly diverse, creative in the Garden of Light inspires many groundbreaking photo series. Not only taking check-in photos in the Japanese valley or outer space, you can also participate in attractive role-playing games.
Opening hours are from 8h to 22h daily, especially Tet Garden of Light closed on 30/1 to the end of 1/2 (ie 28, 29 and 1st Lunar New Year). Ticket price is 150,000 VND/person.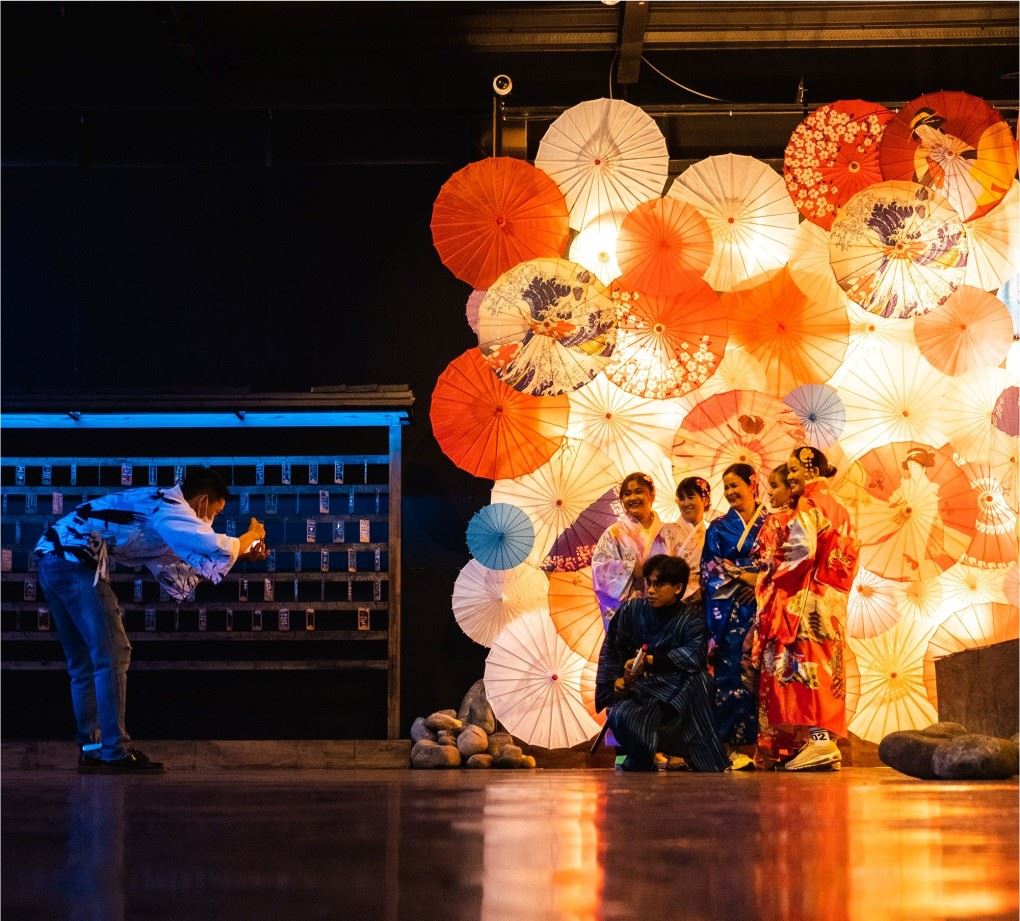 Visitors take photos of Japanese style. Photo: Lumiere Light Garden
18h: Dinner
The chilly weather in the evening in Dalat mountain town is very suitable for you to enjoy the Hot dishes such as é leaf chicken hotpot, beef hot pot or stuffed snails, grilled lam rice ... In addition, if you want to snack at night, do not miss the bean milk, baked rice paper, baked corn potatoes, crab soup ...
20h: Check-in to cinema bar
Built from an old studio, the bar has ample space, many areas for guests to choose comfortable seats. The most noticeable is the bartending area, where you get to see how the staff make their drinks and everyone in the shimmering lights.
Price of drinks from 99,000 VND / dish, food from 50,000 VND / dish. Operating hours are from 5 p.m. to 2 a.m. You should contact to book a table in advance, especially during Tet holidays, the table may be sold out early.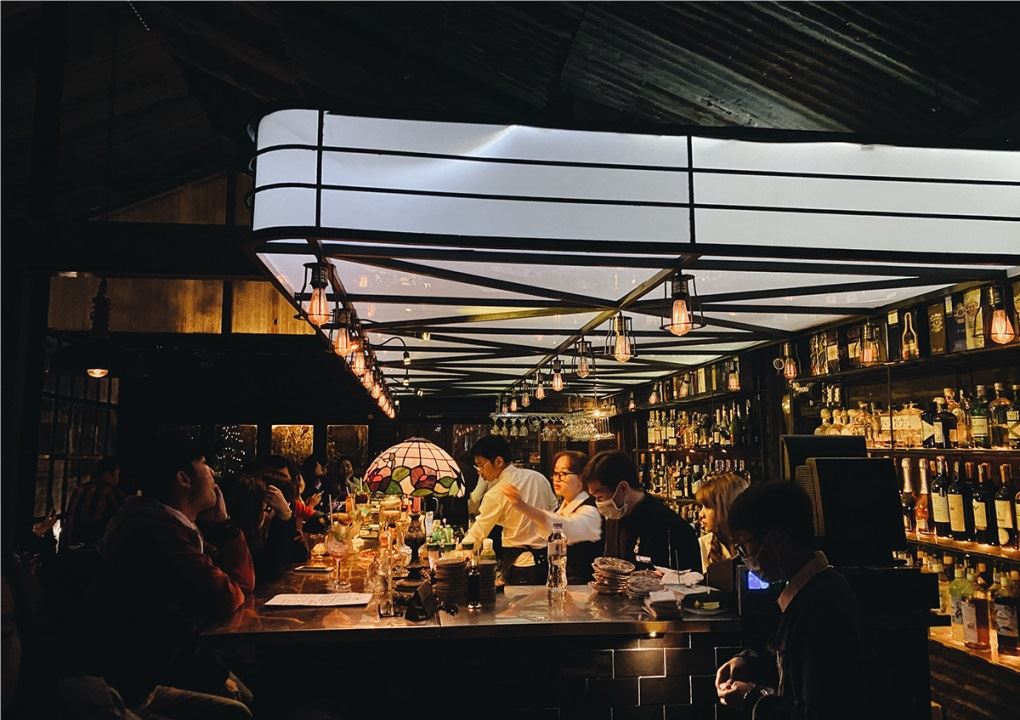 Cinematic retro style at the bar. Image: Zhongyi
According to VnE