Chi Bu Riverside Resort - Resort combined with water sports

Located right next to the gentle green river - Rach Ong Keo, Chi Bu resort has an area of 2.5 hectares, covered with greenery, giving visitors a peaceful feeling like stepping into a Vietnamese village. There are 7 rooms here are houses with leaf roofs, built from materials close to nature such as bamboo, cork, wood ... separated from each other by a lovely fence. The interior of the room is very comfortable and modern, with two main tones of white and brown wood, creating a gentle and relaxing space.
In addition to the room system, the resort also focuses on activities to help guests relieve stress and fatigue. You can relax in the swimming pool set in the middle of the green garden, or SUP boating, kayaking, swimming right on the river in front of the resort rooms. The cost of participating in water sports activities is included in the room rate.
In addition to private space, Chi Bu resort also has a spacious and airy common room. Fresh and delicious cuisine is also a plus point of this resort, because the food is made from organic food, and is only prepared when requested by guests, not ready-made. You can choose from a menu of authentic Vietnamese dishes, vegetarian food, healthy food besides some dishes.
If you have time, you can explore Camp Chi Bu located right next door. This is a campground combining experiential activities, fun team building.
Location: 12/6/8 Chinh Nghia hamlet, Vinh Thanh commune, Nhon Trach district, Dong Nai, more than 30 km from the center of Ho Chi Minh City.
Room rate: 2,300,000 to 3,700,000 VND/room night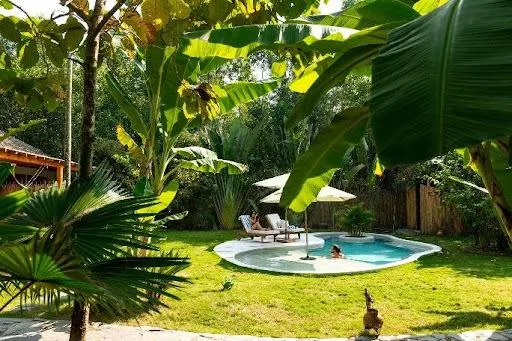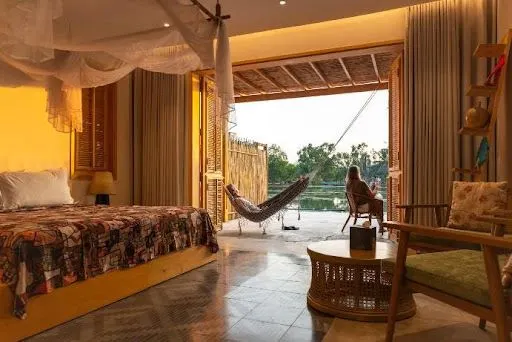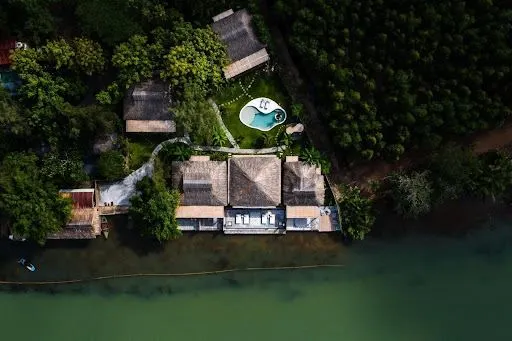 An Lam Retreats on Saigon River - Read books and have afternoon tea by the river
River view, everywhere covered with the green of tropical gardens helps An Lam Retreats Saigon River almost separate from the noisy world outside. As a result, guests can experience a peaceful, warm holiday with private space. There are 19 suites and villas, both modern and traditional style like the wooden house style of the South. Rooms feature a premium outdoor bathtub and a lush green space with a swimming pool, garden or cool riverfront.
Visitors who want to clear their mind, rejuvenate their spirit, soothe their tired body or beautify should not miss the resort's spa services with massage packages, sauna, jacuzzi, facial-body-nail care ... Some other activities you can register for include cooking classes, watching the sunset on a cruise running along the Saigon River.
The dishes at the resort are also highly rated by travelers, due to being made from local organic ingredients, combining traditional recipes and modern cooking techniques, for delicious taste at reasonable prices. In particular, the restaurant also has a culinary experience area at the Tree House - built right on the ancient banyan tree. Serving a maximum of about 10 guests, this is the ideal place for visitors looking for a new space.
Address: 21/4 Hamlet Trung, Vinh Phu Commune, Thuan An, Binh Duong, about 15 km from the center of Ho Chi Minh City.
Room rate: 3,500,000 - 8,000,000 VND/room night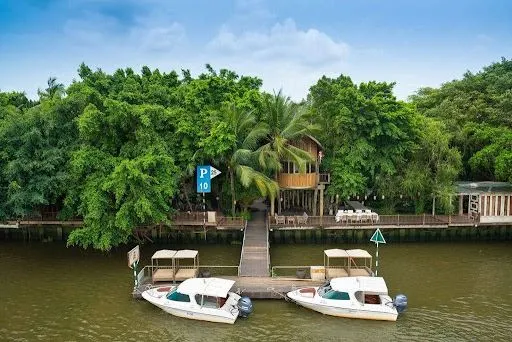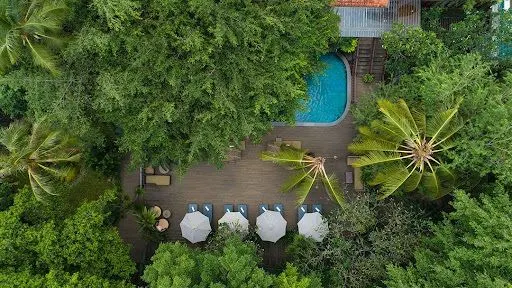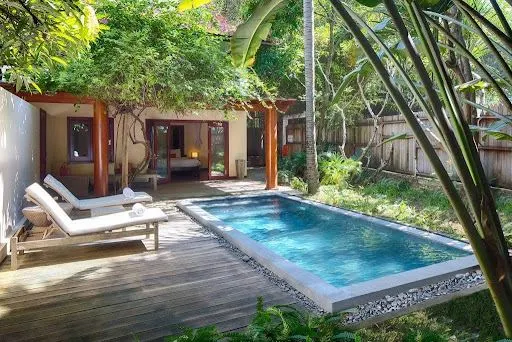 La Maison de Campagne Resort - Relax in the breath of Hoi An
"La maison de campagne" comes from French, meaning "country house". From the entrance, you will be "greeted" by the bougainvillea trellis in full bloom at the beginning of the alley, the small garden, the stone-paneled courtyard and the chirping of birds on the branches.
This place has 9 rooms facing the garden or pool, located completely in level 4 houses, golden walls, mossy tile roofs, making many people think of typical houses in Hoi An ancient town. The interior is luxurious, classic, comfortable like the old noble families with decorative chandeliers, Dark brown tables and chairs, glossy green pottery.
The resort's most popular place is the swimming pool, located right in the middle of the suites, very convenient for those who like to dive on a hot summer day and take photos of "virtual life". La Maison De Campagne is suitable for a weekend "homecoming", lounging listening to music, chatting or sleeping in bed listening to birds singing and the wind rustling.
Here, you will enjoy delicious dishes of the Southwest such as crazy cotton soup, fish noodles, snakehead fish ... Or order the chef to cook on order the dishes you like.
Address: No. 12, Street 189, Provincial Highway 8, Binh My Commune, Cu Chi District, Ho Chi Minh City, about 25 km from the city center.
Room rate: 1,500,000 - 2,000,000 VND/night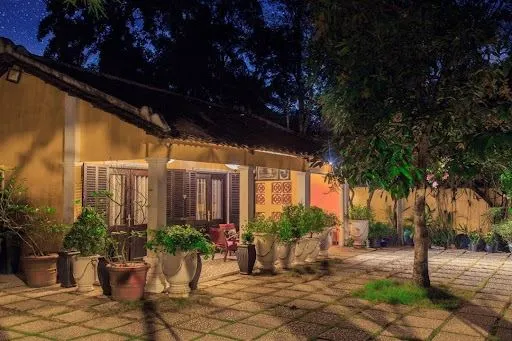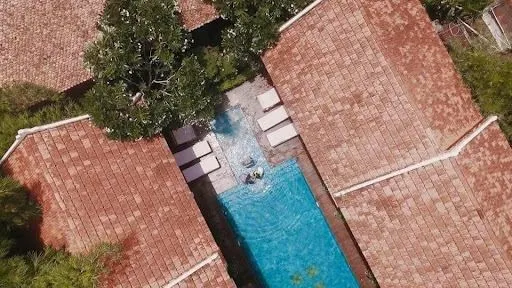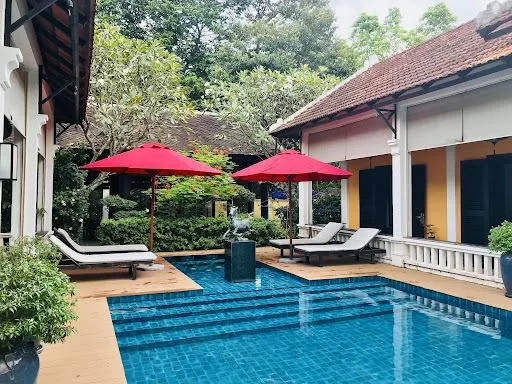 Mekong Lodge Resort
Inspired by nature, Mekong Ecolodge with 30 separate bungalows built entirely from rustic natural materials such as leaf roof, bamboo furniture, wood ... in the style of local homestays. The interior is well equipped with an interesting open-air bathtub. Surrounding the bungalows are rows of tropical green trees with ornamental plants and fruit trees such as bananas, coconuts, milk breasts ...
To reach the resort located on the island, visitors will be moved by boat and feel the fresh air, pristine nature and cool of a completely different world from the bustling and noisy city lifestyle.
You can cycle on the village roads surrounded by orchards, take a boat ride on the river to visit Cai Be floating market, visit traditional handicraft families, catch fish by hand, or enjoy fruits right in the garden. If you are lazy, you just need to lie in the relaxing bungalows, enjoy for yourself the quiet, green space is enough to love life. The food is made entirely from locally grown ingredients, every season, fresh and irresistible.
Address: Tan Phong Island, Cai Lai district, Tien Giang, about 100 km from the center of Ho Chi Minh City
Room rate: 1,000,000 - 3,000,000 VND/night