Onsen is a form of hot spring bath typical in Japanese culture formed from thousands of ancient years. This experience gives visitors the pleasure of soaking in natural hot spring water (about 25-60°C) in the middle of the beautiful mountain scenery. At that time, it seemed that all worries were left behind, only moments of peace and relaxation. Therefore, onsen bathing is considered the best mental therapy to heal any aches and pains caused by work pressure.
Moreover, hot mineral water is also very good for health, so many people come to the onsen bath to cure and take care of the body. The most common is that this form supports the cure of a number of diseases such as nerve pain, muscle pain, joint pain, shoulder pain, muscle numbness, joint muscle tension, bruises, gastrointestinal diseases, hemorrhoids, poor circulation.
Suggestions for onsen bathing places in Vietnam
Yoko Onsen Quang Hanh - Beautiful Little Japanese Village
Yoko Onsen Quang Hanh was designed as a Japanese village, isolated between green hills and magnificent cliffs. From checkin area, bathing, mineral bath, sauna, rest, eating, each small corner makes visitors feel real step foot to Phu Tang country.
At Yoko, you can choose to take a hot mineral bath in a public area or in a private room. The public area is again divided into a separate male-female fairy bathing area and an outdoor shared bathing area. In particular, there are more than 30 onsen baths with different heat backgrounds, about above 40 degrees Celsius.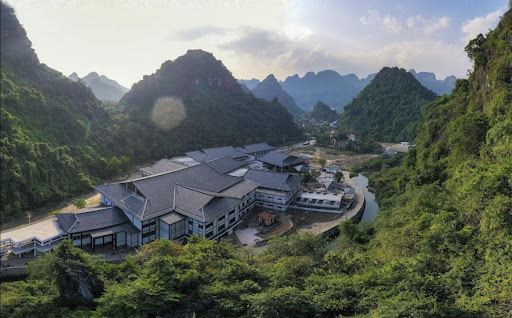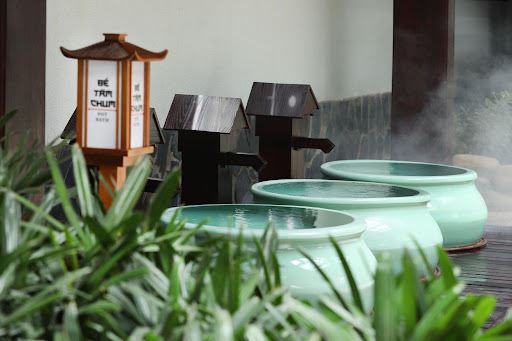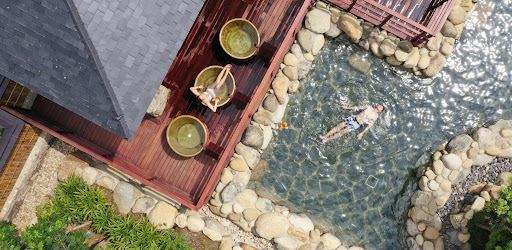 Address: Group 5, Zone 9B, Quang Hanh Ward, Cam Pha City, Quang Ninh.
Outstanding advantages: top 3 mineral sources with the highest content of mineralized hot bromine in the world
Cost: 750,000 - 2,000,000 VND / onsen bath ticket (depending on the date, time)
Other experiences: spa, sauna, resort, cuisine
The public Onsen bathing area does not serve children under the age of 12 (less than 1m4).
Website: https://yokoonsenquanghanh.com.vn/
Alba Wellness Valley - "Valley" onsen Japan - Vietnam
Alba Wellness Valley will not disappoint you when owning a source of hot minerals led from deep in the ground at the foot of the Truong Son range. Here, you easily encounter the winding mineral stream, radiating heat by the bamboo road, the red bridge, in the sound of birds chirping. It all makes for a peaceful and poetic scene, like a beautiful valley.
Visitors often choose Alba Wellness Valley for a resort that combines onsen bathing. In it, onsen bathrooms are designed in a minimalist and luxurious style, with separate spaces for men and women, including indoors and outdoors. Japanese onsen baths with hot mineral baths, pressure jacuzzis, cold tubs, silk tanks, outdoor hot mineral tanks, saunas and steam saunas.
Address: Phong Son Commune, Phong Dien District, Thua Thien - Hue.
Outstanding advantages: Hot springs with balanced, stable mineral properties, comparable to the famous hot water source in Europe.
Cost: Deluxe Voyage 3-day package at Alba Wellness Valley includes: Breakfast - lunch - dinner, outdoor physical activities, spa treatment and onsen bath every day, hot mineral spring bath, fruit smoothie, priced from 12,045,000 VND / 1 guest, 15,290,000 VND / 2 guests
Other experiences: Water meditation, water meditation, water meditation, walking meditation
Recognized by now travel asia magazine as the Top 4 Wellness Spa in Asia in 2018 - 2019.
Website: https://fusionhotelgroup.com/albawellnessvalley/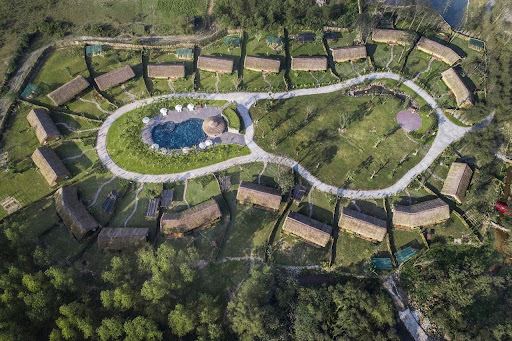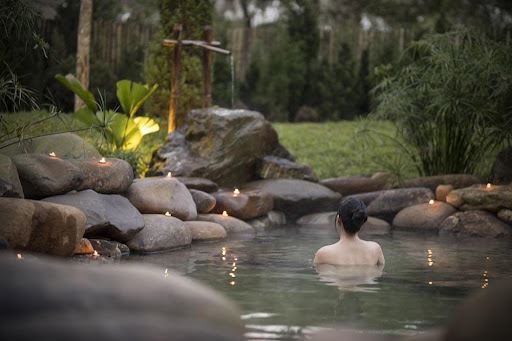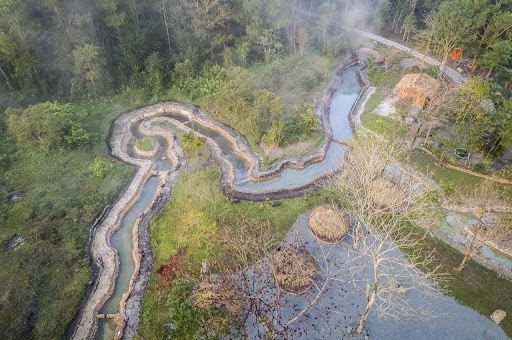 Serena Hoa Binh - Japanese onsen corner in the heart of the Northwest
Serena Resort Kim Boi Hoa Binh is a great choice for travelers who want to experience a Japanese spiritual healing method at a softer cost but the quality is still extremely high. Mineral water is extracted from the natural source circuit and always maintains a stable temperature of 43 degrees Celsius. Onsen area alone has 6 separate baths, of which 3 baths can accommodate 5 people, 2 baths of 10 people and 1 bath for 20 people. The Onsen baths here are suitable for couples who want to find a romantic place, or a place for family and friends to relax in the warm hot water.
Especially, in autumn and winter, when the weather is colder, being immersed in warm water will help the body to dissipate all fatigue.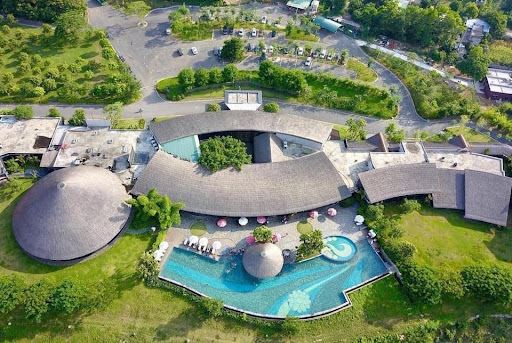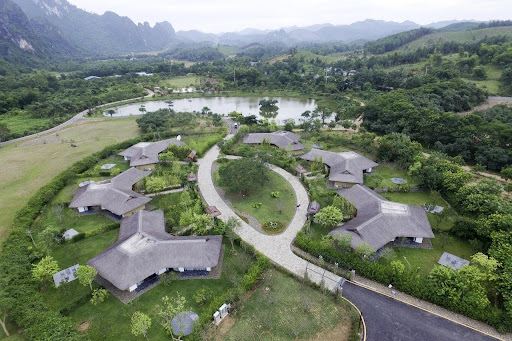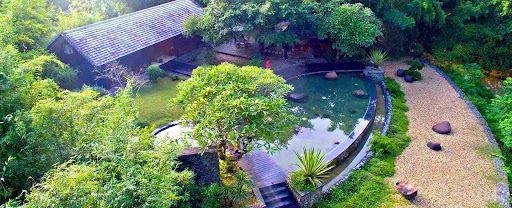 Address: Khai Hill neighborhood, Cao Bai commune, Kim Boi district, Hoa Binh
Outstanding advantages: Soft price, quality mineral water, unique local culture
Cost: bath 5-10-20 people corresponding to 800,000 - 1,200,000 - 3,000,000 VND / 1.5 hours
Other experiences: Spa, sauna, hot mineral water pool
Website: https://serena.com.vn/Serena-Resort-tt1167.html