Intercontinental Phu Quoc
The resort is located in Truong Beach with a pristine and calm coastline, an extremely convenient location, with an area of nearly 9.2ha, opened in January 2019. The resort has 2 high-rise buildings, an apartment complex and 4 villas with private swimming pools. Two large Koi aquariums with a lot of large, beautiful, colorful fish, adorn the resort.
The resort owns four very beautiful and large swimming pools. Family-friendly swimming pools with twisting slides for parents and children to have fun with.
Six restaurants and bars will offer a unique and unique culinary experience, combining traditional and modern, Asian and u. In the evening, go to Ink 360, the bar on the 20th floor of Phu Quoc to enjoy 1 fine cocktail and watch the sunset.
Address: Bai Truong, Duong To, Phu Quoc, Kien Giang
Price range: From 3,000,000/night
Website: https://phuquoc.intercontinental.com/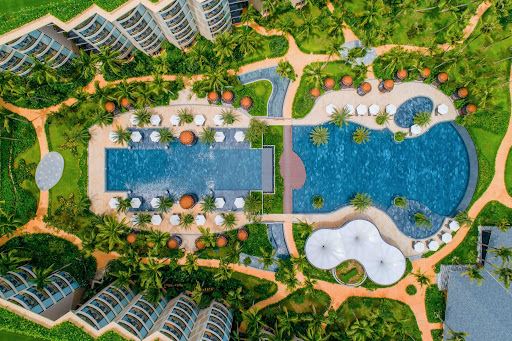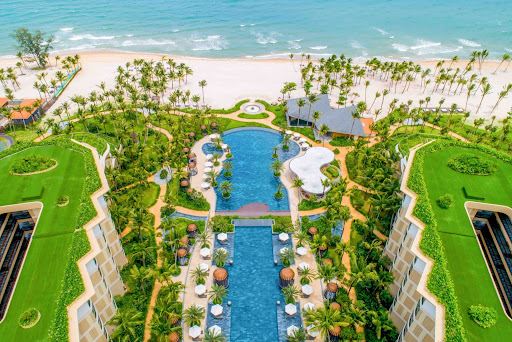 JW Marriott Phu Quoc
Located in Bai Khem, a beautiful beach with creamy white sand and clear jade water, 15 minutes from the airport, it is JW Marriott Phu Quoc Emerald Bay, 1 of 4 products of the world's Top 5 architect Bill Bensley. Bringing typical French architecture, with the most comfortable rooms, world-class resort, recreating and simulating the university in Phu Quoc called Lamarck University officially opened in 12/2016. The resort consists of 244 rooms, suites, apartments and villas.
The JW Marriott has many large swimming pools overlooking the sea. The seashell-shaped swimming pool is probably the symbol of the resort. There are also 2 other very large swimming pools, the sun and sand pool, which are also extremely impressive. If you do not like to go to the beach, take a dip in the pool to watch the sunrise moment is also very great!
Address: Bai Truong, Duong To, Phu Quoc, Kien Giang
Price range: From 5.000.000 vnd/night
Website: https://www.marriott.com/hotels/travel/pqcjw-jw-marriott-phu-quoc-emerald-bay-resort-and-spa/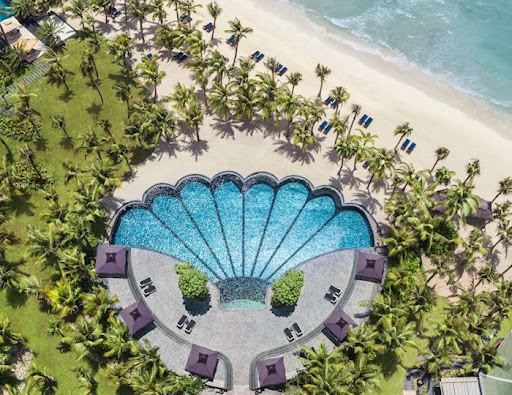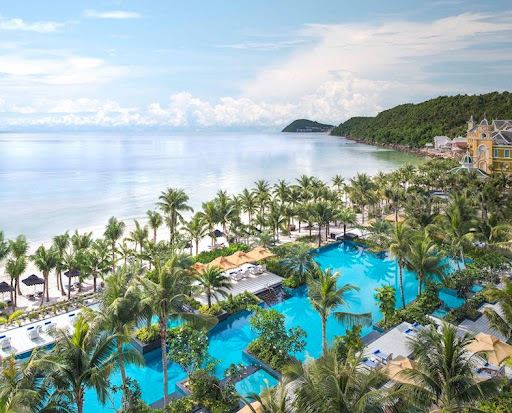 Nam Nghi Resort Phu Quoc
The resort has 3 sides facing the sea, located in Mui Mong Tay, so it is the only place where you can both watch the beautiful sunrise and sunset, also the only place in Phu Quoc with both primeval forests and islands. Operating since 2017 with 63 hotel rooms and 51 villas, the rooms have views of the sea or green garden.
Architectural design has a contemporary and luxurious style combined with pristine and idyllic nature. The use of natural and local materials has brought rustic, elegant and close to nature to this place. Waking up in the fresh space with the sound of waves crashing on the rocky shore right under the beachfront villa or sipping 1 cocktail by the swimming pool on the sea will be extremely interesting. You will be able to see with your own eyes the large rocks weathered over time, skillfully stacked creation, ancient trees spreading to the water's edge and especially coral reefs and marine life under the clear water. Watching the magical sunset fade on Nanyi's Rock Island will be a memorable moment.
Address: Hamlet 4, Cua Can Commune, Phu Quoc Kien Giang
Price range: From 2,600,000/night
Website: http://namnghiresort.com/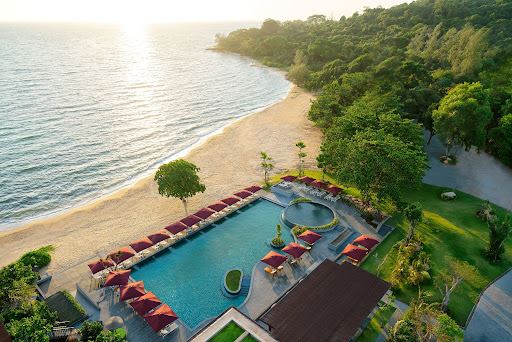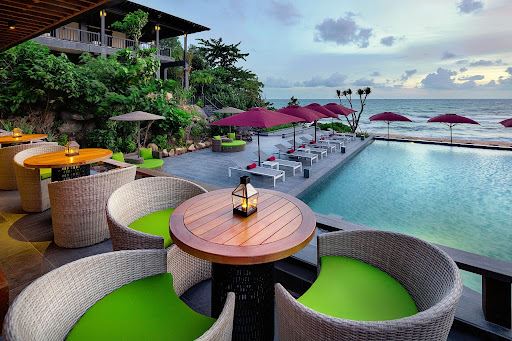 Novotel Phu Quoc
Located at Truong beach, just a 10-minute drive from the airport, you have arrived at one of the most beautiful beaches in Phu Quoc.
Resort with 366 rooms divided into 7 types and 96 villas with 3,4 and 5 bedrooms. This resort is not only suitable for couples but also very suitable for families because the policy allows 2 children under 16 years old to share a room and includes breakfast. In 2020, the resort won the prestigious Luxury Family Resort award.
Four swimming pools are scattered throughout the property and each has a dedicated children's area so that adults are not affected and disturbed.
Address: Duong Cell, Duong To, Phu Quoc, Kien Giang
Price range: From 2,200,000/night
Website: https://www.novotelphuquoc.com/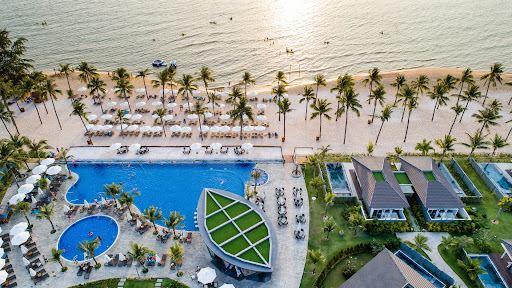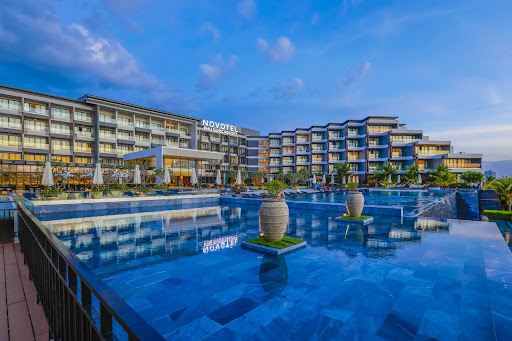 Fusion Resort Phu Quoc

This is a brand of Fusion Hotel Group, covering more than 20 hectares, operating in June 2017. Fusion resorts don't follow the usual standards but want to create a place where you will feel happier and healthier.
The biggest difference is that the resort is a pioneer in the field of holistic healthcare, towards a healthy lifestyle and becoming a daily habit.
Total 128 villas divided into 7 types, all villas here have their own swimming pool. In addition, the swimming pool in the Spa area of 200m2, the circular central swimming pool, the area of 800m2 with direct view to the sea will bring great relaxing moments.
Address: Vung Bau, Cua Can, Phu Quoc, Kien Giang
Price range: From 6,600,000/night
Website: https://phuquoc.fusionresorts.com/vi/trang-chu/