Chill Skybar
Known as the most beautiful bar in Saigon, Chill Skybar is located on Le Lai street, District 1. With high-class space, divided into many different areas and luxurious and classy service style on the 26th floor of AB Building. This place is considered the best choice for a "luxurious" weekend gathering. Here, you can sip a few bottles of wine while watching the city from above, immerse yourself in the vibrant atmosphere that Chill Skybar brings.
Address: AB Tower, 26th Floor, 76A Le Lai, Ben Thanh Ward, District 1, Ho Chi Minh City
Opening hours: 17:30 – 03:00 daily
Hotline: +84 83 827 9631
Price: 500.000 VND – 1.500.000VND
Fanpage: https://www.facebook.com/like.chill.saigon/
Website: http://chillsaigon.com/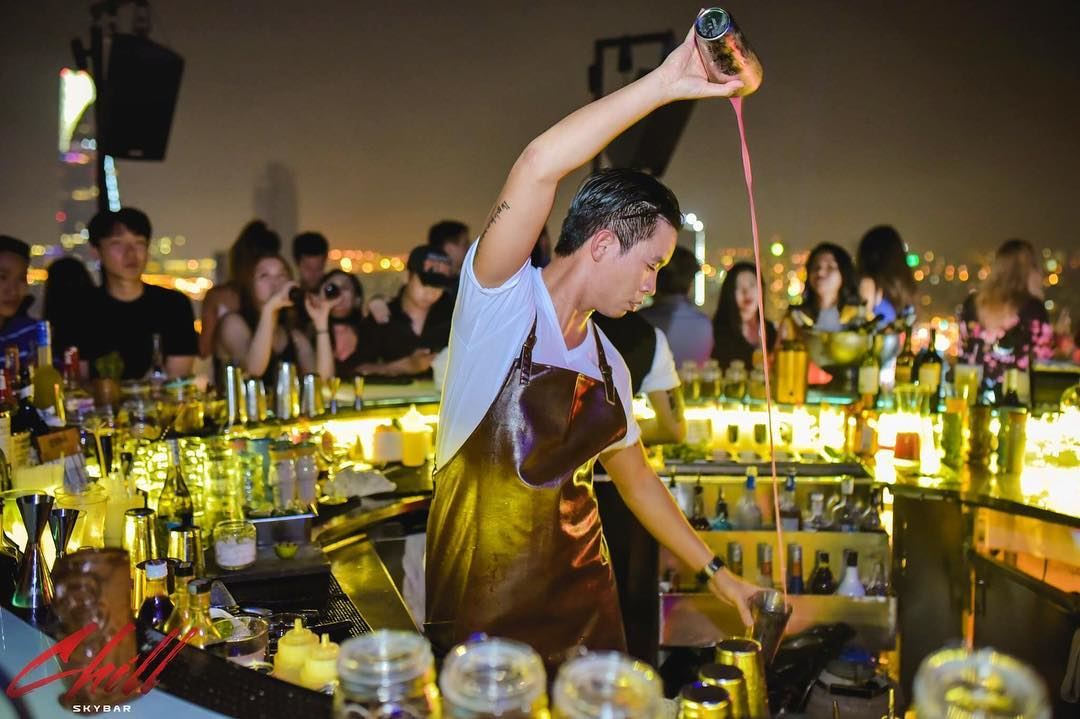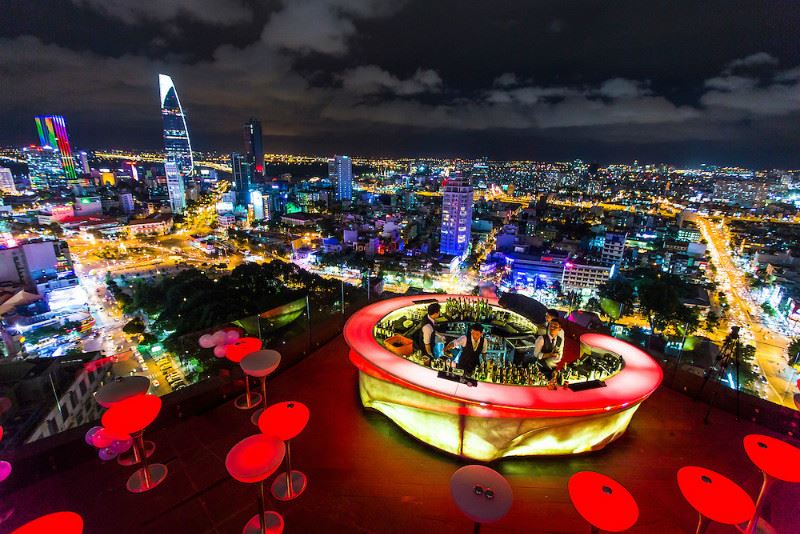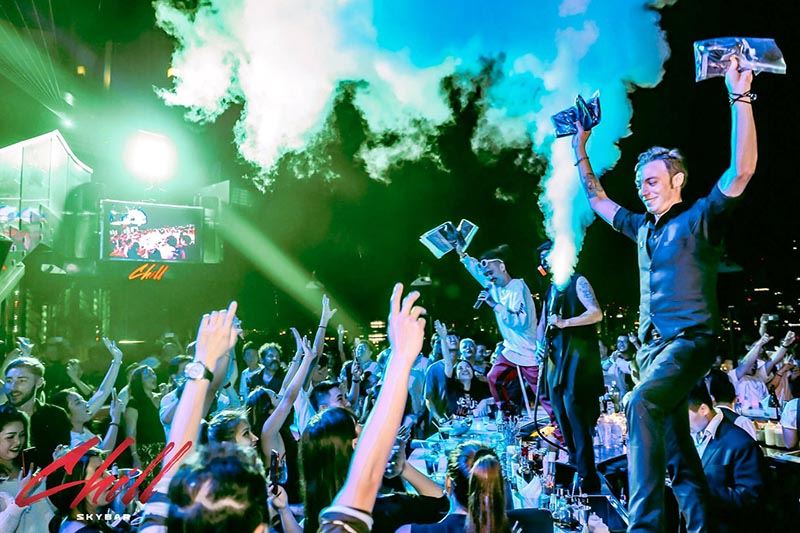 Level 23 Wine Bar
Level 23 Wine Bar is a chic rooftop bar set in the Saigon Sheraton Hotel, which is a perfect place to enjoy a pre-dinner drink and watch the sunset for those who prefer some peace and quiet, or a late-night cocktail when the DJ comes to perform live. Worried that this place will not be able to provide you with your favorite wine? Rest assured because on the menu, you can find a lot of famous wines from all over the world, Level 23 Wine Bar will absolutely satisfy your needs.
Address: Sheraton Saigon Hotel & Towers, 88 Dong Khoi, District 1, Ho Chi Minh City
Opening hours: 18:00 – 02:00
Hotline: +84 83 827 2828
Price: 50.000 VND – 1.500.000 VND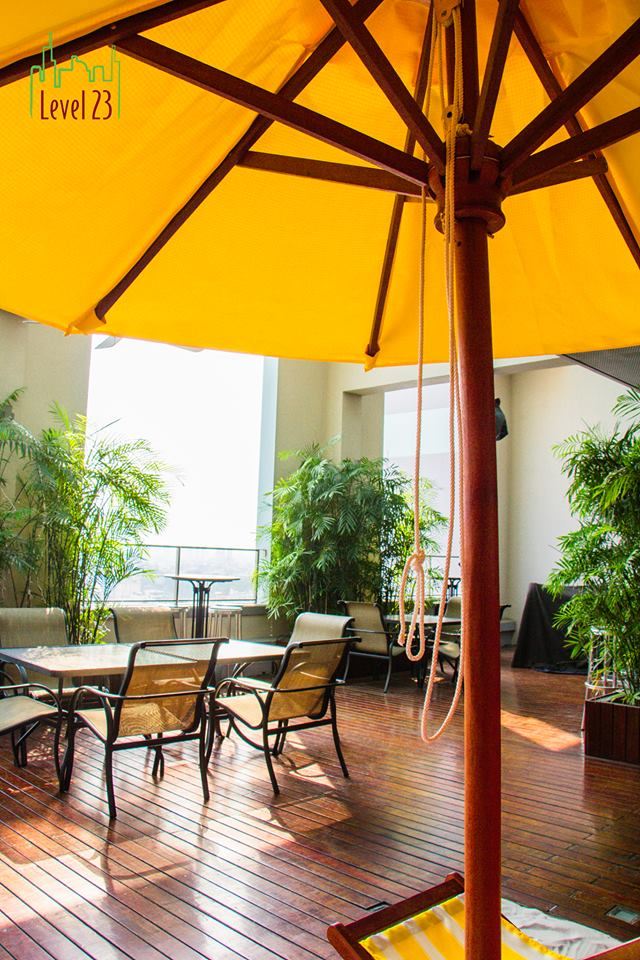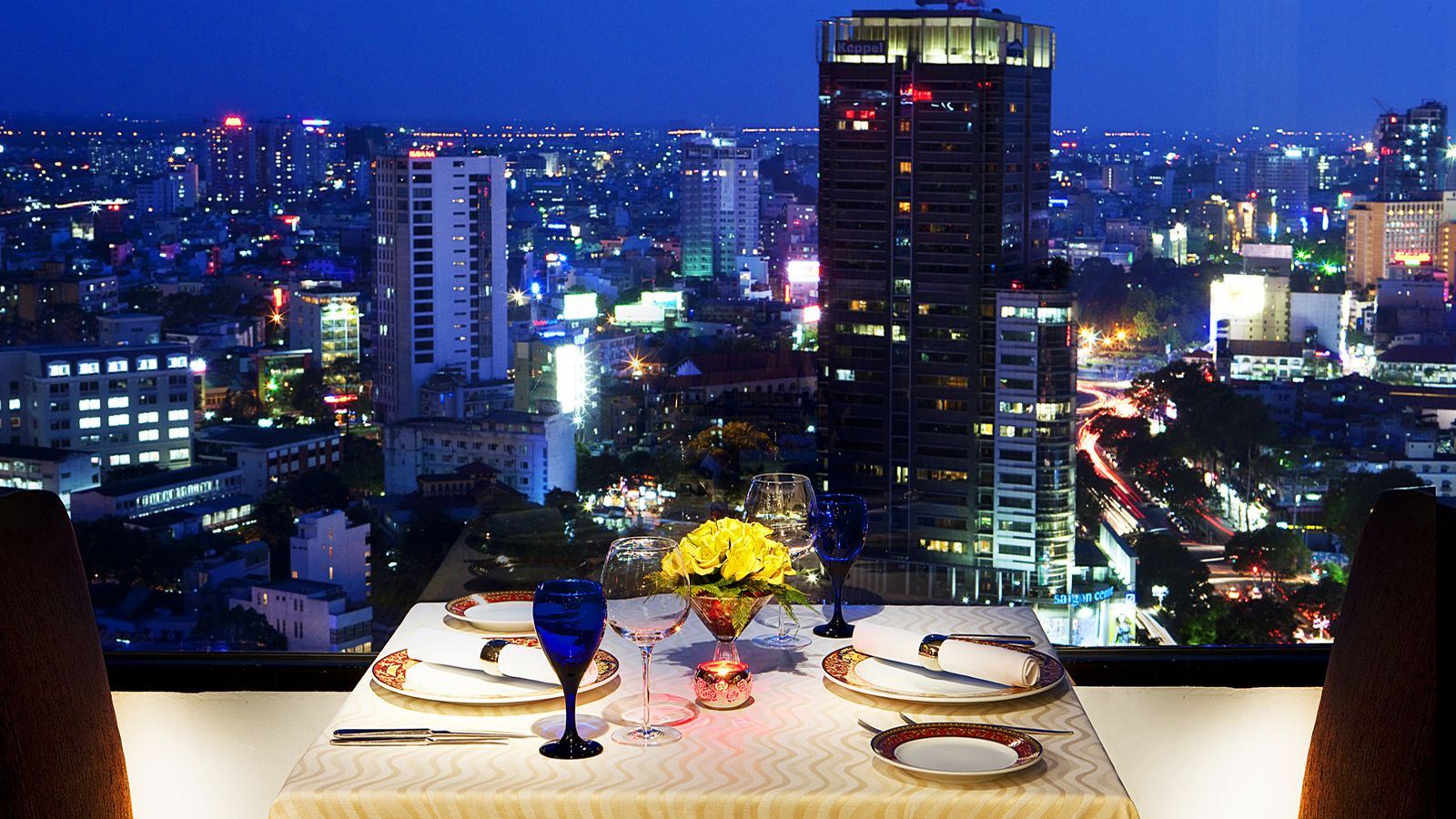 Bar Eon 52 Heli
Despite being "born late", Bar Eon 52 Heli does not disappoint customers by its thoughtfulness, sophistication and location with beautiful views. From the 52nd floor of the Bitexco building, you can admire the endless skyline as dusk falls. Sipping a cocktail, enjoying the bustling streets of Saigon night, what's more?
Address: 52nd Floor, Bitexco Tower, 2, Hai Trieu, District 1, Ho Chi Minh City
Opening hours: 10:00 – 02:00
Hotline: +84 86 291 8751
Price: 200.000 VND – 550.000 VND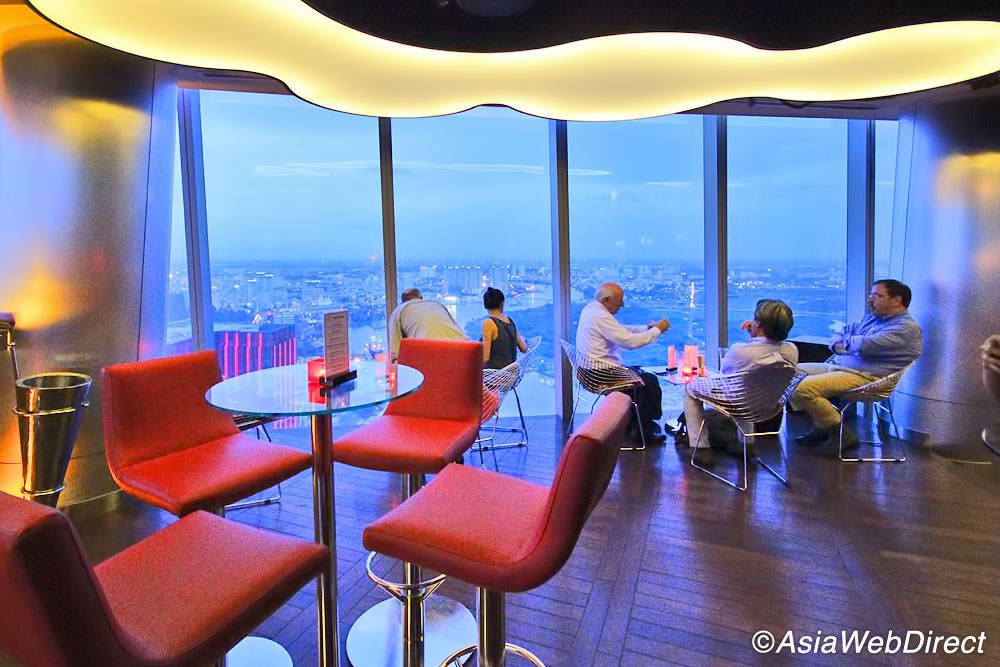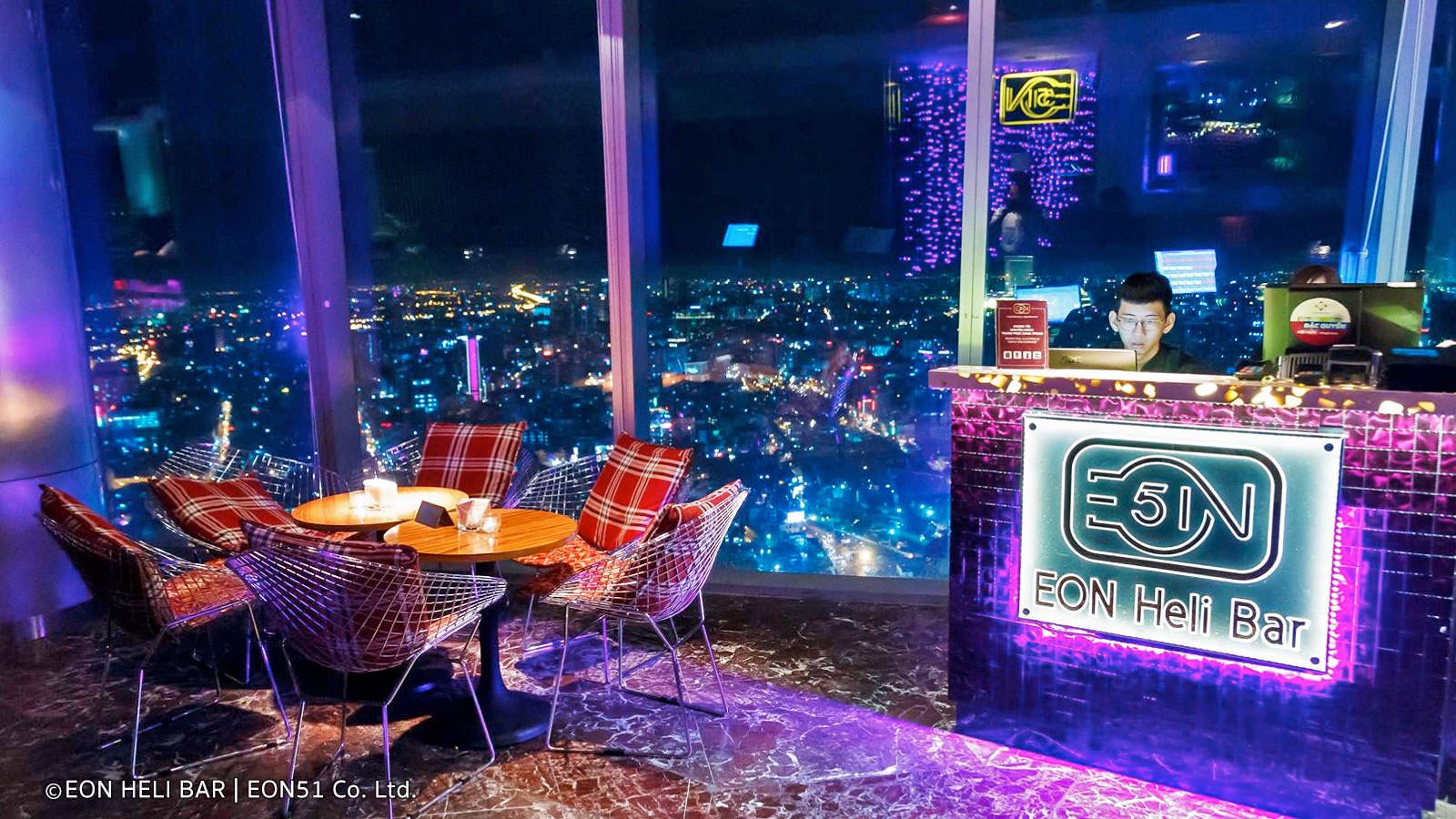 Shri Restaurant and Lounge
Equipped with modern furniture and a luxurious bar with exquisite designs, Shri is a place not to be missed when you want to enjoy you in a spacious, romantic space. Beautiful elevated views combined with wines from France, Italy, Germany, Spain, New Zealand,... will bring you a great feeling like never before.
Address: Centec Tower, 72-74 Nguyen Thi Minh Khai, Ho Chi Minh City
Opening hours: Monday – Saturday: 10:30 – 24:00, Sunday 16:30 – 24:00
Hotline: +84 83 827 9631
Price: 300.000 VND – 660.000 VND
Website: https://shri.vn/hcm/vi/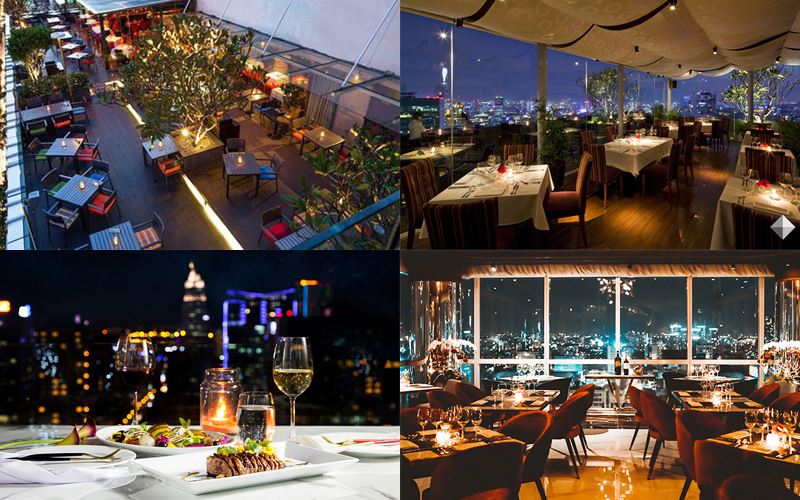 Air 360 Sky Lounge
Air 360 Sky Bar is the only place with a 360-degree open space with an overflow pool at a height of 120m for panoramic views of Saigon at night. Here, you can experience world-class cuisine, enjoy great cocktails, chat with friends and partners. After 9pm is the exciting atmosphere of EDM music from famous singers and DJs at home and abroad. In addition, there are VIP rooms with cozy, luxurious, quiet space, suitable for receiving guests and organizing corporate events.
Address: 22nd Floor, Ben Thanh Land Tower, 136-138 Le Thi Hong Gac Street, Nguyen Thai Binh Ward, District 1, Ho Chi Minh City
Opening hours: 17:30 – 23:59
Hotline: +84 974 587 788
Price: 69.000 VND – 500.000 VND
Fanpage: https://www.facebook.com/airsaigon.vn/
Article: My Dieu