1. Sang Cat Restaurant - A famous Sa Pa tourist delicious restaurant
About 170m from the cable car station and about 300m from Da Sapa Church, Sang Cat restaurant is chosen by many diners to experience cuisine when traveling to Sapa. Not only because of the cozy space layout, bold Vietnamese, this place also has a relatively large capacity, Suitable for both large delegations or organizing team building for the company.
Famous for chefs with 20 years of experience, typical temperate dishes such as salmon, sturgeon hotpot, native pork, grilled jungle chicken, green pepper... certainly does not disappoint diners.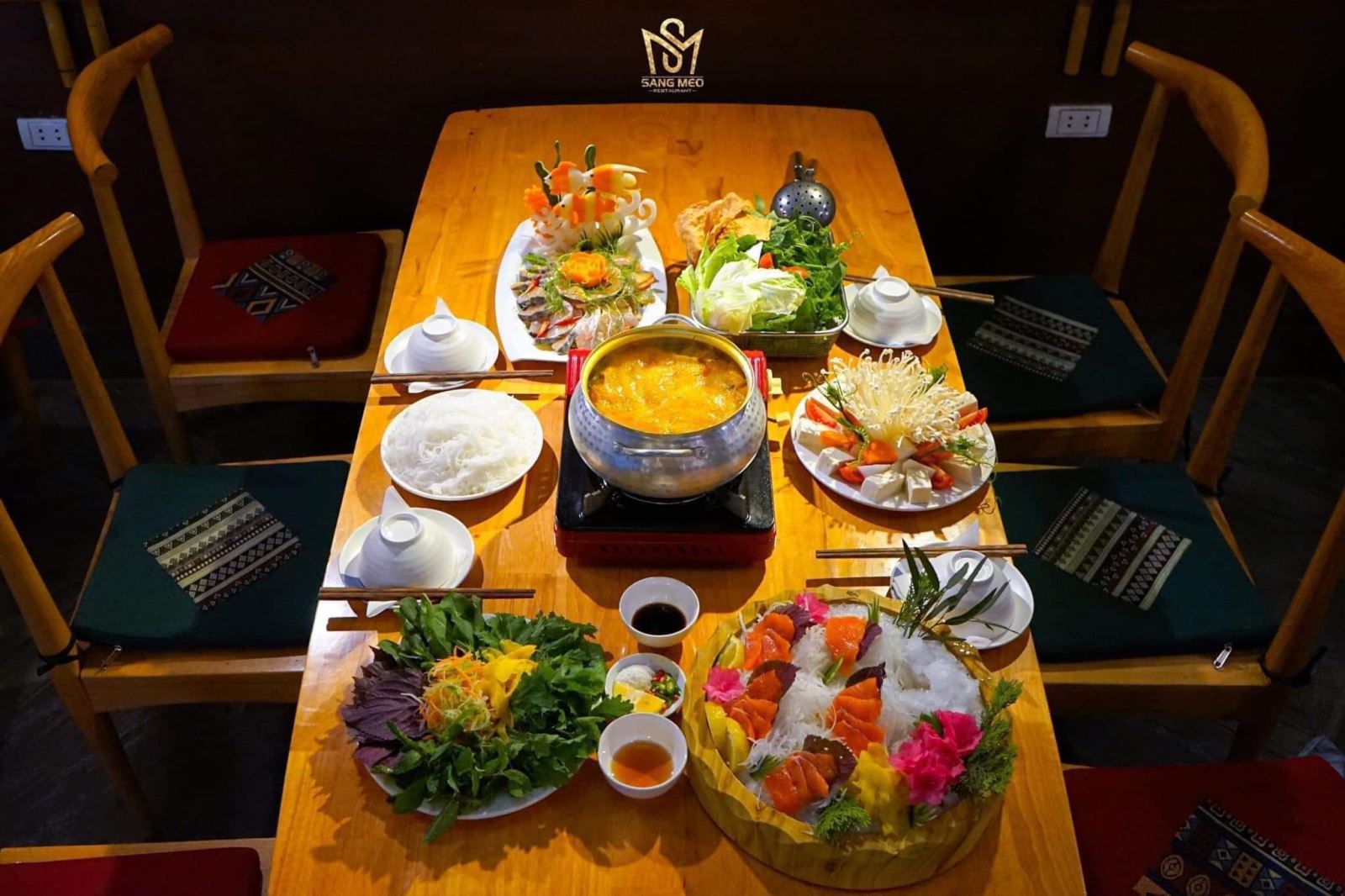 The famous Sapa tourist delicious restaurant Sang Cat. Photo: Sang Cat Restaurant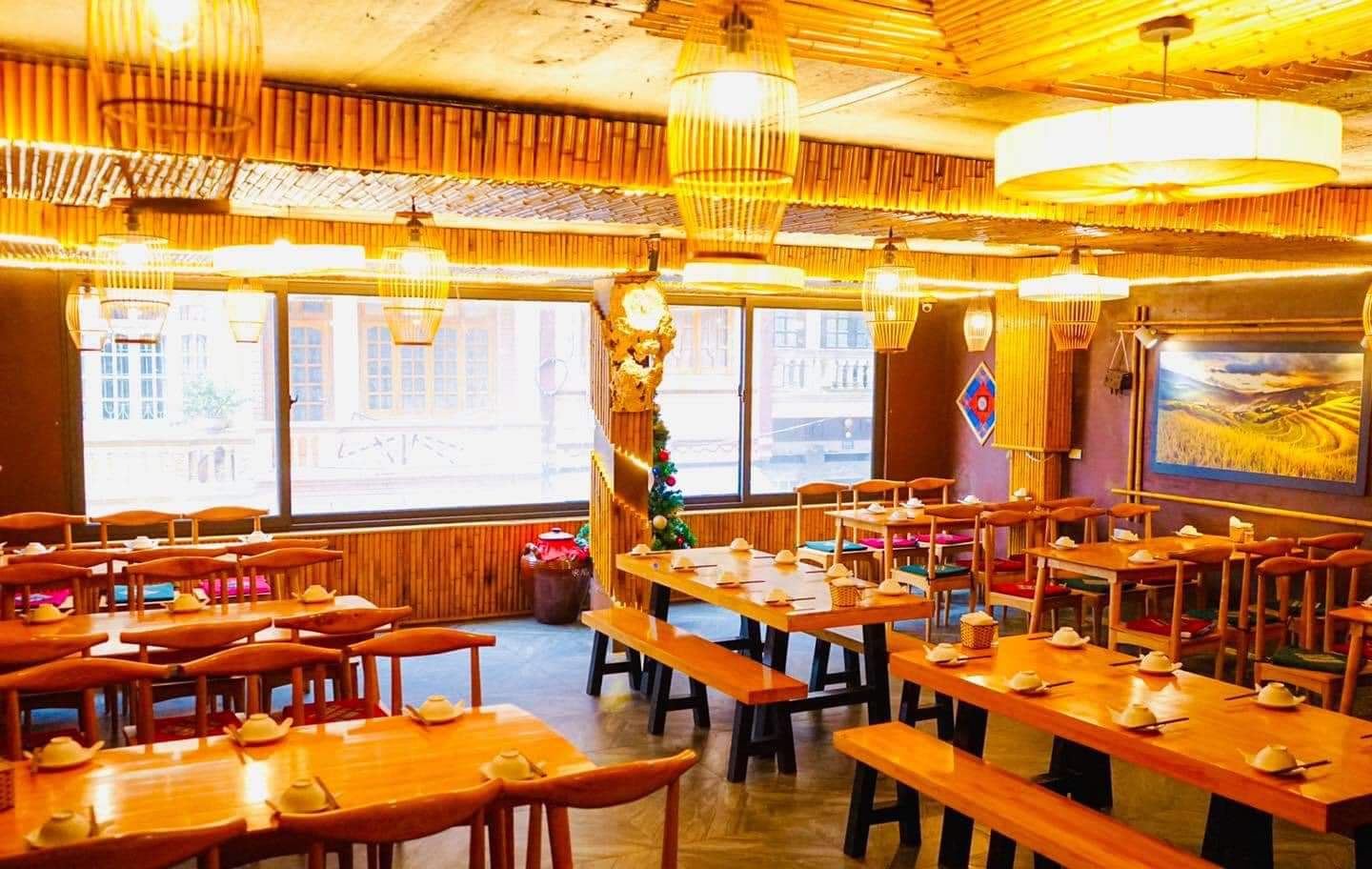 Cozy and spacious space at Sang Cat restaurant. Photo: Sang Cat Restaurant
2. King Salmon Restaurant Sapa - Delicious restaurant for Sapa tourism
The famous Sapa tourist restaurant with salmon hot pot is King Salmon restaurant.
As the name suggests, the restaurant's outstanding dish is the fresh salmon raised in Sapa. Besides, visitors can enjoy salmon hot pot, salmon sashimi ... and other Northwestern specialties such as hill chicken, armpit pigs, mallards, and sturgeon.
Rustic, cozy tables and chairs, bold Northwest flavor. In the cold weather of Sapa night, enjoying hot salmon hotpot, enjoying the taste of fresh, sweet and fragrant fish dipped in the hot pot, sipping a little Bac Ha wine, is really more interesting.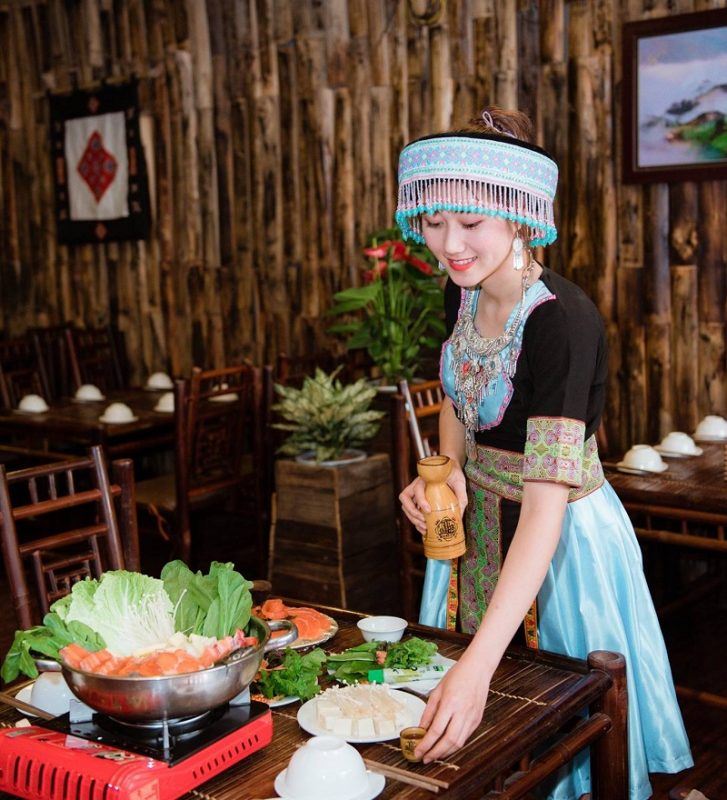 Enjoying sweet and fragrant salmon with a glass of Bac Ha wine is nothing more interesting. Photo: FB Salmon King Restaurant
3. O Quy Ho Restaurant - Delicious Restaurant in Sapa
Delicious food, beautiful view are probably the two comments mentioned when talking about O Quy Ho restaurant.
The typical dish to mention is pumpkin steamed chicken. The sweet, fatty and tender flavor of the famous black chicken Sapa mixed in the supple mountain pumpkin flavor like Sapa clouds definitely makes those who have eaten once unforgettable.
In addition, at O Quy Ho, you can still enjoy special dishes of Sapa such as salmon hotpot, sturgeon hotpot, mother pig ...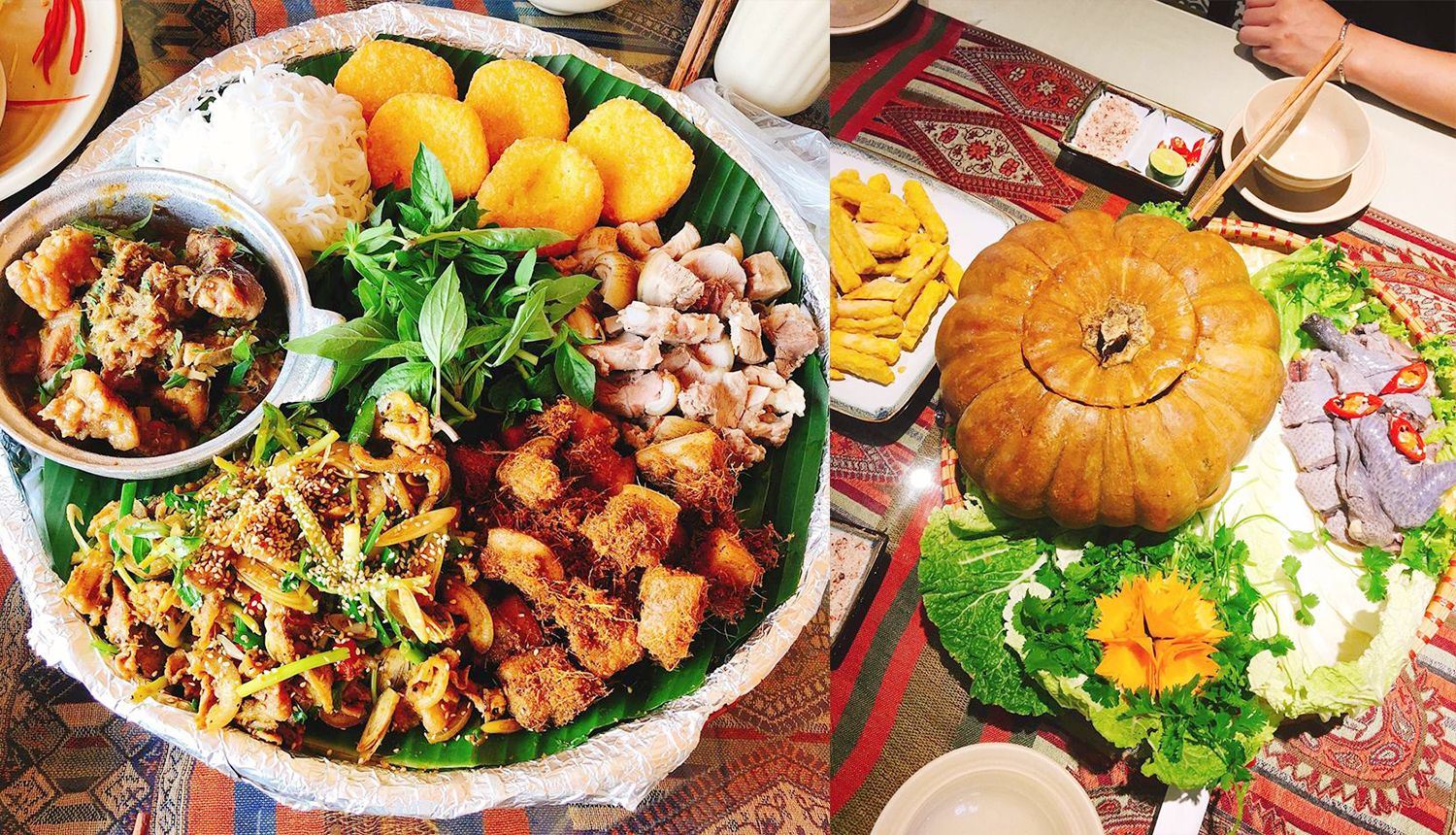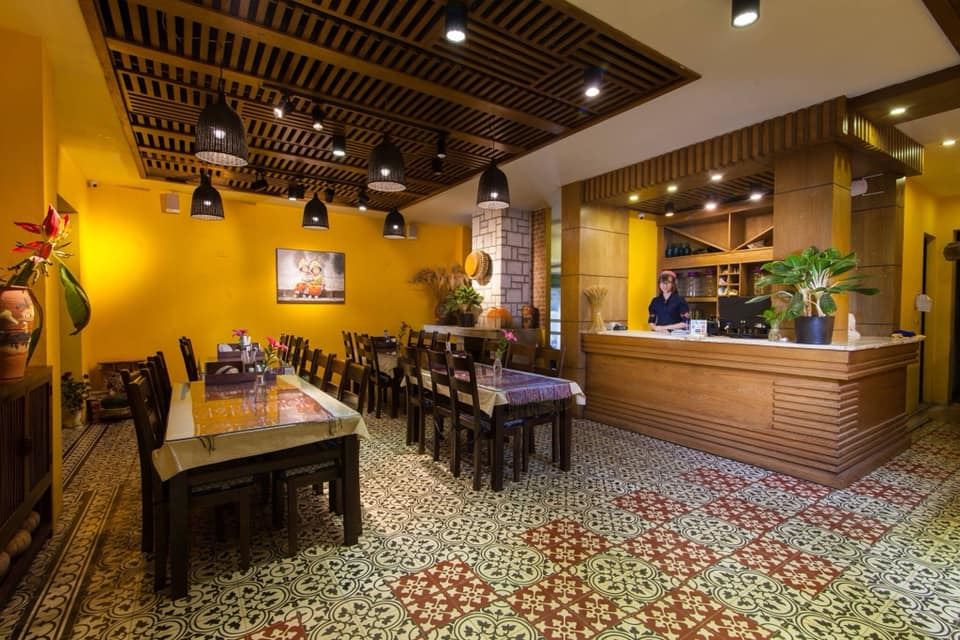 Delicious traditional restaurant in Northwest O Quy Ho. Photo: FB O Quy Ho restaurant
4. Cau May Restaurant
Located right in the center of Sapa town, Cau May restaurant has a modern, luxurious appearance with a large capacity, extremely suitable for both solo guests, family or even large groups. Famous for Asian dishes, here you will enjoy the rich indigenous specialties of Sapa. From forest vegetables in four seasons: cat chard, bamboo shoots, cabbage, stone sprouts ... to brook fish dishes, rich bushmeat.
Outstanding dishes must be mentioned such as: Seven-course village pig, Honey grilled chicken, Stir-fried bamboo shoot deer, Sapa mushroom stir-fried pig, boiled cat cabbage dipped in eggs ... The restaurant also offers a group menu for guests traveling in large groups at a moderate price.
Restaurant information:
Address: 92 Ngu Chi Son, TT. Sa Pa, Sa Pa, Lao Cai
Opening hours: 06:30 - 22:00
Telephone: +84 0214 3 88 77 66
Pricing: 80.000 VND - 350.000 VND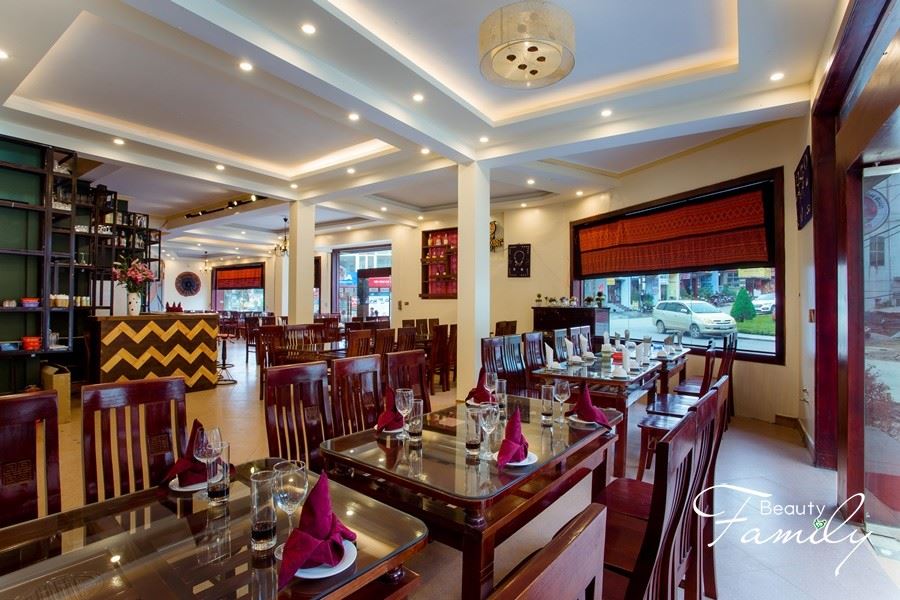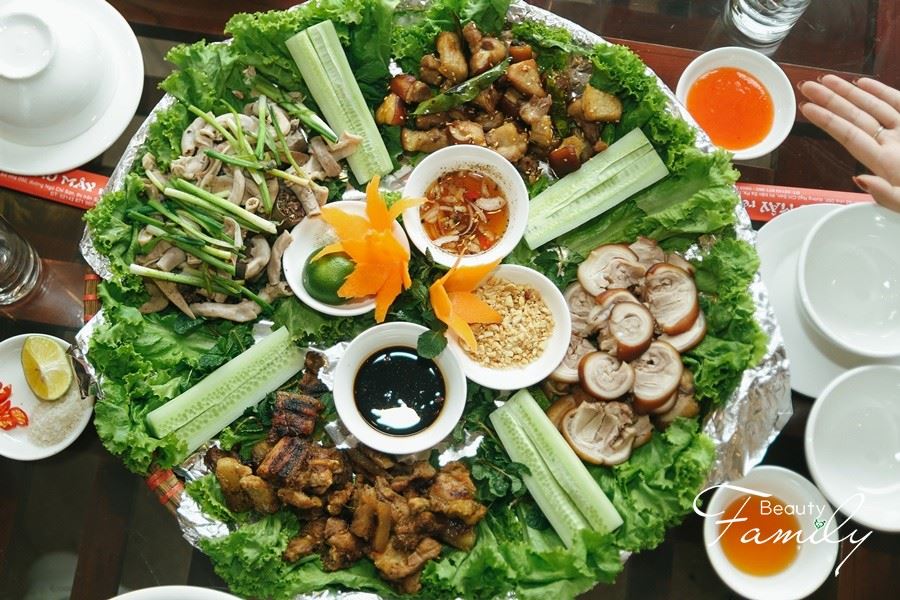 Luxurious Cau May restaurant in Sapa with seven-course pork mother specialty. Photo: Foody
5. Win against A Quynh
Referring to the famous Sapa tourist delicious restaurant for Thang Co, it is impossible to ignore Thang Co A Quynh.
Located in the center of Sapa town, the café space is spacious, clean, decorated in Sapa style. Fast, enthusiastic staff and affordable prices make the shop always crowded. As the name suggests, thang co is the "nail" dish of the restaurant. You can call small winnings, or big wins depending on the number of people.
In addition, for those who are not familiar with this Tan Bac specialty, you can still order other popular dishes such as salmon hotpot, sturgeon hotpot, native pork ...
6. A Phu Sapa Restaurant
The name A Phu restaurant in Sapa is inspired by the culture of the H'mong ethnic group. The establishment of this restaurant shows the true quality of both cuisine and literature in the Northwest. The restaurant is located in the center of town and is considered a famous Sa Pa tourist restaurant. Famous for dishes with bold Sapa flavors: salmon hotpot, sturgeon hotpot, pork stealing armpits ... and especially winning.
Cold rainy day in Sapa, swooped next to a salmon hot pot with a steaming sweet and sour broth. Freshly ordered salmon brings the hot pot a rich and delicious taste that is hard to refuse. Coming to Sapa, do not forget to visit this place to enjoy it!
Restaurant information: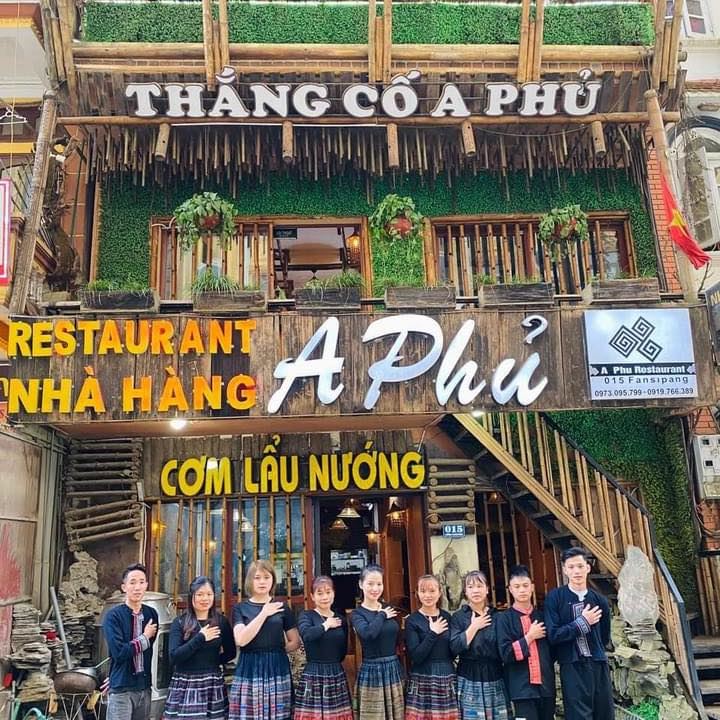 Delicious eatery in Sapa - A Phu Restaurant. Photo: FB A Phu Restaurant
7. Write Deli
If you go to Sapa and have a craving for buffet, where to go? Viet Deli is a delicious restaurant traveling to Sapa famous for the type of buffet that you should not ignore.
The style of the shop is neat and cozy. The service, food and interior decoration all reflect the bold mountain town of the Northwest. With a catalog of over 200 dishes prepared casually, uniquely but bold highland from salmon, sturgeon, native chicken, black chicken, pig stealing armpits, horses, buffalo ... will definitely give diners many options.
Restaurant information:
Address:
No. 6 Thu Dau Mot Street, Sapa Town, Sapa District, Lao Cai, Vietnam.
01 Le Van Tam, Sapa Town, Sapa District, Lao Cai Province, Vietnam.
Opening hours: 08:00 - 22:00
Phone number:
0214 627 8866 (Campus 1)
0214 628 0088; 0214 628 1188 (base 2)
Pricing: 50.000 VND - 250.000 VND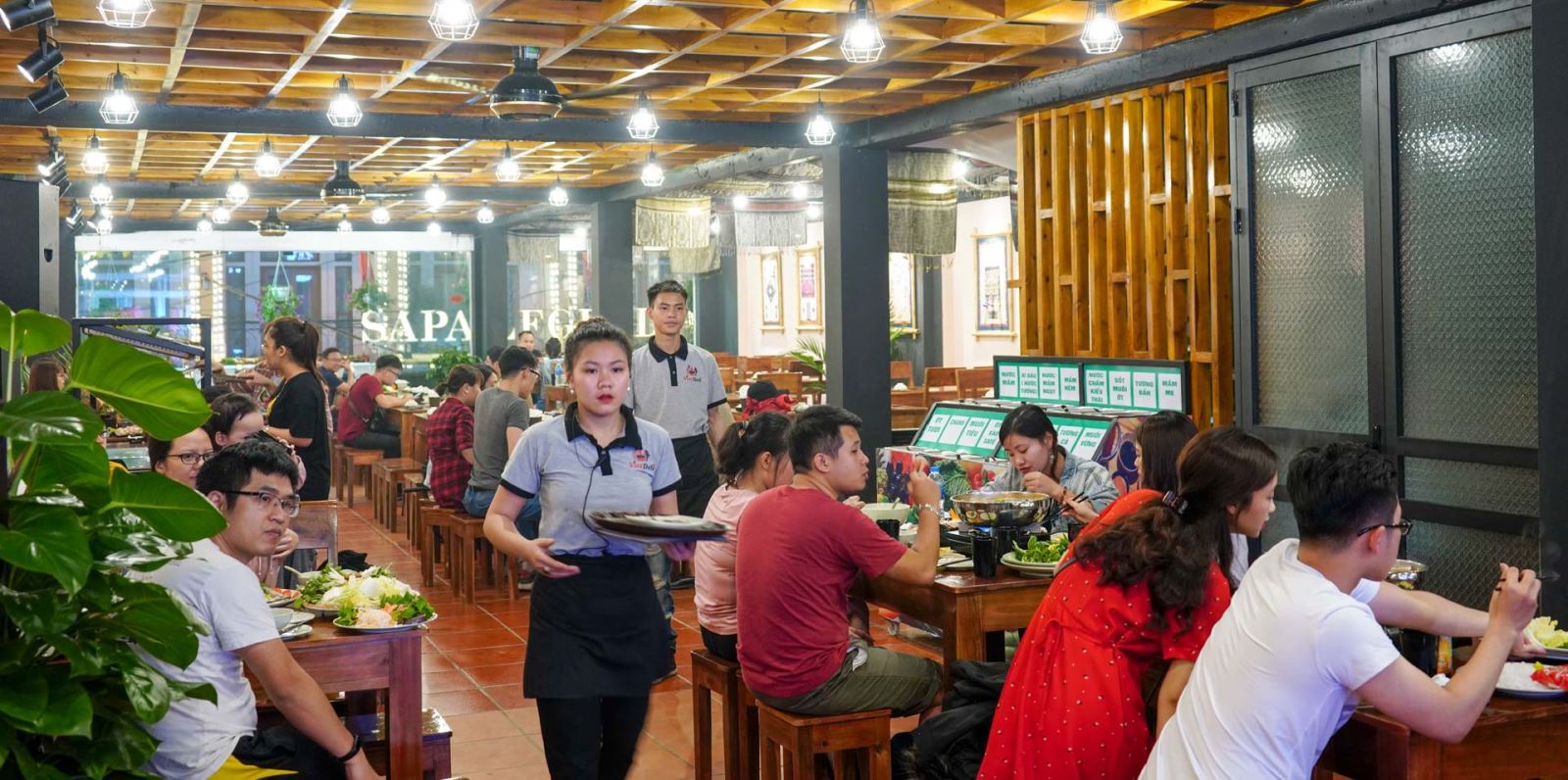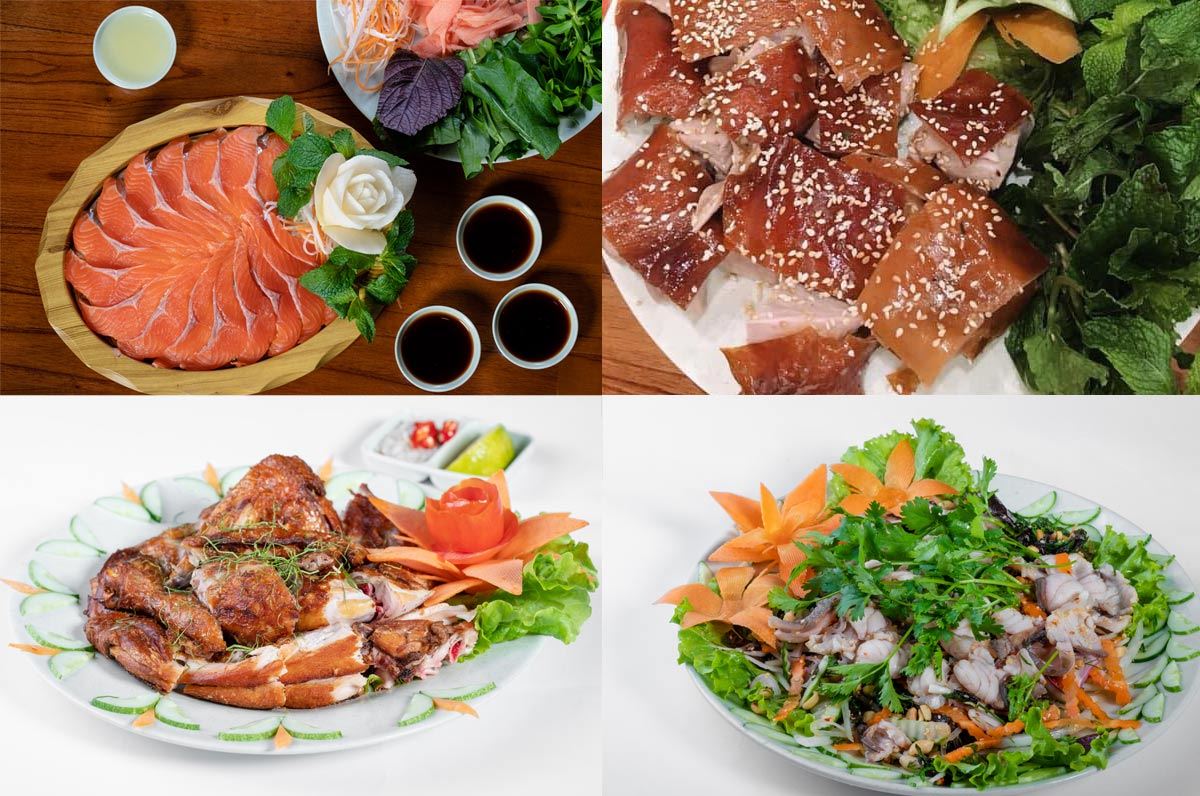 Cozy spacious space, diverse menu with 200 dishes for diners to enjoy. Photo: Vietdeli.com
8. Le Sapa Restaurant
Located in the center of town, polite space, delicious food, reasonable prices make Le Sapa become a delicious Sapa tourist restaurant chosen by many tourists.
Outstanding delicacies here include Bac Ha pho and handmade noodle soup of H'Mong people.
Noodle soup is made from red rice combined with soak rice for no less than 36 hours. The pho cake is fluffy, chewy, rich and has a fancy pinkish-red color. The broth is cooked from indigenous ingredients in Sapa, adding lemongrass, anise, cinnamon to bring up the seductive scent. Pho is often used with native chicken, which is a native breed of chicken raised in the wild, with firm, sweet meat fiber, and crispy skin.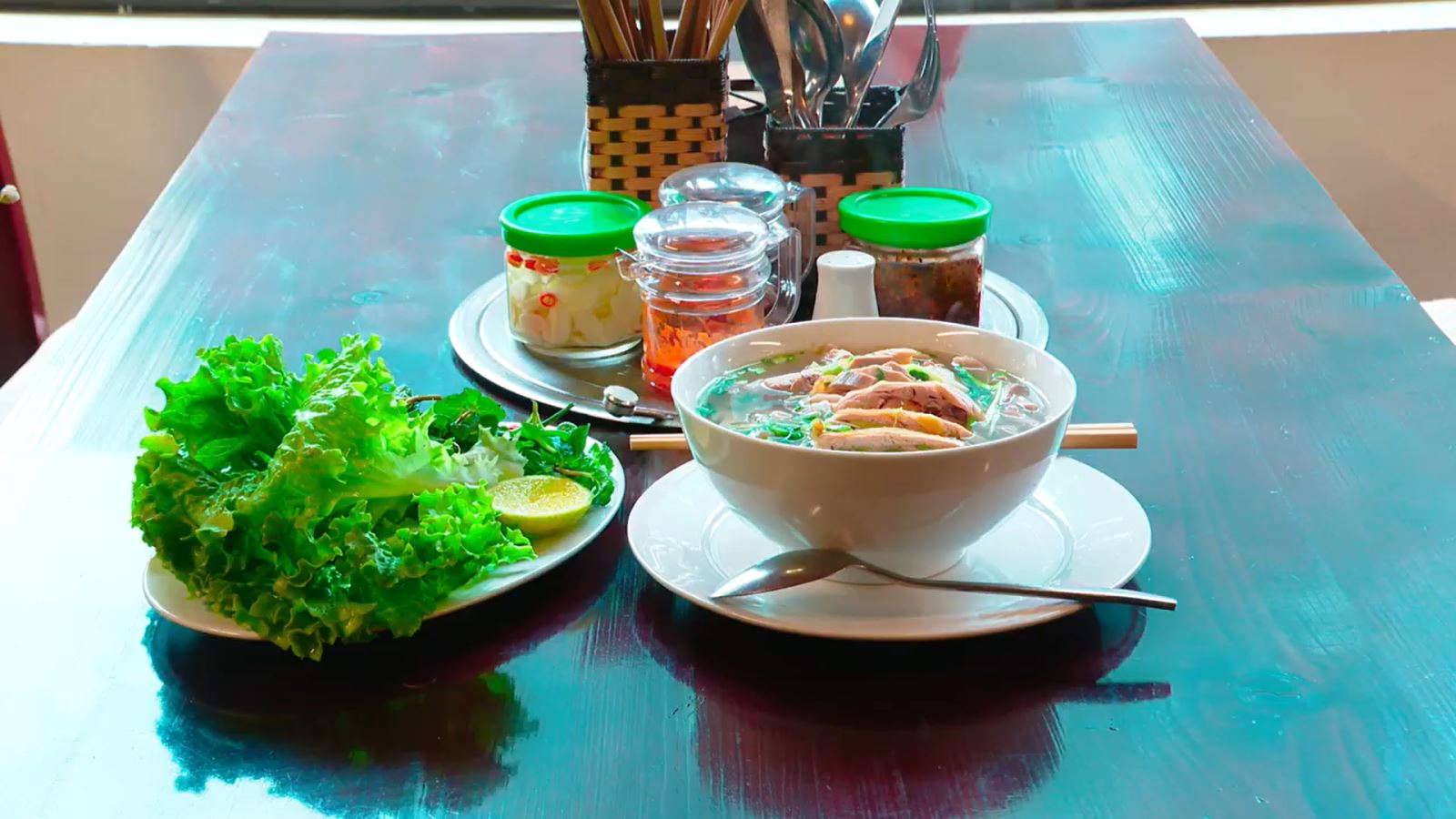 LE Sapa luxury restaurant is famous for its unique handmade pho yarn of the H'Mong people in Le Sapa. Photo: FB LE restaurant
9. Sapa Moment Romantic Restaurant
Sapa Moment Romantic Restaurant offers diners an unforgettable experience with a unique menu and a full range of delicious dishes of the Northwest.
Coming to Sapa Moment, the "must-taste" dish is the list of salmon hot pot dishes, sturgeon hot pot with the highlight of the ultimate broth with its own recipe. Another plus point that makes this place loved by many guests is the cozy, polite, clean space and the extremely attentive and dedicated service of the staff.
If you have the opportunity, you should definitely stop by once to enjoy hot pot with special broth here.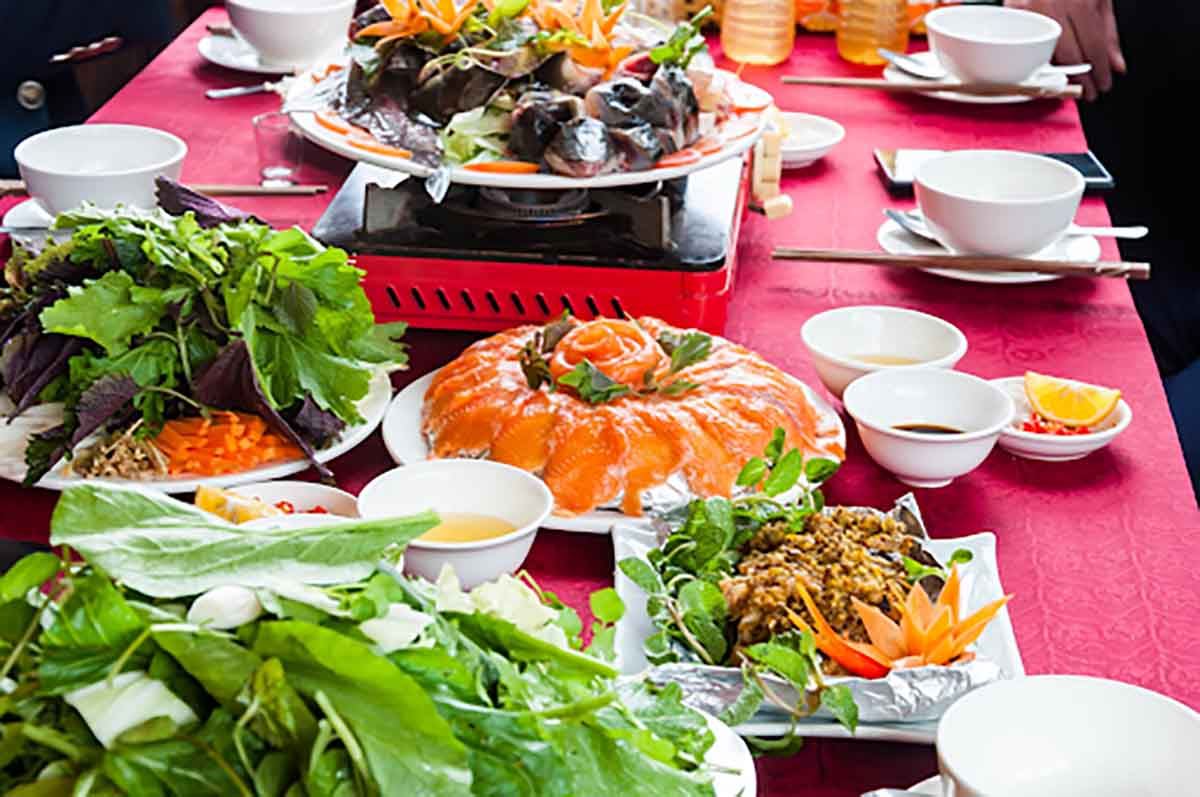 Delicious restaurant traveling to Sapa - Sapa Moment Romantic. Photo: onedanang.vn
10. Hai Lam Restaurant
Hai Lam restaurant specializes in rice and drinks in Sapa town center.
The "delicious and aching armpit" dish must be mentioned grilled chicken with green pepper, burnt garlic and green pepper ... There are also dishes such as grilled spring fish, Northwest chicken mother, salmon hotpot, sturgeon processed in Northwest style. Besides, the cozy restaurant space, beautiful view, will definitely help you and your family have unforgettable times in Sa Pa.
Restaurant information:
Address: 72 Luong Dinh's, TT. Sa Pa, Sa Pa, Lao Cai
Opening hours: 08:00 - 22:30
Phone number: 093 424 66 96
Pricing: 30.000 – 300.000 VND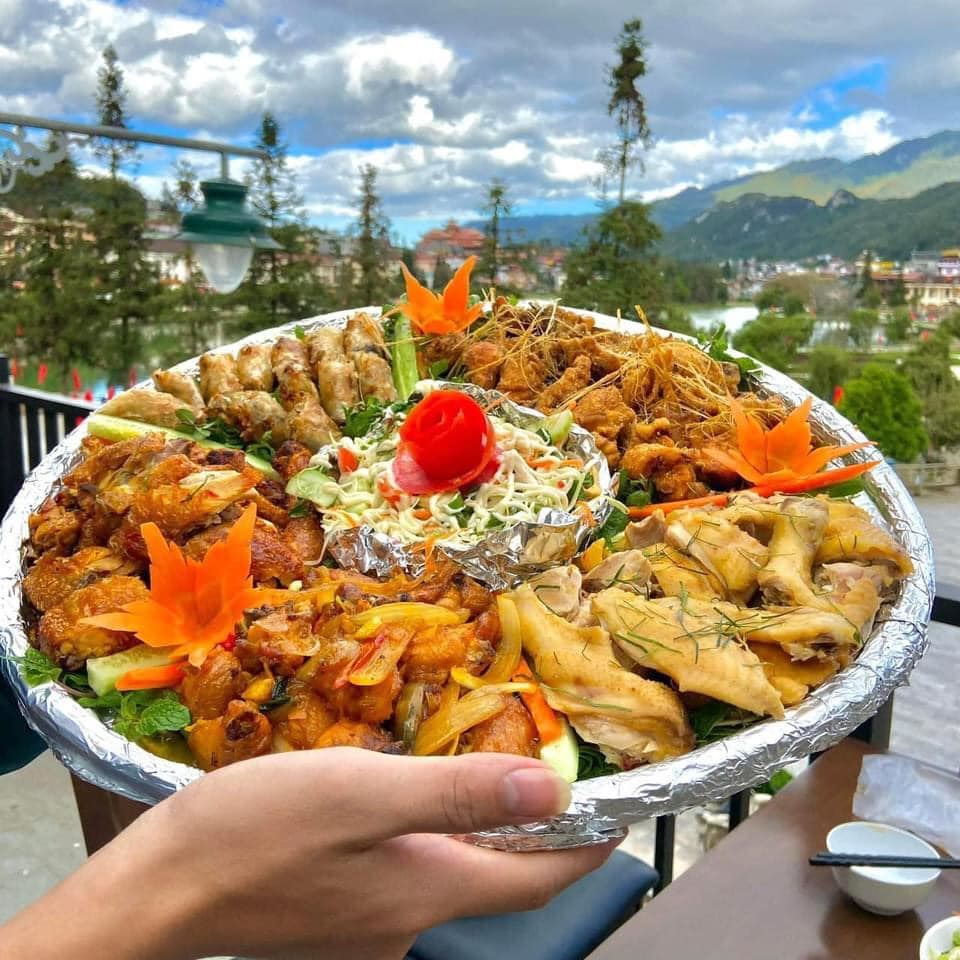 Hai Lam restaurant is famous for its grilled chicken with green pepper. Photo: FB Hai Lam Restaurant
Sapa cuisine as well as the nature of heaven and earth here is a mark that many people who go to Sapa once remember forever. Hopefully, the 10 delicious restaurants in Sapa that Migo shared above will help you have more options to enjoy Sapa cuisine to the fullest.
If you still have any concerns or need more advice about the schedule or places to eat in Sapa, leave a comment immediately under the article or contact Migo for the fastest advice!