I know she asked a close friend for a recommendation, but not through Hong Kong Noodle Mix, but because she needed tutoring for two young children at home. In October 2020, we met as parents and teachers. I'm a serious person at work, rarely talk about things on the sidelines, maybe that's why I don't know what she does, nor do I intend to ask too much about my personal life. All I know is that she has a mixed noodle shop, and her family is Cantonese.
Until 3 months later, thanks to the exchange of the two children's learning situation, we gradually became closer. At that time, I found out that Sister's noodle shop was near my house., I also intended to come a few times, but because I was too busy, I did not have the opportunity. With the Lunar New Year just around the corner, I vividly remember that it was 26 Tet – the last day my shop opened in the previous year – and my family visited the shop after many failed appointments.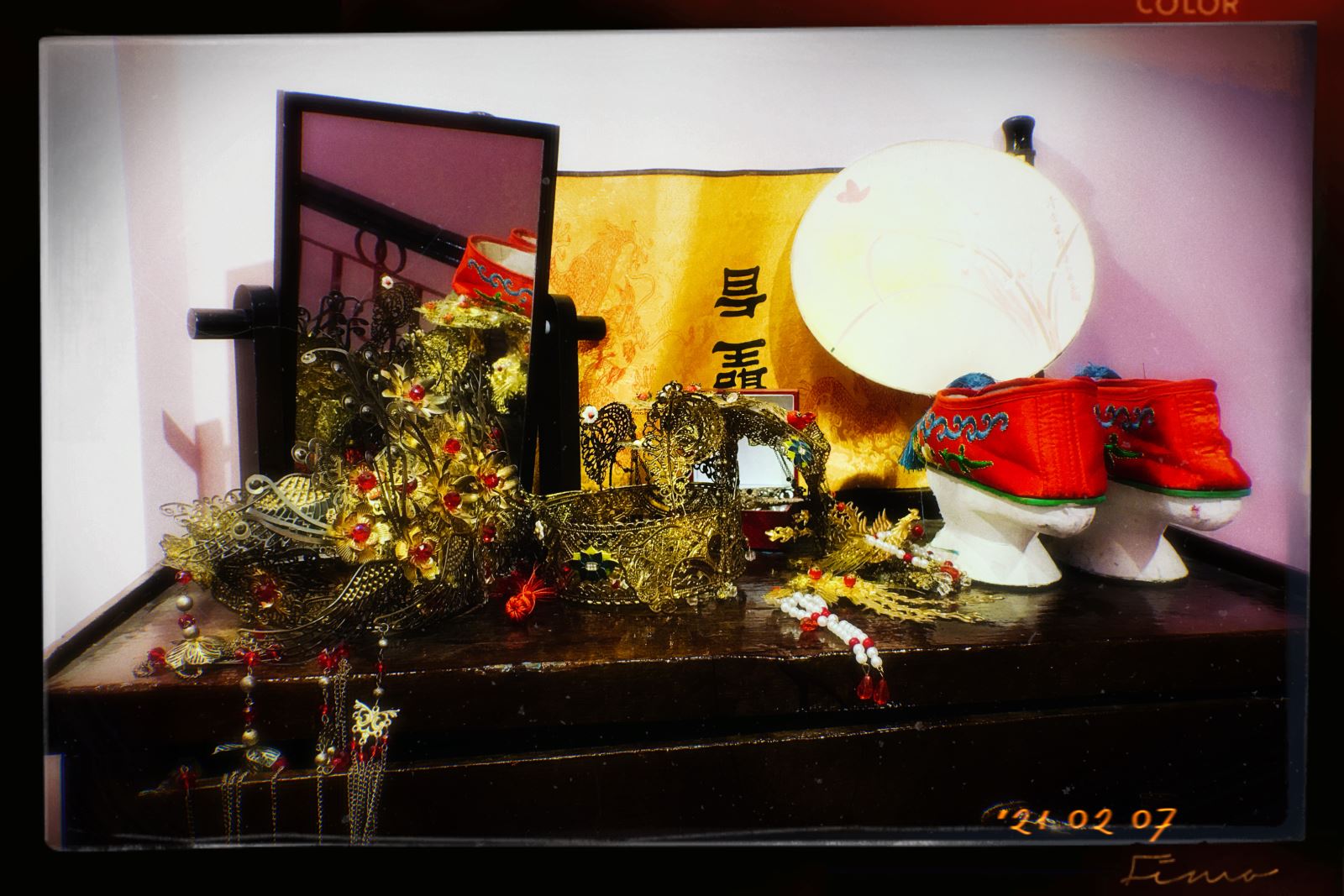 Their stylish items
In front of us is a truly "Hong Kong" space., She confessed, all the large and small items in the shop, from the table, the chair, to the drawings on the wall or the decorations, are meticulously selected by one hand. She told me, in the past, she had a small cart of mixed noodles sold in front of the elementary school., This noodle shop is her heart, so she wanted it to be very polished.
The main ingredients that make up the rich flavor of the dishes here are completely imported from abroad. Therefore, although it is just a very familiar mixed noodle dish, it has a taste that is difficult to confuse with any noodle shop we have ever tasted. When we first came to the restaurant, she suggested that we try "Chicken noodles mixed with char siu" - one of the best-selling dishes. The chewy noodles are mixed well with the esoteric sauce, the tender charred meat melts in the mouth is delicately marinated, all blended together to make a wonderful noodle dish.
Pork skin and crispy squid often appear in Chinese dishes, combining fried wontons with a crunchy dough coat, their famous char siu and boiled wontons. All, blended in a bowl of water noodles is very full, not superfluous, not lacking.
Their signature dishes
The space here is an extremely big plus for young people who love culture and love beautiful angles. I felt like I was really eating a family reunion meal in a cozy space right here in Hong Kong, because the design and delicate decorations are placed at the right angle, in the right place and aesthetically pleasing.
That time, my mother said, "SPhai soon found out about this restaurant, my family didn't need to go outside District 5 to eat well!" That's right, because you've got all your heart in here. She said that to get a "shop" like this, she had to spend a lot of effort and money., And the result, but when she saw the results, she really felt that what she spent was completely worth it. Especially, for recipes, Sister took it upon herself to experiment with recipes to get the wonderful guest delicacies that I enjoy today.
The small corners of Hong Kong in the shop.
My family had a fun dinner together, right in this beautiful space, chatting and enjoying delicious food right on the eve of New Year's Eve. And you, what are you waiting for without giving yourself and your family an appointment this Mid-Autumn Festival?
HONG KONG MIXED NOODLES
Address : 351/42 Le Van Sy, Ward 13, District 3
Telephone: 0935357520
Opening hours: T2~T6 : 10h~22h30
T7~CN : 8h ~ 22h30
Facebook: https://www.facebook.com/Mitronhuynhgia
Instagram: https://www.instagram.com/mi_hong_kong/
My Dieu