On Sundays, there are people who like to sleep in until noon, go on early morning coffee dates or go shopping in the mall. Those plans are all great. Saigon is crowded, bustling, noisy. But if you plan wisely, you will have slow, peaceful days in this city.
Yoga Pod - Awaken both body and mind
Waking up at 6am may seem a little early but worth it, because you will feel very quiet around. There was still a car horn somewhere, but not loudly. There was still the sound of neighbors talking back and forth, but not skimming. Brush your teeth, wash your face, change your clothes and finish your coffee around 7:00 a.m. Go to yoga to wake up both body and mind!
When it comes to yoga spots in Saigon, the most popular place is Yoga Pod, a studio located in the middle of a green garden. Close your eyes, breathe and feel the smell of grass entering your chest. What could be more relaxing than that?
Sunday morning, the Yoga pod has two shifts. The first shift is from 7:30 to 8:30, the instructor speaks English. In the second shift from 9h00 to 10h, the lecturer speaks both English and Vietnamese. Revealed, both of these classes are suitable for beginners so you do not worry about difficult exercises. If you want to try to feel if Yoga Pod is the most suitable studio for you or not, you should practice in individual sessions for 300,000 VND per session. In case you and your friends and relatives prefer privacy, the Yoga Pod also has a personal class.
Please register your schedule in advance with Yoga Pod, give at least two hours' notice if you cancel your class and do not arrive more than 5 minutes late. Don't forget to turn off your phone to enjoy a sense of peace, away from all markets and worries. For an hour, listen to your body and mind. Inhale deeply, exhale deeply and regain balance after a hard week.
Address: 28 Thao Dien Street, Thao Dien, District 2, Ho Chi Minh City
Website: https://www.yogapodsaigon.com/
Unlimited training packages range from 1,650,000 VND per month to 7,500,000 VND six months. The course package costs from 1,000,000 VND 5 sessions to 3,300,000 VND 20 sessions.
These plans all have flexible renewal policies.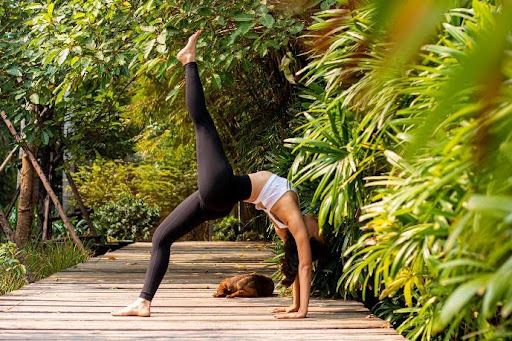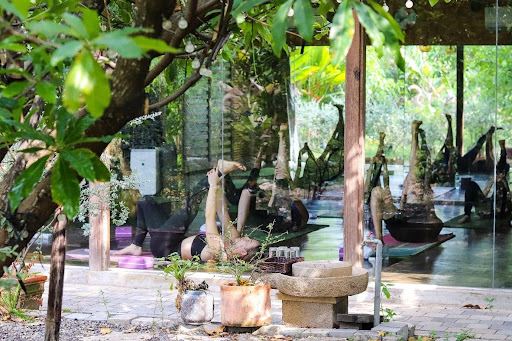 Photo: Yoga Pod
Kashew Cheese – Plant-Based Lunch
After an hour of yoga, the next stop will be Kashew Cheese. This is a vegan restaurant, especially with cashew cheese dishes that you cannot find anywhere else in Vietnam. Kashew's menu is varied, from sandwiches, panini, salads to cheese.
If you want to enjoy pure plant-based cheeses - Kashew's "specialty", please order Kashew cheese box priced at 250,000 VND for small box with 3 types of cheese for 1-2 people or 450,000 VND for large box with 5-6 types of cheese for 3-4 people. You can also buy cheese to eat at home.
If you are hungry, try sandwiches with prices from 95,000 to 155,000 VND. To eat lightly, choose salad. Kashew has two salads priced at VND 150,000 and VND 180,000 respectively. In addition, Kashew sells plant-based desserts and coffee, ensuring you'll have a healthy, light meal while staying full.
Vegetarianism is not only good for the digestive system, chestnut skin but also a way to protect the environment. You don't have to be vegan, but whenever the opportunity arises, try veganism. Especially when Saigon has many delicious vegetarian dishes, it is even more reason to try.
Address: 14 Tran Ngoc Dien, Thao Dien, District 2, Ho Chi Minh City
Opening hours: 7 a.m. to 9 p.m.
Website: https://www.kashewcheese.com/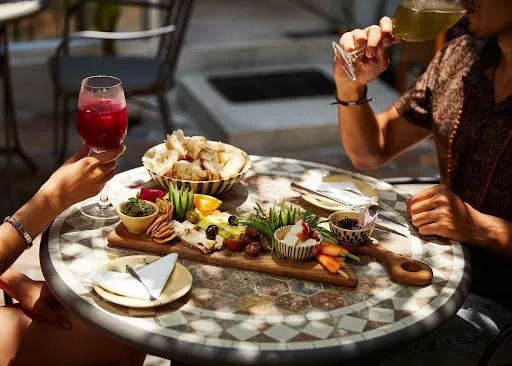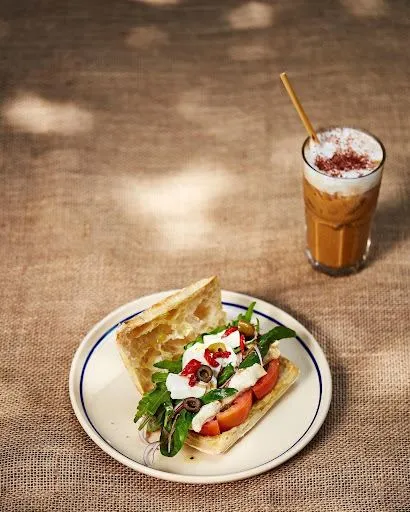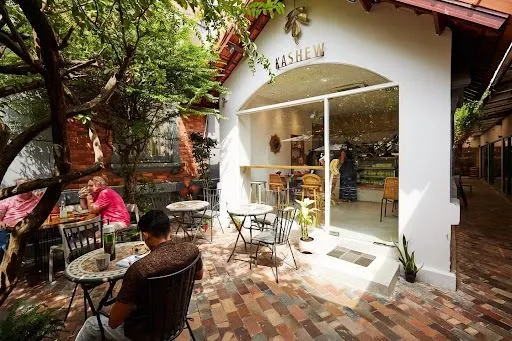 Photo: Kashew
Come Here Refill Station - A stop for green souls
After a leisurely lunch, I continued my slow and green Sunday by stopping by Refill Station. Also in Thao Dien, Lai Here Refill Station "is a stop for friends interested in a green, sustainable and environmentally friendly lifestyle", co-founded by Helly Tong.
The station has a refill service, i.e. filling and filling the store's products into customers' available containers. You just need to bring the bottle from home, then get just enough products you need and pay, both saving packaging costs and contributing to reducing waste.
Wait for the jar to be full, take advantage of meditation too. No need to find a quiet place to sit, you can meditate anywhere. Watch the water flow down, inhale deeply, exhale deeply, feel yourself in that moment. So, it's meditation already.
Revealing more, Lai Here just moved from 83 Xuan Thuy, District 2 to 47/1 Quoc Huong in March. The space is 60 m2, double the previous time with a very beautiful design. In addition to the refill and reuse areas, the new station also has a library area, second-hand pickup and information corner to share addresses for a sustainable, low-waste lifestyle, so give it a try.
Address:
47/1 Quoc Huong, Thao Dien Ward, District 2, HCMC (9AM-9PM)
100 Ha Huy Tap Street, Tan Phong Ward, District 7, HCMC (9AM-8PM)
59 Ngo Tat To Street, Ward 21, Binh Thanh District, HCMC (9AM-9PM)
Website: https://www.laidayrefill.com/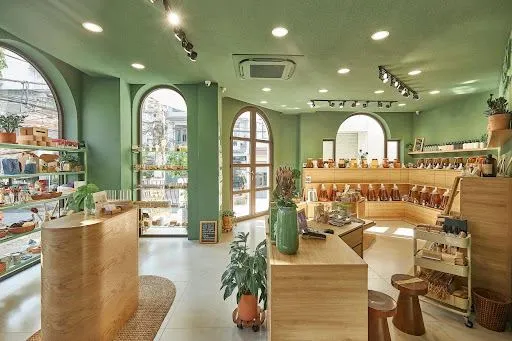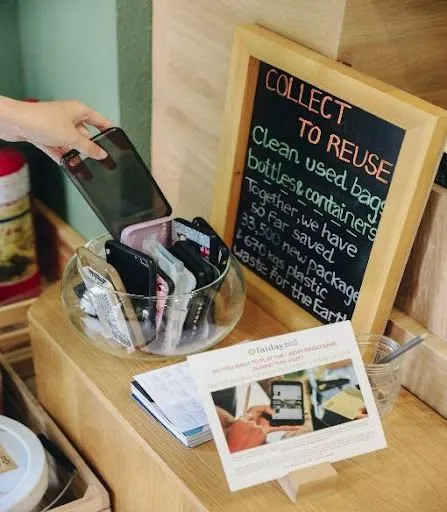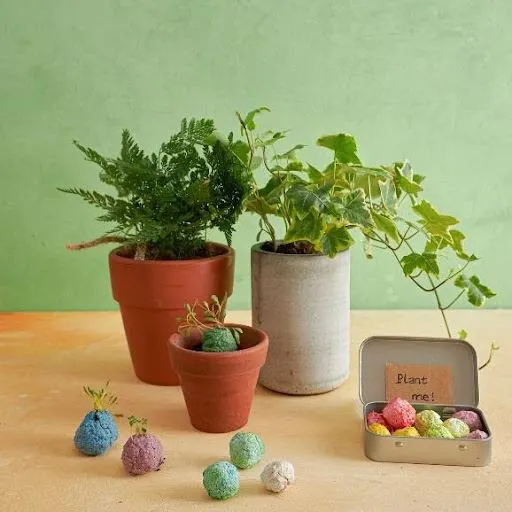 Photo: Come Here Refill Station Quoc Huong
Noir.Spa - Pamper yourself with herbs and essential oils
Leave This was almost late afternoon. And there's probably nothing more slower to end a Sunday than a spa session.
Entering the old French colonial house filled with green patches and fragrant with herbal essential oils, you will immediately feel relieved and ready to put all worries behind the door.
You can choose the signature massage of the salon for 650,000 VND for 1 hour 30 minutes or try hot stone massage for 450,000 VND for 1 hour. Noir.Spa also has its own massage for the feet, ranging from 200,000 to 350,000 VND and herbal baths too.
If you want to "enjoy" to the fullest, take a herbal bath first and then massage your whole body, you can pay an additional 300,000 VND to book a private room to enjoy the quiet space that completely belongs to you. The staff at Noir.Spa are visually impaired but very skilled, enough to "fly" the pain in the neck - shoulder - neck or anywhere else.
Address: 178B Hai Ba Trung Street, Da Kao Street, District 1, Ho Chi Minh City
Website: https://www.noirdininginthedark.com/vi/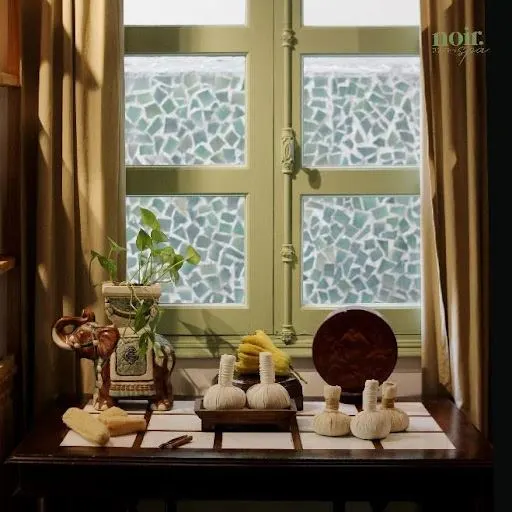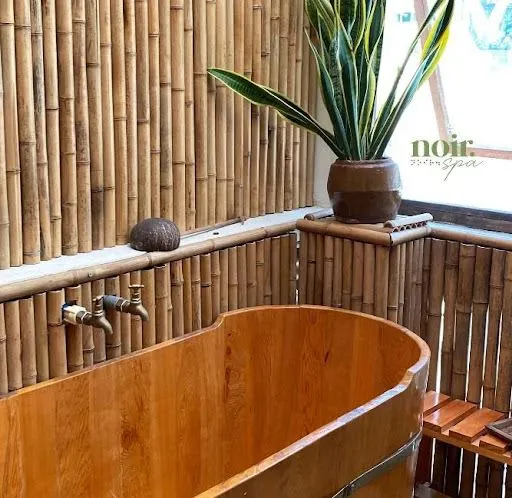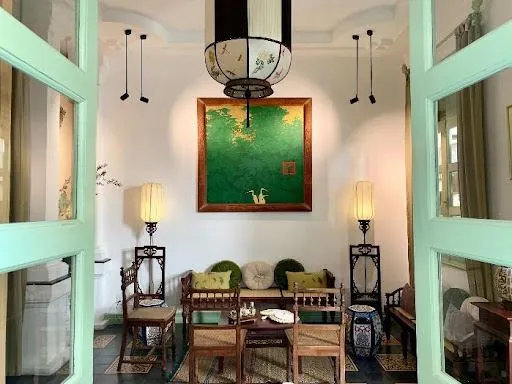 The massage ended Sunday peacefully and serenely. After a busy week, maybe everyone needs a slow, green day like that. A day to yourself, to balance and find yourself, ready for a challenging new week ahead.