Besides the majestic and poetic natural scenery, Sapa is also a northwest food paradise. With delicious - poisonous - strange dishes, you must definitely enjoy the top 10 delicious dishes of Sapa when coming here.
Salmon – Salad, Salmon Hotpot
With a temperate climate, salmon are successfully raised in Sapa. Unlike imported salmon, the fish in Sapa is firm, beautiful pink, low in fat, high nutritional value. Highlights here are the dishes of salmon salad, salmon hotpot, grilled salmon ...
Address:
- Hoa Phuong – Trade Union Step Street, Unit 7C, Ham Dragon, Sapa, Lao Cai.
- A Phu Restaurant – 15 Fansipan, Sapa, Lao Cai.
- Cherry Blossom – No. 48 Le Van Tám, Sapa
- Silver Falls Restaurant – km12 of Silver Falls tourist area, Sapa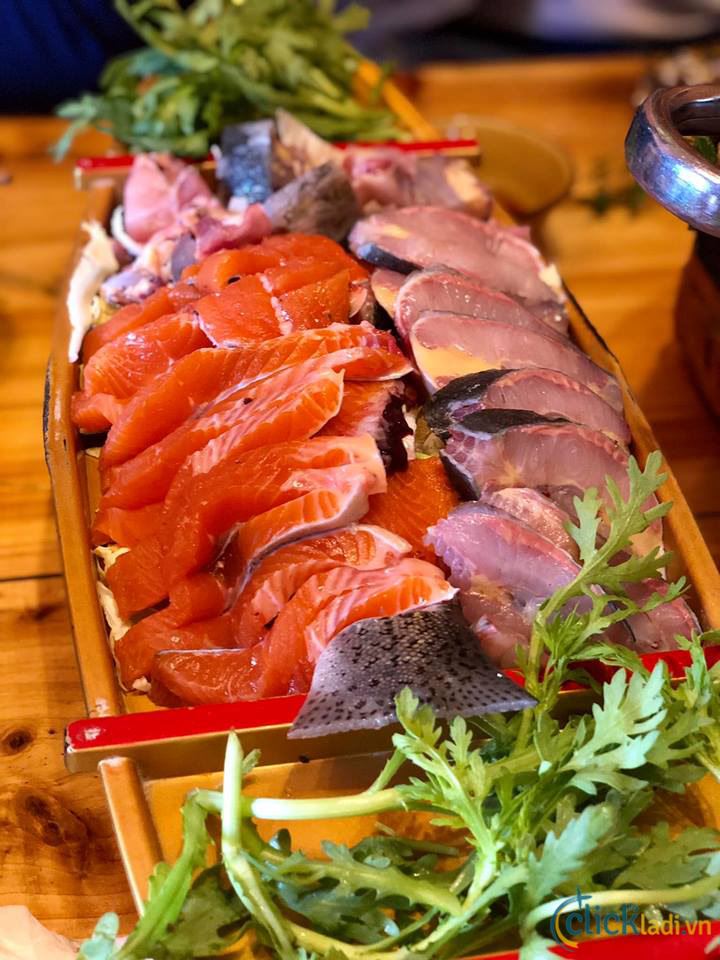 Buffalo meat guard kitchen
Coming to Sapa, buffalo meat in the kitchen is a dish not to be missed. This is a dish with a northwest highlands dish, the meat on the outside is dark brown but torn inside is natural red. Chewy, sweet meat blended with the pungent bit of ginger pepper and the smell of smoke and rock wood is very well-organized. The selected pieces of meat are usually tenderloin, shoulder muscles, the back of the buffalo. The price of a kilogram of buffalo meat in Sapa ranges from 800,000 - 1,000,000 VND.
Address: King of Buffalo Meat A Páo – No. 26 Dong Loi – Sapa Town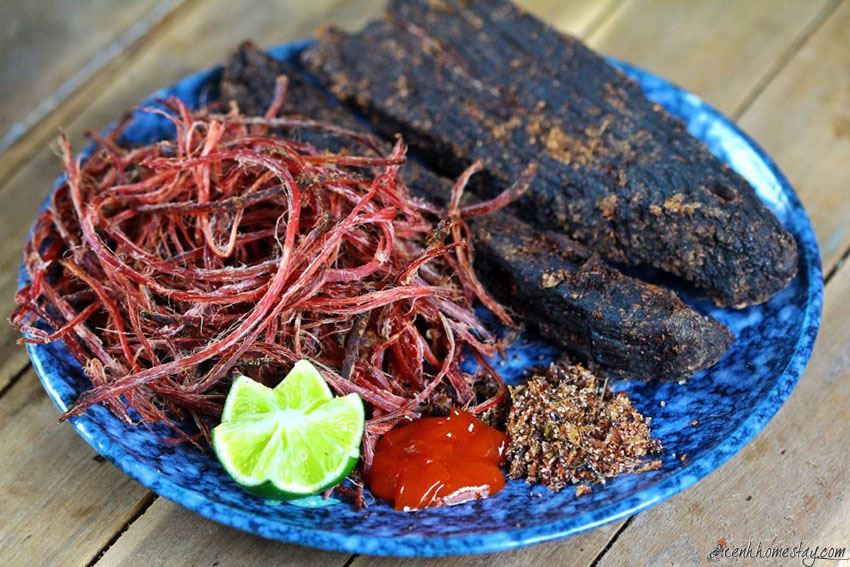 Blue rice
Blue rice is a typical dish of ethnic minorities in the Northwest, the blue rice dish is prepared with the main ingredient is glutinous rice. The rice is baked in the bamboo tube, when ripe, we just need to split the burnt bamboo shell, leaving the thin bamboo lama that fits the peeler's hand to eat. In Sapa, from restaurants, hotels to roadside restaurants all serve this unique dish. Blue rice smells of sticky rice, the gentle aroma of bamboo. All blend to create a delicious dish, attractive to visitors when traveling to Sapa.
Address: Cau May Street, Sapa, Lao Cai.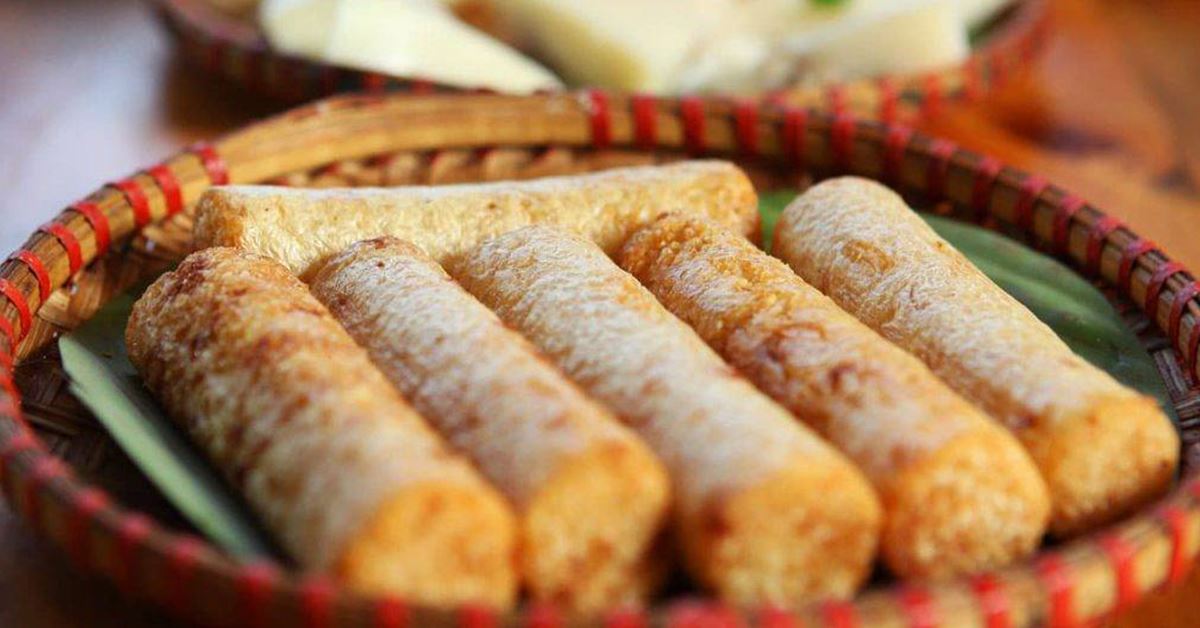 Baked goods
The cold weather in Sapa is the ideal place for you to enjoy baked goods. Anyone traveling to Sapa does not miss this delicious Sapa dish. Besides the familiar dishes such as sweet potatoes, chicken eggs, chicken wings, you can easily find some dishes rich in northwest identity such as: beef rolls, grilled spring fish, grilled eggs, salmon rolls, skewered pork, three grilled pork threads, quails ...
Address:
- Cau May Street, Sapa, Lao Cai.
- Hoa Tra Quan – 17 Cau May, Sapa, Lao Cai.
- Snack area – No. 1, Ham Dragon ward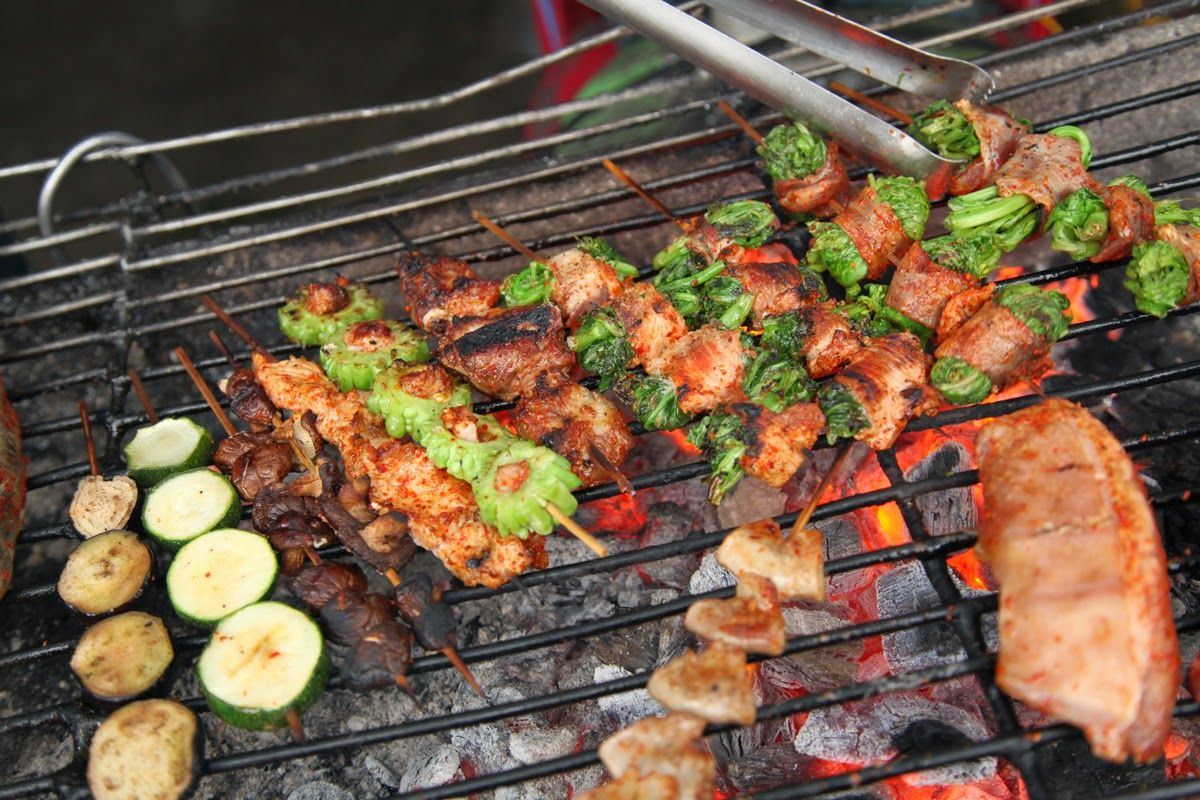 Seven-color raspberries
The seven-color raspberries of Sapa are a special dish with the culture of the Nung people. The deliciousness of this dish is distilled from the natural ingredients themselves. The 7 colors of raspberries include bright red, crimson, brown, kowloon, banana green, yellow-yellow and yellow like a rainbow of all colors in the rich Sapa cuisine.
Address:
- Anh Dung – 06 Xuan Vien Street, Sapa
- Peach Blossom – 8 Le Van Tám, Sapa
- Sapa Cuisine – No. 535, Victoria Hotel Lane, Xuan Vien Street, Sapa Town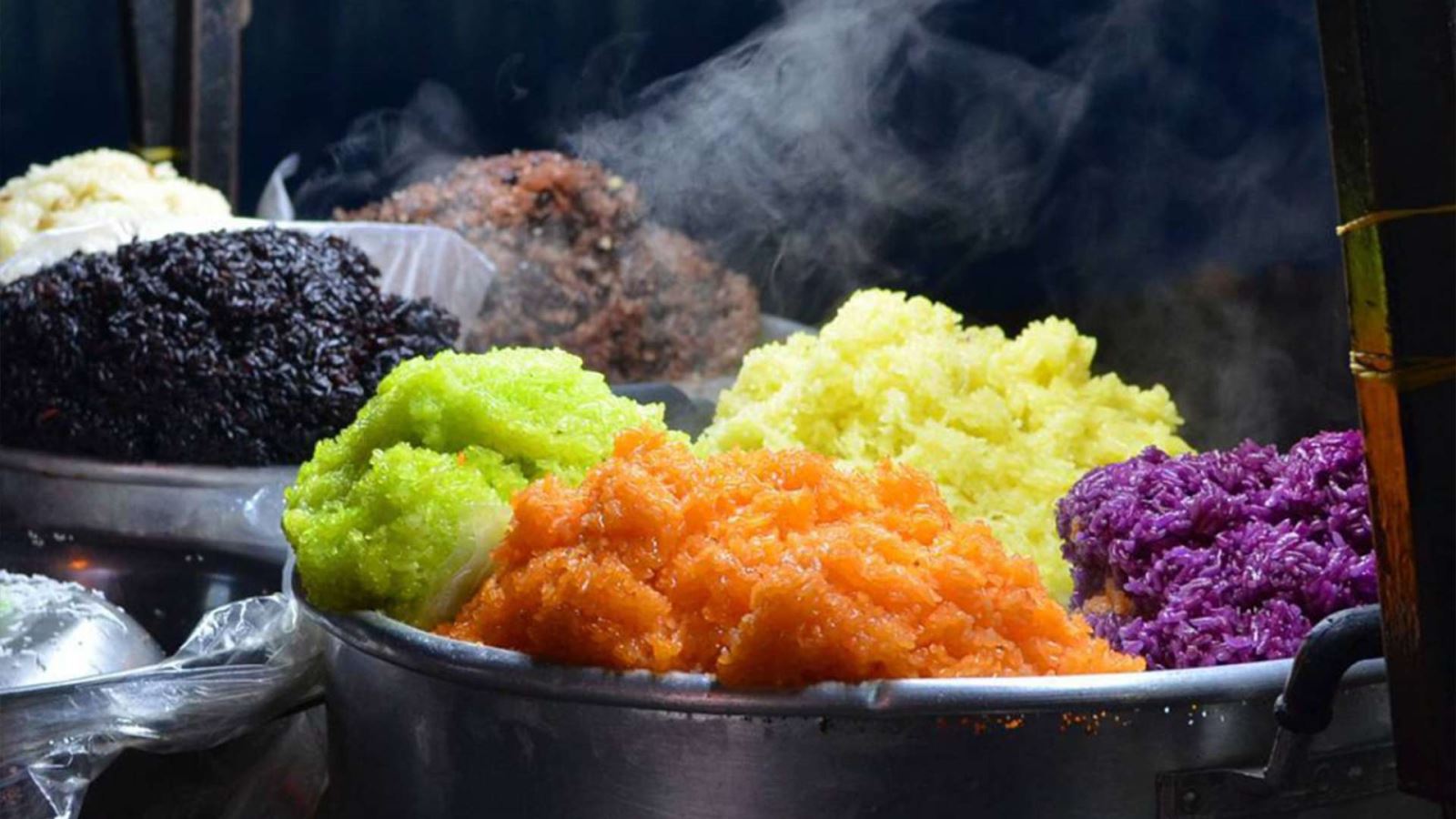 Sapa Black Chicken
Sapa black chicken is also known as evil chicken - another characteristic dish of the Mong people. The chicken is fragrant, the skin is crispy, sweet. On average, a black chicken here weighs about 1.5kg. Grilled black chicken is often served with lemon pepper salt and mint leaves. When eating you will feel the meat of the chicken is very sweet and soft. Don't forget to try this delicious Sapa, your trip will be more perfect than ever.
Address:
- Do Quyen Restaurant – Fansipan Peak, Sapa
- Red Dao – 4B Silver Falls, Sapa
- Hoang Minh Restaurant – No. 23-24, Sapa Food Court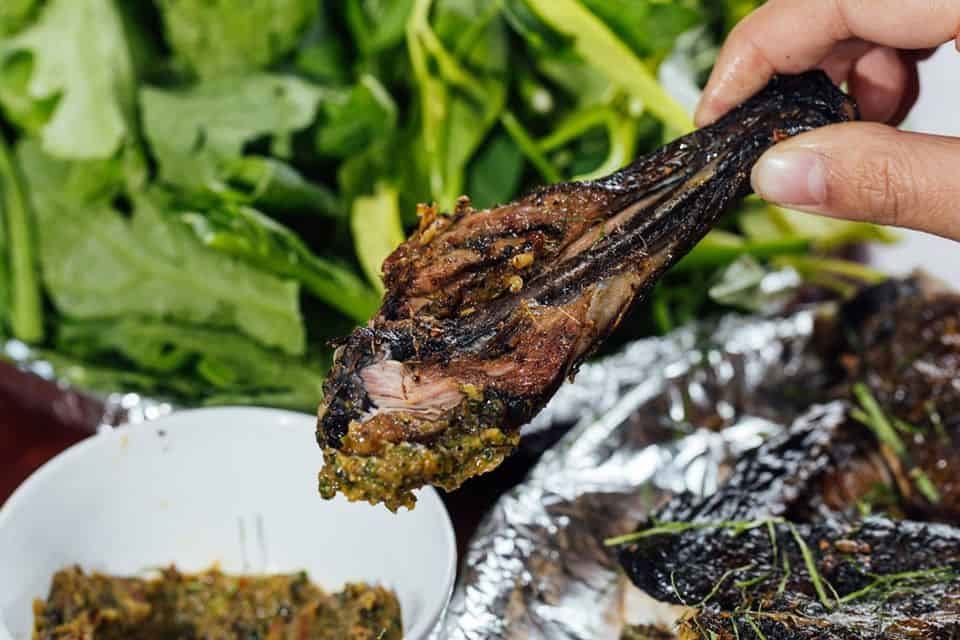 Victory of Sapa
Thang Try is known as the "unique specialty" of Sapa. But a lot of tourists expressed their love for this delicious Sapa dish. It is a type of specialty of the Mong people, often appearing in villages, markets. The main ingredients for the dish are meat, bones, secretions and internal organs (including heart, medal, heart, lungs, stomach and horse secretion) combined with nearly 20 herbs (cardamom, anise, cinnamon chi, lemongrass, ginger) and many other special spices. When eating, people will scoop the broth into the hot pot, slice the horse meat and drop it in. You must drink with corn wine. This will definitely be an unforgettable experience for you when coming to Sapa.
Address: Mr. Quynh – 15 Thach Son Street, Sapa, Lao Cai.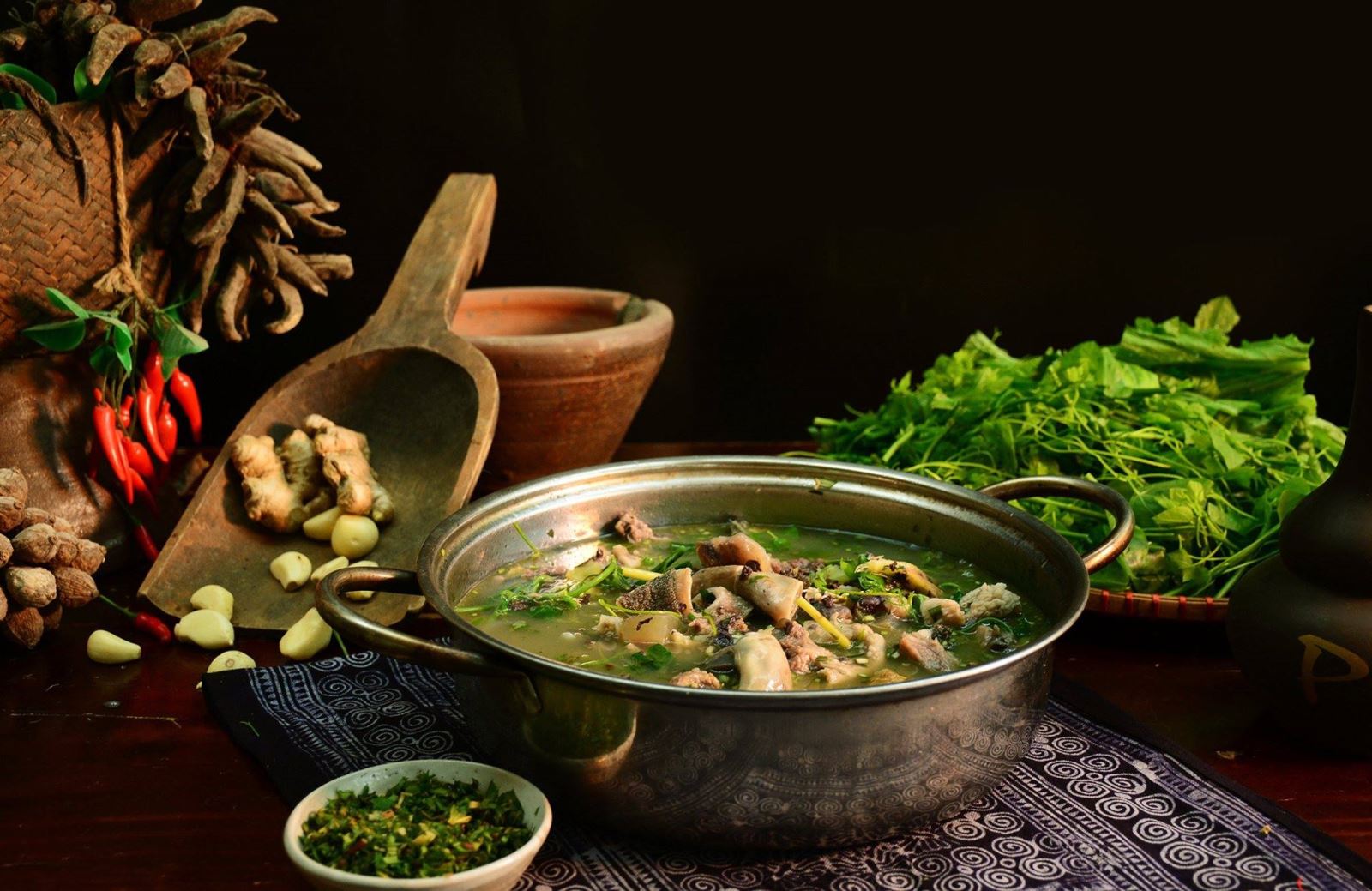 Pork steals armpits
Pork armpit theft is a speciality with the taste of Sapa. The name "pigs steal armpits" is derived from the fact that local people carry pigs to steal black armpits sold at markets. This pig has fragrant meat, they are released and feed themselves on the mountain slopes. Pork armpit theft is very famous in Sapa and is used to prepare many special dishes. The price of pigs is about 100,000 - 200,000 VND / kg. They are sold at the markets in Sapa to serve visitors.
Address:
- Dung Buffalo Restaurant – 85 Xuan Vien Street, Sapa, Lao Cai
- Dong Dong Flower – 29 May Bridge, Sapa
- Restaurant A Phu – 15 Fansipan, Sapa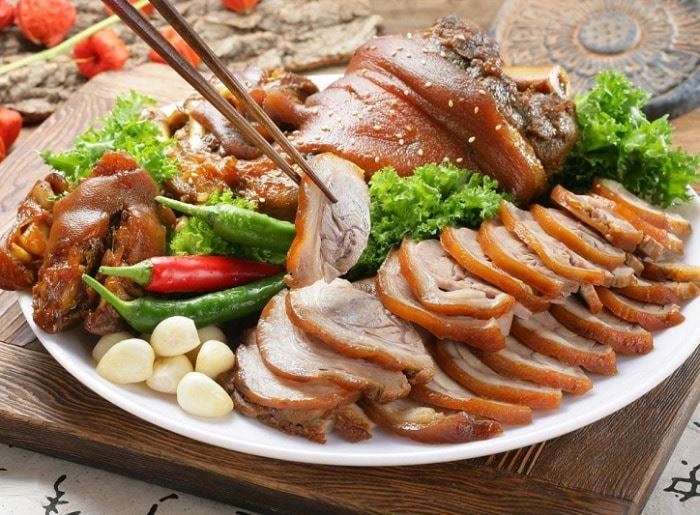 Article and photo by Sapa Guider