1. Notre Dame Cathedral
Located right in the heart of District 1 (Ho Chi Minh City). HCMC), Notre Dame Cathedral stands out with ancient French architecture, spacious space, full of sacred features from outside to inside the cathedral.
Over 140 years of history, this place is considered the oldest church and is known as "one of the 4 Basilicas" in Vietnam, attracting a large number of visitors to visit when coming to magnificent Saigon. Notre Dame Cathedral is not only an artistic architecture but also a historical witness, witnessing many changes of the city. HCM for more than 1 century.
Every Christmas, Notre Dame Cathedral is decorated with countless shimmering lights and colorful pine trees, creating a cozy space and expressing reverence and gratitude to God.
Address: 01 Paris Commune, Ben Nghe Ward, District 1, Ho Chi Minh City HCM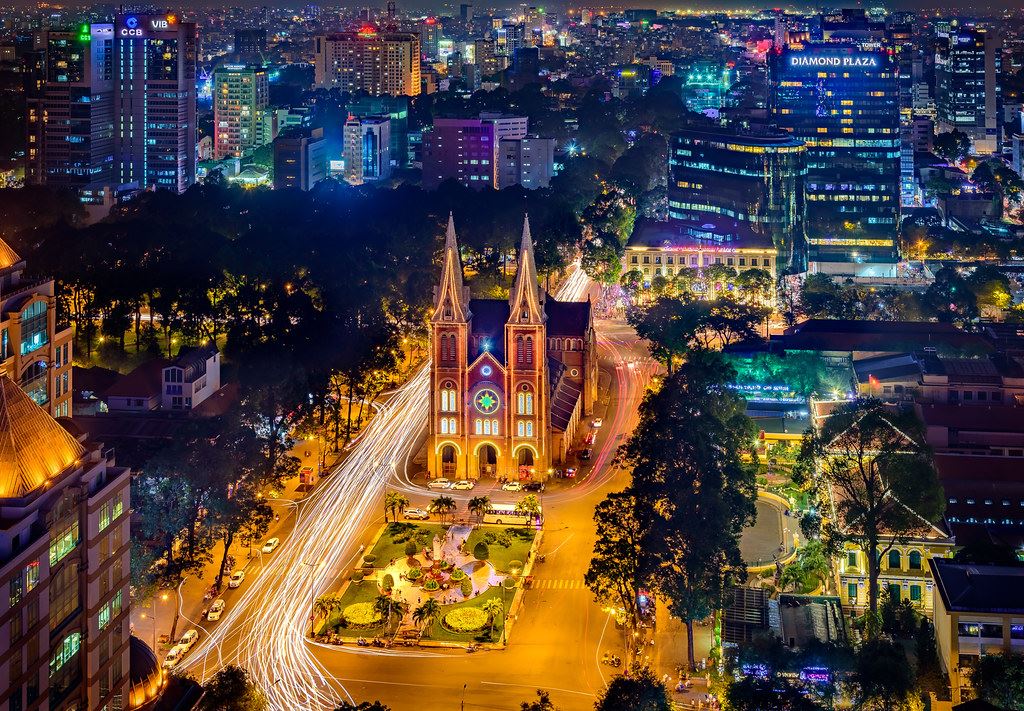 Source: Internet
2. Redemptorist Church
Redemptorist Church is a famous place in District 3 of Ho Chi Minh City. HCM. With Christmas every year, the church is invested in decoration with countless lights with pine trees, laurel ... from outside the grounds to inside the sanctuary.
The Redemptorist Church is one of the prominent places, attracting many people at Christmas each year. You can enjoy the cozy atmosphere, take photos and admire Mass with special Christmas performances.
Address: 38 Ky Dong, Ward 9, District 3, HCMC HCM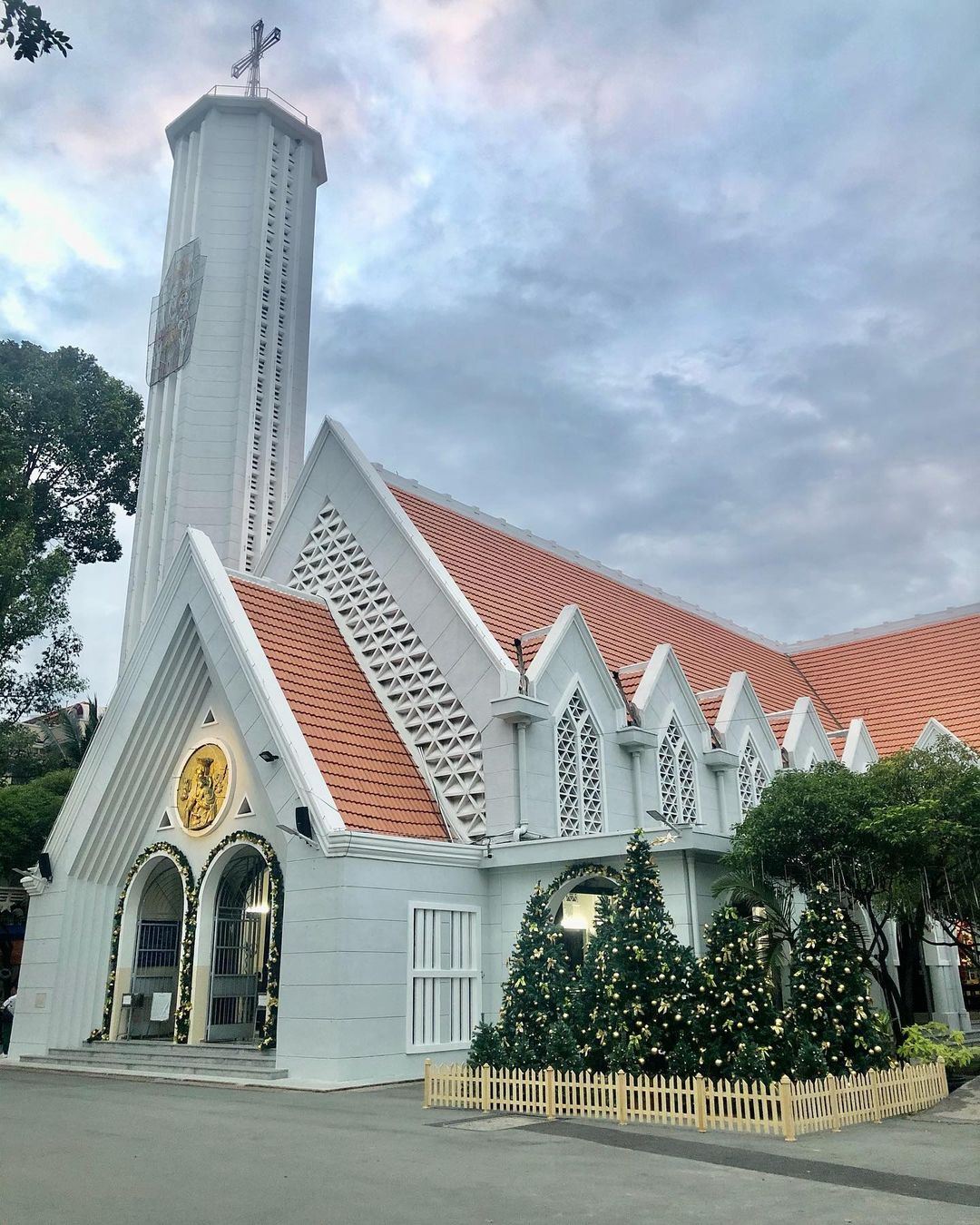 Source: IG @namthinh_213
3. Tan Dinh Church
Tan Dinh Church is the most famous and unique building in Saigon. With eye-catching pink color, this place becomes the most beautiful every Christmas season, becoming an ideal place to play and take photos for young people who like to live virtually.
During this year's Christmas season, Tan Dinh Church is decorated with many colorful lights, stone caves, pine trees and splendid laurel wreaths. In particular, the church is located in the heart of Saigon, an extremely convenient location that attracts many visitors to take photos to celebrate Christmas.
Address: 289 Hai Ba Trung Street, Ward 8, District 3, HCMC HCM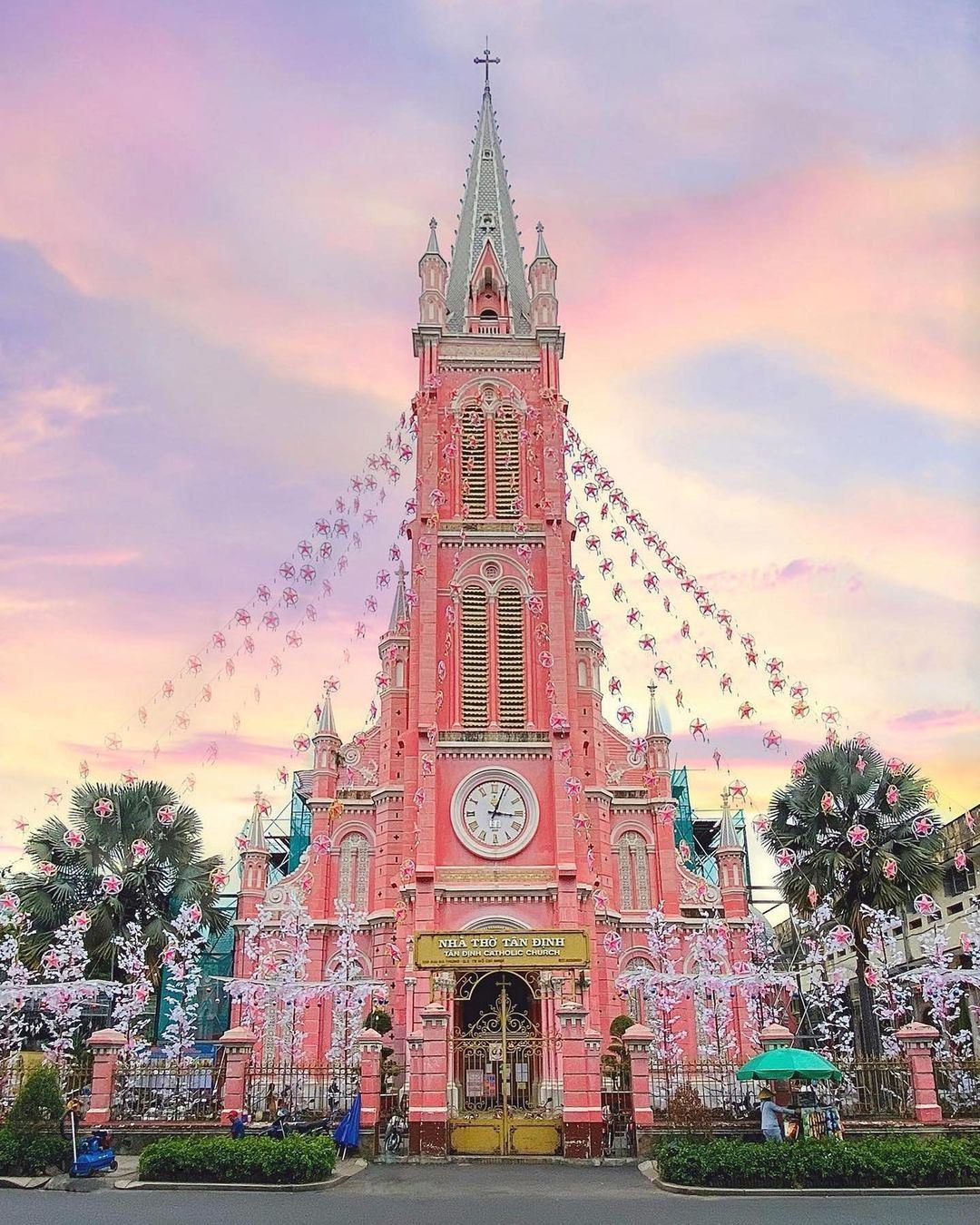 4. Hanh Thong Tay Church
Hanh Thong Tay Church is one of the oldest churches in Saigon, built in 1921 with a unique Byzantine architectural style. Looking at the church from the outside, you will see 2 parts, one side is the cathedral, the other side is the soaring pointed tower. The grounds of the church are large, planted with many cool trees.
Every Christmas, the Cathedral is decorated with grotto to welcome the birth of Christ, gathering many devotees from all over the world to admire the beauty and enjoy the cozy atmosphere that is equally sacred. Although many different ideas converge, the images and decoration give us a peaceful Christmas atmosphere and joy when remembering Jesus, Mary, holy Joseph on earth.
Address: No. 7B Quang Trung Street, Ward 11, Go Vap District, Ho Chi Minh City HCM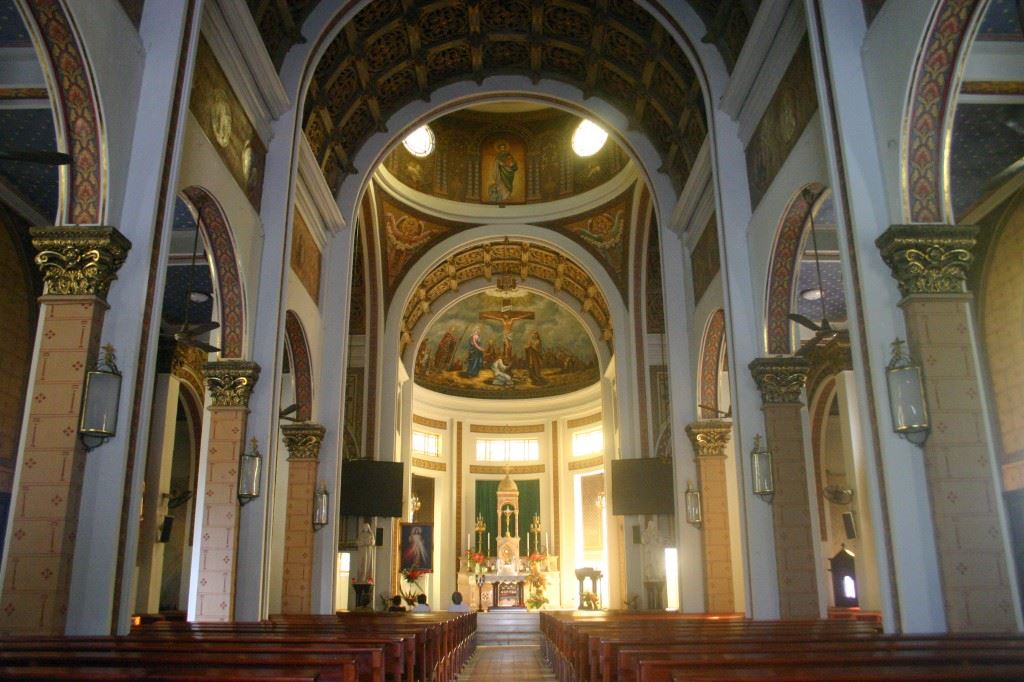 5. Cho Quan Church
Cho Quan Church is one of the ancient churches in Saigon that is very famous, with majestic architecture and fresh natural scenery. The highlight of the church is the bell tower with 3 floors with pointed domes.
This is also a place for splendid Christmas decorations, attracting many people to take pictures, admire the sacred sanctuary and celebrate a peaceful Christmas Eve with family, lovers or friends.
Address: No. 120 Tran Binh Trong Street, Ward 2, District 5, HCMC HCM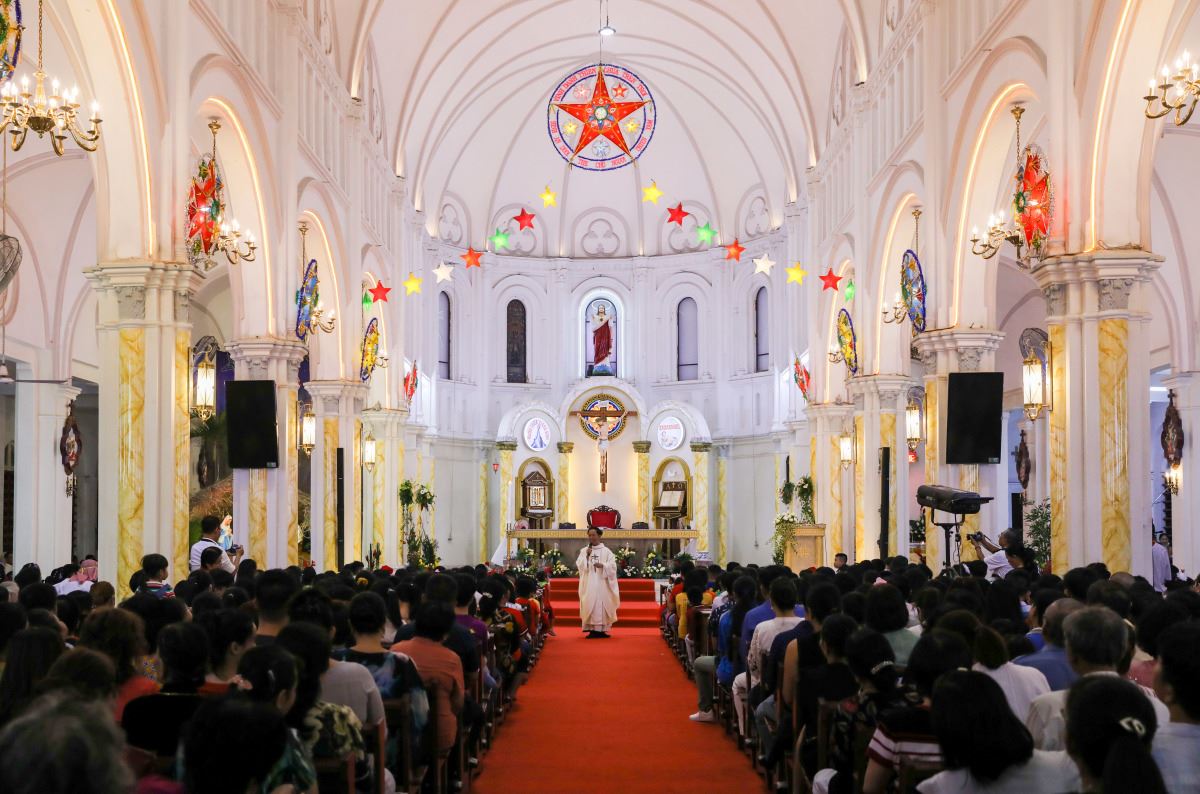 Source: IG @postcardfromt; VnExpress
6. Cha Tam Church
Located in the famous Chinatown in District 5, Cha Tam Church is also known as St. Francis Xavier Church - one of the famous churches in Saigon attracting many visitors. The church has outstanding Gothic architecture combined with bold Asian decoration to create attraction and impress those who come here.
The special feature is that this place has outstanding ancient color tones. Therefore, at Christmas, the church has a very unique feature, giving you super beautiful photos, suitable for those who want a classic and bold Asian Christmas photoshoot.
Address: No. 25 Hoc Lac Street, Ward 14, District 5, HCMC HCM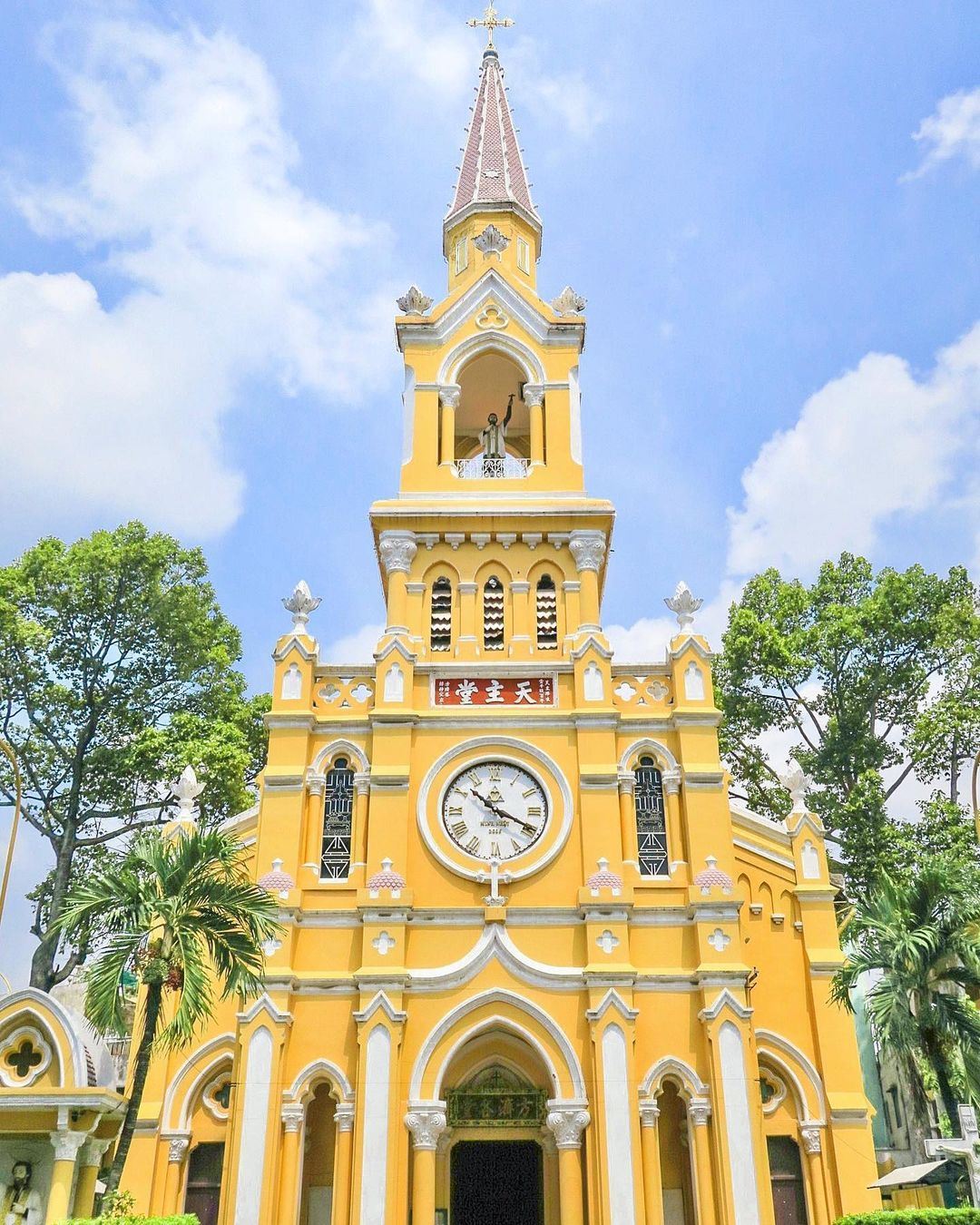 Above are 6 famous churches in Saigon that are beautifully decorated for the year-end holiday season. If you don't know where to go on the upcoming Christmas Eve, these places may be the ideal choice for you. Migo wishes you a peaceful and warm Christmas season.
Writer: Nguyen Hieu