There are 7 rooms here are houses with leaf roofs, built from materials close to nature such as bamboo, cork, wood ... separated from each other by a lovely fence. In contrast to the rustic appearance, the interior of the room is very comfortable and modern, with two main tones of white and brown wood, creating a gentle and relaxing space.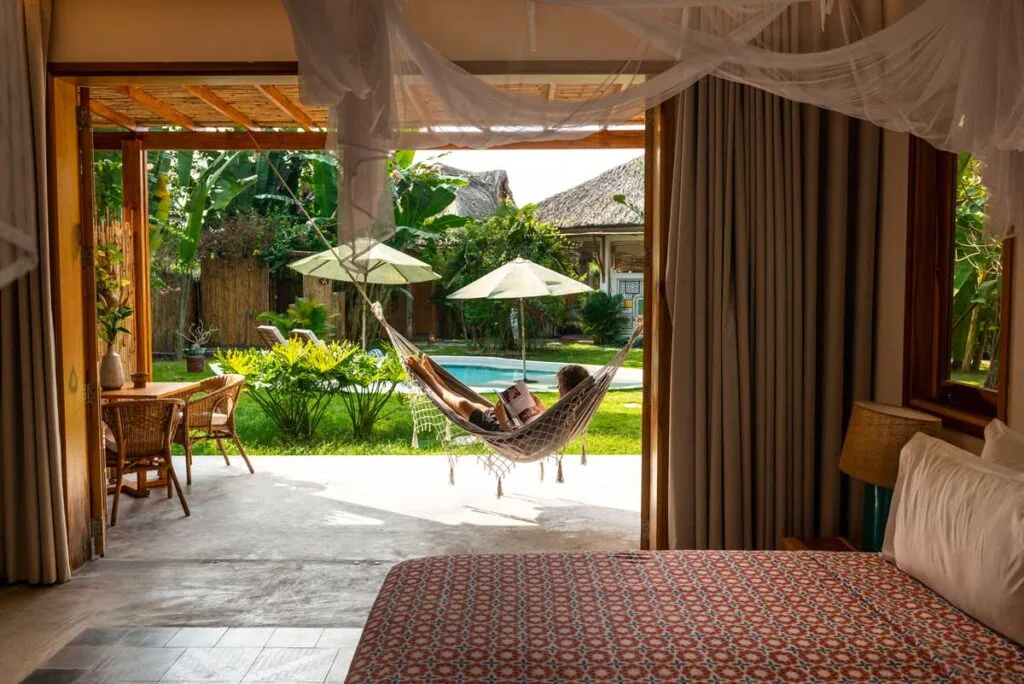 Not only a resort with a system of rooms, swimming pools, the resort also focuses on activities to help guests relieve stress and fatigue. Therefore, when coming here, you can relax in the swimming pool set in the middle of the green garden, or SUP boating, kayaking, swimming right on the cool and private river in front of the resort rooms. The cost of participating in water sports activities is included in the room rate.
In addition to private space, Chi Bu resort also has a spacious and airy common room. This place places "super big" sand pillows so you can recline, comfortably chat with friends, read a book or enjoy the view. Fresh and delicious cuisine is also a plus point of this resort, because the food is made from organic food, and is only prepared when requested by guests, not ready-made. You can choose from a menu of authentic Vietnamese dishes, vegetarian food, healthy food besides some dishes.
If you have time, you can explore Camp Chi Bu located right next door. This is a campground combining experiential activities, fun team building.
Location: 12/6/8 Chinh Nghia hamlet, Vinh Thanh commune, Nhon Trach district, Dong Nai, more than 30 km from the center of Ho Chi Minh City.
Room rate: 2,300,000 to 3,700,000 VND/room night
Website: chibuvietnam.com