1. Shumai bread
The delicious "legendary" Vietnamese bread sandwiched with "toppings" inside has been extremely popular on the pages of international culinary forums. The most characteristic of Vietnamese bread is that there are many different versions with bold regional characteristics that create cultural diversity. Most especially, the bread served with a famous delicious thing in the cup is shumai, which has made the bread in Da Lat have its own unique feature.
In fact, shumai originated in China, is meatballs molded with pork fat puree and then served with bread. However, unlike shumai bread in Saigon, Dalat shumai bread has its own flavor, with a typical spicy taste of the Central Highlands that many tourists enjoy when traveling here.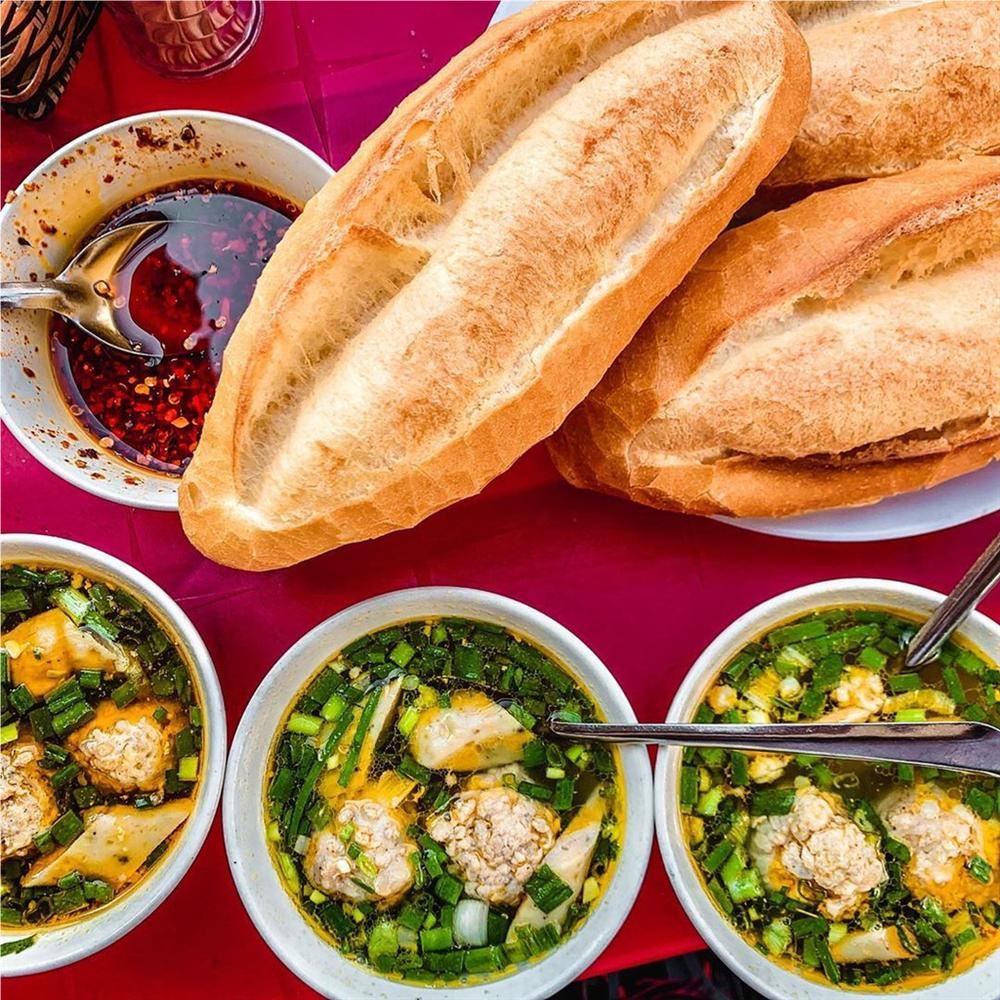 One of the "best-seller" dishes of diners in the land of thousands of flowers in Dalat
2. Wet cake with chicken heart
Chicken heart cake is a dish that has appeared for a long time and is considered a simple and simple breakfast dish of this land. Along with the dizzying development of tourism, in recent years, this dish has become a specialty that every tourist loves when coming to the city of thousand flowers.
Actually, many other places also have this wet cake, but why the wet chicken cake in Da Lat is so special, partly because of the skillful hands of the "artisans" who make the cake and the typical taste of the wet cake here.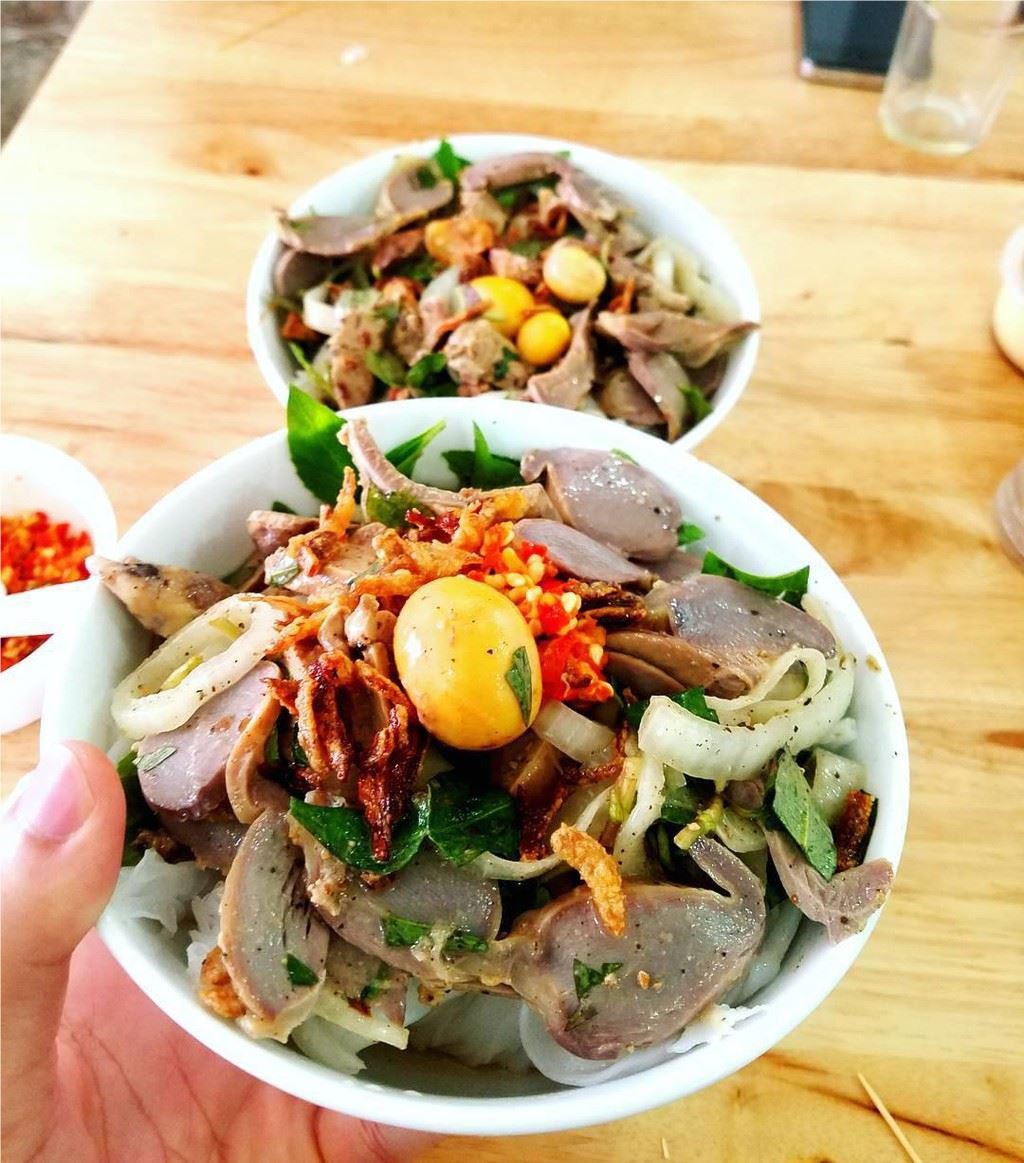 A rustic, exotic and affordable dish
3. É leaf chicken hot pot
É leaf chicken hotpot is inherently a very unique specialty dish of the land of yellow flowers and green grass of Phu Yen. However, this hot pot dish has not known when it has become a delicious dish in Da Lat so famous that people say that if you travel here, you must once enjoy the smoky, delicious and attractive hot pot.
What makes this dish special also comes from the cup of dipping salt. The salt is mixed with chili pepper and spicy skull pepper, which is very suitable to enjoy in Dalat. Therefore, on weekends, especially on cold rainy afternoons, hot pot shops, grills, especially chicken hot pot are crowded, bustling and crowded with customers to enjoy.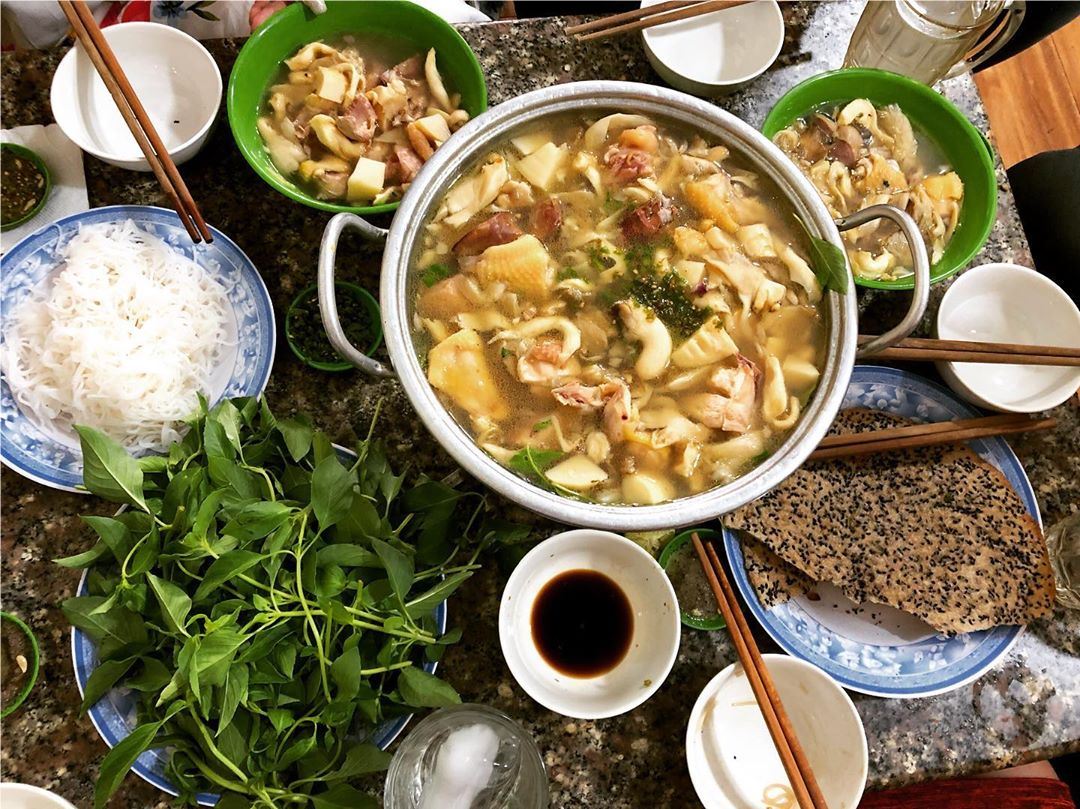 Although it is a specialty of Phu Yen, it is a very famous dish in Da Lat
4. Baked rice paper
As a rustic dish, not too fussy, but Dalat baked rice paper still leaves an unforgettable impression in the hearts of visitors by its unique flavor. Every evening in the chilly weather of dreamy Dalat, holding a delicious, hot baked rice paper and enjoying each piece of crispy cake is nothing better.
Dalat baked rice paper has an affordable price of only 15,000 – 25,000 VND, you can enjoy a delicious dish full of toppings. Every evening when wandering around the corners of the city, you will easily see the image of bakeries avoiding the crowded grill crowded with tourists enjoying this dish.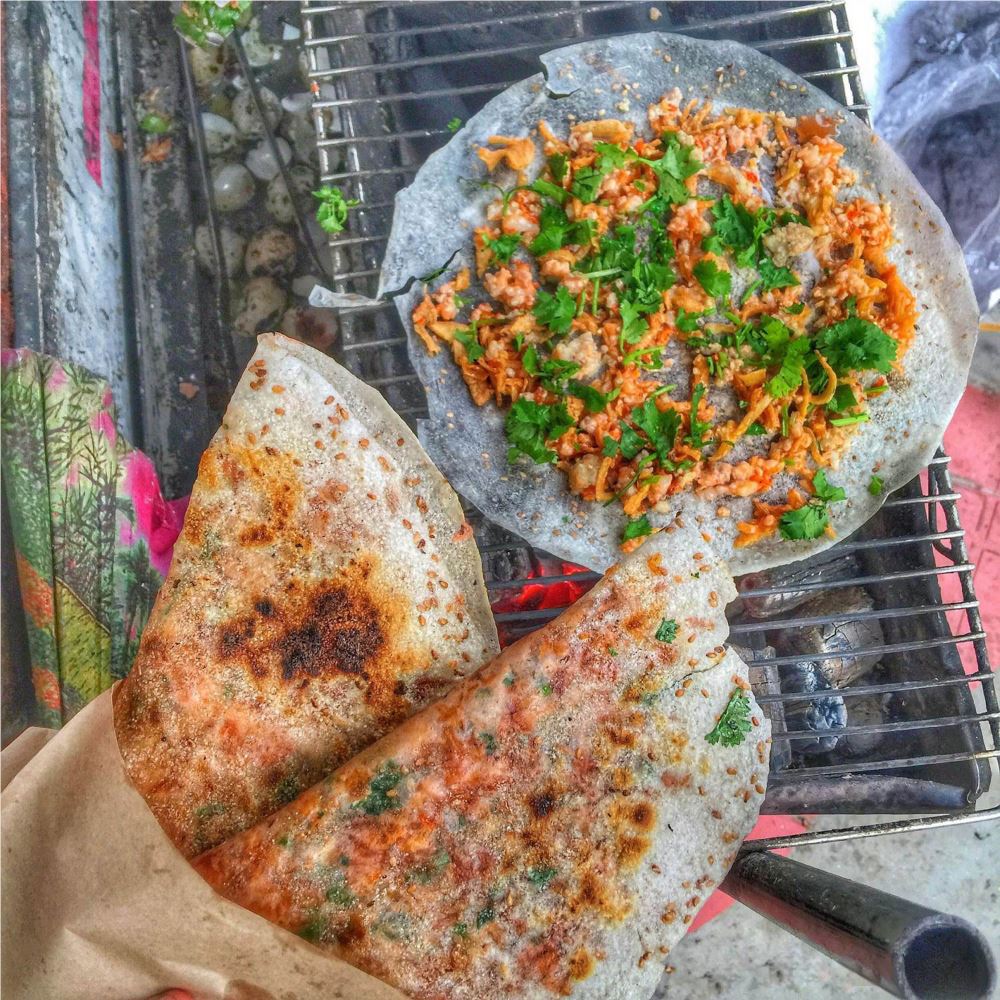 Dalat baked rice paper is affordable from only 15,000 – 25,000 VND
5. Snails stuffed with meat
Traveling to Dalat under the cold weather of this land, it is really nice to gather with friends around the snail shop. Stuffed meat snails are a specialty made from large postal snails that have a chewy, crispy taste. Snails clean, preliminarily processed in hot water, then, seasoned with spices, combine steaming with lemongrass, ginger, pepper. Snails stuffed with steamed meat, delicate aroma and not fishy.
The snails are accompanied by hot spicy ginger fish sauce. Special dipping sauces are prepared for dipping separately from stuffed meat snails. Besides, you can eat it with coriander, astringent bananas ... to be less choked.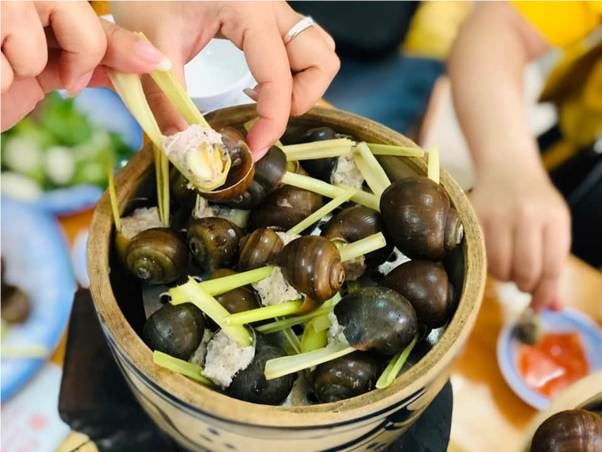 The stuffed snail dish of Dalat meat has become a gut dish for diners at night.
6. Avocado cream
Coming to Da Lat without enjoying buttercream is a shortcoming. As one of the famous specialties of the land of thousands of flowers, Dalat buttercream has a very special flavor that nowhere else has. In the cold weather, enjoying a glass of delicious, fatty buttercream is nothing like it.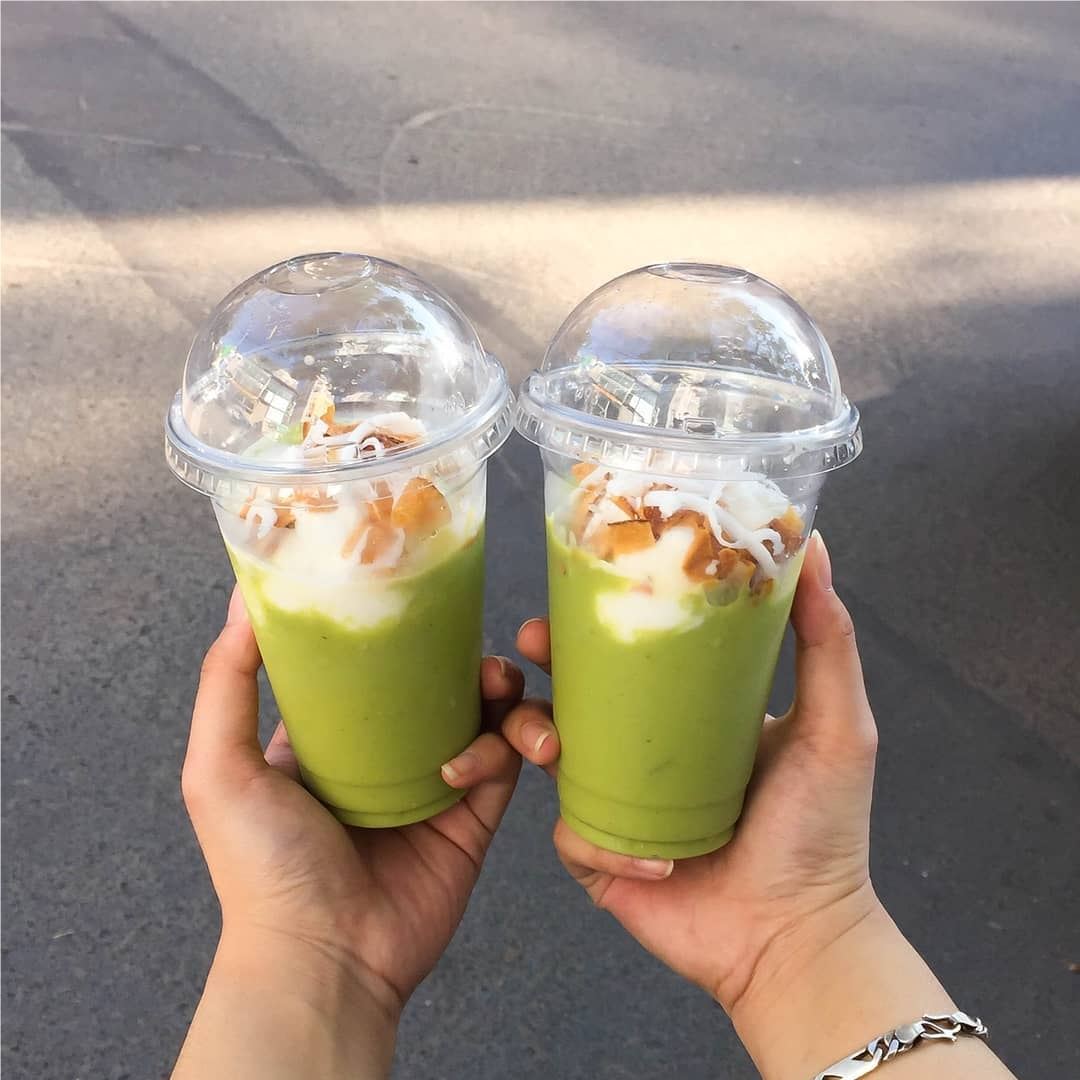 The sweet, fatty buttercream is a great delicacy for sweet lovers
7. Strawberry shake
Coming to Dalat, it is impossible to ignore the legendary strawberry shake, this specialty dish is no stranger to tourists every time they come to Dalat. Strawberry shakes are sold a lot at Dalat market and other tourist destinations in the city.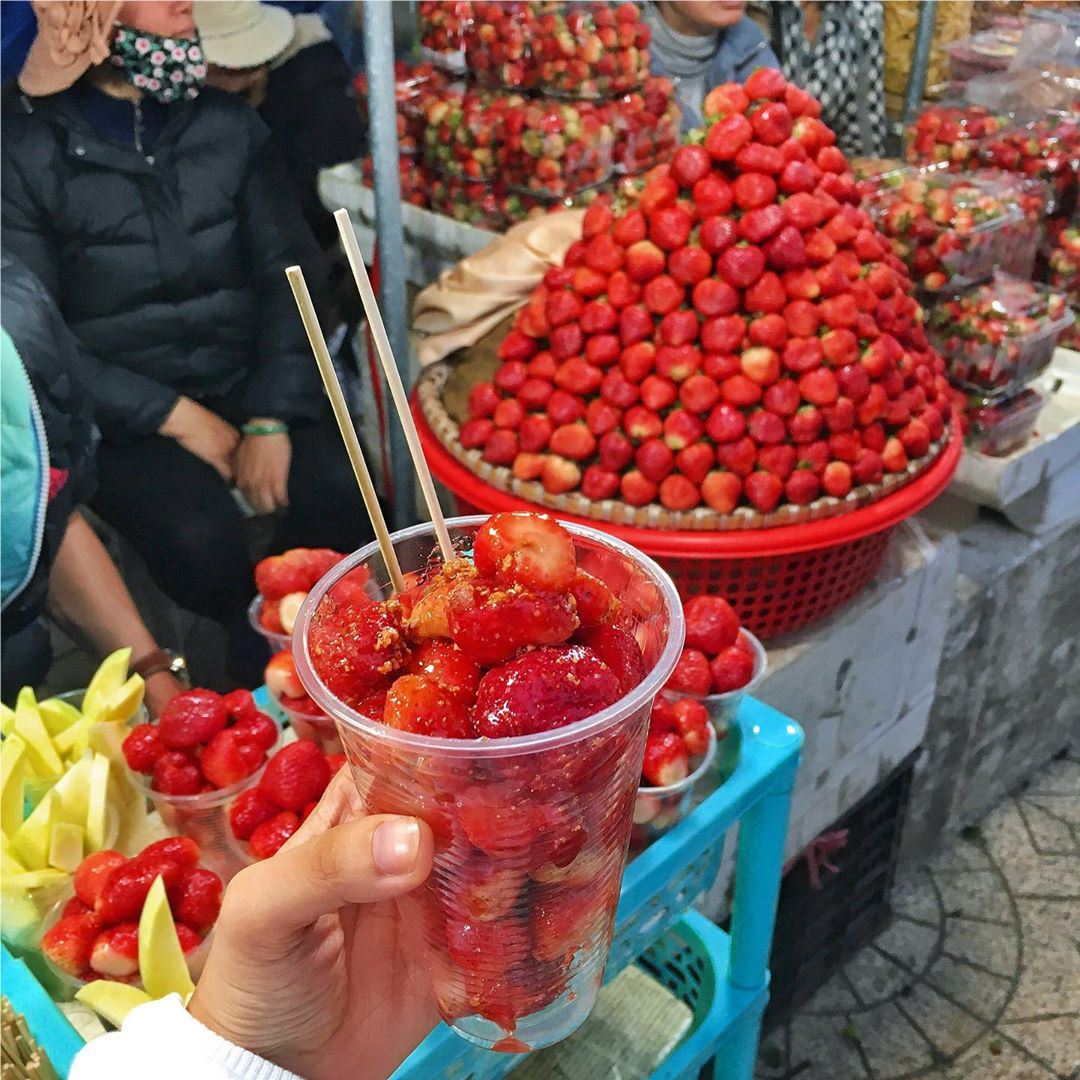 Strawberry shake - A street snack not to be missed when coming to Da Lat
With cold weather, the sour, spicy taste mixed with the sweet sweetness of strawberries and a little salty taste of salt creates a pleasant feeling of pleasure. Many tourists have admired when enjoying this dish, even when leaving Dalat, they still want to bring a few glasses just to enjoy to relieve their cravings.
8. Arrangements
Not only is it a popular street food in Dalat, but it also has a typical flavor reminiscent of the simple life of the land of thousands of flowers. Arrangements are rustic dishes that street vendors order according to the arrangement of ingredients and spices on plates. This is a must-try snack even once when coming to this mountain town.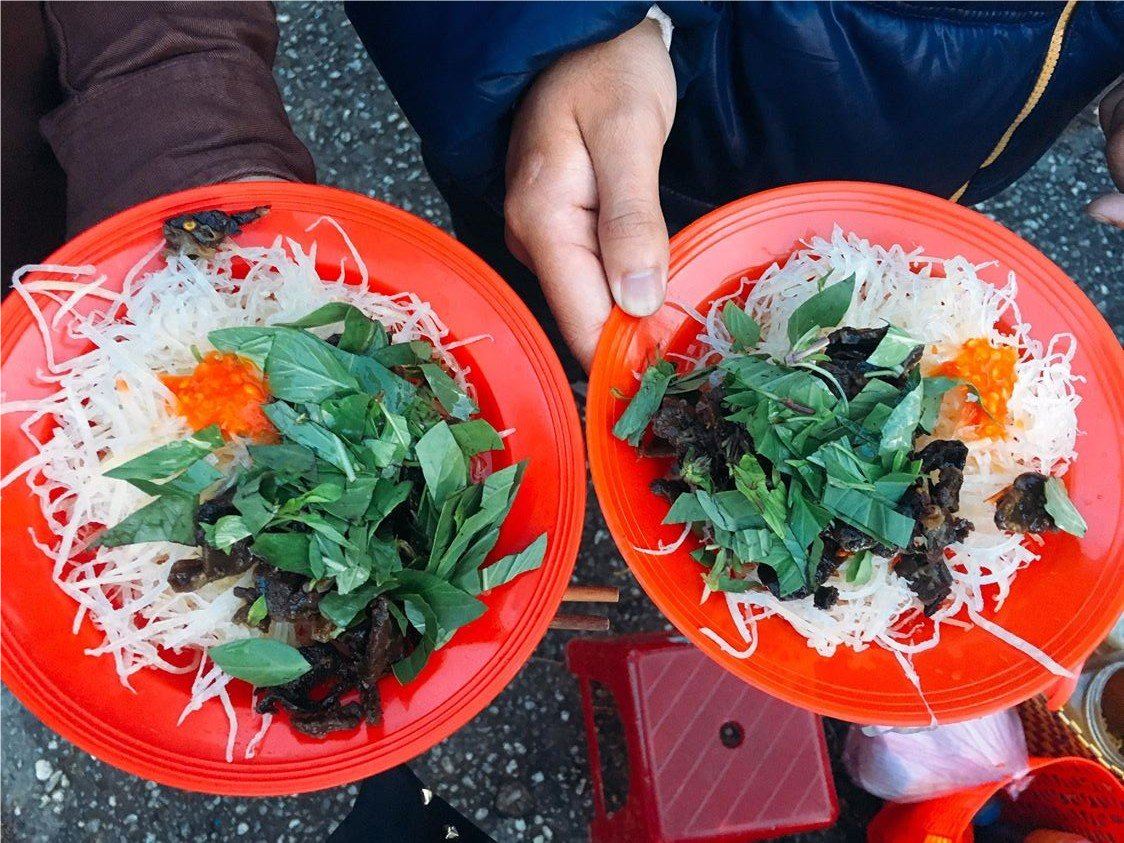 Arranging - a familiar snack for many generations of Dalat people
Dalat arrangements are processed from young papaya fruits grated into long, small fibers. The grated papaya is soaked in brine to crisp, then picked up to drain and process. Thereby, when enjoying, you will feel the crispy taste of papaya, the sour taste of tamarind in the broth, the chewy fat taste of meat, the pungency of chili peppers and the aroma of vegetables and peanuts.
9. Baked banana tea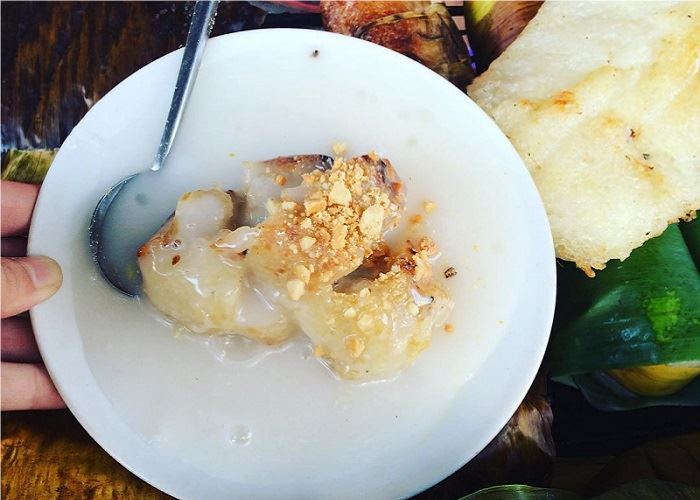 The rich taste of coconut milk, combined with bananas and peanuts creates a dish that delights visitors
Traveling to Dalat, do not forget to try the banana tea grilled with sweet coconut milk here. The rich taste of coconut milk, combined with the delicate sweetness of bananas, the aroma of peanuts makes a specialty dish that delights sweet lovers. Bananas wrapped in leaves and grilled over embers, combined with the hot, sweet and greasy tea sauce of coconut milk will help you forget the cold of Dalat and bring an unforgettable impression on this land.
Above is a "food tour" to summarize delicious dishes in Dalat for your travel. Migo hopes you will have great experiences with many good memories in this land.
Article: Nguyen Hieu
Photo: Internet